What's new in the Windows 10 Creators Update Settings app
By Mauro Huculak last updated
The Windows 10 Creators Update delivers a lot of exciting features and enhancements for the Settings app. Here's everything you need to know.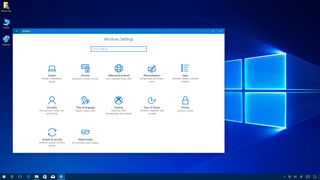 Settings on Windows 10 is the place that allows you to personalize your experience, change system and networking options, customize features, such as the Start menu, notifications, taskbar, and Lock screen, and configure Bluetooth devices, printers, your mouse, and a lot more.
Although the Settings app is still a work in progress, and you won't be able to customize every feature on Windows 10, the Creators Update brings a slew of new changes that will significantly reduce the number of trips you make to Control Panel.
On version 1703, the Settings app gets more options, new settings sections, interface tweaks, and it migrates a number of features from the old Control Panel experience.
In this Windows 10 guide, we'll give you an overview of everything that has changed and improved inside the Settings app for the Creators Update.
What's new in Settings
Once the Windows 10 Creators Update installs on your device, and you open Settings, you'll notice that the main page now is a little more crowded than before. The reason is that Microsoft has reorganized a lot of the settings and added a bunch more.
For example, starting with version 1703, Windows 10 removes all the app-related settings from System and creates a dedicated Apps section for "Apps & features," "Default apps," "Offline maps," and "Apps for websites."
Gaming is also a new section where you can customize your gaming-experience features, such as Game Mode and Game bar, among other settings.
There is also a Mixed reality section, but it won't appear on the main page of Settings unless you set up the experience on your computer.
Throughout Settings, you'll also find small tweaks, including the fact that related links now appear on the right size, instead of at the bottom of the page. When scrolling, the page title will always show, which helps you to remember where you are inside Settings. And some features, such as "USB" inside Devices, include a check box to enable certain options, instead of a toggle switch.
Here are all the new changes found in the Settings app in more detail.
System
On System, you'll no longer find app-related options, because they have been moved to the new Apps section, and you'll come across these changes.
On Settings > System, the Display page gets a complete overhaul reducing the steps to change your screen resolution, and a new drop-down menu makes it easier to change your scaling settings.
You can even click the new Custom scaling link to set a custom scaling size if the default options don't suit your needs.
You'll also find a "Multiple display" section with a button to detect other displays. Or you can click the Display adapter properties link to access Control Panel's monitor properties.
But the most exciting feature is Night light, which can be found under "Brightness and color."
Similar to Apple's Night Shift and Android's Night mode, Night light on Windows 10 helps to reduce the amount of blue light your display emits. As a result of less blue light, you'll see warmer colors in your display to prevent eye strain and improve sleep quality.
You can turn on or off Night light within the Display settings, but you can click the Night light settings link to change the color temperature, set up a schedule to lower the blue light automatically, and turn the feature on of off on-demand.
On Settings > System, the Notifications page remains the same, but there is a new option to turn off the welcome experience after installing feature updates highlighting new changes.
Also, Quick actions now includes a new Night light button, which you can quickly disable by clicking the Add or remove quick actions link and turning off the toggle switch for the feature.
On Settings > System, the Battery page has been updated with a new drop-down menu to optimize battery life when you're watching videos under the "More saving options." Options available, include "Optimize for battery life" and "Optimize for video quality."
On Settings > System, the Storage page no longer includes the option to change where your apps and files are saved by default. Instead, the Creators Update introduces Storage sense. This is a new feature that allows Windows 10 to automatically free up space on your device by deleting temporary files and those items you sent to the recycle bin.
You can customize Storage sense by clicking the Change how we free up space link, and there is also a Clean now button to make more room on-demand if you're running low on storage space.
It should be noted that you can always click the Change where new content is saved link, under "More storage settings," to change where files and apps are saved by default.
Windows 10 also revamps the Storage usage page with new visual elements to display how space is being used for each data type.
On Settings > System, the Shared experiences page allows developers to create experiences on apps that work across multiple devices. For example, if a developer builds a news-reader app using "Shared experiences," you can start reading an article on your Android phone and continue on your Windows 10 PC.
You have control over whether apps use this feature or not, but developers must build the functionality first.
Devices
On Devices, the "Bluetooth" page has been renamed to Bluetooth & other devices, and it combines the settings found in the old "Bluetooth" and "Connected devices" pages.
In addition, the "Mouse & touchpad" page now splits into separate pages. Now you'll get one page for Mouse and another for Touchpad.
On Settings > Devices, the Bluetooth & other devices page now groups related devices accordingly using the new "Mouse, keyboard, & pen," "Audio," or "Other devices" list, depending on its category.
Whether you need to set up a new Bluetooth mouse or USB webcam, you now only need to click the Add Bluetooth or other device button and follow the on-screen directions to configure the new device.
On Settings > Devices, the Touchpad page now includes a number of improvements for Precision touchpad technology.
In version 1703, Microsoft is introducing new adjustments for gesture-and-click detection using a Precision touchpad, including better detection and disambiguation of left and right clicks, and using two fingers to tap and click should be easier.
These new improvements also help to reduce false positives on two-finger, and they improve pinch-to-zoom detection. And there are new changes to reduce inadvertent zooming when panning.
In the Touchpad section, you can enable or disable the feature, decide whether to keep the touchpad enabled when connecting a mouse, and change the cursor speed.
Taps allows you to customize the touchpad sensitivity, and enable different actions using your fingers, such as "tap twice to drag to multiple select" and "press the lower right corner of the touchpad to right-click."
Scroll and zoom lets you control scrolling direction, drag two fingers scroll, and pinch to zoom.
In addition, you can customize gestures using three fingers with the "Swipes" drop-down menu, and change what happens when using three-finger taps (for example, Search with Cortana, Action Center, Middle mouse button, Custom, and more).
The Touchpad settings page also includes a button to reset settings and gestures to defaults.
Network & internet
On Settings > Network & internet, the Status page doesn't add new options, but now you'll see a message that recommends you use a metered connection if you're using a limited data plan, and you will see a new link to change connections properties.
On Settings > Network & internet, the Wi-Fi page has been updated and now combines "Wi-Fi Sense" and "Paid Wi-Fi Services" into a new section called "Wi-Fi services."
While you'll no longer see the mention for "Wi-Fi Sense," the feature continues to be there as "Connect to suggested open hotspots."
Windows 10 version 1703 also introduces the ability to turn off a wireless connection and set a schedule to turn it back on automatically.
If you turn off your Wi-Fi connection, you'll now see a drop-down menu that lets you connect again after one or four hours, one day, or manually (default), which allows you to keep your Wi-Fi connection off until you decide to turn it back on.
Additionally, clicking the Manage known networks link, you can now add new wireless networks manually.
On Settings > Network & internet, the Ethernet page remains virtually the same, but you can now access the properties of the adapter and configure an Ethernet connection as metered if you're using a limited data plan.
On Settings > Network & internet, the Data usage page has been updated with new visual elements to display how space is being used for each data type.
And inside the usage details page, you can now change the view to show usage per network adapter.
Personalization
On Settings > Personalization, the Background page includes the ability to set a custom solid background color.
Just select the Solid color (or Picture) option from the Background drop-down menu, and click the Custom color button to pick the color you want.
You can click More to add a particular color using RGB, HSV, or hexadecimal color annotation.
On Settings > Personalization, the Colors page on the Creators Update receives a number of tweaks. For example, the Settings app now saves the last five colors you have recently used, in case you want to revert changes.
Under the More options section, instead of having three toggle switches, you'll now get a toggle switch to make Start, Taskbar, and Action Center transparent, and check boxes to enable or disable accent colors on title bars, Start, Taskbar, and Action Center.
You can also click the Custom color button to pick virtually any accent color you want. As you select your color, the preview will let you know if a color you choose will be hard to read or if the color is not supported.
Clicking on More, you have the ability to enter specific colors using RGB, HSV, or hexadecimal color annotation.
Also, the Automatic pick an accent color from my background option has been relocated to the top of the Colors page.
On Settings > Personalization, the Themes page gets updated, and now you can customize your Windows 10 experience using themes within the Settings app.
The new page displays the current theme information with options to customize different settings, including background, color, sounds, and mouse cursor.
Under "Apply a theme," you'll find a list of all themes installed on your device. And there is a link to get more themes from the Store, where you'll find additional free and paid themes. (At the time of this writing there are more than 180 themes, and we expect more to show up in the future.)
Apps
Apps is a new section that appears in the Creators Update, and it houses all apps-related settings (Apps & features, Default apps, Offline maps, and Apps for Websites), which previously were found inside of System.
On Settings > Apps, to the Apps & features page Microsoft adds new changes to keep pushing Windows Store apps. Starting with version 1703, you can now block users from installing apps that aren't from the Store, which helps to keep your device protected and running at peak performance.
The new feature gives you three choices:
Allow apps from anywhere: This is the default option, and it allows you to keep installing apps as you would normally do from any source.
Warm me before installing apps from outside the Store: When you select this option, you'll still be able to install any app, but you'll get a warning letting you know the app isn't from the Store. If there is an equivalent app, you'll also see a link to get it from the Store.
Allow apps from the Store only: As the option suggests, choosing this option will prevent anyone from installing any application that isn't from the Store.
One small, but interesting addition also appears when you click the Advanced options link of an app, which now includes Sort by and Filter by controls for app add-ons.
Accounts
On Settings > Accounts, the Sign in options page now includes a new feature called Dynamic Lock.
Dynamic Lock is a part of Windows Hello that when enabled detects when you're away and automatically locks your computer. This feature is particularly useful for organizations to add an extra layer of security for employees who may have to work with sensitive information.
To configure this feature, you must first pair your phone using Bluetooth, and then go to Settings > Accounts > Sign in options, and turn on the Allow Windows to detect when you're away and automatically lock your device option.
Time & language
On Settings > Time & language, the Date & time page hasn't changed significantly, but now you have a drop-down menu that allows you to follow the Simplified and Traditional Chinese lunar calendars in the taskbar.
Gaming
The Creators Update for Windows 10 also introduces a new Gaming section identified with the Xbox logo with a slew of options to configure Game bar, Game DVR, Broadcasting, and Game Mode.
On Settings > Gaming, the Game bar page features a number of new options related to the Game bar feature, including options to enable game recording, screenshots, and broadcast using Beam.
You can configure Game bar to open using a button on your controller and decide whether to show the bar when playing games in full-screen.
In addition, the page includes a section to let you change the keyboard shortcuts to use the Game bar on Windows 10.
On Settings > Gaming, the Game DVR page includes options to control game clips and screenshots settings.
In this page, you can change where to save by default your game clips and screenshots. The "Background recording" section allows you to configure game and audio recording settings, such as sound quality and video frame rate, and there is an option to set the maximum length for the "record this" feature.
On Settings > Gaming, the Broadcasting page is the place you'll go to configure how your games appear when you broadcast using Beam.
On this page, you can set audio quality, whether to use a camera, and there is an option to block the mouse cursor from appearing in broadcasts.
On Settings > Gaming, the Game Mode page includes an option to enable Game Mode, which is perhaps the most exciting feature for gamers in the Windows 10 Creators Update.
Game Mode is a feature that has been designed to optimize your computer performance by prioritizing CPU and GPU resources for an improved gaming experience.
To use this feature, you need to turn on the Use Game Mode toggle switch. Then when you're playing a game, use the Windows key + G keyboard shortcut to open Game bar, click the Settings button, and make sure to check the Use Game Mode for this game option.
Ease of Access
On Settings > Ease of Access, the Narrator page now includes the ability to download and install braille support on Windows 10.
After installing the new components, you'll see a new Braille (beta) section, which you can use to enable or disable the feature, add braille display, change language and table grade.
Privacy
On Settings > Privacy, the General page doesn't introduce new options, but the number of choices gets cut down to three.
On Settings > Privacy, the Speech, inking, & typing page remains virtually the same, but the page has been updated with new information and a new button to turn off speech services and typing suggestions.
On Settings > Privacy, the Feedback & diagnostics page removes the drop-down menu, and now there are two options (Basic and Full) you can choose from.
Additionally, the page now includes a new option to let Microsoft provide more tailored experiences with relevant tips and recommendations using diagnostic data.
On Settings > Privacy, the Tasks page is new, and it's intended to help you control whether or not certain apps can access your tasks. However, apps like Mail and Calendar always have access to your tasks.
On Settings > Privacy, the App diagnostics page is new, and lets you control whether apps can use diagnostic information from other apps on your computer to work as intended.
Diagnostic information may include the name of apps, user account name, processor, hard drive, and memory usage.
Update & security
On Settings > Update & security, the Windows Update page has been updated to make it easier to see if your device has the latest update at a glance with a new green badge in the bottom-right corner of the Windows Update icon.
On the Advanced options page, you now get an option to pause updates on your device for up to seven days.
If you use Active hours, you'll notice a new interface experience that is more consistent with the Settings design language, and now Windows 10 lets you set up active hours up to 18 hours.
In Restart options, you now have the choice to get notification reminders about a pending restart to apply new updates.
Microsoft is also making some additional changes to the update process logic, and it'll detect if you're actively using your device with a projector or another device, to prevent restarting to apply new updates.
In addition, starting with the Creators Update, Microsoft is introducing the Unified Update Platform (UUP), which is a new mechanism to make updates smaller and faster to install. According to the company, updates will be up to 35 percent smaller.
On Settings > Update & security, the Windows Defender page no longer includes the antivirus settings, as Windows 10 now includes a new Windows Defender Security Center dashboard to control antivirus and other security settings.
On Settings > Update & security, the Troubleshoot page is new, and it adds a number of troubleshooters to help you troubleshoot and fix common Windows 10 problems.
These troubleshooters are nothing new as they were part of the Control Panel for a long time, but now Microsoft is migrating them to the Settings app.
The new page provides the following troubleshooters:
Internet connections.
Playing Audio.
Printer.
Windows Update.
Blue Screen.
Bluetooth.
Hardware and Devices.
HomeGroup.
Incoming Connections.
Keyboard.
Network Adapter.
Power.
Program Compatibility Troubleshooter.
Recording Audio.
Search and Indexing.
Shared Folders.
Speech.
Video Playback.
Windows Store Apps.
Mixed reality
Mixed reality is a brand-new section in the Settings app, and it's only available when you setup the Mixed Reality Portal app or connect a new virtual reality headset.
On Settings > Mixed reality, the Audio and speech page includes options to configure which speakers and microphone to use while in mixed reality mode.
Under "Speech," there is an option to enable speech recognition while in mixed reality.
On Settings > Mixed Reality, the Headset display page has the settings to calibrate the value and improve the quality of the experience.
The page also includes a Default button to go back to the predefined settings.
On Settings > Mixed Reality, the Uninstall page allows you to uninstall Mixed Reality if you're having issues, or because you simply don't use it anymore, and you want to free up some space on your device.
Removing the Mixed reality components only requires that you click the Uninstall button, and while the Mixed Reality Portal app will remain on your computer, you can always right-click the app and select Uninstall from the Start menu.
At any time, you can install the components again and run the setup to start over.
Wrapping things up
Although the Settings app is still a work in progress, the Creators Update introduces a lot of new improvements and tweaks that make the experience a little more complete. And with all the new features that Windows 10 now migrates over to Settings, you'll have to make fewer trips to Control Panel.
What do you think about the new changes for Settings? Let us know in the comments.
More Windows 10 resources
For more help articles, coverage, and answers to common questions about Windows 10, visit the following resources:
Windows 10 help, tips, and tricks
Mauro Huculak is technical writer for WindowsCentral.com. His primary focus is to write comprehensive how-tos to help users get the most out of Windows 10 and its many related technologies. He has an IT background with professional certifications from Microsoft, Cisco, and CompTIA, and he's a recognized member of the Microsoft MVP community.
The settings app is getting ... slowly, but steady.

Can anyone confirm if the themes now extend to the File Explorer and Application windows? Probably my biggest wish for item is the ability to darken the entire OS.

No, only changes in desktop background and color accent.

Very thorough article. Good job! Now if only someone can tell me why my Settings app on the Creators Update crashes right away...

because you are a random user

That change brightness is only for laptops, notebook and tablet right?

Only for machines that support brightness control from the OS. For example, it works with the Surface Studio. Most desktops (excluding some All-in-Ones) won't support this function, as the monitor is only connected through a D-Sub cable or HDMI, which don't allow this type of control from the host machine.

It is possible with certain monitors, it's just not built into Windows (not yet... to the Feedback Hub!)
https://en.wikipedia.org/wiki/Display_Data_Channel
http://lifehacker.com/5985364/change-your-monitors-brightness-without-fi...
http://clickmonitorddc.bplaced.net

Question, early version of the creators update doesn't include 3D in Powerpoint yet right?

As far as I know, you're correct. Thanks,

Why is there no PlayStation menu

"Why is there no PlayStation menu?" because this is Windows 10 and you can find Xbox One integrations easily.

You guys said nothing about HDR! There's an HDR toggle on System under Display, which probably doesn't show up for you because you don't have an HDR display connected. If you get one, you'll see this, and you'll also find out that it DOESN'T work at the moment: it tries to switch to HDR signal, then goes back to SDR, sadly. Also, the link for more information about HDR and advanced color leads nowhere... :( Here is the toggle: https://pbs.twimg.com/media/C8wVTUyUwAAEo3w.jpg And here it is, NOT working after trying to toggle it: https://pbs.twimg.com/media/C8wVm8JVwAABFyK.jpg

so... they didnt mention it for a reason, right?
:D

Having the same issue here... LG OLED TV with Deep color enabed on HDMI input, RADEON RX480 conected with HDMI MONSTER CABLE UltraHD Black Platinum. I guess we have to wait for detailed specs...

In my case it's working but it looks broken as the colors and contrast is overly saturated but that's just a tiny issue... The bomb for me is that it has broken the in-game HDR for all the games which supported HDR previously... Mass Effect Andromeda for one... It's HDR is not working anymore and it's so frustrating! Hope to see a fix soon!

Is the creators update released for consumers or what?

You can install it now manually. But it'll officially be able through Windows Update starting April 11. Thanks,

I used Media Creation Tool twice. Still on 14393. Turned on Release Preview. Still on 14393. For the past few days. What gives.

I downloaded it from the insider page as an iso file and updated that way

It would be really good if you could please leave a link to the desktop wallpaper you are using. Looks different from the default one.

Anyone using the CU, did you get a huge drop in battery life? My computer went from 8-9 hrs down to 4-430.....any ideas to look for?

With 1703, I'm unable to find the settings to disable Cortana, unable to find the settings to disable the Action Center, and many other things that I normally don't care for in Windows 10. I had all of these things shut off previously, but now it seems as if Microsoft has decided to force them on us like the bastards that they are. I wasn't able to get the upgrade to work as it would get to 99% and then just stop, so I had to go to the media folder within the upgrade installation media itself and run the setup from there, forcing the upgrade. But when it was done, I'd get a kernel stop error on trying to login to Windows. There was no way to fix this, and recovery wouldn't repair it, CMD prompt couldn't reach my C:\ system drive from recovery because it was rooted in X:\, and I couldn't boot into safe mode because every time I tried, Windows would force the last tidbit of setup on me, asking me to set up my privacy settings and Cortana, killing the safemode boot. So every attempt at repairing my system was cut off by this piss poor excuse for an operating system. I ended up having to do a clean install with the new media and even after that, I'm still having issues with this garbage. When going to Personalization -> Themes the dialog box crashes to the desktop. Unable to open the Themes menu from Personalization. And Microsoft has taken it upon themselves to either remove completely or hide the settings for disabling Cortana and the Action Center. I hate this company. None of my UxStyle themes work with this version of Windows and stupid ass Microsoft named my username folder the first 5 letters of my email, so it looks like "jivef" and now many of the settings that I backed up from my previous installation by copying My Documents won't work when copied back in because they leave you NO way to change the name of that directory. I'd have to completely reinstall and choose not to sign in with Microsoft. What a joke. You'd think these idiots would have this working flawlessly by now, and I haven't even begun to touch on the issues that I have with this build. It's a bloated piece of crap. I'm going back to Anniversary.

no mixed reality section. I´m using last build

They mention that unless you have it setup on your computer you won't see it

all my sql software stopped working- shows 'error creating windows handle' or 'System.Exception Error" Well done like always Microsoft
Windows Central Newsletter
Get the best of Windows Central in in your inbox, every day!
Thank you for signing up to Windows Central. You will receive a verification email shortly.
There was a problem. Please refresh the page and try again.