What's new with the Taskbar on Windows 11
Microsoft is introducing a new taskbar on Windows 11, and here's everything you need to know.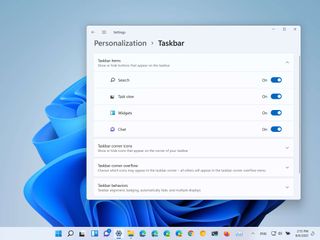 (Image credit: Windows Central)
Alongside a brand-new Start menu, Windows 11 is also introducing a new version of the Taskbar, which might look similar to the one we know on Windows 10, but the new experience is getting a lot of improvements.
For example, the new Taskbar has a center alignment, redesigned Start button, and new buttons for Search, Task View, Widgets, and Chat. Also, there are new animations for launching, minimizing, maximizing, and installing applications, and Microsoft is improving many aspects of the system tray.
However, it's not all good news since the new Taskbar for Windows 11 lacks many customizations available in previous versions.
In this Windows 11 guide, we dive deep into the improvements and design changes with the new Taskbar.
The redesigned Taskbar
Although the Windows 11 taskbar may look similar to the previous version, it's not. Similar to the Start menu, Microsoft has made a lot of good (and bad) changes to the experience.
The new Taskbar has a centered alignment, but you can always change the behavior to the left like in previous versions. The interface is also six pixels taller than the one available on Windows 10. In addition to the buttons aligned in the middle of the screen, you will notice that there's a new Start logo button, as well as new buttons for Search, Task View, Widgets, and Chat. Cortana and My People are no longer part of the experience.
Also, elements like tooltips, overflow menu, previews, and highlighting buttons in the Taskbar now follow the new design style with a rounded corner. When an app requires your attention, the flashing will now be more subtle, it'll eventually stop, and you will see a new backplate with a light red color and red pill icon letting you know the app requires your attention.
If you don't like one of the feature icons, you can remove them from Settings > Personalization > Taskbar.
When you hover over the feature button, a new preview will appear with some recent items or a quick view of the feature. If you hover an open app, the thumbnails preview will show like in previous versions.
As part of the multitasking experience, when using "Snap groups," you can now hover an app in the Taskbar, and if it's part of snapped gourd, the experience will let you switch back to the snapped windows after switching to another app, so you do not have to re-snap them again. (Although this feature appears in the Taskbar, this behavior's setting control is located on the Multitasking settings page.)
On Windows 11, the search box has been replaced with the Search button that opens Windows Search. The experience remains virtually the same as the one on Windows 10, with the difference that you will now find a search box at the top.
The new Taskbar also features new animations. For example, you will notice a new bouncing animation as the Taskbar loads on the desktop when the device starts. Also, there's a new small pill-shaped indicator that changes size for running applications to distinguish whether they are minimized or maximized. You will also see a new animation when clicking an app to open, minimize, and maximize. And there is a new progress indicator for installing applications.
The system tray (bottom-right corner) is also improving. In this new version, Windows is grouping the icons logically. For example, the time and date and the Focus assist icon are a group. When you click it, it opens the new "Notification Center" that includes a full-month calendar and all your notifications.
Then there's the group that includes network, volume, and power icons. When you click it, it opens the new Quick Settings experience that houses common settings for volume, brightness, Wi-Fi, Bluetooth, Airplane mode, Night light Accessibility, Cast, and more.
If you are playing a video or music on Microsoft Edge, the Quick settings will also display the media playback controls to control the stream.
Of course, you can always right-click any icon to access its settings or select one of the available options.
The context menu for the Taskbar has also been reworked, and it now only includes an option to open the "Taskbar" settings page. On the settings page, you can add or remove items, control the icons that appear in the corner and the apps that appear in the overflow menu.
Also, in the Taskbar behaviors section, you can control the alignment of the Taskbar, enable or disable badging for apps, auto-hide, control multiple displays options, and even disable the show desktop button.
The problems with the new Taskbar
Alongside the welcome improvements, Microsoft is making many changes that many may feel as if the Taskbar is going backward instead of forward this time around.
One of the oddest changes is that the Taskbar is now locked at the bottom of the screen, and you can no longer place it at the top or either side of the screen.
You can only show icons in the Taskbar. If you were among those who like to show labels and never combine apps, this is no longer an option either.
Microsoft has also confirmed that users won't be able to drag and drop files or apps to pin them to the Taskbar.
On Windows 10 and previous versions, you also had the option to make the icons larger or smaller. There is only one size of icons in this new version, and the option to customize this behavior is gone. Furthermore, you can no longer adjust the height of the Taskbar.
Although the system tray includes several tweaks, it may now be even harder to use since the icons are divided into groups, and you can't hide the clock or any of the other system icons, including volume, network, microphone, etc. If you want to see the clock, it gets worse because it won't show on secondary displays.
More Windows resources
For more helpful articles, coverage, and answers to common questions about Windows 10 and Windows 11, visit the following resources:
Windows 10 help, tips, and tricks
Windows 11 help, tips, and tricks
Windows Central Newsletter
Get the best of Windows Central in in your inbox, every day!
Mauro Huculak is technical writer for WindowsCentral.com. His primary focus is to write comprehensive how-tos to help users get the most out of Windows 10 and its many related technologies. He has an IT background with professional certifications from Microsoft, Cisco, and CompTIA, and he's a recognized member of the Microsoft MVP community.
We want drag and drop feature back!!

Do you mean as a way to pin items to the Taskbar or as a way to open documents by dropping them on an app in the Taskbar or both? I also miss drag-and-drop to one of many open Windows. This is routine for uploading documents to a website: drag from an Explorer window to the Taskbar to find the right browser window, which used to bring it to the foreground, then drop the file to upload it to the selected website. I believe that's no longer possible in Windows 11.

Colin, the various issues you have been describing are making me pretty worried about the W11 experience (and it's not just you). I'm definitely sticking with W10 for now. Thanks for all the details over the past little while, they're quite helpful.

UI/Engine :
Windows 11 might not be so great, other than the UI(since I managed to find the setting to place the start+icons on the left of the screen... phew) and the resource management is great so its a good "engine", but it feels a bit buggy in comparison to Windows 10 however there's one thing I noticed above the rest, The audio features got an amazing overhaul, its not just visual, my headsets/speakers and just about every "cabled" audio output device started giving out an amazing amount of detail in music, I didn't test any videos regardless the audio is pretty darn good even without any 3rd party apps or functions. Bluetooth:
HOWEVER... yes there's a however, Bluetooth devices didn't show their battery levels unlike Windows 10 which does, neither did they sound so good.. though I did not dive further into the menu's cause the whole menu experience is quite different than that of Windows 10 so this might take some getting used to.. and my device has two output speakers so it might have connected to the wrong one ? which is something that happens to me on Win10 as well, so I might give it a bit of an "ok" cause when I used a cable to connect to the same device, it worked pretty fine. Explorer:
Windows 11 needs a bit more patching cause the experience doesn't feel that stable for me.. though it could be just me, do correct me if I'm wrong about this random explorer crash issue.. Games:
Tried one game, just one.., and no matter what I tried I could not get it to start, could have been a driver issue or permissions being bugged up/ messed up ? it was a direct X related issue even though the DLL required for the said fix was in the required locations but somehow the program could not detect it, not sure what the cause is cause I tried a few basic fixes that usually would work yet the results being the same, however I run Windows 10 on the same machine, it runs the same program without issue.

"The audio features got an amazing overhaul, its not just visual, my headsets/speakers and just about every "cabled" audio output device started giving out an amazing amount of detail in music" This is likely a change from whatever settings you had previously to a new default. I am willing to bet that there are no major changes to how Windows handles audio; and even if there were, it shouldn't make that much of a difference.

I know this
Friend of my had the same laptop as I had
His laptop sounded way better
Cause?
Audio advanced setting was 16bit CD Quality
Just put it on 24bit and the highest possible samplerate
A beautiful audio world opens
Sound drips of the wall
I have a lot of 24bit audio, I pay for music, at bandcamp.

How much you want to bet if you had a blind test of 16 bit audio and 24 bit audio, you wouldn't be able to tell the difference? The sample bit depth impacts only dynamic range, and 16 bits holds plenty of dynamic range. 24 bit is good for mixing and mastering to give DSP algorithms more head room, but for listening, you can't tell the difference.

@WandowsTan Most people don't change their actual audio settings to a higher frequency. As by default it's on cd quality on Windows. So never taking advantage of the HD audio functionality on the motherboard via the rearports. So in W11 that behavior is probably changed to the max frequency supported by the HD audio chip / driver.

I had not read your comment.
Maybe Windows has a deal for these so-called true wireless buds
The bandwidth of bluetooth, about 1megabit/s, is way to low for HRes-audio
I have a lot of 24bit 96 and 192 Khz audiofiles, 4.6-9.2 mb/s, bluetooth can not handle that
You realy need wired

I hope they'll improve everything till 2025!

Inability to move taskbar to the sides is a nonstarter for me. Didn't know that you couldn't avoid always combine so that's another reason I won't be rushing to update.

Removing Toolbars from the Taskbar was a real downer for me. I used those to organize Shortcuts.
Windows Central Newsletter
Thank you for signing up to Windows Central. You will receive a verification email shortly.
There was a problem. Please refresh the page and try again.