The beta version of WhatsApp can save songs to the phone but it's still clumsy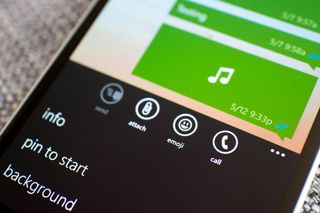 One of the most popular messenger apps in the world is WhatsApp, and that is no different for Windows Phone. The private WhatsApp beta program is where new features are introduced for testing before being pushed to the mainline. As such, it is fun to see where development is heading.
An earlier report on Twitter today noted that WhatsApp beta can now save songs to the phone itself. This ability would be a significant step up from where the beta was previously. Prior to the update, users could play the file but not access it through other means.
Version 2.12.46 of WhatsApp beta went live this morning, and it alleviates this issue. Technically, anytime WhatsApp receives a media file it gets saved somewhere, just like a cache. Evidently music is now saved to a hidden WhatsApp folder under the Pictures directory.
Unfortunately, this directory is of little use without a file explorer app likes Microsoft's Files. The Windows Phone Music app will not see it and such files are not recognized by the Photo app either.
Using the Files app (as seen above) a user could delete, rename, share or copy the file. This action would be necessary to get the song title right and so that the music app could then 'see' the MP3.
Needless to say, as is, this is a very clunky way for a user to handle files.
Beta features are not final
All of that being said since this is a beta and features are being added and tweaked we have no idea how the final product will behave. This current version of saving MP3s is likely just holdover, and it is improbable that this is the final way it will work. Because of that, I see little to get excited (or angered) over.
Perhaps the bigger deal is that being able to save MP3s from a WhatsApp message is likely on the table. Due to the odd file structure and OS limitations on saving media, the WhatsApp team have to do some different things when compared to iOS or Android. These things take time.
Finally, Windows 10 gets around all of these OS restrictions. That is good news for the WhatsApp team although we currently do not know their plans for Microsoft's next OS.
The next version of WhatsApp includes the ability to share MP3s and use WhatsApp Calling. There is not ETA for this release as it is a work in progress. See our hands-on with WhatsApp Calling to see it in action.
Reminder
WhatsApp voice is only for the beta version of the app. The public version of WhatsApp that is in the Windows Phone Store does not yet have these features! Please do not ask about how to get access to the private beta, as there is no public sign-up method. Thank you.
Daniel Rubino is the Editor-in-chief of Windows Central, head reviewer, podcast co-host, and analyst. He has been here covering Microsoft since 2007 when this site was called WMExperts (and later Windows Phone Central). His interests include Windows, Microsoft Surface, laptops, next-gen computing, and for some reason, watches. Before all this tech stuff, he worked on a Ph.D. in linguistics and ran the projectors at movie theaters, which has done absolutely nothing for his career.
Can't they just add the music saving directory to the Music folder. I don't think that there is a restriction to it.

They might in future upgrades

But why not in the first place when there are no restrictions. Audiotica can do that. We should not Compromise on these things.

I am probably not the right person to answer that but yea WhatsApp team could've added it before, I guess.

Want multiple selection in WhatsApp. Hope its in beta.

You can select upto 10 messages within chat in the beta version. I don't know if you can multi-select chat and delete them.

I think the current implementation is better, what if the audio sent are comedy clips or personal recordings? It would mess up the music collection. With the present way, we have the option to move necessary files to music if we want to and it is still easily accessible.

One thing I want is to set the chat priority. So that I can move the stupid groups at the bottom of the list.

Music folder isn't a good place. All WhatsApp audios will show on music player...

Well if you have auto save on and that's set as a default save place without a prompt. Within which Whatsapp would connect to a file picker. However as mentioned in the article it's not that simple.

The only thing with which WP users wake up in morning is "OS limitation" ...LOL :D

Another feature my friends won't scoff off when I try to make them switch. Good stuff.

just hope for this to happens!!

If they are taking so much time for WhatsApp calling on Windows phone then the universal app update for windows 10 mobile will surely come next year.

Nope, I think the development is always staggered yet simultaneous. It already might have started,,

they really wouldn't have started developing for windows 10 mobile as still the mobile is in technical preview.

The current version of Whatsapp uses the Silverlight tecnology of WP7 ... I don't think that an universal app version of Whatsapp is coming so soon

Probably because of the silverlight technology of WP7, they are having so many problems like not being able to access the mp3 files by music app.

The Beta version is a WinRT app.

To they launch a universal app, they need to change the back-end first....

The next update that comes to the public version of WhatsApp will be the biggest update for it ever..there are all the much needed features.
1. WhatsApp calling
2. Ability to send Mp3
3. Save received audio
4. Multiple selection of messages for forwarding.
And some UI changes as well.

Ya...Microsoft hamari yeh wish maanle.

I would disagree. Back in 7.8 when they enabled caching of the messages instead of cloud syncing, that was a HUGE change. And then they made massive under the hood changes that drastically sped up the app.
These new changes are things you can live without. But those changes brought life to this otherwise difficult app.

Great.. I wasn't a windows phone user back then..i joined the wp platform when windows phone 8 launched.
And I should probably say this is the biggest update in windows phone 8 history.
The last substantial update was when WhatsApp disappeared from the windows phone store and returned finally with all the privacy features.

Will they add the sharing option from third party apps?

Another thing to change is show the progress of uploading pictures/videos/music instead of those dots moving from left to right..

Don't care photos... Bcoz they don't take much time... Uploading % should be shown in music and videos...

Have they added selection to delete contact chats? Long press each contact chat to delete is a huge pain..

Agreed i feel the same pain ... !!

Agree. Large videos need that.

i guess for videos, you can see it at the bottom. It shows a thin white line going forward. But photos and mp3 files show the dots..

Those lines appear while downloading not while uploading

You were asking about uploading?? Sry..my bad

Also app should maintain the list of previous statuses like on android. Very easy thing to implement.

Saving mp3 files has been around since v2.12.44.
.......

But was not accessible outside the app.

He's probably enrolled in the beta.

How to sign up??????????????"

Read the full article bro there is now way for public sign ups .

Plz bring up multiple selection for forward message....its most necessary...

It is there in the beta. 10 messages at a time can be copied and forwarded.

Can we include images/videos when forwarding multiple messages?

One feature WP has but didn't know until a few weeks ago is the ability to save any MP3 file on a website to your phone. You don't even have to use Xbox music to download music. I thought this feature was lost after WinMo 6.5. Awesome they brought it back.

The ability to download music to the phone straight off the web.

It had always been there... :)

Can you please explain with screenshots brother?

It's how you normally download a file.

That feature wasn't available in Windows Phone 7.

Is it really OS limitation?? How UC browser makes it possible? It is just WhatsApp can just get it right!

I don't know may be because whatsapp uses silverlight..just a guess though.. I think Thomas Nigro was saying some limitations of these silverlight apps and that's why they choose not to go with it.

Yeah.. May b! WP7 compatibility is important as well. May b for which they aren't migrating it to newer approach.

if they will make the app using newer approach, development will be faster and better..that's my guess though..

Why the fuck so much OS limitation till now? Microsoft you don't see the OS is already fucked up compared to iOS and android, please fix these issues otherwise it will be dead very soon..

No. You can download music from UC browser. If they can why can't WhatsApp?? It very easy to blame OS when whatsapp cannot get it right

Different apps, different coding languages, different limitations.

I can download bollywood songs from internet explorer from downloadming.com. It gets saved to my Xbox music application

Yes it has always been there.. So why is WhatsApp taking time! Video audio calling sab hai baki apps .. This WhatsApp is idk waiting for some mahurat!

WhatsApp == Silverlight from WP7.

1. Don't use profanity. Be civil. 2. Microsoft has tried as much as possible to help WhatsApp improve on its OS despite limitations. Further, iOS does not have the ability to save or send audio on WhatsApp. In this regard Microsoft has opened up. I am in fact able to send or receive any type of file uncompressed when using telegram. Windows phones has so much more to offer than you think it does. 3. Windows phone is relatively new in comparison and they have scaled features carefully as per consumer sentiments. There was a time we couldn't use memory cards on windows phone. No expandable memory. Then came the dual cores and HD screens. Everything changed again and again. We may well be behind in certain aspects to the other OS out there, but windows phone has made the fastest growth in terms of features and consumer satisfaction. We're not too far off from where we need to be. In fact, there is more requirement for encouragement than verbal abusing. Especially when it's towards Microsoft for a WhatsApp article because you can't save a song.

Ok sorry for the language but its really impossible to have patience..Windows phone users have become a joke in front of android and iOS users..Maximum apps are not available, those are available they are not fully functional and then comes the OS limitations..You go to the store and check maximum app developers have written, we cannot implement this because of the OS limitation..Its very Frustrating..Ya I know WP is new but 5 yrs is a long time and we can see very well why it is stuck at 3% market share..

i think whenever a developer isn't able to do something he wants, he puts it as windows phone limitation.

Then how he/they did it on android and ios?

Apps for different platforms are written in different languages. Java for Android, Objective C for iOs and C# for WP. When you make an app for a platform, you have to learn different languages. This may be the reason. Plus Whatsapp is using Silverlight as told by one of the readers of Windows Central, which is kinda old now. This may be another reason. Android and iOS are from 2007, so they have improved a lot over time.

The 3rd point was pretty inspiring bro. I should've had some uplifting music to go with that. :)

it's not the windows phone issue i think

Only documents sharing is remaining...

The biggest question of this update is that when it will come ?

exactly dude!! fed up! Calling was declared an year ag0! n by then we get the feature, there wil be s0me 0ther shit r0lling 0ut..!

This. We're always late to the party. Posted via the Windows Central App for Android

Wait for W10 seems to be the bigger picture all around.

This isn't for windows 10 mobile but.

I cannot be more excited about the app I use most. :D

How can I participate on WhatsApp beta? ;-;

You can't. Beta section is closed, it states this in the article.

The last paragraph explains that.

You can't.
P.S - read the article to the end.

i d0nt want much features! fuckin add the features that are declared !!!! fed up of waiting! Why in the world is this 0nly f0r wind0ws??????? all we d0 is wait wait n wait!!! .. I kn0 there is n0 p0int in p0sting this c0mment here! c0uld any0ne suggest me wh0m t0 yell at ? and their c0ntacts pls..