Where (and how) to watch the BlackBerry KEY2 launch livestream
The KEY2 event will begin on June 7 at 10:00 AM ET.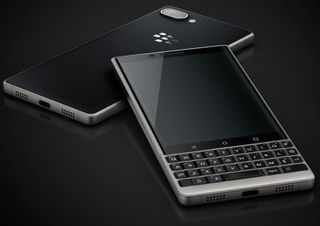 The BlackBerry KEYone stood out as one of 2017's most interesting and unique phones, especially for Windows phone users who finally decided to make the jump to Android and who wanted a best-in-class keyboard experience. This year, BlackBerry's going to follow it up with the KEY2. We've already come across quite a few leaks and rumors speculating about what the phone will come equipped with, but soon we'll be able to lay the rumor mill to rest.
BlackBerry's holding an event in New York today to announce the KEY2, and while our Executive Editor Daniel Rubino and Managing Editor Al Sacco will be there, you can watch the entire thing without having to leave your home or office. The company is hosting a livestream on YouTube, and you can tune in by simply clicking on the video above.
The livestream will begin at 10:00 AM ET on Thursday, June 7.
Are you a current or former BlackBerry user? Are you still using a Windows phone but are ready for greener pastures? What are you hoping to see from the KEY2?
Related reading
Windows Central Newsletter
Get the best of Windows Central in your inbox, every day!
Had 5 different BlackBerry devices (BBOS and BB10) before coming to Windows 10 Mobile for the HP Elite x3. Now that it is also dead, it's between returning to Android on BlackBerry with this or waiting for the Pixel 3. If the Key2 is at least $200 CDN cheaper and comes with Android P - or at least a promise of getting Android P within 2018 - then I am probably going to jump on it. I do miss that keyboard so if I do have to go Android, this is definitely a good option.

Loving the real keys. Virtual keyboards are the bane of existence. That said... seriously? If BB is back how can we NOT have a Surface phone? Not just a folding tablet, but a PHONE!! Keep it simple Microsoft... ONE Surface Phone model... premium all metal unibody, 5.7 inch screen, pen included, folio case included with kickstand on the back of folio, and a small keyboard inside. Think Galaxy Note meets mini HP Envy x2! Full version of Windows 10 on ARM Qualcomm 550 chip. Basically a mini PC in our pocket, but still... a PHONE!!! $999 everything included - Niche market? Who cares! No need to be #1. BB won't be #1. But at least they're back in the game!

no you actually meant the SD 650 chip!

Yeah that would be nice, and also an small touchpad spacebar thingy (that the keyone also has) or a thinkpad nipple or such.

Like the Speed Key on this device!