Unboxing the white/gold Lumia 930 and Lumia 830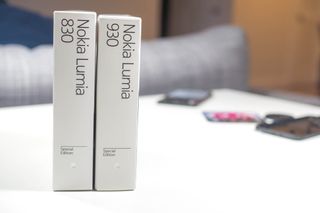 Earlier this year, Microsoft has announced special golden editions of the Lumia 930 and Lumia 830 for select markets in Europe, Asia, the Middle East, and Africa. They share the same specs as the regular versions, but what's different is that they both have gold frames. We've already shown you the black/gold variant of the Lumia 930, but we just got our hands on the white/gold versions of the Lumia 830 and Lumia 930. Watch our unboxing video and photos for a closer look.
Nothing has changed inside these devices. The gold Lumia 930 still has a 5-inch 1080p display, 32 GB of storage, 2 GB of RAM, 2.2 GHz CPU and a 20 MP PureView camera. The gold Lumia 830 still has a 5-inch 720p IPS display, 16 GB of internal storage, microSD slot, 1 GB of RAM, 1.2 GHz quad-core Snapdragon 400 processor, and 10-megapixel PureView camera.
If you're in the U.S., you do not get LTE on these phones due to the unique carrier bands. However, if you are on AT&T, you can get 3G HSPA+ data.
The side and the back of the boxes also say 'Special Edition.' Inside the boxes, you only get the phone, USB cable, power adapter, and a quick guide. The white and gold version of the Lumia 830 and Lumia 930 is glossy. The black one has a matte finish, making it less shiny.
We're having a hard time picking which color we prefer: Black/Gold or White/Gold? Take a look at our photo gallery below and let us know which one you like!
Gallery
Image 1 of 6
:o I would trade my white 930 with this in a second :)

Lumia 930 is easily by far the best Lumia device.
People ask about flagship phone. THIS IS THE FLAGSHIPS PHONE.

Seems perfect to me too :)

It would be perfect if the battery life didn't suck so bad.

Almost all flagships has a poor battery life. My friend have a Galaxy S6 and it sucks, he complains everyday about it. And after Denim my phone is a little bit better, I get almost 19/20 hours, with 4G/Location.

I agree. But 1520 has solved this issue, even though it's not so beautiful as 930.
But its fragile display is 1520 Aquiles' heel.

Dropped my 1520 twice this past weekend onto tile when it fell out of my shorts pocket as I was getting up from a bar stool, no scratches or cracks. Pretty surprising actually. Then I accidentally dropped my old 920 on concrete, no cracks, slight nick on edge though. It's been dropped 8 or 9 times already onto concrete, asphalt, wood, and carpet. Everything still works.

There is no Achilles heel on my L1520. Untill Microsoft comes up with a new "6, I consider the 1520 the flagship, and untill they come up with it I will stay loyal to my phone> I really couldn't care less if other phones have all the bling bling in the world, as long as it's not a "6 incher i won't separate fro my device. Damn it's so good....

Would be perfect for me if it was 5.5" with microSD support but still, I like mine a lot :)

So I guess the iPhone looks ghetto too although millions more non-ghetto folk have it!

Although I like the Lumia 930 and I plan on getting one, I currently own a 535. I just don't think the pulled of the gold version of the 930 aa well as Apple does with the Gold iPhones. I actually prefer the regular 930.

Yeah but its not available in the USA on att where they had the previous Lumia 920. We only have the Icon on Verizon. People can't be switching carriers whenever Microsoft releases a phone. They need to understand this. I'm still waiting for a 930 on att but what do they do? They only release the 830. Jesus Microsoft. Laughable. That's why sales suck

Doesn't support US LTE bands

It's also an exclusive flagship. They could've easily released it for T-Mobile(cause we never had a flagship with 32gb storage) and AT&T(who most would argue is already spoiled with all their exclusive deals). That is the problem here.

Indeed. I hope some of the rumors of 940 are true. Except for any exclusivity, of course.

Agreed, I got a black 930. I want this! Humbug!