Both Microsoft and Google are making hardware, though for different reasons
Google is a Search company that has ventured into hardware. Microsoft is a software company that has done the same. Why?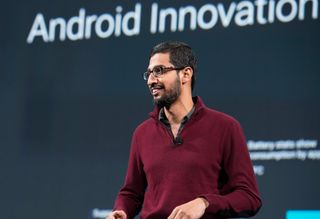 Times change. For a company to remain relevant, it must change with the times. Approximately every ten years there is a technological paradigm shift. In the 90s, when information retrieval was critical to helping users navigate the wild west that was the web, Google rose to the position of search giant. Microsoft's software and productivity hey-day dominated the 80's and was the paradigm that brought personal computing to the masses.
The world has changed, and personal computing is a complex intertwining of various modalities, platforms, and ecosystems. We are technologically more connected than ever before, the power of a PC is in our pockets, cloud computing permeates our lives, artificial intelligence, and augmented and virtual reality are becoming mainstream. Personal computing is a far more complex concept than sitting in front of a PC. And search is a far more diverse and integrated experience than typing a word into a web page-based search field.
The mobility our digital experiences via the Cloud, Internet of Things, and our various devices makes personal computing an ambient experience. Moreover, AI digital assistants, bots, and intelligence-infused software makes search an experience that is integrated within our digital activities rather than solely a distinct go-to service.
Personal computing's increased complexity has made the industry highly competitive and has affected the types of computing modalities and end points companies like Microsoft and Google introduce into the market. Ecosystems, tools, and services are what companies like Microsoft and Google are attempting to get customers to buy into. Hardware is the access point to get them there.
Microsoft's method
Microsoft's hardware vision is intricately interwoven into its Universal Windows Platform vision. It is not simply a complementary component that can be easily negated. This is why early criticisms and failures of the Surface did not deter Redmond's course.
The company's Universal platform strategy required a family of Windows 10 hardware that covered a diverse range of personal computing scenarios.
Former Microsoft CEO Steve Ballmer said it this way:
Microsoft's hardware strategy is designed to provide an unbroken continuity of personal computing modalities that provide access to the Universal Windows Platform of products and services.
This ambitious strategy combines industry inspiring first-party hardware with "copy-cat" partner hardware that is meant, like the Surface and 2-in-1s, to populate the market with Redmond's vision of a particular product category.
The Surface Studio has inspired partners like Dell. The Surface Book and HoloLens are poised to inspire similar devices for their respective laptop-hybrid and mixed reality categories. Microsoft CEO Satya Nadella's ultimate mobile device, or ultramobile Surface, will be positioned to inspire partners to build their versions of a post-smartphone device.
Redmond knows that as users adopt its hardware and Universal Windows Platform, they will be drawn into Microsoft's take on artificial intelligence, bots, mixed-reality, the cloud and more, all of which will run on its family devices.
Google's Play
Google's hardware vision is as ambitious as that emanating from Redmond and just as necessary to the company's strategy. Google wants to bring computing to "your phone, wearables, car, and your home." Rather than a medium to propagate a unified platform, however, Mountain View's hardware focus is purposed to push its AI strategy forward.
The firm's decisive move toward an AI-first focus is an evolution of its information-providing heritage. Google Assistant, the company's new AI digital assistant, is like the Google webpage becoming intelligent and very personal. Google's CEO, Sundar Pichai describes it this way:
Rishi Chandra, the company's VP of product management for Google's devices continues:
The 3 billion searches Google receives each day reveals the indispensable resource position the service has in the minds of people around the world. It is this resource that Google has "personified" as Google Assistant.
Google Home, the company's Amazon Echo-like smart home unit, and first-party Pixel smartphones are Mountain Views hardware portals to its AI assistant. Marketing for both of these products focuses on the convenience of using Google Assistant.
Pichai realizes cloud-based intelligence that knows a user across devices is a platform in itself. So though Mountain View doesn't have the range of hardware Redmond has (yet), or a unified platform like Microsoft's UWP (yet), they do have over a billion invested users. Thus even as Google builds out a hardware portfolio, with partners developing smartphones for Google Assistant and more, their Assistant already has access to a vast network of invested users and their data.
Going hard!
There's no question that Microsoft and Google are in a heated battle on many fronts: competing productivity suites, cloud services, PC's vs. Chromebooks, and even bots. Microsoft's cross-platform strategy of democratizing AI precedes the democratization of Google Assistant. Furthermore, whereas Google dominates mobile, Redmond seeks to reimagine it with a category-defining Surface.
Redmond's Surface brand has positioned Microsoft as a respected hardware maker in the industry. The company's growing and diverse range of category-defining and aspirational hardware provides multiple access points to Redmond's comprehensive Universal platform.
Google, though they don't command the same level of respect for their hardware, are highly esteemed for their ability to provide information users need when they need it. This intangible asset makes the Google Assistant-centric Google Home and Pixel devices appealing.
Microsoft's UWP and Windows 10 family of devices synergy makes its ecosystem-promoting hardware approach effective for Redmond. AI as an evolving platform makes Google's AI-focused hardware push effective for them. Will one come out on top? Or can they coexist? Time will tell.
Get the Windows Central Newsletter
All the latest news, reviews, and guides for Windows and Xbox diehards.
Jason L Ward is a columnist at Windows Central. He provides unique big picture analysis of the complex world of Microsoft. Jason takes the small clues and gives you an insightful big picture perspective through storytelling that you won't find *anywhere* else. Seriously, this dude thinks outside the box. Follow him on Twitter at @JLTechWord. He's doing the "write" thing!