Why Xbox One X owners should care about HDMI 2.1
HDMI 2.1 delivers some impressive upgrades – some which could make their way to Xbox One X consoles.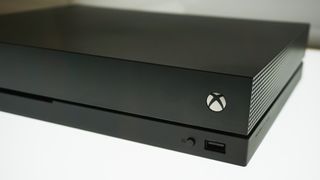 Seen across most consumer electronics of today, HDMI has become the standard for connecting media devices to displays. And with its latest revision, HDMI 2.1, the capabilities of the interface are getting a major upgrade. Following its recently finalized specification, features of the revised standard are set in stone, delivering some welcome improvements to both video playback and gaming.
While HDMI 2.1 is still in its early days, Microsoft has pledged support for its flagship 4K-driven console, the Xbox One X. Specifics may be scarce, though existing console owners can expect new features going forward.
What is HDMI 2.1?
HDMI 2.1 is the latest revision of the HDMI interface, which is used to transmit both video and audio signals between devices. Building upon existing versions of the interface, HDMI 2.1 delivers improved bandwidth and new features, alongside all capabilities of previous revisions. Despite using the same connector, the revised interface requires dedicated ports and cables designed for the new specification. For specifics on HDMI 2.1 itself, take a look at our comprehensive guide to HDMI 2.1 and its capabilities.
HDMI 2.1: Everything you need to know
Xbox One and HDMI 2.1
While still in its early days, Microsoft has previously committed to delivering HDMI 2.1 support to Xbox One X in the future. Although new hardware is often required to take advantage of the revision, Microsoft claims the Xbox One X was futureproofed with the required hardware already onboard. This should mean that once ready, HDMI 2.1 compliance can be added via a quick firmware update.
Nevertheless, the HDMI 2.1 specification was only recently finalized and the official "HDMI 2.1 Compliance Test Specification" is yet to be published. And without HDMI 2.1 displays even on the market right now, Xbox One X support is assumedly a while off.
What could HDMI 2.1 mean for Xbox One gamers?
Microsoft has remained quiet in regards to what exactly HDMI 2.1 means for Xbox One X. While details have previously surfaced on Variable Refresh Rate (VVR) support, details on other aspects of HDMI 2.1 implementation mostly come down to speculation. But with Microsoft delivering HDMI 2.1 support through an update rather than a full hardware upgrade, expect the console to support only a few features of the full specification.
Looking at the HDMI 2.1 specification itself, several features have clearly been implemented with gamers in mind. However, exactly which features the Xbox One X will leverage is down to Microsoft. We've rounded up some of the highlights of the specification for gamers, and whether they could come to Xbox One X owners.
Variable refresh rates
As of launch, the Xbox One X doesn't offer support for VRR outputs – an increasingly common feature in PC gaming. Adapting the refresh rate of your display to that of outputted content reduces screen tearing and stuttering, without the input lag suffered when using a similar software solution known as "V-Sync."
When support for HDMI 2.1 rolls out to the console, Microsoft is slated to leverage AMD's in-house VRR technology, "FreeSync." More specifically, AMD's "FreeSync 2" is on track to hit the console, which offers an enhanced feature set over its predecessor. Allowing the console's GPU and a supported display to communicate over HDMI, the duo should maintain a stable refresh rate, based on the current output. Essentially, you'll be getting a much smoother and consistent gaming experience, where the display and console work together to output the best image.
If support arrives on Xbox One X, you'll likely be able to use your existing console alongside a FreeSync 2 monitor. Microsoft has reportedly implemented the FreeSync 2 standard already, meaning you won't need a console upgrade to take advantage of the feature. However, FreeSync over HDMI is still uncommon, with more manufacturers expected to debut both TVs and PC monitors with support baked-in. Like many of HDMI 2.1's features, this isn't something to worry about for now, though establishes a strong foundation for the console's future.
Dynamic HDR
HDMI 2.1 also delivers improvements to HDR10's potential – the High Dynamic Range (HDR) standard utilized by Xbox One X. Currently, HDR displays a wider color gamut and improved contrast ratio on compatible TVs. With the arrival of HDMI 2.1's "Dynamic HDR," which processes dynamic metadata on a frame-by-frame basis, color settings can be tuned on the fly. This means that certain HDR settings can be tuned in accordance with the on-screen image, pushing the most out of supported content.
Once again, Dynamic HDR support may never make its arrival on Xbox One X, unless Microsoft chooses to implement it. But with support already established for "Dolby Vision" over HDMI 2.0, its arrival for HDR10 could make this a welcome addition to the Xbox One X's media capabilities.
Higher resolutions, higher framerates
Your Xbox One X won't be getting any major visual upgrades once HDMI 2.1 support debuts, though adopting the technology might open the console to higher potential resolutions and framerates.
The current HDMI revision supported by Xbox One X right now, HDMI 2.0, supports transfer rates up to 18 Gigabits per second – imposing a limit of 4K (3,840 × 2,160 pixels) resolution at 60 Hz. HDMI 2.1 increases this limit to 48 Gbps, allowing for 10K resolution and 120 Hz at lower pixel counts. On supported displays, 8K (7,680 pixels x 4,320 pixels) at 60 Hz will be possible, as well as 4K at 120 Hz.
But with the Xbox One X hardware often pushed to its limit to achieve 4K at 60 frames per second (FPS), don't expect major improvements, if any, once HDMI 2.1 support lands. While specifics on the Xbox One's port are yet to be discussed, there's a chance the console will be unable to support these new configurations, despite being HDMI 2.1 compliant.
Quick Frame Transport
"Quick Frame Transport" (QFT) is another feature tailored toward gamers, designed to make for a snappier and more responsive gameplay experience. When using QFT, frame output latency is reduced, which delivers a much more responsive experience to displays and VR headsets. During those moments where every millisecond counts, this can even further reduce controller input latency on supported devices. Microsoft would need to enable support for the technology to take advantage of its benefits, but sits among the features targeted almost exclusively toward gamers.
What the future holds for Xbox One X
These are just some of the features from the final HDMI 2.1 specification, which could be among the improvements brought to Xbox One X. But as a firmware update rather than a full hardware upgrade, don't expect the full feature set of the specification to hit the console. For now, it's just down to Microsoft to follow through with implementation and announce its plans following the upgrade.
What do you think of HDMI 2.1? Which aspects of the specification would you like to see on Xbox One X? Make sure to drop into the comments with your thoughts.
Get the Windows Central Newsletter
All the latest news, reviews, and guides for Windows and Xbox diehards.
Matt Brown was formerly a Windows Central's Senior Editor, Xbox & PC, at Future. Following over seven years of professional consumer technology and gaming coverage, he's focused on the world of Microsoft's gaming efforts. You can follow him on Twitter @mattjbrown.