Why you should consider getting a Surface 2 this week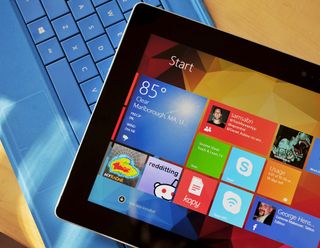 This week, the Surface 2 is getting its price chopped by $100 officially, and even more if you opt for an official refurbished one. With Microsoft's sale, it brings the 32 GB version down to $349, and the refurbed at a very affordable $279 (while supplies last). Even the LTE-enabled style is discounted by $100, and it comes with 64 GB of internal storage.
So, with all the focus and hype on the Surface Pro 3, why should you even consider getting a Surface 2? Glad you asked because I have a few reasons.
As some of you may know, I tend to have a rather larger collection of Windows and Windows Phone devices. Let us call it a fortunate side effect of my job title. As such, I am perhaps in a good position to tell you the pros and cons of the Surface 2, especially compared to other options. First, let me share with you my top tablet/hybrid devices, in no particular order:
Surface 2 with LTE (64 GB)
Surface Pro 3 Core i7 (256 GB)
Lenovo ThinkPad 8 (64 GB)
Dell XPS 15 Touchscreen Laptop (512 GB)
I use all of these devices partially because I can, but mostly because I like them a lot. The question you may be wondering is why I would even bother with the Surface 2 with all of those other 'Pro' devices. So here is why yesterday, when I spent the day in Boston, I grabbed by Surface 2 over all the others.
Size
At 10.6-inches, the Surface 2 is also ideally thin at just 0.35-inches (8.9 mm). It is just 1.5 pounds, making it even lighter than the Surface Pro 3. Even with the keyboard, you can toss this into a tiny shoulder bag, barely noticing it as you take it everywhere.
The Surface 2 is not ideal for long hours of working (although you could if you wanted to) but it is great for quick emails, surfing the internet, Twitter, watching a movie, or working on that term paper anywhere, anytime.
It is fast
This may surprise some people, especially if you had the first generation Surface RT, but the Surface 2 is remarkably speedy. Although a 1.7GHz quad-core Nvidia Tegra 4 chipset (with 2 GB of RAM) does not sound mind-blowing, when it comes to running Modern apps and the 8.1 operating system, the Surface 2 is fantastic. Games like Total Defense 3D run smooth on the Surface 2 with no stutter or lag.
I say all of that as someone who runs a Core i7 Surface Pro 3, too.
Battery life
Rated at 10 hours, give or take, the Surface 2 is one of those devices that lasts you all day. I wish it had better standby time, akin to how a Surface Pro 3 goes into a deep sleep after a few hours, but as long as you remember to toss it on the wall charger when you get home at night, the Surface 2 is a fun all day tablet.
Optional 4G LTE connectivity
As someone who owns an AT&T 4G LTE hotspot (Unite Pro), I understand the benefits of having one over LTE being built in to the tablet. Nevertheless, as someone who also owns a Surface 2 with LTE, I enjoy even more having it "always on" without having to remember a second device and its battery.
Look, options are good, and given the choice to have LTE built in or not, I will take the LTE route any day. You can read my earlier thoughts on the LTE version in this article for more details.
Great display
In 2014, 1920 x 1080 is hardly ground breaking. On the Surface 2, it is ideal at 10.6-inches. The Surface 2's display is certainly an improvement over the original Surface RT, as this screen has colors that are more vibrant and Modern apps appear sharp. Since the hardware is not overwhelmed by an HD+ display, apps and games remain fluid.
Odds and ends
Other items we can check off for the Surface 2 include
Built in Office for students or business folks
Type Cover to make it a laptop-like device (additional purchase required)
A better kickstand with two angles
Better than average stereo speakers
USB 3.0 port
Who the Surface 2 is for
Students are obviously whom Microsoft is aiming for with this sale, and I do not think that audience is off the mark. Taking a Surface 2 to class for notes, writing papers and having it all the time is certainly enticing if you are spending the day campus. Throw in Skype and Office, and you have a neat little productivity tool.
I would also say this is great for people who do not plan to get a Surface Pro 3. Whether it is price, the lack of justification for Microsoft's latest hardware or wanting to wait for the Surface Pro 4, the Surface Pro 3 has numerous dings against it for many people who would like it. More so, if you already have a solid home PC and a workhorse laptop, which makes the Surface Pro 3 difficult to defend for some people.
Here is how I use the Surface 2:
My couch device – We all love to surf and look up things on the internet during TV or down time. The Surface 2 and its smaller size is ideal for this task
Day trips – If it is a weekday and I know I have work to do, I grab my Surface Pro 3. If it is the weekend, and I do not expect to be writing but want a connected tablet, the Surface 2 is more fun due its size and weight. Most people do not have that luxury, but then again, many people do not have my job and its requirements either.
Gaming – No, you cannot play PC games on the Surface 2, but for those who like casual gaming and the Modern versions found in the Windows Store, the Surface 2 is a ton of fun
Writing – The Surface 2 is a fantastic word processor, and great for the coffee shop
Why you should NOT buy the Surface 2
Okay, with all my fawning over the Surface 2, should everyone get one? Not necessarily. For one, the Surface 2 cannot run desktop apps like a PC. You are strictly limited to the Windows Store for apps and games, or using Internet Explorer. Depending on what you plan to use this device for, that may or may not be a deal breaker.
Speaking of, you had better enjoy Internet Explorer 11 as you cannot install Chrome or Firefox (but hey, enabling that ad blocking and IE11 blazes for page loads).
If you do not like using a 10.6-inch display, the Surface 2 can be tough to work on for hours at time. In an ideal world, 15.6-inch displays on a laptop are perfect. The Surface 2's 10.6-inch may be too small for some.
If you are waiting for the next version, you may want to pass. There are rumors of a Surface 3 for the fall, although there is nothing substantial at this point to back up this claim. Presumably, the Surface 3 would be a 12-inch variant of the Pro version but without the Core processor or full Windows. Counter argument: if you are always waiting for the next generation because it is better, you will either always be waiting or broke.
There is no stylus or smart pen. If you want to draw, doodle, or take notes, you are limited to your finger or a Touch cover.
There is also a real question about what Windows 9 aka 'Threshold' means for RT devices. Is RT going away? Is it merging with Windows Phone? What does that mean for current hardware, as flashing a new OS is not exactly an 'update' in the traditional sense. It is hard to believe Microsoft would screw over Surface 2 owners by cutting support for the Windows RT, but stranger things have happened.
Take away
My Surface 2 with LTE is one of my favorite devices. Not just in my current collection, but my favorite hardware in the last few years.
Whether it is the new silver color, its thin profile or all the improvements over the first generation, the Surface 2 is a fun device. Justifying the cost is always difficult, but if you $279 to spare, dipping your toe in the Surface 2 world is well worth it. Microsoft's subsequent firmware and OS updates have only made this hardware better over the last few months, and even with my Surface Pro 3 right next to it, I still grab my Surface 2 more often than you would think.
What is your take? Share your reasons why someone should (or should not) grab a Surface 2 this week. Go!
Daniel Rubino is the Editor-in-chief of Windows Central, head reviewer, podcast co-host, and analyst. He has been here covering Microsoft since 2007 when this site was called WMExperts (and later Windows Phone Central). His interests include Windows, Microsoft Surface, laptops, next-gen computing, and for some reason, watches. Before all this tech stuff, he worked on a Ph.D. in linguistics and ran the projectors at movie theaters, which has done absolutely nothing for his career.
He Daniel, You can't do much with 32GB, and I'm getting it next month with 64 instead. Great info!

Good point, although with microSD expansion, that helps. Having said that, I have heard mixed things with using a micro SD card e.g. it needs to be a high-speed data transfer and best not to put frequently used apps or games on it.

For people who are a little more tech savvy you can go and mount a128gb microSD and virtually mount it as a physical hard drive. I have that on my Lumia 2520 and Surface RT and never need extra storage. Or OneDrive. OneDrive is also cool.

Hi, how do you virtually mount a HD on the 2520? Thanks :)

http://answers.microsoft.com/en-us/surface/forum/surfwinrt-surfdevice/mounting-a-micro-sd-card/8e371761-5c9a-4801-a782-d34e7732da5f

All that stuff was for Windows 8. In 8.1, this is a built in feature. Just go to Devices in PC Settings, scroll down to the SD Card section, and enable default media storage to the card. Media folders will be created on the card and these locations will automatically be added to you Libraries. Move any existing media files into these folders and they will show up in Metro apps.

@SilverSee - thats a good tip for anyone who doesn't know, but I wanted to mount a 128gb mcro sd so that apps and data are stored on the card, not the internal memory......

Absolutely loving my Surface 2. I have talked my cousin and girl friend into buying one and they are loving theirs. Using a 64GB SD on mine but correct me if I'm wrong.. You can't install apps or games on it. Right?

Those are not the same people I hope. :) Seriously though, I still love my Surface RT. I have two main uses for it. I use it on the plane and it lasts a full flight across country with plenty of juice to spare on the other side. I also use it on my nightstand to watch videos to fall asleep. I never turn on my bedroom tv anymore. I'll wait for a Surface 3 but I do like the look and feel of the Surface 2.

@Wael Hasno - you're correct the SD cards don't natively mount as a primary HDD so you're not using it to install apps or games to the card. You CAN use media files like MP3s, XVID, even ROMS for emulators on it on top of documents like .PDF, .WORD, .PPT, etc. without a hitch. I had a 32GB Surface RT from when I worked at Microsoft and it was a nice setup. My gripe was the stuttering that occured too frequently when loading apps. The Surface 2 was a noticeable step up. If you're looking for near PC-like capabilities in a low-cost, long-lasting product, the Surface 2 is definitely a product you should be looking at. The Bay-Trail (mobile Intel chipsets) 2-in-1s and Windows 8 tablets are also good for a look, but none offer the native, and excellent, laptop-like form factor with the keyboard and kickstand without using accessories that will probably set you back $80-$100 easily (more if you get a GOOD bluetooth keyboard at retail pricing).

I hope MS will release touch-optimized Office for Modern GUI, so that Windows RT users can basically forget about desktop and use tablet exclusively in Modern GUI, as it should be used, IMHO. Having desktop that can run only included Office is wrong, potentially confusing for number of users. The whole point (and excuse) for x86 Windows 8 and 8.1 is to provide compatibility with classic apps, but RT cannot run them anyway - so it feels a bit like overdone to have desktop exclusively for Office, and desktop Office itself feels a bit cramped on 10" screen (at least that is my conclusion with my ThinkPad Tablet 2). I really hope that, after releasing Touch Office for iOS, Microsoft will hurry with Windows version. I know that iOS, with number of devices in wild, is much more lucrative market (and so is Android), but it never feels right when company doesn't prioritize their own products and platforms.

Depends on the user's needs and uses, really. I have the 32gb version and still have 90% of the free space available after using since launch. I do use OneDrive extensively, but even without some type of cloud storage, I'd still be fine.

You must not be a big app user then, or very much interested in games. I have around 12-15 apps/games installed including a few big ones like Asphalt 8, FIFA 14... and wham, barely enough free space left on the 32GB version once all the Windows Updates are installed as well. All my files are either on OneDrive or on the MicroSD card but the 32GB version really is next to useless given the space the OS requires. I wouldn't recommend anything less than the 64GB one (that too with a 64/128GB MicroSD) to a new user.

You guessed it. :) I'm not a gamer and regularly use only 5-10 apps outside of the ones preinstalled. And, I know I'm not the only one with usage patterns like that. As I said, it depends on the user. So, I take issue with describing 32GB as useless. It's far from it.

yeah.. when I add files around 5GB on my surface 2, my drive would turn to red (almost full). app data folder takes so much space even if I only have few apps. the back of both my 1st and 2nd gen surface are also now peeling off. i'm now hunting for some good stickers to hide it. and the browser.....wow.... worst ever. you should have a lot of coffee beside you to make you awake while waiting for it to load. and the speakers....my Q10 is a lot louder than this tablet. it also can't power a usb 3.0 external hard drive. but still i like it. onedrive, file management, torrex and media player. good entertainment device when travelling.

Nonsense, 32GB works absolutely fine if you aren't a big gamer. Sure, as only makes sense, if you want to download GBs of games and not have to swap them out you should definitely go for 64GB... but we have two 32GB Surfaces in the house and have never come close to using all the storage. That's with probably 10 games installed on each... puzzle type... and not supporting much local music or video. For apps and browsing 32GB will do just fine.

Before I say anything else, I completely agree that 32GB is absolutely enough space for most users. I just wanted to take a second and laugh at how the trend has changed -- I can remember 6 or 7 years ago now where we were always pushing for more and more. I know I was always excited when they slapped another TB on a hard drive I was looking at or when I was able to fit another few gigs of RAM into my system at a lower cost and without upgrading the board. Now everyone is perfectly happy to settle for >100GB of drive space and we consider anything that can't run on 2GB of RAM (outside of games, etc..) to be overly bloated. It's just funny to me how my perspective has changed!

I've had a 32 GB Surface RT since launch and haven't ran into an issue with space. I keep mostly everything on OneDrive & use a 64GB microSD card for local backup & recovery. Even with less than 20GB of usuable storage space, it's more than enough for a tablet.

"a tiny shoulder bag" = Daniel carries a purse

I prefer murse, thank you very much! :P

I tend to prefer "haversack".

It's a European carry-all.

A purse, by any other name...

Your breakdown is precisely how I view things. It is a great device to have even if you have the others. I do because I don't want my family (read kids) to use the Pro 3 as there is no need for them to use it and its a lot more expensive. It's just a great bargain on a great device.

It's also a perfect device for technologically illiterate grandparents! They absolutely love downloading viruses, (but can't on an RT device.) (nsfw language https://www.youtube.com/watch?v=763oGUbbvok )

Your right, and Daniel is right. He did say all the things about the Surface 2 I would have said. Love my Surface 2.

I have the 32gb and it's awesome. I also have a 63gb card and a 2tb external.

Wow didn't know they made 63GB microSD. Is it 1/64th discount off the 64GB card?

OMG it's a typo. get over it Mango before i eatz ya

I've actually been mulling over this. Quick question though (and forgive my ignorance), you mentioned Office is built in (Presumably Office RT or 'Student' or however you'd classify it). Does one NEED an Office 365 subscription? Or is it built in like a Windows Phone, ready to use? Thanks!

I believe it the RT version usually comes with one year of Office 365, but I could be wrong on that.

Surface 2 comes with desktop office and so far, I see no indications that it will stop working.