Will you be able to get the Windows 10 Creators Update on April 11?
The Windows 10 Creators Update is expected to be available on April 11, but that doesn't necessarily mean you'll get it on day one. Here's how Microsoft's rollout will work.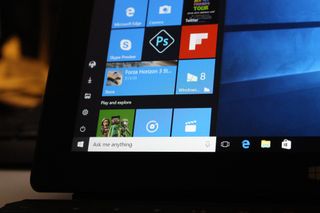 Starting April 11, 2017, Microsoft begins the official rollout of the Creators Update for Windows 10. The new version of the OS is available for desktop PCs, laptops and tablets. Windows phones are expected to get the update on April 25, and if you own an Xbox One, you can get the Creators Update immediately.
The Creators Update is the third Windows 10 refresh, and it's a big update. Although you probably won't see drastic visual changes because most of the improvements are happening under-the-hood, the new version delivers a handful of features and enhancements. Some of these new changes include new support for 3D and mixed reality, improvements on the Start menu and Cortana, and a vastly improved Settings app. Microsoft Edge gets an e-book reader and new tools to manage tabs, and the Creators Update also adds security improvements, including a new Windows Defender Security Center dashboard.
What devices will get the Creators Update on April 11?
While the new version will be available for millions of devices around the world, there's still one big question to be answered: Will you get the Windows 10 Creators Update on April 11?
The short answer is maybe because there are a lot of factors that have to be considered. The new version of Windows 10 will be available starting April 11, but that doesn't mean everyone will get it the same day.
It's a gradual release and select devices will get it first
Microsoft will roll out Windows 10 version 1703 in phases. This time around, to offer the best update experience possible, the company will be updating newer desktop PCs, laptops, and tablets that have been tested to work with the Creators Update first. Some of these devices may include Surface PCs and devices that originally came with Windows 10. Then, based on feedback from telemetry during the initial release phase, Microsoft will continue rolling out the update to other devices.
Other factors that can delay your device from getting the update include feedback from customers, certain installed software, hardware compatibility, device make and model, geographical location, and the way you obtained the OS.
In addition, you need to consider that a lot of devices will try to download the update on day one. While Microsoft will be provisioning enough servers and bandwidth, contacting the update servers during the first few days may be a challenge.
Unlike the Anniversary Update, the rollout of the Creators Update will be much slower, and it'll take months until every compatible device is upgraded. Possible issues during the early days could cause significant delays. Although the Creators Update aims to make Windows 10 the best version ever, sometimes big changes can break other features, and unknown bugs may appear and negatively affect your experience.
Delivering a new version slowly helps Microsoft to minimize the number of affected devices, and halt the rollout if necessary.
Other ways to get the Creators Update on April 11
If your computer isn't getting the update on day one, and you can't wait until it arrives automatically, there are a number of ways to install the Creators Update immediately.
Whether you're running Windows 10 Pro or Windows 10 Home, you can use the Update Assistant to skip the queue and jump to the new version right away. The assistant is a small tool that's designed to force a feature update if Windows Update isn't working, but anyone can use it.
Additionally, Microsoft makes available the Media Creation Tool, which is another easy-to-use utility that allows you to perform a forced upgrade. This process is identical to the Windows Update process, and it'll keep your personal files, settings, and apps intact. You can even use the tool to do a clean install of Windows 10. However, you'll need to restore your personal files from backup, reconfigure your settings, and reinstall all your apps.
Wrapping things up
The Creators Update is now finalized, and even after many months of development, Microsoft still has to face its biggest challenge when the update heads out to millions of devices around the world.
On April 11, many users will try to download and install the update. If you're planning to rush the update, be patient, and remember that if your device isn't getting it, that's normal in a slow rollout. You will eventually get it.
If you're having issues during or after the installation of the Creators Update, we have you covered. Check out our guide to help you troubleshoot and fix common problems with the new update.
More Windows 10 resources
For more help articles, coverage, and answers to common questions about Windows 10, visit the following resources:
Windows 10 help, tips, and tricks
Mauro Huculak is technical writer for WindowsCentral.com. His primary focus is to write comprehensive how-tos to help users get the most out of Windows 10 and its many related technologies. He has an IT background with professional certifications from Microsoft, Cisco, and CompTIA, and he's a recognized member of the Microsoft MVP community.
Insider for Life :) running it on my SP3 and Lumia 950XL for some time already :) actually, not true... my SP3 is already on the 170331 RS3 prerelease build :) Bring it on MSFT!!! :)

I try & convince my girlfriend of that every time I'm drunk.

Ran it early on my Surface Pro 4 and my PC as Edge was running like a dog. Much better after the CU!

I'm running that on Hyper-V but I keep the main install on Release preview insider

Already got it via insider ISO download. Anyone can force the update right now anyway if they don't want to wait

No need to get the Insider ISO. The Media Creation Tool offers the Gold RTM ISO.

Actually the MCT creates a customized ISO from ESD files. The Insider ISOs *are* the "Golden Master"

Either method works the same

I'll take it as it comes rather than forcing it.

Me too. At least I'll say that for a while, until I get impatient. :-)

I am running for last few days :)

Just wish you could force the mobile to go to cu stupid vector app breaks when you go to an insiders version even release preview its very annoying.

Running it on my SP3 (clean install) and it is so buggy! Big issues with OneDrive sync and Edge is awful. Was running perfect on AU!

Thankfully Win 10 makes it almost too easy to revert to the previous OS version if it's that bad for you.

I feel you, i find it quite buggy. Settings that reset by them selves, no matter what i do, are the most annoying. Start menu has some bugs, desktop icons can get really nasty if they're not set to automatic arrangement. For the moment, i do not like it. Also, i do not like that MS. always changes the place where things are. It is already hard to control the system with two interfaces, and the chaos in settings is crazy. Now with every update, what we learn gets moved. Their has to be a stable reliable version! If not, MS will start loosing customers to the crappy apple! Just because macOS is like it is, since ever.

ekto you described my feelings!! I dont want to learn new things when it comes to my OS. Some minor changes are okey but big ones every 6months or 1 year is way too much. Elderely people have big trouble to keep up with all the new tabs, features etc.. Its useless. I want to know my OS as much as I can and I want to control it too... but I have a job, family.. no time to learn every new feature. Just give me a working OS without major bugs and I will be happy

Only old people think they matter. You want to "know" your OS you should have stayed on Windows 7

The irony of you calling people "old". LOL

Wow, great and smart solution! Nope, was just a joke! Their are people that actually like controlling their system and not vice versa, if for you it is ok that the system does whatever, and i can bet you know way less then half the system, that is your problem. I like to know what my system does behind the UI. And i am not alone. Pappale, this is for you. This ignorant's think it is ok to just have no control over data, files… anything.

Edge is much improved in RS2. It's almost certain you aren't running the latest drivers from Intel.

Coming soon!!! I already updated most of my devices. Theres a bug, when you open couple apps. The start menu and flyout menus become laggy.

Interesting. Are you running an Intel Atom processor by chance? There's a known issue with those. My machines are actually snappier than they were before. The experience you have is likely going to be determined by the hardware you're running to an extent also. SSDs definitely make a difference!

I noticed this issue on serveral different form factors. After I close some apps, the menus become smooth again. Nuvision tablet with Intel Atom x5-Z8300
Latitude E7470 Ultrabook with Intel Core i7-6600U
OptiPlex 9030 AIO with Intel Core i7 4790
OptiPlex 7450 AIO with Intel Core i7-7700

Yes It's the same thing with people who bought a L950 and put a cheap or even a fake SD card in their phone, then blame the phone.

Hey! Its the "Old" Microsoft Apologists!

It's not a bug though. Opening multiple UWP apps at once is *really* CPU and I/O intensive. Of course the Start bogs down as well

Nope, it is not "Of course". It is an optimization problem and ms should start using their brain. They are a software company, for god sake.

I didn't have this issue until CU. This is a serious optimization problem then. A computer with high end specs lag when having 3 apps opened. lol...

I've got it via the Update Assistant and I'm not sure what all the fuss is about to be honest.

The fuss comes with the bugs:)). Newly, people like this

You can hide the all apps list. That's nice. For the rest, very few notable changes. Perheps things run smoother under the hood, who knows.

Improved Edge and faster OS updates via UUP are the hottest things really.

I like this upgrade a lot, it has much more simmilarities to Windows 7 and Vista in the way you can customize the title bar colors, I choose a blue steel color previously unavailable in Anniversary update. Night light and Themes are great by the way

I've updated both my desktop and surface tablet without issue on the 6th. I saw no need to wait. The easiest way for me with these large updates has been to avoid Windows Update and the Assistant and instead go for the Media Creation Tool. I have it make the ISO so that I don't have to wait for it to download on each machine. Then it can be mounted and directly installed from or burned to disc. It's also completely offline during install so there's one less point of failure.

I installed the official built of the creators update about four days ago. It is a beautiful experience

I'd rather wait and get a better experience.

I am just asking, how does waiting give a better experience?

Maybe bugs fixed here and there..?

Because the one you get early via the update tools is the same as the officially released one. After that both methods will have some cumulative updates to fix the bugs on the same day.

You said it yourself. AFTER. I meant that, and I'm sure user-774 meant the same

If you want to waste your time with multiple updates at once then be my guest.

I don't even have W10 on my laptop. I'm sticking with W7 and don't plan to upgrade, not any time soon. Enjoy your buggy W10

Whatever jerk, nothing bugged me so far.

Ha-ha, jerk. Brilliant! Good night kid!

good night to you as well, child.

Apparently, he did, even if Windows hasn't.

I have windows 7 on my work computer and windows 10 on all my home devices. I find the windows 10 experience to be way better. Plus it is more secure. All operating system have bugs, but I haven't experienced anything too bad on windows 10. The only thing I really want them to improve is edge. It really does have a lot of issues still.

I have no issues with Edge at all! What are You talking about?

They did improve Edge in RS2. And they'll continue in RS3.

I hope you do know W10 Anniversary Update is flawless, right? Creators is more buggy right now, but in 2 months it will be even better than Anniversary.

In other words, waiting gives you nothing better but you will also get the same bug as the people who get the update early will.

The oficial build is 15063.0. We'll it will eventually be rolled out to him, it may be 15063.117 or something, which will have a ton of improvements to performance, stability and bug fixes compared to the RTM.

Very good decision. I did not wait and well..... It is f*** buggy.

It would be very interesting to see the marketshare of the CU of now, before the official release.

I have it now. And so does my dad who is not on the insider program. He has a US HP Envy 15 laptop.

I started running CU on 3/31/17. It has been running great since it was installed. Edge running trouble free also. I am happy.

Tried to get it via the Update Assistant last night. Locked up at 95% and forced me to roll back after a few hours. Tried it at work, refused to DL on multiple test machines. I shan't be holding my breat for this, nor will I got through the pain that was the Anniversary Update, which I had to do a clean install of W10 to get to work. Not sure what MS has against my computers.

Try using the Media Creation tool from MS, this will download an ISO to install with

The update tool is super easy, btw. Just two clicks, and bam. Got both computers updated in about 1 hour.

Anybody know what happens if you have a non-supported phone (I have a Lumia 735) and are on the Release Preview insider ring? Should I get out of insider? Will I just not get the update? Will it blow up my phone?

Stay put. But why It's not supported. The list of 13 devices are not real.

There are no confirmed/unconfirmed supported phones.

Your phone will be just fine, lol. Creators Update is not on Release Preview. It's only on Slow and maybe it's on Fast Ring still. I advise you to switch rings and update soon, cause Microsoft is bound to pull the switch on unsupported devices any day now.

It's available globally if you force the update now, else it'll be a staggered release as usual

Only in Indiana. And you were soooooooooo close!

I'm on it, its an upgrade and sped up my boot time from 7 minutes to around 7 seconds! Rejoice!

Great article guys thanks. One question:
Last summer I upgrade through upgrade assistant and the bugs made me reset my device. As you mention in your article bugs may appear and ruin the OS. If we don't get it in day one and upgrade via upgrade assistant will be buggy again or not? I mean there is no difference between upgrade assistant and wait for it to come in next days or months?

Its super unstable on hp omen 2017. I installed it
.. It made my lap unusable and so i rolled back :|.. Like stutter every second in game..

Do a clean install, install the latest stable/beta GPU drivers for Intel, Nvidia or AMD where needed.

Installed it last night on my Surface Pro 2. No issues so far.

But you're going to have to turn it on eventually.

Updated my NuVision tablet the other day, using the Upgrade Assistant. Only issue is my Start menu got reset.

Will they release ISO for this one

ISO has been available for about a week now

For close to 3 weeks now, lol.