Will you install the Windows 10 May 2021 Update right away or wait?
Some people grab Windows 10 updates right away while others wait; we want to know what you do when updates roll out.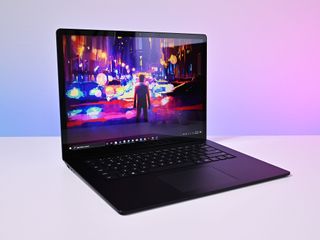 (Image credit: Daniel Rubino / Windows Central)
The Windows 10 May 2021 Update rolled out earlier this week. Every time a new feature update for Windows 10 rolls out, people come to Windows Central to find out two things; how to get the latest update and how to stop automatic updates on Windows 10. This week was no exception, as many people checked out our guides on both topics. We want to know what you do when a new Windows 10 update becomes available.
Some people like the grab updates right as they roll out, often to test out new features. The Windows 10 May 2021 Update is a relatively minor update that doesn't bring many outward-facing features. There are, however, a few features that people may want to get their hands on, including being able to set a default camera when you have two Windows Hello cameras.
On the other side, many people like to delay Windows 10 updates to avoid issues. Microsoft doesn't exactly have the best track record with updates over the last few years. Last year's Windows 10 May 2020 Update had several problems at launch, including installation issues and problems with OneDrive. It's no surprise that our guide on the common problems and fixes for the Windows 10 May 2021 Update is already popular.
If you do want to grab the Windows 10 May 2021 Update, there are three ways to get it. You can install it through Windows Update, use Microsoft's Update Assistant, or use the Media Creation tool.
After you vote in our poll, let us know why you update right away or hold off in the comments below.
News Writer and apps editor
Sean Endicott brings nearly a decade of experience covering Microsoft and Windows news to Windows Central. He joined our team in 2017 as an app reviewer and now heads up our day-to-day news coverage. If you have a news tip or an app to review, hit him up at sean.endicott@futurenet.com (opens in new tab).
Installed it at launch day, and to me now all is working 100% fine and update was very short install, because the last bug I was looking in my PC is gone. On space optimization my system "disk" was displayed as HDD and now is SSD, ok, and the optimization option is unavalaible, with a grey color.
My only concern how many times it was optimized. May be none, because TRIM was on.

What do you mean by optimized. SSD disks have no moving parts, Trim is the only thing needed as jumps aren't a problem.

Didn't received it yet. I'll install it via Settings.

Right away mostly but updates have become boring af.....really waiting for sun valley

Why, what do you think that will offer apart from some new icons which most people will not even notice they are different?

A modern File Explorer HAS TO happen with Sun Valley, dialog boxes and other Windows UI lelements (like the start menu and action centre) should all be modernised. What I don't think will happen is a better tablet experience as that's not where M$'s focus lies now (although dropping 10X suggest they have more in the Sun Valley basket so hopefully I'm wrong).

I don't really use file explorer much these days, I tend to use directory opus, while the UI is a bit out dated, it does a better job than what is built into Windows,, the same with the start menu, I use start is back, I hate the Windows 10 start menu.

Either you genuinely believe that Sun Valley is nothing but icons, in which case you should do some research for yourself, or you're being deliberately hyperbolic and your question is utterly pointless. Which is it?

From what I have read sun Valley is about the look of Windows and that includes the icons, it may change other things, but I still don't think it is something to get excited about, but then I thought the UI on windows 95/98 was fine it did the job. i changed XP look to the classic look, just a shame that can't really be done with Windows 10.

I don't know what sun valley will offer....but I have been looking forward to this update ever since I read its gonna bring a visual refresh.....I'm happy they're trying to change the current windows and hopefully remove unnecessary stuffs no one uses now.

I wait, sometimes for months, the last update i did was 20h2 and that was early this year, and I only updated at that time as I had to do a clean installation. I have not updated since then, even the small updates.
I will wait for a few months, Windows updates have a habit of mucking up; for many people. Anyway there is nothing in the updates worth bothering with.

With the whole "if it ain't broke, break it" mentality amongst the change addicted developers of today I always delay updates of software that's crucial to me. I've enabled the 365 days delay of feature updates through GPE now when it's been removed from the regular settings in Pro. And I only install the next feature update in the summer.

This is one of the reasons I have 2 desktops. 😁 Install on one, try it out for a few weeks, then install on the other.

I installed the latest update twice and had to reset PC twice, so now will wait a month and see what happens.

Straight away and used ISO.

It's been in my Surface for several months already.

I've had it for a few weeks through Release preview on one machine. My other machine is stuck on 19H2 because every time I update to 20H1 or later it blue screens for "Page Fault in Nonpaged Area." It even happens on fresh installs so... 🤷🏻‍♂️

You mean 1909. Weird. You've ensured everything is on the newest driver first? How about installing straight to 21H1 instead of updating to it?

Try updating all your firmware and drivers likely a bug in them.

I now defer for 30 days. So my Windows Update won't see if just yet even if it's ready for the Pro X. But 2004 took months to come to the Surface Pro X. 20H2 was much quicker.

I wait because there always seem to be "known" and some unknown issues plaguing every update. So I pause updates for at least two weeks after each Patch Tuesday while I monitor various messageboards, Reddit, blogs and websites to see what problems people are reporting, is Microsoft aware of the issues and if they are offering any guidance or formulating a fix. If the issue(s) being reported are not germane to me (last Patch Tuesday the problems affected gamers, which I'm not), I unpause updates and go ahead

I always install right away. I know I often post criticism of Windows 10, but I've never personally run into any technical problems with their 6 month upgrade cycle. In fact, the one time where it would have been bad if I did upgrade (PCIe SSD storage on system drive had a nasty bug at 20H2's release), MS blocked it until the bug was fixed. That said, I'm pretty neurotic about pushing projects to Github and backing up my drives, so in the rare event I did run into a problem I'm out 30 minutes restoring a backup on my desktop and laptop. My surface book is on insider, it goes YOLO.

I followed that way until 20H2. The recent (not May) update actually shown the BSOD on my w10 Pro PC.

I'm tired
Will skip this till next update. Probably 2109

I don't contest there are situations where a non-functional computer is better than an insecure one. Like when you're dealing with top government secrets. But in that case you might want to consider something not Windows. For me, I generally install updates 7 days after a release, so that deal breaking bugs can be found and I know what I'm getting into (avoiding things like the March printer bug). For version upgrades I used to wait for Microsoft's declaration of ready for Semi-Annual Channel. Since they have done away with that, I've been waiting at least 6 months to sometimes a year to get them.

I have an older PC, so I wait for Windows to clear up any issues that my be related to this specific PC's age. Recent updates have come very quickly. One of them a couple years ago took forever. I thought it was because my setup couldn't handle it. But at some point I noticed a number of driver updates came down, and then the update followed. So now I wait for Windows to do any necessary preparation before an update. It usually happens very quickly.

Not surprising this is a 75/25 split on right away/wait. This is after all an enthusiast site. Some enthusiastic about bashing Windows, but enthusiast none the less. In the general public you'd need a third option; what's an upgrade. Those folks likely install when the system prompts them to, or when they can no longer say, later.
Windows Central Newsletter
Thank you for signing up to Windows Central. You will receive a verification email shortly.
There was a problem. Please refresh the page and try again.