Windows 10 build 10537: All you need to know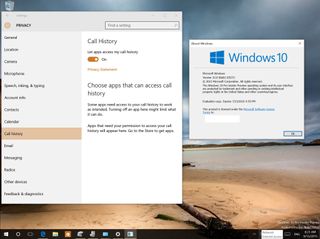 Windows 10 has been out for several weeks and since then Microsoft has also delivered a few new build to Windows Insiders. While we continue to wait for the company to roll out a new preview for PCs, Windows 10 build 10537 has leaked unveiling a number of changes and improvements over build 10532 that was released on August 27th to the Fast ring of updates.
Windows 10 build 10537 is an internal preview, which means that it's not ready for the public for download and installation on a primary computer. It's an unofficial build, so it's not supported by Microsoft. You might find more bugs than usual.
Having said that, today we're going to go through some of the changes and improvements that are included in Windows 10 build 10537.
Windows apps animations
Perhaps one of the most noticeable changes in this leaked preview of Windows 10 is the new animation for the Windows Store apps. To further bring the modern and the traditional user-interface closer together, Microsoft is adding the same closing and opening animations you will find on desktop applications to the Store apps.
Context menus
One big inconsistency in the Windows UI is the context menus since the software giant released its operating system. We have seen different context menus designs in the Start menu, using Microsoft Edge or Mail app, and Control Panel, just to name a few.
After some feedback, Microsoft is working to improve the experience. We have seen some of the new changes in Windows 10 build 10532, but in build 10537, we continue to see more improvements. In the leaked build, the software giant is moving from a white to a light-gray color background that looks very similar to the context menu on Microsoft Edge.
More new icons
In Windows 10, Microsoft introduced a new set of icons. However, the company only change some of the icons. If you were to navigate to the Control Panel and other areas of the operating system, you'd still find older icons.
Windows 10 build 10537 includes new icons in Control Panel, and other areas when you navigate to Device and Printers, network adapter properties, Device Manager, and more.
Settings app
The leaked build shows that users will be getting a few changes in the Privacy section. In future updates, users will be able to control which apps can access your call history and emails with the Call History and Email settings.
Microsoft Edge
While we're still waiting for extension support and tab preview, Microsoft Edge in build 10537 includes a few changes. In this new preview, you'll find a button to configure proxy through the Settings app. There is also a new Hide my local IP address over WebRTC, and on about:flags you'll find a new Fast Identity Online (Enable Fast Identity Online (FIDO) 2.0 Web API for accessing credentials). The new Windows 10 browser jumps to version 21.10537.
Wrapping things up
Windows 10 build 10537 isn't much far apart from build 10532, which Microsoft rolled out a few weeks back, but the newer build includes some additional changes and improvements.
Overall, the leaked preview is very stable. Pretty much everything works as expected, but logging in takes longer than expected. (However this could just be my system configuration.) As per our policy, we don't provide direct download links for unofficial releases of software. Additionally, we don't recommend using this build as it isn't supported by Microsoft and may cause some unexpected issues.
What do you think about the new changes? Let us know in comments below.
Mauro Huculak is technical writer for WindowsCentral.com. His primary focus is to write comprehensive how-tos to help users get the most out of Windows 10 and its many related technologies. He has an IT background with professional certifications from Microsoft, Cisco, and CompTIA, and he's a recognized member of the Microsoft MVP community.
They still need Photos added to the Privacy area.

I hate that Windows 10 wasn't complete when they released it

Software is never finished, they will be working on windows 10 for the next 25 years like they promised.

Sure, and I don't mind them adding extra stuff and fixing with patches, but the ruddy scaffolding is still up on W10. It is still very beta. They should at least have completed the bits they did release rather than sending out what amounts to a preview version with the pretence of readiness which is not realised in the end user experience. W10 has the foundations of a good OS. I was hoping for some walls and a roof as well though.

I suppose you could not bother upgrading until you feel like it's ready.

Cos Yosemite was perfect *rolleyes*

Yosemite was a disaster. The reason I went back to Windows is because of Yosemite. The mouse lag and stuttering. Shit is unbearable.

I know what you mean. The registry editor icon not being updated completely destroyed to entire experience using Win10. Because that one icon was not updated, I decided to completely stop using all computers, move into a cave and become a hermit. In fact, I am not using the internet now because of that one single icon. Microsoft be damned because they could not take the time to update an icon to the most used app within Windows.

Thanks, i literally LOLed to your comment

Do you have any devices with Broadcom WiFi to see if this build fixes the driver problem? I'll go unofficial if it does. Thanks.

Everybody participate in feedback for edge extension support and then they will consider it fast....Don't cry on these sites...Cry inside windows feedback...Lets go and suggest for better edge browser.

The next build has quite a few bug fixes compared to 10537. Though I'm holding off installing it on my Surface.

I couldn't get the last official Insider Build as it won't install on my SP3 with Hyper-V enabled. Unfortunately, I know if I remove Hyper-V (Haven't used it for a while) something will come up where I suddenly need it - So holding off on the workarounds. Gabe said the issue MAY be fixed in the next flight, but couldn't say for sure...At least they know what it is

Don't​ you have issues playing videos and sound when Hyper-V is enabled on your SP3? Because I do, or did the last time I tried.

I hope the call history and email setting is opening up a way to having the Hstory tab to return to the people app. Of course, this build is Windows 10 desktop, but this could conceivably come to mobile too. ONe of the things that made the people app really useful, and especially when pinning individual contacts, was the history tab.

Why everything in windows is getting bigger !! I hated and reported that the "close, maximize and minimize" are as thick as the task bar!!! and now the context menu - I'll consider replacing my 13 inch pc for a larger one just for that menu to fit.

I agree. What's the need to make context menu so bigger.

This build confirms that Microsoft is keeping it's word to continue to improve the Windows 10 OS. this is a good thing for sure

Why is it so hard to make all the context menus dark? I want to right click on the desktop and have it be the same color as on the taskbar. Like the progress though. And truly if they made all of them grey or white I am fine as well, but be consistent.

After this update can I install AdBlock on Microsoft Edge? The advertisements are killing me, especially on YouTube.

read the section about Edge... the 1st sentence answers your question.

You could easily block ads system wide using a batch file. Search for hosts.bat

WOW! if that's all there is to know about this build, then I'm so glad that I chose to get out of the Insider's Program! If MS believes that new icons are a priority over the miriad of bugs and other missing functionality, then maybe they need to replace Satya Nadella ASAP. FIDO 2.0? How about supporting FIDO 1.0 and allow me to use U2F in the most current (standards compliant my ass!) browser they call Edge! I fully understand their Windows as a Service mantra, but that's just another way to put out crapware and call it a SERVICE!

Windows as a service is pretty disappointing. They are stuck doing tweaks that should have been done in the technical preview. I'm afraid of what the November update will have. A couple updated animations and icons? Lol.