Windows 10 build 14393.576 rolling out on PC and Mobile for Release Preview and Production rings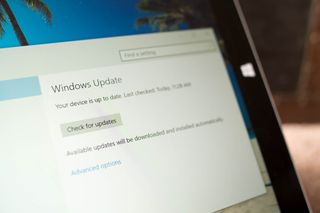 A new cumulative update for Windows 10 on PC and Mobile is rolling out this Patch Tuesday, featuring a number of new bug fixes and under the hood improvements. Today's update is rolling out for both Release Preview and Production Rings, meaning the public is getting this update too.
The update brings the Windows 10 build number to 14393.576 (KB3206632), up from the build released last week which was 14393.479. Here's a changelog: (opens in new tab)
Improved reliability of Security Support Provider Interface.
Addressed a service crash in CDPSVC that in some situations could lead to the machine not being able to acquire an IP address.
Addressed issue where a Catalog-signed module installation does not work on Nano Server.
Addressed issue with Devices left with Hello on for an excessive amount of time will not go into power savings mode.
Addressed issue with gl_pointSize to not work properly when used with drawElements method in Internet Explorer 11.
Addressed issue where Azure Active Directory-joined machines after upgrading to Windows 10 Version 1607 cannot sync with Exchange.
Addressed additional issues with app compatibility, updated time zone information, Internet Explorer.
Security updates to Microsoft Edge, Internet Explorer, Microsoft Uniscribe, Common Log File System Driver.
Update has just started rolling out now, so if you can't see it just yet, don't worry, the update is still propagating throughout Windows Update and may take a few minutes to show.
Windows Central Newsletter
Get the best of Windows Central in in your inbox, every day!
Zac Bowden is a Senior Editor at Windows Central. Bringing you exclusive coverage into the world of Windows on PCs, tablets, phones, and more. Also an avid collector of rare Microsoft prototype devices! Keep in touch on Twitter: @zacbowden.
Preparing to install @16%. Post update (after spinning wheels) the time logo is displayed appears to be longer than the previous updates. I left it like that for a while and it continued to subsequent screen and then to start screen.

Downloaded, installed... says it needs to reboot to complete installation, but stuck on Windows logo (L950XL) for about 10-15mins. Is this what you had and is anyone else getting this?

Why would you install 30%? I went the whole way - 100%.

Downloading on T-Mobile Alcatel 4S! Nice because my phone has been buggy for some reason.

T-mobile 925 here. If this update doesn't speed it up I'm giving up on W10, going back to 8.1

How are you liking that 4s? Really tempted to switch from my unlocked 950 on tmobile. I miss wifi calling and I know the connection isn't 100%

Downloading on 930 and 950.

I hope this fixes my issue with the Alcatel Idol 4S where the SD card unmounts after a while when using the fingerprint scanner.

I haven't had that problem as of yet, just very buggy. But I hope this helps you with that problem.

I have this same problem with my Elite X3

Same Problem (SD Card unmounted ~ 1-2 times a Week) on my x3 here but not Using Fingerprint at all...

Are you using iris scanner? My SD card will umount in 24-48 hours if I have Windows Hello enabled. Idol 4S only has fingerprint scanner for WH, so maybe it happens with the iris scanner also?

Well that didn't help. My SD card unmounted this afternoon after I installed this update yesterday evening. I've disabled Windows Hello again. I hope Microsoft fixes this issue.

Aaaarg... Still no fix for the app update issue, this is getting bloody annoying!

What app update issue?? Try changing your app default storage to phone nit SD Card and see if that will fix it.

The second issue they fixed (unable to acquire IP address) might be the reason why my phone sometimes can no longer connect to Wi-Fi until I restart it. Long overdue update if that's what indeed has been fixed.

I noticed this again just yesterday. Hopefully it's fixed; downloading the update now!

This happened again today even after applying the new update, so I guess the bug is still there.

Rubbish, why Microsoft don't want to fix the brightness issue of windows 10 on mobile?

My screen brightness has been working on fine on my Lumia 950 XL running 14393.448. What issues have you been having?

Working fine on my idol as well

So you pulled the trigger on the 4S l, nice! How are you liking it?

I am also facing this problem

My light sensors doesn't work good sometimes I have even can unlock my phone or the screen stays off when I take my phone away from my ear when I have a call ! Power button doesn't work too that time until force restart my Lumia 950 xl

Might have to just clean it out if you're using a 950 series device.

This has happened on a few occasions with my 950XL as well... it's as though the light meter gets "stuck" not recognizing a light level change. Hasn't happened for a while though and I can't remember what triggered it. Last I remember it seemed as though it happened when I opened the start screen IMMEDIATELY after it closing/sleeping?

Do have the same issue with my L950xl.did a hard reset, wiped with windows recovery,nothing helped

I sent mine in for warranty screen replacement as I was having light issues and the glance was a no go. Working great since. Love my 950XL.

What were the light issues u faced.do u use glance now?

Yes these problem for happens on my L950xl too.. Restart and hard reset also won't help!!! Any solutions ??

https://answers.microsoft.com/en-us/mobiledevices/forum/mdlumia-mdsettin... this problem??

No issues at all on xxxx.448. You're fast ring insider. My brother has same problem on fast ring.

Nope.on production.should switch to fast to know if its fine there

Getting error 0x8018830f on my L830 Release Preview. Installed just fine on my laptop on RP.

Installing on my surface and my 950

😒 Yet no update to saving battery notification... Do you have problems with notification? I mean I receive all notification when I'm in saving battery and or not normal... And I can't do anything to resolve that...

Yes I am also facing this problem

I think it depends on the access that the apps have. For example I get Messenger and WhatsApp messages, but not Emails as notifications during battery saver mode.

Same problem over here, but I'm still yet to download this update on my Lumia 650, let's see if this fix things up.

Me too, receiving notifications while in battery saver... Thats b.s!! 😞 L540

Not to be rude but isn't there a setting feature that allows you to say which app you want to continue allowing notifications when in battery saver mode.

With AU,it have managed by windows which doesnt cut all apps from background.notification keeps coming even when battery saver is on

True, me too.. I know exactly how to manage notifications, background apps, and battery saver doesnt stop notification like before although i did not try this update yet..

Installing on Lumia 638 with 636 PH CV ROM and China 638 Modem.

It's the same for PCs and o phones.

Nothing improved for mobile just build number

Surely not just build number but under the hood changes and improvements not mentioned in the changelog :)

Build number change requires 77mb update? Damn.

Is the automatic light dimming bug fixed in this update???????

Don't think so.... I'm waiting out this update.... I'll be reading the comments for more info

No its still there... Lumia 638

that feeling when you hear that new os update is out for your phone , oh download already.

Downloading to my idol on production now

Hope this update won't be like the last one.... Where i got a message to reset my phone if i had any issues

I just reset my phone yesterday... Cause i was having issues from the last production update!

Download and Installed 02 in the uk, any idea of changes?

this Fix is greatly appreciated "Addressed issue with Devices left with Hello on for an excessive amount of time will not go into power savings mode. ​"

Finland L950XL retail... Downloading (exited)

Plzzz give call recorder on lumia 640

Not gonna happen. That's a feature on new devices only.

Great, my Surface has started freezing and becoming unresponsive again with this update, and its not due to throttling. The issue has existed since the Anniversary Update and no matter what I try it isn't resolved.

Mines do this on the insider preview builds.

I did that like 5 times and seems to still do it.

Oh so sorry then wait for rs3

Lol it's cool, I'll wait till then. Thanks though

I was really hoping for some more Bluetooth improvements. The last 2 AU updates have caused Bluetooth device reliability to plummet, and battery usage to skyrocket.

I noticed the bluetooth issues on both my Laptop and L640XL... Except pictures I don't transfer anything via the bluetooth cos it will fail.

Update installed.. Everything seems ok...

Downloading on Elite x3. :)

Let me know how it works. My Edge and couple other apps stopped working after the update.

Installed, so far have not noticed any positive or negative changes.

Finished updating on my Surface 3 in Chicagoland. Took somewhat longer than other updates. Now time for my L640 to get its update. Two production Windows 10 updates in a matter of a few days. Guess the Win10 team is getting things done before the Christmas parties get cranked up.

What about vpn on mobile? Anyone tried something like hotspot shield? If it is working I'll reset my phone to install it and leave insider fast for a long time. If anyone tries and replies me I'll be appreciated.

I'm also using hotspot shield. Still doesn't work with this update. The PC version never had issues though.

Thank you for your reply. What a damn shame MS doesn't fix vpn for months. They are so careless like vpn is not a important function but just some kind of luxury. This is why people leaving WP. This is not about being insider. Even non insider build is lack of stable vpn support.

WhatsApp still resuming...

WhatsApp is not optimised for Windows 10 Mobile anniversary update,a lot user still on wp8.1

Installed update on 950XL. WhatsApp working fine as usual.

Working fine? I've read that WhatsApp causes black screen bug when receiving voice calls and that's on the 950 series devices. I have a L950 XL and I can confirm that those reports are true.

I dont have that issue.but when outdoor screen takes tym to powerup.seems the bug is wth glance.when glance is switched off seems to work fine

Calendar 's live tile is remains stuck

Since this update, apps that worked fine ether won't open or are crashing. Also some of my wifi connections no longer work.

Some apps need updating and are greyed out until updated.

Same thing with apps. Some close few seconds after I try to open them. Using Elite x3. You?

Same here some apps boot me out of them as soon as I start them. Using Elite X3.

My phone cant connect to some free public wifi hotspots. Android phones can connect to it easily

I'm happy to see that I'm not the only one who have that problem, and personally I think will be great from MS to make in settings an option for apps like w8.1 to allow never/normally/through saving battery,not like now "decide by Windows"

Sadly, windows 10 mobile is still full of bugs and i don't see them being resolved!

Anyone noticed the weird dimming of the screen in Lumia 950?

Yeah...mine does it on the 950XL

I had it on my 950 since the last build. But it went away by itself possibly thru MS core app updates.

I've had my screen weirdly dim on my Microsoft Lumia 550 a few times lately. It's too early to say if this latest release fixes it though.

Yes the problem is solved on my 540

Downloaded, installed... says it needs to reboot to complete installation, but stuck on Windows logo (L950XL) for about 10-15mins. Is this what you had and is anyone else getting this?

Mine is at the "... Getting There" screen. and progressing normally. L950XL Update: Update is installed and completed - no issues.

On my 950xl gps dot icon still enabled and sucking battery 🔋 nice build Microsoft hope so alarm tomorrow wake me up 😀

Ugh...while I love updates, they have wiped out my Plex synced items every time on Windows 10 Mobile...i dread that.

Since Aniversary Update the W10 Mobile quality has gone downhill with stability and basic things like brightness and app openings, notifications. Hope this improves something.

For me ... this update on my Lumia 930 was no longer than a normal update - went smoothly and without a hitch.
All apps working including Whatsapp, not getting any of the other issues mentioned above like brightness control or Wi-Fi.
Sorry to hear you're experiencing problems - but not my experience with the 930 for any updates since joining the insider ring a long time ago now to get to W10 - been totally hassle free.
* - only exception 'ever' has been playing videos in the News app

Updated my Lumia 635. I thought 512 ram is not supported? And the 1st time I could actually take a photo and upload it to Instagram stories.

Installing on 950XL, hope they brought back "Touch to Pay!"

YES! Wallet "Tap to Pay" is back!

what insider ring is 14965??

L950XL, installed and working fine.

Installed with no issues on 950xl, I have not noticed and obvious changes.
Phone seems snappier, I guess it all depends on how many background apps you have running which will decide how fast I can be, I have 7, and keep a close eye on any new apps.

It works exactly like last build and it still have glitches in transparent start menu. It only works smooth in normal start screen like 8.1

After installing this built, I'm having problem with Microsoft Edge. It crashes whenever I try to launch it. If any of you with latest built faces same issue, inform me.

Same happening here. Using Elite X3

Same thing with me too. These builds are poor quality IMO

L640 production ring just updated OK. No issues so far but email still not auto syncing on Outlook Mail or my ISP Mail accounts.

Ya but push notification works very well

Drowned 20% of my battery life for new system and store updates? Hmmm... I didn't noticed something like that before.. Thought installation went smoothly.
Never the less, let's use it 🙂.

It sucks! Phone keeps shutting down on its own... A drama! Greets from Amsterdam

Do you have a 950 or a 950XL? It is most likely a battery problem. The batteries that were produced a year ago seem to be defective and don't last long, like on iPhone 6S (http://uk.businessinsider.com/apple-statement-on-iphone-shutdown-issue-2...) . Probably the same supplier.
Many of us have that issue. I have just ordered a new battery.

Aha...well that's something I haven't experienced before... It might work though but -1 for MS... Just like having a broken glass Surface #$$%%@

Anyone having notifications sounds issue with Lumia 950xl? When my phone screen is off, I don't get any notification sound from apps...

I have now issues with thus build till now. Everything works like it used to be

Yes, Same here, no sound notifications, 950 XL DS, Microsoft as alway, one step forward two steps back

Hey, anybody noticed that after installing this update voice call recording feature is not available. This cumulative update sucks. First Microsoft Edge is not working and now in-built call recording feature is unavailable.

After reading this, I checked. The voice call recording is available.

So you're saying that it is working in your device? Tell me your phone 📱 model..

So far seems good on my icon battery life seems good...good build

Thanks for screwing up the brightness in my Lumia 950, Microsoft! After this update, when the screen dims before the phone locks, touching the screen does not bring the brightness back up as it did prior to the update. The lock timer resets but the display stays dim. To bring it back I have to let the phone lock or lock it myself and then unlock. Turning the automatic brightness on and off does not help. I don't know yet what happens after a call. I hope they issue another update soon.

I had the same problem with my 950 XL while the brigthness was set to the lowest level. I changed the brightness to low (one level up) and restarted my device. Problem solved.

Battery drains faster on Wi-Fi in Lumia 540#.. Dang it goes like whoosh

On my Lumia 950 after update my edge browser won't open. Anyone know how to resolve this please?

Did you give it time to reinstall apps before opening windows edge?

Yeah, the update happened while asleep. I have soft reset the phone and battery out hard reset. WhatsApp and Edge both begin startup then straight back to home screen.

Yep - I have this problem too, but no solution. I'm running a 950xl. Is it just us with this problem or is it wide spread?

Ditto, Whatsapp, Barlceys and now McDonald's apps just says loading on a black screen and nothing else happens, not sure about how many other apps not working but most seem fine. Have uninstalled and reinstalled but still the same. Can anyone help?

Can anybody suggest me a good sd card for Lumia 550....for gaming smooth...i need of 32gb...

I couldn't update display from store.. Showing error while download

The fixing the IP address seems to have fixed my SP4 with the Dock not being able to connect to the outside world with Ethernet. Yay. That or just the update reset something in windows. Either way, back to working again.

The Microsoft store app has issues.the update. Fails eveytime I try

The Microsoft store app has issues.the update. Fails eveytime I try

So far gd cln update on my 2 surfaces, 2 laptops, 2 windows phones and one desktop. So far so good on release preview and fast ring insider preview. But on the lone standard production ring all day literally to download. And now it is slowww.

Am I the only one facing Google contact sync issue? After upgrade I did a hard reset and now when I am trying to configure my Google ID, it is not showing my contacts. Google emails and and calendar entries are showing up though.

Working smoothly on my L550....

Lumia's 640 LTE restarting issue still there

Lumia 650 Buggy, faster battery drain.

Just wait for few days, you get use to it....

So far seems fine on 630 (512mb) with DHTUpgradeAdvisor.

dotnet.exe (core) app crashes with 0x80008083 after updating to this version.

Updated my L640 XL today and start screen gone, boom just like that, no more start screen. My phone is completely unusable, THANK YOU MICROSOFT! Going to Android, goodbye!

Yay, Wallet works again... :D

Does anyone know how to resolve the problem with Whatsapp and some other Apps? (just have black screen saying loading and does nothing else).
Windows Central Newsletter
Thank you for signing up to Windows Central. You will receive a verification email shortly.
There was a problem. Please refresh the page and try again.