Windows 10 build 14926 for PC: Everything you need to know
By Mauro Huculak last updated
We dive deep into Windows 10 build 14926 to show you all the new features and improvements, including things Microsoft didn't mention.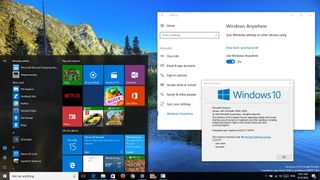 Microsoft has been rolling out a number of preview versions of Windows 10 as part of the Redstone 2 update. Up until now, the builds Insiders have received only included structural changes to get the operating system ready for new features. However, starting with Windows 10 build 14926, we're now beginning to see new features and improvements.
Although the latest release isn't a significant update, Microsoft is introducing various subtle changes that give us a glance at the current development progress of the Redstone 2 update that is scheduled to arrive sometime in early 2017.
Windows 10 build 14926
Settings app
In the new Windows 10 Redstone 2 preview that Microsoft is making available for devices in the Fast ring, we're seeing some interesting changes happening in the Settings app.
Storage
In the Storage page, settings remain exactly the same as in previous versions with the difference that inside the Storage usage page for a particular drive, you'll find that each page title is now accompanied with an icon that describes a section.
Accounts
In the Accounts page, you'll now see a new section called "Windows Anywhere." The new settings page doesn't include any options other than "Use Windows Anywhere," which is turned on by default.
It appears that Microsoft is creating this new page to replace "Sync your settings," which is just above the new page.
When you go inside Windows Anywhere, you'll find a description saying "Sync Windows settings to other devices using," which is the same message, you can find the Sync your settings page.
Microsoft Edge
The software maker is also updating Microsoft Edge to version 39.14926, and the browser also introduces a few new features and improvements.
Snooze
In this preview, the browser introduces Snooze. This feature appears in the tab context menu to let you quickly create a reminder using Cortana on the web page you're viewing, which then will also show up as a notification and in Action Center.
While the feature is new, the concept is not, as you can do exactly the same thing when sharing a page using Microsoft Edge and choosing the Cortana Reminders option.
Favorites
While the ability to import favorites from other web browsers has been a feature included for some time, Windows 10 now let you import or export favorites as HTML files.
You can find the new options inside the Favorites settings page on Microsoft Edge. Then you'll need to click the Import from file or Export to file button.
New extensions
Alongside the new changes and improvements found in Windows 10 build 14926, Microsoft is also announcing two new extensions that are joining the Microsoft Edge web browser, which are only available for Insiders.
TamperMonkey (opens in new tab) is a userscript manager extension for advanced users that let you customize web pages content around the internet. You can enable or disable scripts, customize and even add more scripts. If you don't know very much about scripting, don't worry, as the extension has extensive documentation and forums.
Microsoft Personal Shopping Assistant (opens in new tab) is a new extension created by Microsoft Garage to help you shop online while getting the best prices.
Currently, the extension includes these features:
Compare products across sellers.
Get price change alerts for all saved products.
Automatically remember all your browsed products.
Save to favorites and your personal boards.
Access your shopping flow on the web and phone.
System
Windows 10 build 14926 also includes a few important changes that you want to be in the know.
Upgrade improvements: Among other things, one of the biggest complaints from users about Windows 10 was that every new upgrade would re-install all the built-in apps (e.g., Get Office, Candy Crash, News, Xbox) regardless if you have previously removed them. On Windows 10 build 14926 and later, when there is a new feature update, the operating system will check and won't reinstall those apps you've removed from your computer.
Sign-in experience improvements: Up until now, you couldn't enter your PIN password to sign in to your computer if the Numb Lock was turned off. On Windows 10 build 14926 and later, you'll be able to enter a PIN password regardless the Num Lock is turned on or off.
Wrapping things up
We're still in the early development days of Windows 10 Redstone 2, but this build can be considered as one of the first preview rolling out with new features and noticeable changes, which also give us a small look of what is to come in this new update.
While Microsoft hasn't yet announced the exact date for the rollout of Redstone 2, we're still hopeful that the company will release the next major update of Windows 10 sometime in the early months of 2017.
Along with the changes, Windows 10 build 14926 includes a number of fixes, small improvements, and known issues that you should be aware before installing.
Keep in mind that Windows 10 preview builds released through the Windows Insider Preview program have expiration dates. On September 15th, if your PC is still running an ancient preview build, you'll begin to see expiration notifications once a day. On October 1st, your device will restart every 3 hours, and on October 15th, your PC will no longer boot.
If you want to avoid any inconvenience, make sure to update to the latest build, or do a clean installation of Windows 10 to remove your device from the program.
What do you think about the new changes Microsoft is introducing in latest preview of Windows 10? Tell us in the comments below.
More on Windows 10
For more tips, coverage, and answers on Windows 10, you can visit the following resources:
Windows 10 help, tips, and tricks
Mauro Huculak is technical writer for WindowsCentral.com. His primary focus is to write comprehensive how-tos to help users get the most out of Windows 10 and its many related technologies. He has an IT background with professional certifications from Microsoft, Cisco, and CompTIA, and he's a recognized member of the Microsoft MVP community.
Sign-in experience improvements: Up until now, you couldn't enter your PIN password to sign in to your computer if the Numb Lock was turned off. On Windows 10 build 14296 and later, you'll be able to enter a PIN password regardless the Num Lock is turned on or off.

"Numb-Lock" Indeed. We're all a little dead inside.

Microsoft Shopping Assistant wasnt just announced or just for insiders. Have had that extension for a week now or more.

Doesn't shop up in searches on my non-insider devices.

https://www.microsoft.com/en-us/store/p/microsoft-personal-shopping-assi...

On the PC, connecting my phones doesn't show them as the system keeps saying there is no driver to use mobile. The problem started from the previous build and still continues in this build

The new sign in option when num lock is off doesn't seem to work for me. Can anyone else report on this? Posted via the Windows Central App for Android

It does work for me. Everytime my Surface Pro 2 restarts it returns with Num Lock disabled, so this is a much waited feature. Actually not waited exactly cause I didn't know that was possible to be done. :-)

Well maybe it's an issue with my toshiba satellite l655. It just doesn't seem to work any at all. Posted via the Windows Central App for Android

I think 14296 should be 14926 everywhere

So many "build 14296" in article... Please correct to 14926

the writer got confused between 14296 & 14926....a general human nature.

Samba shares on my network are still not showing up with this build and DLNA from media player hasn't worked for the last two builds. Not a deal breaker, but I hope they fix that soon. Rolled back to build before last in the meantime.

Welcome improvements, but still a good way to go for windows 10. Still a vast number of improvements needed on so many levels.

I can't comment because it refuses to install on my PC gets to 85% then freezes and returns to previous version on restart. My Laptop did install ok so will have a look

im in the same boat as you,mine stops at 87%

I can't get the workaround for the mobile hotspot to work. Doesn't show up as an available network.

Anyone else having issues with brightness control? I've done a hard reset twice, and I still have no control over my brightness level. (It's stuck on low, and doesn't change when I try to change to medium or high) Also, the fine-tuning of brightness control in the "Extras" - "Display" section is also non-functional. Lumia 1520

I love the new Start version. I gotta say that I like Windows 10, however, it needs LOTS of improvements. This is one thing I don't understand from MS: Why can't they deliver a COMPLETE product or service? Not a half-baked one?

Windows 10 Insider Preview 14926 tries to install Windows 10 and fails. Says it can't be installed on a a flash drive in SETUP.

I can not access any of my network devices any more. It started 2 builds ago. Any solution?

i thought it's something i have to upgrade automatic i been going round the web without solution so what should be done in this regards
Windows Central Newsletter
Get the best of Windows Central in in your inbox, every day!
Thank you for signing up to Windows Central. You will receive a verification email shortly.
There was a problem. Please refresh the page and try again.