Windows 10 build 14936 for PC and mobile rolling out for fast ring Insiders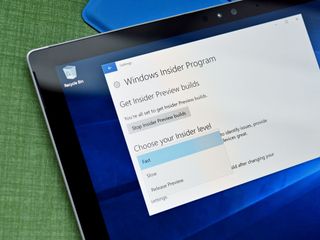 (Image credit: Windows Central)
Microsoft is rolling out another new Windows 10 Insider Preview build for PC and mobile, which includes yet more under the hood improvements and enhancements that Microsoft are encouraging Insiders to test. Today's build is 14936, just 5 builds newer than the previously released one.
As per usual, since the build has only just started rolling out, it may be a few minutes before you actually see it as ready to download as the build is still propagating throughout Microsoft's Windows Update servers. In the meantime, here's what's new, fixed and broken.
What's new for PC
New Extensions in Microsoft Edge: We're working with partners on adding new extensions and want our Insiders to try them out first! We have another new release which we need your help testing and giving feedback on before we publish to the general public: Turn Off the Lights is a lightweight and useful add-in designed for a more comfortable video experience. We also need some more help testing our other preview extensions: Tampermonkey is a popular userscript manager that lets users customize the content of pages across the web. Microsoft Personal Shopping Assistant is your smart shopping cart across the web, which collects your browsed products and lets you get price alerts for saved products and compare products between sellers. You can install this at the links above and try them out on any Anniversary Update build – send feedback to the Feedback Hub or @MSEdgeDev on Twitter.
Authentication changes affecting connectivity to NAS devices and home file servers: After updating to the latest Insider Preview builds, you may have noticed that shared devices on your home network have disappeared from your home network folder. You may have also noticed your mapped network drives are not available. If you change your network to "private" or "enterprise", it should start working again. For more information on this behavior change, see this Microsoft Security Bulletin.
Windows Subsystem for Linux (WSL) Updates: WSL will install Ubuntu version 16.04 (Xenial) instead of Ubuntu 14.04 (Trusty) in an upcoming release. This change will apply to Insiders installing new instances (lxrun.exe /install or first run of bash.exe). Existing instances with Trusty will not be upgraded automatically. Users can upgrade their Trusty image to Xenial using the do-release-upgrade command. Full WSL release notes can be found here.
What's fixed for PC
We fixed the issue causing Narrator to continually speak the progress of a song e.g. update with the current time of the progress bar every second if you navigate to the progress bar while a song is playing in Groove Music.
We fixed the issue where using the tab key to navigate the Settings app wouldn't work.
We fixed an issue resulting in Explorer.exe frequently crashing for some Insiders, particularly for those with multiple network switches.
What's broken on PC
Optional components may not work after upgrading to this build. To get it working again, go to "Turn Windows features on or off", scroll down and check the right optional component and click ok. After a reboot, the optional component will be enabled again.
Tencent apps and games will cause your PC to bugcheck (bluescreen).
Running sfc /scannow in an elevated command prompt will fail at 20% with the error "could not perform the requested operation."
What's fixed for Mobile
We fixed the issue causing the pin pad to not be visible to unlock the phone even after rebooting the phone.
We fixed the issue where some phones lose the ability to use their SIM cards.
We fixed the mobile hotspot issue where it works the first time but subsequent attempts to use the feature won't work until the phone is rebooted.
We fixed an issue causing some devices such as the Lumia 650 from failing to install a new build with Error 0x80188308.
We fixed the issue causing some build updates to fail with an 800703ed error code.
We fixed the issue where Action Center no longer closes if you swipe up on the empty space (area of Action Center that doesn't show any notifications).
We fixed an issue where notifications were unexpectedly showing the app logo within the notification when viewed in Action Center.
We fixed an issue for devices that shipped with Windows Phone 8.1, such as the Lumia 930 and 1520, where if you plugged in a headset during an ongoing call, the audio would not be routed to the headset.
What's broken on Mobile
If you have your default storage set to a SD card for apps, installation of apps like WhatsApp, Facebook Messenger and WeChat will fail with an error. As a workaround, set your default location to your device's onboard storage.
Windows Central Newsletter
Get the best of Windows Central in your inbox, every day!
Zac Bowden is a Senior Editor at Windows Central. Bringing you exclusive coverage into the world of Windows on PCs, tablets, phones, and more. Also an avid collector of rare Microsoft prototype devices! Keep in touch on Twitter: @zacbowden.
Look at the fixed bugs in mobile build...Almost all the Big issues are gone.

Almost makes me want to switch to the fast ring.

I'm fine with sticking to the Release Preview for now.

you should. If there is any insecurity, get this update and shift to the slow ring again. This is a very good update. Few Apps were not working in the last build including freezing issues with some but this build has almost solved every issue.

Yes but if I shift to the fast ring doesn't that mean im stuck on the fast ring build? Wouldn't I have to reset to get slow ring build again?

I have noticed the builds have already started out fairly stable and they are actually improving... it's kinda like it's a new smaller team working together to fix it

I think this is possibly to be expected trend. For me win10 was the foundation, rs1 stabilised those foundations and rs2 will continue to add stability but more build new blocks on those foundations.

And the new blocks are now built on a solid matured foundation.

This was a bug squashing build, the next one or 2 will be development builds probably and will cause their own bugs

Oddly enough, for the first week my 950XL would randomly reboot/freeze at least once a day, but after that it's been running like a dream. Battery also easily lasts me a day now; first RS2 build occasionally drained my battery almost at 40%/hour rate.

14936 in headline, 14396 in 1st paragraph

yes yes yeeeeeessssss......!!!!!

I guess that this will become a Slow build soon.

Depends on if any hidden bugs are found. If so, and if they're deal-breakers, probably not. But hopefully that won't happen

Love the upgrade for Ubuntu. Hope they add an xserver of some kind built in, or at least the ability to install one, so I don't have to start xming every time and then enable it in command line. Would be awesome for remote access at that point. But yay upgrades! Tempted to switch to fast ring, since my surface causes me enough trouble already I doubt I'd notice other bugs.

what about the broken adblock plus extension?

Isn't that up to the guys at AdBlock Plus to fix tho?

It works most of us. I had it broken in the last to last build of Rs2 but now it is working very fine.

I'm loving Redstone 2 on my 950XL.

950 XL on production. 950AT&T on RS2. I am much more courageous with my safety net. :)

Wen is dis update available to release preview

Why wait? Switch to fast and move on..... These builds are equally stable as the release preview you are into.

That wont happen for another couple of months im afraid. Are u considering to download through fastring?

Mine said it temporarily needed 2.26gb to download and install. Had to delete some WhatsApp crap

It's always great to see performance improvements and bug fixes. I hope they start pushing new features and UI changes soon to get us excited.
I really like the translucent tiles on Mobile and I see no reason why they can't bring them to the desktop/tablet version. Similarly, Action Centre needs to have the blurred transparency effect on Mobile.

950 XL Dual sim, Still the hotspot will not work at all. Sadness.
Edit. My iPad will connect but not my windows devices. Maybe User error.

I also have the 950XL dual sim and my Windows 10 laptop connects without any issues. Perhaps you could try forgetting the network on your windows devices and then connect fresh.

It wasn't working at first but it's working now. I just posted to quick.

Happy to see the SIM issue fixed

I'm so happy they fixed the action center swiping bug and the mobile hotspot bug... utterly annoying but that's what a beta is for right :) can't wait for them to insert new features in Redstone 2. Awesome times really!

so whats new? in these builds creating bugs and fixing them later on?

It is like new features and some bugs in the first build and then those bugs are fixed in the next build. It is a set pattern since last 4 builds of RS2.

Still waiting on a fix for Groove music, which doesn't continue playing music after Cortana inturrupts with a text or navigation instruction. They stated it was fixed a few builds ago, but nope. Still broken.

I use my phone for groove and sat nav everyday, I do not get this bug 950xl user here

Still there is nothing new for Narrator. No Graphics Labeler, very basic gestures, poor customization and no new language support. Thumbs down to this build. Far behind than Android's Talk Back. Microsoft, do something; Accessibility is dying on Windows 10 Mobile.

great discription.....those new blocks are now being built on a solid matured foundation

That headphone thing was really annoying and it was happening even on my 950xl

Bummer. It still takes three presses of the power button and about 30 seconds for the screen to turn on. I was hoping that was fixed. I still don't understand why, after all these years, the camera shudder button is so unreliable too. The problem has persisted evening going back to my Lumia 900.

Camera quality on my Lumia 640 is very bad in dark..

Never had either of those issues on any of my lumias (2x920, 635, 1520, 640 and 950XL) either with 8.1 nor w10m

So, no one has a bricked phone yet? The last update was no fun at all...

My Lumina Icon is caught in a boot loop. I cannot soft reset it. I get the Nokia logo to show when its plugged in, then it may show an ! Icon if I hold the soft reset buttons but it fails to reset. Anyone else experiencing this?

Is your name Brian? You look exactly like a dude I know... And no, haven't experienced that..

they need to add new features

Well due to the last build rendering many insiders phones unusable I would say fixing the bugs that made phones unusable came first over some new features and that's what Microsoft done.

Malwarebytes Anti-Exploit will prevent Edge from opening...at least in my case. Have to deactivate the Microsoft Edge shield to get Edge to run properly.

With that, Microsoft edge on mobile cannot be opened as well, at least for me.

For me too, many apps aren't opening...

Thank you for posting this. Edge would not run so I came to this article to see if anybody else ahd the same issue. Your comment gave me the solution. Thanks.

Bluetooth is still broken in a big way, now on the fifth update... Getting rather annoying!

Welcome to the Insider program.

950XL Dual Sim paired to Band 2 no issues whatsoever.

My Bluetooth jaybird headphones 'skip' frequently when listening to Spotify. Is that what you're experiencing??

does this include the new firmware for double tap to wake for 650?

firmware and builds are two different things

So how do I get the firmware update it doesn't seem to be available OTA for me and my windows 10 pc cant recognize my 650, what do I do

You can either wait for OTA, or you can try the windows device reset tool (WDRT) to flash it.

Doesn't fix 5Ghz WiFi problem on airplane mode

When I read that SIM issue is fixed, I at once switched my Lumia 640XL to fast ring. Other bugs? Let's face them and report them and let Microsoft squash them...

Grrr - They didn't fix ReCore yet! It won't work. Any fixes other than rolling back?

Preparing to install... On my 950!

Got it on my lumia 550 works great

Got it on my lumia 550 works great

So nothing new for Mobile ☹

Just a hell of a lot of fixes. Very welcomed fixes at that.

Won't install on 640 at all. Removed all apps and says needs 1.1gb

Doesn't help you much, but I got it to install on my 640 and it is running MUCH better than the previous build.

remove WhatsApp, Facebook and Instagram. After the updates, install them again. I have 640XL, and I have this builld running smoothly.

go to storage settings and see what's filling up your space. Then use file explorer app to remove anything else not easily found/deleted from there..

LAst build the physical home and search button on my lumia532 is suddenly stop responding/working. I hope this build will fix that bug.

My PC will not install any updates past 14393.0 even though I have done 2 clean installs of Windows 10 - gets to "Working on updates" 87% rotating dots then freezes - Anyone any ideas. Never had a problem before with any updates!. My Laptop and 950XL phone are bang up to date and work perfectly - just my Desktop that's a problem!

Try defragging your system drive before restarting the pc for it to start the configuration process.

Done that and just about everything else -!

Have you tried the "Fix Windows Update" through Control Panel?

Running great on the Nokia Lumia 635.

On 650 i have the latest build too but cannot get the firmware update, have u updated ur firmware version, if yes how did u do that pls

This build screwed up my AIO. My screen is black after signing in. Explorer never opens. I tried opening it manually but it keeps crashing. Going back to previous build.

Working perfectly on 950XL

Say. After this update and subsequent Store updates, I see items listed as Modified, rather than updated. Interesting.

That issue has been a problem for me since the previous build. Certain apps are always showing updated moments ago

Not sure if it's this build or the latest calendar update but now my calendar tile is wonky with the date. No surprise, calendar live tile has been a problem on my wife's 830 for the past 2 years. F Windows mobile.

I thought the same just go to the 3 lines top left of the app uncheck reminders right at the bottom and birthdays under outlook and if you have Facebook birthdays check that. And the live tile date should start showing the right date again. This happened to me earlier as mine was showing me it was the 2nd today when it should have been showing me it was the 29th.

Alright! I just downloaded this build and my keyboard works properly again!

Its been 3hrs and download stuck at 77%. Did a couple of soft reset . Still stuck.

Give it time or better still remove sd card

are talking Phone or PC ?

I have issue launching some apps... Reinstall and ok...

The physical search and home button is not working still. I dont know if this is a software problem or the hardware..

After the last build the power button on my 1520 stopped working. Hope this fixes it

After updating to this build, I've had trouble sending SMS. Some few is OK, then "problems sending SMS..." Must then restart and then sending SMS is ok.... not sure if it's my network or the MobileBuild.... anyone else with SMS trouble today?

Text messages in groups seem to be a problem with the last 2 fast builds on my 950

Anyone find anything out about the texting? I restored my phone back to production release 14393.189 and still have the issue with text messages in groups coming in with only the first letter. In this particular group text the only messages that seem to be a problem are from an android.

Lumia 640.Lost messenger keyboard last fast build, still missing this build.

Use WDRT then go strait to fast ring and download that should fix it.

WDRT won't work, keeps coming up "error".

Have you downloaded the latest version?

Downloaded latest WDRT, downloaded my 640 to 8.1. Then installed10.0.10586.107, everything okay. Then installed 10.0.14393.221, Messenger keyboard gone.

FIXED!! Phone sim problem.

Try uninstalling/reinstalling WDRT. Worked for me.

More than half of apps i have installed on my phone doesn't open, include edge...making my 1520 useless, and now I'm using my 1020 with 8.1....

WhatsApp beta is crashing..not sure if it is after OS update or app update..

Every once in a while a build will break the automatic brightness and even though auto is turned off I will get very dim screens at times. Been on this build for over 12 hours and appears to be fixed. No obvious problems other than some messages in group texts not coming in complete

This is just a rubbish i bet this build has got improvment but further builds will again get bugs and less stablity .....ofcourse "crashing" crashing is the main feature that MS bring in ine update and remove in other update ....and we only get happy that crashing is gone then we expect "new features" from them ,by this they again bring crashing inother update so that people start beging that"we dont want any new feature just remove bugs ".....they are playing games

Whatsapp not working... Waze not working... Until now this build had been a mess to me... Lucia 950 Al double SIM

Maps always crashing, cant pin location for direction, freezes then crashes.

Nobody else struggling with (mobile):
- having to re-pair Bluetooth every time you connect?
- Groove now stopping playback when not in focus (e.g. Lock screen, other app, start menu) ...?

Nice job.
Look forward to next step

@AbstractKiller I have the same issue with Groove on Lumia 735.... Not sure about Bluetooth will check later

Is it just me? My mobile hotspot is STILL broken. Unable to share internet via WiFi, only works with Bluetooth sharing and still quite buggy

F****k ms..my email &calendar tile not working from last two version..

Try reading earlier posts I have already left a message in this post that fixes the calendar issue.

Like 14926 this build is working great on a Lumia 950. But my wife discovered that in multi app view the Start screen can now be closed. If you do so, the screen turns black for a second before returning to Start. Strange.

I haven't been able to update the "Skype Preview" since the last two RS2 builds; any suggestions? I've already tried uninstalling/reinstalling and resetting the app in the store by cancelling the update and then restarting it. I still get the "Error, see details" message, but whenever I click it to see the message, it just reinitializes the update. I've also tried installing directly to the phone instead of the SD card and get the same errors.

Stopped downloading at 84%. Reboot and soft reset didn't help. L830.

My mobile hotspot has stopped working and so has live caller ID in true caller

The last build had a known issue with Mobile hotspot I believe. Try a soft reset. I use True caller as well and I have no issues with live caller ID

My texts don't go through anymore. Now i gotta restart the phone every hour or so to make it work.

Groove music doesn't work on background

No issues here. Rolling some Matisyahu in the background with the app closed out in task view as I type this comment. Try a soft reset. What device are you using? I have the Alcatel OneTouch Fierce XL

Seems I can't use Microsoft Edge in this build. Does not want to open (it's installed to device, not SD card) - it's incredibly infuriating, because after multiple restarts, it looks like this issue is gonna stay with me until the next build rolls round. Regret installing! :( If anyone can help (without suggesting a roll back) that would be amazing

I'm having the same issue. I've been really happy (lucky) with the fast ring builds on my 950XL Dual Sim but this latest build is causing me no end of trouble. I hope the next build isn't too far away.

Seems SD cards for mobile have somewhat of a persistent issue, since it was added much later during their initial first couple of OS, connecting them still brings up errors when they add features or change the internals to the builds... hopefully this improves

Why do people download preview builds, especially fast ring builds, if all they are going to do is freak out, get angry with MS and complain on here or MS forums about how "the update broke my device" or "now such and such doesn't work" or even better "**** you MS"...right...because it's all MS's fault you downloaded preview software with known bugs to your device.