Windows 10 build 14951 now available for Insiders on PC and phone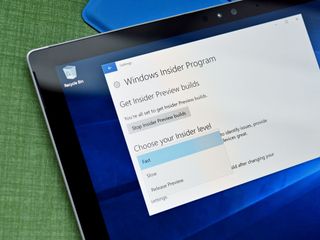 (Image credit: Windows Central)
Microsoft has just started rolling out another new Insider Preview build for Windows 10. Today's build is 14951, and is available for Insiders on the fast ring for both PC and mobile, featuring more fixes and enhancements, and perhaps a couple new features too.
What's new?
Refining the customization experience for precision touchpad (PC): Since last week, we've continued working in this space, and have another set of improvements headed your way. To start with, we've hooked up our keyboard shortcut picker, so now if you choose that option on the Advanced gestures page, you'll be presented a recorder so you can capture your favorite key combo – perhaps WIN + Alt + D or WIN + F to start with? Secondly, we've added a Change audio and volume option to the set of basic swipe gestures you can pick from. Finally, we've updated the reset button to now has a progress circle and display a check mark when it is finished. We've also heard your feedback from the last flight, and fixed a few issues including that the reset button wasn't clearing the settings listed on the advanced gestures page, that the 4-fingure gesture graphic was visible on devices that only supported 3-contact points, and that some of the advanced gestures options weren't working as expected. If you have any more feedback for us, please let us know!
Windows Ink Improvements (PC): Starting with this build, pen dropdowns in Windows Ink Workspace will let you change both color and width without having to open it twice. After you make all the adjustments to your favorite pen, start drawing right away and we will dismiss the dropdown for you.
We are also introducing Stencils. Windows Ink protractor tool combines functions of both protractor and compass into one – now you can draw an arc or a complete circle of an arbitrary size with little effort. A familiar two-finger pinch gesture resizes the protractor to the desired size and a degree readout follows your pen, mouse, or finger as you draw along the side of the protractor displaying arc degrees. In this preview build, ruler also got a small update – its degree readout shows a numerical value of the angle, making drawing angles even easier.
Simplified, more familiar camera interface (PC & Mobile): The Camera app received a big update this week for Insiders. We've redesigned the Camera interface for ease and accessibility.
You can now experience the magic of living images on your Surface, now enabled on Surface Book, Surface Pro 4, Surface Pro 3, and Surface 3! With living images, extend your still captures with a snippet of video. These are created automatically whenever your shots feature motion—just navigate to Settings and turn on Capture living images.
And this release features a variety of performance improvements to enhance your experience. We've added faster shot-to-shot support, improved feedback for saving large videos to SD cards, and improved camera startup time, among other improvements.
Simplifying your developer experience (PC): We've done some underlying work, and now you'll no longer have to reboot your PC after turning on Developer Mode! This means that you can start using Device Portal and Device Discovery as soon as the Windows Developer Mode package has finished installing, rather than having to reboot first.
Narrator improvements: This build includes a number of improvements to Narrator including multiple fixes to continuous reading when used in tables and on web pages, a fix for the Caps Lock + W reading experience so dialogs and other elements are read correctly again, and a fix so that reading hint text does not interrupt the reading of information by Narrator but comes after the main information is read. And Narrator now properly indicates when it is exiting.
Windows Subsystem for Linux: Today we are happy to announce two large updates to WSL!
Official Ubuntu 16.04 support. Ubuntu 16.04 (Xenial) is installed for all new Bash on Ubuntu on Windows instances starting in build 14951. This replaces Ubuntu 14.04 (Trusty). Existing user instances will not be upgraded automatically. Users on the Windows Insider program can upgrade manually from 14.04 to 16.04 using the do-release-upgrade command. Windows / WSL interoperability. Users can now launch Windows binaries directly from a WSL command prompt. This is the number one request from our users on the WSL User Voice page.
We'll update this post once Microsoft announces what's new. In the meantime, you can grab the build now via Windows Update if you're on the fast ring!
Windows Central Newsletter
Get the best of Windows Central in in your inbox, every day!
Zac Bowden is a Senior Editor at Windows Central. Bringing you exclusive coverage into the world of Windows on PCs, tablets, phones, and more. Also an avid collector of rare Microsoft prototype devices! Keep in touch on Twitter: @zacbowden.
Debating weather I should change to insider fast ring.

Debating with whom? More importantly though: Wait until the details are known. There might be a known issue that might be important for you to not upgrade.

Lots of debating tonight. But not about the weather.

Does anyone want my opinion?

From what I hear, mother nature doesn't debate with anyone

Where exactly did you hear that?... See, I ask because people always say "from what I hear" when It's really "from why I speculate"... Lol

I love your name and avatar. A fellow Steeler fan. Awesome.

Debate between mind and heart, is it

Just don't debate out loud. =P

We go! So far so good on an HP Elite x3. Not a lengthy download and install.

Whats broken? Any new features?

How are you liking the X3?

He doesn't like the camera, for one.

Not appeared in Australia yet

Thanks for the update, Fox news.

You are just being funny today... Hehehe

Thanks for the update, CNN

I guess I'll have to wait till early next year to jump onto the fast ring

I'm estimating that if RS2 will release around March, by Janurary next year the fast ring should become stable enough to use on my daily driver (950XL), with the benefit of enjoying and testing the new features prior to the official release

That's not how fast ring works. It's always gonna be buggy lol

RS1 on fast ring became stable nearing the official release. In fact, the "official" RS1 build was specifically defined by WinCentral when the Fast Ring got it before anyone else, which was the exact same build as intended for official release. It wasn't buggy. The builds for RS2 that started after were buggy again, owing to their nature and extensive under the hood changes. So while January builds will be buggy, they won't be so drastically buggy as current builds, with compromises that will be bearable to use on my primary phone. That's when I am hoping to sign into Fast Ring from the slow, as it is also when major new features will be either getting introduced regularly or will be in the process of being perfected. I know what the fast ring implies. I've been on it for a while on my spare L830.

Hmm... I do somewhat remember that

no build has been as bad as the intial builds i was putting on my 1020! i was resetting restarting so much! since those days i have had no deal breakers on fast ring! sayng that its not on my mainphone anymore :)

True :)
I almost bricked my 820 though in the process. Then I was lucky enough to get an 830 display piece at a steel discount

RS1 is still not stable enough. I still have many issues with the AU, the most annoying ones are to do with the sharing of photos via Outlook. I switched back to the production ring specifically because of issues with the RS2 builds and the sharing of photos, but now I have a new issue with sharing photos. Around half the time, it sends the email without the attachment. I proved this an hour or so ago by sending the same email twice, the first time the attachment was missing on the received email, but it was present on the second email. This drives me nuts, such a simple thing, but no matter what build I use there are issues of one kind or another with the sharing of photos, and this is the one thing I do (used to do) every day. I have now started using a Lumia 925 running WP8.1 for this, and gues what, it works first time, everytime.

Not really. When it gets close to release, all rings will begin to sync, Fast, Slow, Preview, Production. At one point, all the builds become stable enough. For one, W10M TH1 became usable around September and actually pleasant in October. And then W10M TH2 launched and got even better.

Thank you for clearing that :)
I meant to imply the first part of your comment, that things get good towards the official release. TH2 has been stellar on my 830 and 950XL

You all are crazy I have been on fast ring since it began and on different phones all me daily drivers and I never found a bug that made my phone unusable but that's just me I don't sweat the small thing in life you all are going to have a heart attack worrie about a small glitch or bug that if your patient will be gone by the next build.

I'm actually glad to hear that :D But bugs like the lock screen keypad disappearing, thereby not allowing me to unlock the phone, rendering it useless is not a bug that I can wait out. My spare phone (which I keep up to date) was taken by my brother as his phone wouldn't unlock either :P
I'm still on the slow ring though, playing it safe

Hello, downloading now but my phone says "Updates are available." and not "Downloading build 14951" or something similar. Stuck at 0% for the past 10 minutes. Btw did anyone try to install the previous build and run into problems? My Lumia 950 XL U.S. version downloaded it fine, but during the install process it kept getting stuck at the blue Windows logo and after over 2 hours of it being stuck at that screen and me restarting my phone a few times, it finally installed but all of my settings (theme color, glance, Windows Hello, etc) were reset and I had to re-download every third party app I own. Hopefully I don't run into that same problem with this build install, assuming it does install.

It's the same for me in both my Lumia 640 and 830

I thought this was just me but yes, I am stuck at 0% on my 950XL also.

My 640 stuck too. Removed battery. Same.

Me as well (950XL global edition).

Same here, stuck at 0%: US unlocked dual sim 950xl on fast ring 14946.1000

Same here . Tried soft reset but oud no use. Lumia 532 shows updates are available but still stuck at 0.

Same here, might be the server.

Same here 0% on my 950XL. I'm just going to keep it plugged in and let it sit there for a while

950 Dual Sim stuck at 0% for 2 hours now. Restarted once with no change.

Known issues for PC:
If you have a 3rd party antivirus product installed on your PC – your PC might not be able to complete the update to this build and roll-back to the previous build.
Read more at https://blogs.windows.com/windowsexperience/2016/10/19/announcing-window... Looks like this build will still screw up in combination with just about every other AV/Firewall EXCEPT Windows Defender :(

Perhaps the other antivirus are the issue and are trying to prevent OS files being updated in unknown patterns.

COMODO is just the worst with with Windows 10. Wish it would just not question apps from the store

It's been while at downloading 0% on my phone... No progress

Australia seems to be the entire issue.

Been over an hour and not even getting the download meter.

It does that for me every time and then all of at once its done I think it downloads the update fine but don't update the status bar until it's damn near done or completely done.

Wow so many new mobile features. They weren't lying when they said RS2 would be mobile focused... Oh, wait...

Wait, what? I don't se many changes. Where you saw these?

...he's being sarcastic...

Sorry, I'm not an English person so I still don't understand all of the things :D

Tell us what you want to see.... we have a perfectly usable platform now. The core apps get updated weekly and they are what bring the most functionality.

I would like to see landscape start screen, a finished or near skype messaging everywhere feature. Sway in any shape. Just to name a few.

I'd like a feature complete Skype first. Still lacks detailed info on Medium Tile, transparency and proper counter on both Live Tile and on Lockscreen. Also, the fact it needs to sync every time you open it is very annoying. It's like the background agent isn't doing its job.

I'd like to see a functioning OS not the Lagdows 10 Mobile installed on my Lumia 640XL... And also split screen. Yeah

Go into setting change to production ring hard rest your phone and you got the full stable version of windows 10 and done sign up for insider builds cuz they are basically beta builds of the os and are going to be more unstable even tho I have a 950 running the latest win 10 mobile and guess what lag free sorry for your problems but if you install a beta build on you device and then whinne about it being slow then its your own fault by the way have you tried a hard rest

No I haven't tried a hard reset. You really made me realize that i have no point complaining while I run the insider preview build on my Lumia device. Well its been long I ran a public released version of the OS...

The dictionary entries was a nice feature update but nothing that the other platforms don't do already. Still playing catchup with "features"...

They're making the PC more like the phone, steps, it takes steps... Y'all are so impatient acting like its just easy but they need to do it right.

About to download. Hoping MMS is fixed.

I have a Lumia 640 XL with w10m on fast insider builds and I'm not yet satisfied by how is working on mobile, windows mobile 8.1 still fastest :))

Smoothest*. Gives the impression It's faster but It's rly not

Yeah Windows mobile has never been fast or smooth for me, i started using Windows Mobile from WP8 and believe me ive been experiencing the loading screen, resuming screen and the over 10 seconds for app to launch... Dont even talk about fluid multitasking on the platform. I love Windows nevertheless, coming from blackberry its a better option that kept me away from the very expensive iOS and the no better android option.

WP8.1 is so barebones compared to W10M RS1 IMO.

Windows 8.1 was and is a joke compared to windows 10 mobile plus it's funny that people buy a phone that was made for windows phone 8.1 but upgradeable to windows 10 mobile and then complain that window 10 mobile is not as fast on it well just because it's upgradable to windows 10 mobile don't mean it is optimized for it firmware and all.
But give them same people a newer phone that designed for windows 10 mobile like the 950/950xl and watch there option change on if windows 10 mobile is slower then windows phone 8.1

Wow these are all fantastic additions! Makes me look forward to the Redstone 2 update even more. Not enough to run insider on my only computer though :P
These all seem like very thoughtful additions. I love the customization of trackpad gestures. That's awesome. Now if they would only add a way to rebind system keyboard shortcuts like lots of Linux distros. That would be sick.

If your computer has high enough specs, you could install in in Virtual Box or Hyper-V.

Install Virtual Box or Hyper-V to what end? To run a second copy of windows to run the preview? Or to run a version of linux. Because I have no interest in doing Linux. Bash takes care of everything I need.
But installing a second copy of windows is an interesting idea. My SP4 is more than powerful enough. I could just dual boot it. But that's a lot of work, and I should really focus on school for the time being. But it is an interesting idea. I did that with the original windows 10 beta on my desktop.

Install Virtual Box, Hyper-V, or another hypervisor on your Surface (or whichever computer you want to use it on) then install this Windows 10 preview build inside that to test it out. I really don't recommend dual-booting it with a preview build just in case you accidently install it to the wrong drive.

Me too facing same issue stuck at Downloading 0%. Lumia 535 India.

is anybody stuck on 0% it,s been a half hour for me.......:(

Been an hour longer than you.

Yeah I'm stuck too , 1520 Chicago.

Anybody find a fix for stuck at zero percent? I already restarted once, didn't help. The build before this one often took ages to reboot on my 1520.

So later I got a message about scanning and repairing my SD card, and said yes. So it repaired it, then I went back to the update settings, and the update had stopped downloading. So I started it over again. Still waiting.

Stuck on 0% both on 950xl & 1520 Able to download on both phones with that work around of going to slow then rebooting etc etc but both computers not even finding the update.

My Lumia 950 XL stuck at "Downloading updates 0%"
Wife's Lumia 950 similar. Have switched off and restarted but same.
Looks like we have a problem MS.

According to Donna Sarkar's Twitter update from 2 hours ago MS are aware of this and are looking into it.

oh, nice... having the same issue here too.

Give it time I promise it will work just takes forever

Finally, jumped back to fast in my Lumia 950XL and for the first time in a long time, the installation fails after the cog. Anybody having the same issue?

Rising, I am still not even getting the download to start from 0%. MS are still looking into the issue (Donna updated her Twitter just recently to update).

Not installing stuck at 0

Thanks... Big ben is out too which is just as bad as this new update for the fast ring insiders not being able installing or having new features for w10m

Like the title says "... PC and phone", not "Phone and PC" ... ;)

Haha yes the key placement of words so sad

stuck at 0% 830 here from Iran

Holy moly, still stuck at 0% downloading... Help me MS !!!

MS know about this and they are working on it - check Donar Sarkar's Twitter for updates.

I've been trying to install it all day. Hopefully it'll be sorted out soon.

Same here. PC update went through fine but the mobile update is stuck at 0%.

My phone keeps getting stuck at 0%, my tablet took a ton of time as well to DL the update.

stuck a 0% on my lumia 535
please tell how to update

If it's not bringing new mainstream features to the OS, then I could care less. If the inking is the new features, then I still don't care because guess what, "None of Microsoft's current phones have pen input" so it does me no good on my lumia 950, 1520, 830, 640, etc.

Do people really take pictures with their surface line products? I find the live images not really in high demand, is it?

Was able to get the new build on my PC, however on the phone the build shows available, but won't download. I seen the new build in the queue yesterday evening, clicked download, but only see Updates are available, Downloading updates 0%. I tried rebooting the phone a couple times and see the same 0%. The phone is now connected to the PC, via USB cable, but still downloading 0%. The phone is the 950 XL.

Here is what I think. Since 14946 has been released, I found it fail to download any updates just as what you guys see today, 0%. I was supposed to have more language and inputs installed but ended up getting stuck on downloading. The worst will come if this is caused by this preview build. And Microsoft would advise to rolling back to a previous version, which will fix the issue.

If that is true, then this is getting stupid and ridiculous. How can the update function be ruined and you're going to update your phone? You have no chance to do this unless rolling back. Phones with the anniversary update can successfully download and install the update. That is the point.

not seeing update at all in UK. On fast ring and have 14946 installed but no update shows. anyone else getting this ??

same here, still no update

Stranger still. Got it one desktop machine but not at all on my SP3. SP3 installed the same Defender update three times but never gets 14951. Anything I can do about it ? Don't really want to do a full rebuild again ....

My Dell Desktop got updated fine, but SP3 and 950XL both failed several times. SP3 restarts and gets stuck at 22% while 950XL gets stuck at 0%.
You are probably better off jumping over this update, straight to the next one.

But last time this happened I stopped get all updates and had to rebuild to get them again. Be great not to have to that !

Quick question. For the last few insider builds my phone (950XL) has been saying "Your device is up to date." and every time I check for updates it says it is up to date. I'm still on build 14926 and I am enrolled in the Insider Fast Ring. Any ideas?

Unable to download. It's been hours and still 0%. All other things have been updated.

Strangely, the problem build showing "Windows Phone 8.1 Preview Env Bundle - OS 10.0.14951.1000 update for all mobile phone devices.", "Windows Phone 8.1"?

Me too. How strange is this?

Everyone, unconfirmed reports that these steps work to get the download. Switch to slow ring --> check for updates --> switch to fast ring --> check for updates --> Download ​Worth a try. Ian

L950 stuck on 0% any idea's?

L950 stuck on 0% any idea's?

Yeah, buy some snacks and wait...

Tons of crap from everywhere - here too!

We all still have this issue...

Lumia 1520 - wont download.

Confirm L950xl still 0% in Poland... :(

0% , i tries in 3G, 4G, wifi

I really need some help, I have been on the fast ring for almost a year and while I have had the minor issues that all of us have seen it has been very smooth, I have not been able to get any of the last three updates to install 942, 946 or 951. It always downloads, starts the install process, reboots and continues to install and then just about the time you think it getting close to finishing I get the blue screen error message and then it recovers and restores the old version. I have tried to install 15 times or more so far a crossed the versions. I have uninstalled my Malware, checked the hard drive for errors, optimized the hard drive, ran the upgrade fix tool several times even tried with Defender off and on. Basically nothing seems to work....... what am I missing? I really do not want to wipe it and start over due to all the time it will take to reload and reconfigure all my crap......

Hi, everybody! Does enybody know when the new official update of wp10 will be available for download? The insider version of it is nice, with new options and stability of system, and i wanna have it official.

Hi, everybody! Does enybody know when the new official update of wp10 will be available for download? The insider version of it is nice, with new options and stability of system, and i wanna have it official.
Windows Central Newsletter
Thank you for signing up to Windows Central. You will receive a verification email shortly.
There was a problem. Please refresh the page and try again.