Windows 10 build 14951 now available for Insiders on PC and phone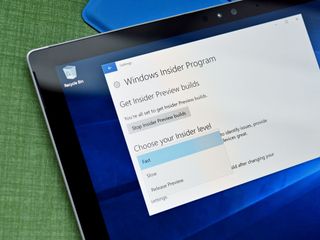 (Image credit: Windows Central)
Microsoft has just started rolling out another new Insider Preview build for Windows 10. Today's build is 14951, and is available for Insiders on the fast ring for both PC and mobile, featuring more fixes and enhancements, and perhaps a couple new features too.
What's new?
Refining the customization experience for precision touchpad (PC): Since last week, we've continued working in this space, and have another set of improvements headed your way. To start with, we've hooked up our keyboard shortcut picker, so now if you choose that option on the Advanced gestures page, you'll be presented a recorder so you can capture your favorite key combo – perhaps WIN + Alt + D or WIN + F to start with? Secondly, we've added a Change audio and volume option to the set of basic swipe gestures you can pick from. Finally, we've updated the reset button to now has a progress circle and display a check mark when it is finished. We've also heard your feedback from the last flight, and fixed a few issues including that the reset button wasn't clearing the settings listed on the advanced gestures page, that the 4-fingure gesture graphic was visible on devices that only supported 3-contact points, and that some of the advanced gestures options weren't working as expected. If you have any more feedback for us, please let us know!
Windows Ink Improvements (PC): Starting with this build, pen dropdowns in Windows Ink Workspace will let you change both color and width without having to open it twice. After you make all the adjustments to your favorite pen, start drawing right away and we will dismiss the dropdown for you.
We are also introducing Stencils. Windows Ink protractor tool combines functions of both protractor and compass into one – now you can draw an arc or a complete circle of an arbitrary size with little effort. A familiar two-finger pinch gesture resizes the protractor to the desired size and a degree readout follows your pen, mouse, or finger as you draw along the side of the protractor displaying arc degrees. In this preview build, ruler also got a small update – its degree readout shows a numerical value of the angle, making drawing angles even easier.
Simplified, more familiar camera interface (PC & Mobile): The Camera app received a big update this week for Insiders. We've redesigned the Camera interface for ease and accessibility.
You can now experience the magic of living images on your Surface, now enabled on Surface Book, Surface Pro 4, Surface Pro 3, and Surface 3! With living images, extend your still captures with a snippet of video. These are created automatically whenever your shots feature motion—just navigate to Settings and turn on Capture living images.
And this release features a variety of performance improvements to enhance your experience. We've added faster shot-to-shot support, improved feedback for saving large videos to SD cards, and improved camera startup time, among other improvements.
Simplifying your developer experience (PC): We've done some underlying work, and now you'll no longer have to reboot your PC after turning on Developer Mode! This means that you can start using Device Portal and Device Discovery as soon as the Windows Developer Mode package has finished installing, rather than having to reboot first.
Narrator improvements: This build includes a number of improvements to Narrator including multiple fixes to continuous reading when used in tables and on web pages, a fix for the Caps Lock + W reading experience so dialogs and other elements are read correctly again, and a fix so that reading hint text does not interrupt the reading of information by Narrator but comes after the main information is read. And Narrator now properly indicates when it is exiting.
Windows Subsystem for Linux: Today we are happy to announce two large updates to WSL!
Official Ubuntu 16.04 support. Ubuntu 16.04 (Xenial) is installed for all new Bash on Ubuntu on Windows instances starting in build 14951. This replaces Ubuntu 14.04 (Trusty). Existing user instances will not be upgraded automatically. Users on the Windows Insider program can upgrade manually from 14.04 to 16.04 using the do-release-upgrade command. Windows / WSL interoperability. Users can now launch Windows binaries directly from a WSL command prompt. This is the number one request from our users on the WSL User Voice page.
We'll update this post once Microsoft announces what's new. In the meantime, you can grab the build now via Windows Update if you're on the fast ring!
Get the Windows Central Newsletter
All the latest news, reviews, and guides for Windows and Xbox diehards.