Windows 10 build 16179 for PC and 15205 for Mobile now available for Insiders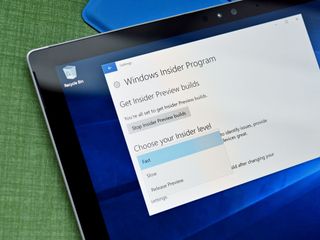 (Image credit: Windows Central)
Another week, another set of Insider Preview builds for Insiders in the Fast ring. Today's builds are 16179 for PC, and still "feature2" build 15205 for Mobile. As is the case with most builds released in the first few weeks of development, most of the improvements included in these builds are under-the-hood.
What's new/improved for PC?
Revert VM: Continuing our theme of simplifying Hyper-V for developers on Windows 10 (see What's New), we're introducing automatic checkpoints so that you'll always be able to undo a mistake in your virtual machine – you can now always revert to the last time you started a virtual machine.
Introducing Power Throttling*: You may remember some of the power experiments we did back in January with Build 15002. Power Throttling was one of those experiments, and showed to have up to 11% savings in CPU power consumption for some of the most strenuous use cases. So, we're turning this on for everyone starting with last week's build.
We fixed the issue causing apps that use the Desktop Bridge ("Centennial") from the Store such as Slack and Evernote will cause your PC to bugcheck (GSOD) when launched with a "kmode exception not handled" in ntfs.sys error.
We fixed an issue where adding Hindi to your language list and downloading the on-demand language resources would result in Microsoft Edge crashing on launch and file search returning no results via Cortana or Windows Explorer.
We fixed an issue where desktop icons would sometimes move around unexpectedly when "Auto arrange icons" was set to On and "Align icons to grid" was set to Off.
The existing Group Policy to disable the lock screen is now available for those on the Pro edition of Windows 10. Appreciate all who shared feedback on the subject. Note, the Group Policy text has not yet been updated to incorporate this change, that will happen with a later flight.
We fixed a rendering issue from previous flights where specific multi-monitor and projection configurations could fail depending on the hardware used. This could have impacted all Surface (Surface Book, Surface Pro, etc.) devices as well as other devices using similar chipsets. Another symptom may have been to see screen flickering and potentially being logged out when any screen mode change occurred.
We fixed an issue resulting in the location icon being continually on in the taskbar after the first time the Action Center was opened if the night light quick action was visible.
What's new/improved for Mobile?
We fixed the targeting issue that caused some variants of the Alcatel IDOL 4S to not receive Build 15204 last week. All variants of the Alcatel IDOL 4S should receive Build 15205.
FYI: We fixed the issue where supported Windows 10 Mobile devices were showing the update to the Windows 10 Anniversary Update as "not yet available" in the Upgrade Advisor app.
We fixed an issue where Continuum would stop working when HP Elite X3 case is closed.
We fixed an issue where Continuum would hang or render incorrectly after disconnecting on devices like the Lumia 950.
We fixed an issue with Microsoft Edge where you might get into a bad state after opening a new Microsoft Edge windows and screen off with the JIT process suspended.
We fixed an issue with where the device screen might stay black when disconnecting from a Continuum dock after screen has timed out normally.
We fixed an issue with backup and restore which impacts users with slower network connection.
We fixed an issue around Microsoft Edge reliability.
As always, you can check out the full changelog on the Windows Blog, including a list of known issues and more.
Windows Central Newsletter
Get the best of Windows Central in your inbox, every day!
Zac Bowden is a Senior Editor at Windows Central. Bringing you exclusive coverage into the world of Windows on PCs, tablets, phones, and more. Also an avid collector of rare Microsoft prototype devices! Keep in touch on Twitter: @zacbowden.
Less than a week and still no CU for Release preview?

I thought the release was April 25th?

Will come on release preview first before public.

yes, and release preview usually gets that final build about a day or two in advance... we're still 6 days out, so...

Thought a week or two instead of days. Pc was 2 weeks before public though.

They also don't roll out updates to every device at the same time. The release ramps up slowly and is spread out over several days.

It is on release preview has been for awhile... Maybe your phone isn't in the list of supported?

Creator Update is not on Release Preview for Mobile yet

I realize it's not quite the same thing as getting the update through Release Preview, but to get the Creators Update on my aging Lumia Icon, I switched temporarily from Release Preview to Slow Ring last week, got the update, then switched back to RP. Runs great and fixed a few issues I'd stopped even noticing I had (like preserving username and password on certain sites so I don't need to manually enter them). I love the Creators Update on my Lumia Icon.

Creators updated has provided a noticeable performance boost for my 950 - I'm pretty happy with the phone and things I would like for current devics are really just services that aren't specific to the OS like Mobile Payments (Code is there, it's not in the UK yet though) and Cortana improvements, the OS itself is fine and I'm happy keeping the phone for the remainder of 2017 as a minimum

I have a Lumia icon on the anniversary build non insider at the moment, so if I go back to insider slow ring I would able to get Creators update then jump out to release preview. Is release preview non insider?

@pmhgeneral, yes to getting Creators Update by going to Slow Ring. Release Preview is also Insider, but it's effectively the "extra slow" ring. You could leave your phone on Slow Ring, but I went back to Release Preview, because I don't want to move to RS3 on my main phone until it's near ready for release. Release Preview is still Insider, unlike fast and slow, it's pretty much alawys on the current production branch. With Release Preview, you get new code a few days before general release. It's literally a preview of what they intend to send out to everyone. That's still a little bit riskier than leaving the Insiders program altogether, but not much.

??? Mobile doesn't have Redstone 3 builds. That's 16xxx. 15xxx is CU

That's today. Maybe or maybe not in the future. I suspect Feature2 will rejoin main dev branch and become RS3 also shortly. In any case, point is the Slow Ring will join the Fast Ring at least for Feature2 soon, taking those devices off thte RS2/CU build. If you don't want to leave CU yet, then shift back to Release Preview or leave Insiders program after using Slow Ring to get RS2/CU.

I have 15063.138 on my ICON. I also went to Release preview to make sure I did not get RS3. Have tried gone back to Fast release for a few days but I do not get the 15205 update. Any ideas how to force update??? I also love my Icon and have been running RS2 for months!

On the left behind ring, with my 830

Hacked my 930 to a 950 on feature 2 update.. And happy.. Its smooth 😂 they had no reason to exclude it 😐😐

Editing a few registry entries to trick your phone into thinking it's a different model. There's an app for it I think. Can't remember the name though. I'm sure there's a forum detailing it.

Master, please tell is more!

You can use any registry editor. Interop tools is the newest and most versatile.

Can you link me to the app?

Same as the HTC One M8 that I have been installing every build. I'm downloading on my NL 950XL DS now & as I get home on the M8.

Can you give us details please?

Just did it on a L535 as a test :D No issues whatsoever

How did you do that? Please!

I used "interop tools" that was provided in a download link and steps to install in an old Windows central article. Then used a site "Manovi.be" for the rest. if u figured both out. As always BE WARNED if not done correctly things could go wrong. So use and do it with care and knowledge and be 100% sure before using it.

Okay, so I've got Interop tools up and running. Can you point me to which registry values to alter to fool the server into thinking this is a Lumia 950 XL?

Well look at it this way...If as people are moaning there are no new features coming to Mobile anyway then what are you missing out on? The insider builds are going to be buggy for quite some time now anyway, you're better keeping it on creators update.

What the **** dona is care less he dont thinking about the insider who want to stop after creators update,i am using lumia 640 nd i m on release preview ring ,and no cumulative update. ,

You might want to try rewording that, it doesn't make an awful lot of sense :/

move to slow ring if you want it now. the roll out start on 25

All your base are belong to us.

New build downloads are so much quicker now compared to before. UUP is working well

Finally! Some mobile fixes!

Particularly the fixes for disconnecting from Continuum docks. That was ridiculously annoying!

I actually don't remember experiencing the issue they fixed. but it was annoying having to use the Blackout for Continuum to turn off the screen. out of the whole update I'm just looking forward to be able to turn off the screen while using the monitor

Dona sarkar was here on windows central,then why dan didn't asked clearly why u giving updates of Redstone 3 before release of creators update on phones,why only 13 Lumia s are getting creators update, now i know he already explain in twitter but that was not truth i think why dan didn't ask him why windows 10 mobile is still unstable,why he didn't ask ,why u just focussed on updates why not on apps in windows store! If i was dan ,dona was crying because of me 😡

You clearly didn't listen to the podcast.

At no point in your rambling were you able to convery a single coherent thought. Everyone is now dumber for reading this. Please learn the difference between a (,) (.) (!) and (?)

It's time to stop posting.

Hey, I'm not the only one who gets drunk and post on, wait a minute which forum is this?

Dude chill, people will take the piss, grow a thick skin and take most things with a grain of salt. Its ok to vent anger but at least address her gender properly. Dona Sarkar is a she. Very pretty one too.

The answer is simple dona Sarkar failed to give what windows insider expected

I don't understand why people continue to believe Dona Sarkar has magical powers. Just because she's the face of the Insider Program does not mean she has super secret inside knowledge of Windows 10's development or Microsoft's internal plan.

You have just shattered my dreams. So I guess it's time to take her photo off my wall and find someone else to pray to. Too bad too because I don't think Bill Gates will look better in candle light with the smoke from my Nagchampa next to my windows and my lava lamp.

Dona is the face of the Insider programme, NOT the head of windows, Terry Myerson is in charge of Windows

And Terry is actually trying to do a good job salvaging the mess he received. Joe Belfiore had windows phone in his hands and the job was just too much for him.

She could be the Jedi master you see! Yeah! I am convinced she is the Windows 10 Jedi Master with magical powers. Insert sarcasm.

I can't see the update on my Lumia 1520. Does this resolve the keyboard issues people were having on Edge ? I am facing it everyday since I do a lot of banking on my phone. Anyone ?

Edge issue was solved in a prior build.

Still having issues. I am on 15063.138

Are 1520's even getting further updates? I didn't think that they were.

Wait its not on the list? Wth?

Yeah, it's not. Only phones released from mid-2015 to present (Acer phones aside) are getting the update. http://www.windowscentral.com/microsoft-confirms-creators-update-will-on...

No it hit its three year mark last November so Microsoft dropped support for it. You can still hack it and it'll run fine but I don't know the details as they don't pertain to me personally.

Plus, since everyone is moaning so much that there are no new features in Mobile and none coming there's obviously no point getting the builds anyway - People can't make up their minds....Either there's no new features coming and it's dead, or they are upset they are missing out on these amazing builds now :-p

Its ok u are giving Redstone 3 builds to insider that's fast that's good ,but what was happened to give a little message about that to insider s who don't want Redstone 3 after creators update, nothing men ,dona Sarkar dont even have 5 minutes to address the insider s about talking about Redstone 3 how to stop or get creators update only,nothing,this prove s how serious dona Sarkar is about his job n work n insiders off course!

None of what you said makes sense :P

I think he might be having a seizure. Also, someone tell him Dona is a woman, not a he.

I picture his comment as to what a real life Grandpa Simpson would say.

Ah, I see you're a man of culture as well

From reading those posts I'm beginning to think that user really is that little girl in the picture.

Google must be running out of money to pay trolls or fix Google Translate.

Obviously English is not their native tongue 👅

First of all can you please re read before you post. Most of that was gibberish. However I think you were saying you wanted out of the insider builds and not to receive redstone 3 updates but are moaning because no one told you how to. Of that's the case you should have paid more attention. Many tech sites including this one told you how to do it, along with Microsoft themselves. Plus it is the same process as it was with the previous 2 updates. If you missed it you only have yourself to blame..!!

ThePyrobri, how long did it take you to learn gibberish? Is there and app for that? Yes's I know, bla bla bla only on the App store.

What I got out of that is once again you have failed magnificently to understand simple things. If you didn't want to receive Redstone 3 updates but didn't know how to stay on the Creators Update, there were two simple options for you:
Peruse the internet such as this site and its attached forum for an appropriate answer.
Or quit the Insider Program altogether, as it may not be for you.

What and have nothing to complain about! Are you out of your mind Zach!

If you are going to fail you might as well do it in a big way. You could even become a YouTube star!

Are you using Google translator? If so, then stop. It is not working. Maybe try the Bing translator. If you are not using a translator then you have some serious grammar and logic issues in your writing skills. Nothing you said was a coherent thought. And looking back at the several posts you made here it seems to be a theme. A theme of not making any sense.

I blame it on legalize marijuana. You know the funny thing is after drinking vodka I'm starting to understand him/her/it.

Ahhhh, who needs a translator app when you have vodka!

Ibp 775 it is a high profile meeting here to talk English with grammar,

So what make sense tell me ,

I am not an American to type English in grammar,and i even don't care about that idiot paul

You don't have to be an American to use correct grammar. Take your time and proof read before hitting the post button. There is other English speaking nations like England, NZ, Australia and etc. And you don't have to be them either.

I'm not even half way through reading the changelog and one of the changes is that Pro users can disable the lockscreen now, which means that Microsoft is listening. Edit: The copyright year being 2016 on Mobile is actually a known issue where it should be 2017, so the Feature2 branch is more than likely major fixes before remerge rather than "maintenance mode" as some have stated due in part by the copyright year.

There's clear evidence things are merging more. Even in the RS2 release many settings screens are now the same as on PC instead of the phone specific versions - That's a positive to me, plus I am really happy with my 950 right now. There are some things we don't have that would be nice to have but nothing too major IMO I was happy to get the performance improvements rather than features.

Will lumia 540 get creators update??

U can just edit the registry to a 950/640 ... And you will get the update!! Did it on my 930...

Any issues so far? What it the update changes some registry values on a hardware level and messes up your device?

A simple system update wouldn't be able to do that.

How to get t the update on my 1520

How to get t the update on my 1520

How to change my 1520 to get the build update

How did you do that? Please!

Install interop tools.check net to edit the registry

When will the Release Preview for phones get bumped to the Creators Update? My 950 is on 14393.1066.

The chances are it won't....It goes directly to production build.

Means lumia 540 device will get update till 14393.1066??

What we mobile users really need is "ad blocking" for Edge browser. This would improve the whole experience by an extreme amount.

and a built in free VPN like Opera's

Just use the requisite app instead of the site

I think for me urgently need an Android phone

How about fixing random lock ups and freezes on Mobile?

Did u check ur battery yet?

Has anyone tried this new build of mobile on still on 15063 point, X and um? I'm just wondering if it's stable.

I'm sticking with 15063 now personally - The phone is running great and I want to see what happens with mobile builds, how frequent they are and what's in them over the next couple of months now. Should get around another 12-16 months out of my 950 I think

this update adds "evaluation copy" watermark on my Surface Pro 3. is this normal?

Yes. That always happens in the early stages of the Fast Ring before we get closer to launch day. A few weeks/months before general release an update will remove that.

Insider builds do expire, so probably.

And its not for 1520?? I'm insider since two years and all my work and feedback in hub gone just like that ?

The point you're forgetting is your phone is almost three and a half years old.

Manufactured on 11 2015 . Are those three years ??

It is about the release of the phone type. Anyway: U can try the registery edit and simulate an 950xl. That should give u the newest update. And keep in mind: This is features only, not security updates.

Thanks bro , that was my last solution but after 10 days from now. Waiting the 24th of this month .maybe they gonna release for public , who know , maybe they will use mercy on us , oldies insiders .
Thanks brother

Just don't post problems in the feedback hub. 950 / 950XL already has its share of problem that MS is extreamly slow at fixing... or so far, not even thouched. No need to bring problems that doesn't actually affect the device, and causes more harm than anything.

Well i hacked registry and got into the latest fast ring on 930 it works better than anniversary at the moment.. Store loads waay faster and the apps stay in memory waay longer.. I kept 6 apps open 8hrs back and when i took them back they all resumed instantly which didnt use to happen on previous builds. They shudve supported the few remaining capable windows phone regardless if their age :| .

Great news. Thanks . Will this after few days for sure . Thanks again

I am SOOOOOOOOOOOOOOOOOOO glad that they fixed the Continuum issues!!!

How about Continuum app compatibility....like Netflix? Did they fix that?

That's not something for Microsoft to fix and isn't an issue with the OS. Netflix has to make their app compatible with Continuum. Now if you are talking about using the Netflix site in Edge, I'm not sure what's going on there and it may be something that Microsoft and Nextflix need to work together and resolve as it currently locks up Continuum and I cannot play any video on Nextflix's website via Edge and Continuum.

Netflix need to release their UWP app on Mobile for it to work with Continuum but they have had it on PC for ages and stuck with the WP8.1 app all this time. Maybe they will eventually release the UWP to Mobile and we'll then get offline downloads too

Or you can just change display settings to mirror your phones screen instead of using continuum.

I used w10m in my lumia 730 thats was not smooth, now am using lumia 640xl now i can say its smooth,i think many sections are same in lumia 730 and 640xl but w10m experience is different in 640xl

Still no fix for the broken Cortana on mobile, what shambles!!

Tell cortana " call my father" xD. It wont happen

Sorry for asking as I can see this is a heated topic. But i have not really read anywhere that 15204 and future is RS3. Is that the case? Which is the last CU then? Can someone please confirm. Again. Sorry for asking. Must missed it. Thanks.

I asked Lenovo on twitter if they could make us Windows mobile fans a super High end Windows phone with the latest. They replied that the request/feedback is being forwarded to the teams responsible for mobile..i had to write and explaination why i asked them on a link they gave me. If MS won't make new phones, I'm starting to ask others :P Lenovo keeps me looped so fingers crossed.

what is the meaning of second point of mobile

Offline Maps still not updated for other countries why?

I still have issues with Edge on my lumia 640. When i open it, first page is with tinny letters and it frezzes and i have to reopen it again...

Same, but i open the tabs and re-click on the already open tab and that fixes the page for me

Yes, me too, but i have to do that every time...it's very boring

I have same issues on my 950XL and X3, it gives a snapshot of the page rather then opening the page up. I have reported on F/B hub with a screenshot, hopefully they take notice.

Automatic brightness is not working from past 4 builds ok fast ring, along with custom ringtone. When will this be fixed??

From the Blog: The copyright date is incorrect under Settings > System > About. It shows as 2016 when it should be 2017. Thanks to the Windows Insiders that reported this! Eat poop Bednarz

So glad they are fixing the really important bugs, instead of adding any new features or fixing usability problems. /s

I hope the glimpscreen issue is solved with the 15205. The time was not always updated on my 950xl !

Guys is the creators update for mobile released shot the consumers, non insiders??

Took out Bluetooth. Rolled back.

What phone did you experience that on?

Could not update to 15204 on my 950XL due to some "Some update files aren't signed correctly" error message. Will have to see if this update works when I get onto home wi-fi.

Anyone else run into the spinning cogs followed by frown error? 950xl

followed by an endless boot fail loop that couldn't be recovered even by the recovery tool. Got a red screen install attempt that appears to have bricked the phone. this might take a while to fix, if it's even possible.

about an hour later...not bricked. That was a close one. Time to reinstall apps and setup my phone.

Im stuck that red screen. Pc would not recognise my 950XL at all. After a few unplugging and plugging again, it will recognise it for a few seconds then disconnect.

Go through the red screen recovery install, you will get a confirmation in the recovery tool followed by a long black screen on the phone after which you will be able to re-setup your phone. If your process follows what I ran into. Be patient.

What do you mean by the recovery install? The screen on my phone is all red with 2 arrows on the top, there is nothing else. The phone reboots often when I plug it in, and when I unplug it, it turns off after a while. It never gets recognised by the PC. In device manager, it shows as Lumia Bootmgr

No problems here with the L950XL.

Build 15205 shows up on my 950XL but just like 15204 it initialized the install then errors out with "Some update files aren't signed correctly Error code: 0x800b0109" :-(

So turns out in the Windows Insiders app settings menu there may be prompt to Restart Phone. There was on mine and that rectified the problem. Update is downloading now. Apparently a "normal" power off/Restart does not fix the problem, have to go thru app.

I see that the Bluetooth issues gave still not been resolved. I hope the next build will take care of this and my ability to connect to my charge2 and receive notifications again.

None of my processors support power throttling :(

Windows 10 mobile is dying slowly like a poison,Microsoft is killing him by his own ,company invested there money 💵 like water on windows phone since from 7 years and now they dont want anything to loss, but they tried to hard but the biggest mistake Microsoft did in windows phone is not to focus on developer s ,apps and games just focused how the os will smother,day by day developers started removing there apps from store and,Microsoft didn't do anything, it's end now

279kk should become the example of why you should not post comments whilst intoxicated. Nothing you write ever makes any sense.

Guys Iam still having problem with Cortana. When I click on Mic it crashes... I can use anything else, but when I activate voice control it just crashes instantly... Mobile - 950XL. I have this issue with last 2 or 3 builds. I tried factory reset before the last one, but it didn't fix the issue...so should I try to reset it one more time or is there some workaround? I haven't seen anyone else posting this issue. thanks :)

Try reset using lumia recovery tool and then update

My Lumia 540 is not showing any update for fast ring

It is not supported for cu

:))) no Redstone 3 for mobile. How about that fanboys?

Just a heads up for others. Build 15204 caused my 950 XL to not charge. It will make a sound and show battery charging sometimes but not actually charging, other times it doesn't show the icon at all. This happened after a hard reset. Build 15205 did not fix that issue.
After trying WDRT, the phone kept disconnecting and failed the flashing and now is stuck on red screen and keeps rebooting. The pc doesn't recognise it. After numerous tries it will recognise it only to disconnect shortly later.
I would appreciate any suggestions.
Cheers

Strange. My 950XL on build 15205 charges just fine, both cabled and Qi pad.

As I said above: Go through the red screen recovery install, you will get a confirmation in the recovery tool followed by a long black screen on the phone after which you will be able to re-setup your phone. If your process follows what I ran into. Be patient.

Build 15204 or 15205 won't download on my 950 XL, a friend with a newer phone, 660 had no problem with either build download and getting them to install. It appesars the 2 builds wasn't created for the 950 XL, that's why the builds error out when trying to download. The last build for the PC caused my PC to blue screen, problem detecting the Dell keyboard,and requested power off. I tried a few times with the same result. I switched to the slow ring to have a working computer and be able to give further feedback.

Do you get this error "Some update files aren't signed correctly Error code: 0x800b0109" when trying to download/install on the 950XL? If so, go to the Windows Insider app settings and see if there's a promp to restart the phone. That's what happened on mine and once the phone restarted build 15205 installed without issue on my 950XL. I did not know about this during 15204 release and went a week without the update until this discovery.

I have no problem with my 950XL.

Looks like we are heading to a Windows phone 7.8 moment. When that generation couldn't go to 8.0 some features were brought to older devices. As Microsoft kill off Windows 10 Mobile the last step is to tidy up the features for the vocal 0.3% that thought there was a future. All the guys with a Windows RT, Zune and Band.

Still not possible to update to 16179 on my laptop. Stops at 80% installing...

Omg same here bro. I'm frustrated

On mobile, is anyone else getting the message that some files aren't signed correctly

Look for my comments a few above. I have the fix there.

Nm, just saw the response for the fix right above my post.

Lumia 650 not seeing last two updares

Don't think I jump to Fast Ring, not yet.

I am on release preview ring when i will get the cumulative update,i don't want Redstone 3

Hey i am using Lumia 640 build 15063 138 on release preview ring but not getting cumulative update s ,n i don't want Redstone 3 so ,tell me how to get official creators update,and then how to stop windows insider program..

Will we get ******* creators update tomorrow,it been 7 daya im on build 15063 138 on my lumia 640 in release preview ring, its disappointing no cumulative update s .

Remove dona Sarkar from the windows insider, she done nothing,Gabe aul was better! Anyway windows on phone die 💀!