Windows 10 build 16184 for PC and 15208 for Mobile now rolling out for Insiders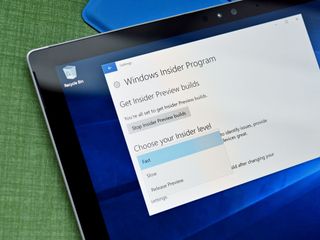 (Image credit: Windows Central)
Microsoft is rolling out a new Windows 10 Insider Preview builds today, one for PC that finally includes the new My People feature that Microsoft announced last October. Today's PC build is 16184, and is available for Insiders in the Fast ring for PC now. There's also a new build for Mobile, which is build 15208 and includes more fixes.
What's new and improved for PC?
My People: Technology is all about making it easier for you to connect with your most important people. Whether you want to share a photo, make plans for dinner, or get an answer from a friend or coworker – My People is here to take it to the next level and bring the people you care about most to the center of your experience.
Pin your people to the taskbar – we'll suggest some to start with, or you can pick your own! (Note: you are currently limited to having 3 people pinned to your taskbar currently.)
View multiple communication apps together and filtered to each person on your taskbar.
Choose the app you want to use to chat and we'll remember for next time.
By now, you are wondering 'but how do I host this party in my taskbar?'. To start with, go to the Store app and make sure you have all the latest updates for the Skype, Mail, and People apps. Then click on the People icon in the taskbar to activate the first run experience and get setup.
Note: Contact syncing is enabled by default following system settings in versions 11.13+ of Skype. If you have an older version of Skype you will need to manually enable contact syncing via the Skype app settings.
Have feedback you want to share with the team? We want to hear it! You can send us feedback by tapping the ellipsis in the People flyout and selecting "Send feedback", or by opening the Feedback Hub and sharing your thoughts in the Desktop Environment > My People section. We have some more work on its way for this that will soon be lighting up for Insiders, including our improved Share story for People, so stay tuned!
New experience for Gmail accounts in Windows 10 Mail & Calendar apps: Last week, we announced we're introducing a new experience for Gmail accounts in the Windows 10 Mail and Calendar apps that brings our latest features such as Focused Inbox and richer experiences for travel reservations and package deliveries that were previously only available to those with an Outlook.com or Office 365 email address. Windows Insiders will be the first to try out the new experience as the roll-out gradually happens over the next few weeks. You'll know the new experience is available for your account when you are prompted to update your Gmail account settings.
We fixed an issue where night light could get stuck in a disabled state.
We've updated Start to use the improved XAML scrollbar style announced during Creators Update development.
We fixed an issue from recent flights where dragging an app from Start's All apps list into the tile grid would result in Start crashing.
We fixed an issue for those using Windows in Japanese, where on first login after an upgrade certain apps would unexpectedly appear at the bottom of the Start's All apps list for an hour or until being launched, instead of the normal sorted position.
Since the preview picture in Start Settings only previewed background and theming changes, which are already available to be previewed on their corresponding Settings pages, we've made the decision to remove it.
We've improved the loading performance of the Notification Settings page.
Some audio drivers have an "encoding Audio Processing Object" feature; this is commonly known as "Dolby Digital Live" or "DTS Connect". This takes the output of the Windows audio engine mix, encodes it (as Dolby Digital, DTS, or some other format) and sends it out over a S/PDIF optical link for decoding by an external audio receiver. An issue was introduced which resulted in this feature no longer working, which is now fixed.
We fixed an issue from recent flights resulting in Photos crashing if you opened a picture from the Collection page and then pressed the back button in the title back.
We fixed an issue resulting in Counter Strike Global Offensive hanging or freezing during game play on the latest builds (16176+).
We fixed the issue where pressing F12 to open the Developer Tools in Microsoft Edge while F12 is open and focused may not return focus to the tab F12 is opened against, and vice-versa.
What's new for Mobile?
We've fixed the issue where some Insiders were unable to open both the Connect UX page and/or the "Add Bluetooth or other devices" setting on the Bluetooth Settings page.
We fixed an issue resulting in an unexpected extra ~20 sec being added to the phone shutdown process due to a deadlock if you tried to shut down soon after switching from one network to another.
As always, you can check out the full changelog, including a list of known issues, at the Windows Blog!
Windows Central Newsletter
Get the best of Windows Central in your inbox, every day!
Zac Bowden is a Senior Editor at Windows Central. Bringing you exclusive coverage into the world of Windows on PCs, tablets, phones, and more. Also an avid collector of rare Microsoft prototype devices! Keep in touch on Twitter: @zacbowden.
What happened to the mobile CU public release? It's been four days!

Yes ,i m on official creators update netmann still have some issues

Microsoft have to release a cu update for creators update

If you are an officially supported then join FR most of the bugs are solved there

U are idiot kunal ,i was insider since 2 year with my Lumia 640 now after creators update i just exist of that ,i don't want more risks now ,m tired 😫,,

Dont cry for official support just get the new build if you are supported or not who cares just install interoptool tool and change your model name you will get new build . If you know how things works FR is now in a maintenance mode so its getting stable and they are trying best to keep platform working if you are unable to to be co operative then just leave the platform.

Same here, but my device is unsupported now. So everything I did being a Windows Insider went in vain... :(

Me thinks MSFT botched the CU production update. In the past 3 days I've heard of no one receiving this update and yes I know you can do the insider thing, but I'm talking about the folks with CU supported devices..

I got the creators update without being an insider on my idol 4s the morning of the 26th. There you go.

+3
I got it on THREE devices. ;)

Any Lumia devices? Country please. Good for you but odd that so many others have not received CU production on supported devices since the announcement on 4/25.

535 on CU supported list of devices?

No it's not. But I got it via insider release preview.

OK. Did you update your 650 and 950XL via the insider release preview too?

Not odd at all. It is said to be releasing in waves. So not everyone will see it immediately. But you can always jump onto the Release Preview ring if you cant wait.

It lends itself to conclusion of why my 640's apps ALL started working again after months of being down AFTER they pushed the maintenance branch. I'm talking about gaining back functionality of dozens of apps all at once with that one branch change. Something's afoot.

So MS is not gonna fix the bluetooth and Connect problems on the Lumia 930 because of dropping the support?

since this is still on the creators update branch, your 930 will get it still.

Wrong, updates beyond 15063 are for cu supported devices only.

So mobile releases are in maintenance mode now.

No point of down voting.. I am just saying that 2017 was supposed to be the year for mobile but i don't see it like that for the time being.

It is, just not mobile phones

Down voting comes from idiots. Do not worry, their are some people left to chew the problems of Creators bullshit. And yes, we are in meintenance mode right now. As far as i care, well, i don't. Mshit, sorry micro-soft (intended) managed to bring me to the edge. First killing Nokia then **** on their leftover customers. **** You micro-soft. Their is a reason for this name!.

I think they vill give an surprise for all windows mobile users

Yeah, and they're going to have it delivered by the Easter Bunny since he has lots of free time now.

Are the current mobile-builds still as stable as they were before changing to "future2"?

yes new build is super stable on my L950XL

Super stable? My ass! Try killing background processes, try changing some notification apps, if you have many, well i can take a ****, eat a pizza and throw the phone out the windows while doing it, and am still waiting.

Yes that is quite a frustrating bug. Had it a couple times on the last build 15207. Luckily not experienced it on this one yet. I have to say that my general impression of the last two builds is that performance and stability is improving. If feels that are they polishing off OneCore on Arm.

Notifications & Actions settings page bug is still there. If you have many apps that list takes so much time to open regularly. There is also a bug for Gestures Beta icon and title. It's invisible on that list.

You mean, before windows 10? Cause for sure 8 was snappier and more stable then 10. Hack, i own an 950xl but my friends 830 is faster on winphone8 then is this giant on windows 10. He ain't gonna upgrade.

It's already out everywhere...

I have not got CU update for my Lumia 950 in India yet.. Have you got it bro?

What's the point of insider on mobile as of right now? Nothing major seems to be being worked on, so why bother? Just can the thing and release patch Tuesday updates, done. No point on fast ring if there's nothing new to test and give feedback to.

True, nu point at the moment. It's early days though.

Have you looked at what's new on PC and then on Mobile? Same for Fixed and Known Issues. Mobile's list is barren, they're not working on anything... MS, just come clean already. Either kill this or announce it's being replaced, but not this.

See? The are still giving updates for Mobile!

And digging the grave at the same time. Slowly, inch by inch.

15207 the last update I have on my Nokia Lumia 1520 ..

How did you get it when its not supported

Thats what I used on my 1520 and 1320

Hmm. No mention about Bluetooth issues with 16179 PC build. Wonder if I should take the time to test it. Wow, just did a Google search and found my bug-submission on WindowsReport. Cool! http://windowsreport.com/windows-10-build-16179-issues/

awesome, keep them fixes comming

I think that it is very nice to see 20 seconds chopped off the amount of time for my phone to shut off

I haven't even been able to install 16179.1000...

Woo hoo.!!! This update fixed my Starbucks App which hasn't let me log in for weeks since the recent app update :)

Grats! Now that's real progress!

Haha as yeah I know not that exciting but good stuff is being fixed, really like my phone so pleased things on it are getting better even if they are short lived :D

Actually they should already have a ******* system that does not need to be fixed with each and every update, but should be updated with new capabilities something ms, does not know. Right now, they pretty much don't know nothing The most idiotic brand ever existed

In the real world.... What are you still doing here if you think they are that bad.

If you want to be taken seriously learn English and how to construct a sentence. Now go and play with your toys.

I was born and bred in England, My family descendants go back 6 generations, you ate obviously confusing thread chat with reality, retard !!

The insider program for mobile is a joke right now, I like the W10m insider program and help with feedback but right now releasing this kind of builds ia just a waste os insider times and MS resources.

I have to disagree. We need these fixes and they are giving them to us. Why is that a waste?

Because most of theses fixes are Release Preview worthy, not Fast Ring.

How do you know that? These fixes could bring new bugs and problems with them. Thats why the insiders get the builds first. They can spot and report the bugs, so new fixes can be made before it gets shipped to the masses. You have no idea what is "Release Preview worthy"

A Bluetooth UI bug is not Fast ring stuff, come on...

Obviously they don't feel that its just "A Bluetooth UI bug" and thats why it's Fast Ring and not RP. When it has enough user feedback, and its ready, they will move it to Slow Ring, then RP and then to regular release. If they had moved it right to a regular release and it had some unforeseen issue or bug, you would be the first one complaining that they didn't bother getting user feedback with insider builds before releasing it!!

You need to be able to pin skype group chats as people to the taskbar. Made some feedback, so plus it if you agree.

Can "unsupported" phones (like my 1520) get this update or are those phones stuck with RP updates only?

No, unsupported devices do not get these RS3 / Future2 updates. To be clear, again, "unsupported" devices are not supported on RS2 Creators Update, that is 15063.xxx, even though you can still get it on Release Preview. Accordingly, you use it at "your own risk." However, devices "unsupported" for Creator Update/RS are supported on Anniversary Update.

That didnt answer my question at all. I'll ask it another way... Can "unsupported" phones like my 1520 download this update? I'm not aking if it's suported on RS3 or any future updates. I'm asking if I have to spoof my registry for my 1520 to see this Fast Ring update or if I can justy move back to Fast Ring and download it now?

I don't know anything about spoofing. But i understand it makes your 1520 appear as a 950 (or whatever support device you choose), so you get all the same updates the 950 does, including RS3, "at your own risk."

If you are a Windows Insider on an unsupported device, you can stay on the Windows 10 Creators Update and receive Cumulative Updates via the Release Preview ring. However, you do so at your own risk as it's unsupported. If you are on one of these unsupported devices and in the Fast or Slow ring, you will need to switch to the Release Preview ring via Settings > Update & security > Windows Insider Program.

So spoof the registry then? Ok cool. Thanks

I spoofed my registry and got the 15207 update on my Lumia 1520. So far everything works fine. To restart after updates you have to force restart your phone as the script that's running the shutdown procedure gets stuck on good bye. Other than that everything works fine and smooth.

Thanks for the update! I downloaded the update this morning on my 1520 and 1320. So far so good.

On the 207 build I was seeing an increase of blank screen resulting in an FC (950xl) Hopefully this is addressed in this build.

I had that a couple of times before, none so far today on this build...

Installing it on nokia Lumia 1320.
Windows 10 Mobile build 15208 (Redstone 3; Fast Ring)

Let me know if there are issues

No issues found on nokia 1320 till now only brightness works on auto or max level ...no low or medium level .but is ok on auto mode

Is it just me or does the 1320 handle these builds really, really well??

Yes nokia 1320 handles it really well....its like that, build are build for it also officially.

How ate you doing it on 1320 when its not supported

First install windows 10 mobile build 10581 by offline updater,link is on xda.
After installing dev unlock 1320 n install dth app with dependencies,total 3 files.
Uninstall extras n nokia care from ur phone 1320.
Then install insider preview app.
Choose release preview.
Check for updates.
Build 14393 will be available.install it.
Now devloper option will be availiable in phone update menu open n choose release preview.
Again after installing check for updates creators update 207 will be availiable, install it.
After it choose fast ring from phones devloper options.
Then 208.0 will be there ...install it .
U will on latest window 10 mobile...

Why don't you give all the hoops you had to jump through to get this? InteropTools, root access Just trying to confuse others.

Anyone noticing a difference between these builds and the creators update for mobile?

Hey , if anyone will get creator update for lumia 950 in the entire world , then please inform me .... Primuxprimux@live.com.......I can not wait more and more 😴

Go too the store, and there is an app from Windows insider it looks like a keyhole and a key, in purple. Install it.Those: release preview, and you should bi going.

Installation fail at 80% on my PC... I'm so frustrated rn. Since the last build, dang

On a 950, now the Skype app will no longer launch at all. See the splash screen and then crash. Even tried uninstall the app and reinstalling and have the same thing. Guess I won't be able to test out that fancy sms/my people app after all. On my PC, Alt Video Mode (via USB-C) to my USB Pluggable stopped working. So had to go back to Display Link drivers to get two monitors on my HP Spectre. Reported all of these...next build.

Skype app is working smoothly with messaging integration on NOKIA 1320

Cool! I'll download it tonight!! Can't wait till we start getting some NEON action in our builds, though!! Any idea on when that might start happening?

I don't understand how we're still getting updates for Windows 10 Mobile. After a year of no new features and just bug fixes, how can there be any bugs left to fix!

Because they were still tinkering with the core maybe so fix one thing break another...

One step forward, three steps backward. This is the new age MS. ****!

Because whenever they fix some bugs, new ones show up. This Bluetooth bug fix is the one I've been waiting for over a month, and it came after the official creators update release. I've been raging in the feedback hub for this past month about all the annoying bugs there were, when we found out 4/25 was going to be the official release. I really didn't want a repeat of the initial launch of the extremely buggy W10M, which is the main reason no reviewer ever recommended the 950/XL.

Rolled back to 16176. Bluetooth not working, same as 16179 bug. Error 43 in Device Mananger.

I was having Bluetooth issues with fit bit I went to Bluetooth and it showed paired on charge2 deleted charge and then repaired and it connected right away and BT is working. Have you tried that process?

just two fixes for mobile?
I send feedback for about 10 in last build, I'm sure others insiders should have send more.
Microsoft, just tell us that mobile will no longer get your attention.

Well, given that MS announced that the "retrenchment of phones will end in June", I think it's safe to say that means they'll only be cleaning up the Creators Update from here on out, as Windows phones die off. I think that's a pretty clear signal that MS will build no future phones, and IF anything continues it will only be through other OEMs. It's pretty disheartening.

They didn't say anything.
Only MSpoweruser made a clickbait article, but the period is ending in June.

I cannot believe Windows Central failed to describe under which ninja-red-button style this build got reasons. It was hilarious xD

I was watching the beam broadcast too Rahsna...was fun to see him push the button and then pick up my phone and see the build there

18 bullet points for PC....2 bullet point for Mobile....c'mon MSFT you say you're committed to mobile...SHOW IT !!

Well, they are two pretty big bullet points. These issues were terribly annoying for those who were affected. My 950XL dual SIM is in a much better place with this update.

Cowabunga! I have bluetooth functionality in my car (Comand 2.5, Mercedes) again. I also notice the shutdown duration is in fact at least 20 seconds shorter if not more. Maybe there is life in this old dog after all.

I registered for windows insider. Still I didn't get updates on Lumia 525 . Why ?

When the creators update release?

Cortana is broken on this mobile build. While she does respond to "Hey, Cortana", if I am trying to initiate a text message, she only takes me to the internet. I've tried a number of different ways to make this work, and I have restarted the 950 several times. Nothing fixes this. Huge issue here.

15208 is pretty sweet on my 950, really does seem faster. A good swan song for Windows 10 mobile.

I still can't update to 16170, 16176 or newer. I'm on a Surface Pro 2, and for the last forty or so attempts of updating has failed. Tried every remedy I could find and did trouble shooting every time. Microsoft needs to get their act together. From what I've seen a lot of people are having the same issue

I m not hater , but wphones are dead now.

Dead in your eyes. It's only dead when no one uses WM

Mine isnt dead, I'm using it right now.

Any possibility that Microsoft has separated the Mobile branch to hide features from Insiders only to reveal them when Surface Phone is out?

Any possibility that Microsoft has separated the Mobile branch to hide features from Insiders only to reveal them when Surface Phone is out?

Any possibility that Microsoft has separated the Mobile branch to hide features from Insiders only to reveal them when Surface Phone is out?

Any possibility that Microsoft has separated the Mobile branch to hide features from Insiders only to reveal them when Surface Phone is out?

Oops. I spammed the Send button and there are multiple copies of my comment. Sorry.

I installed this update on my 1520 and my 1320. Both are running very well. In fact, my 1320 is running better than it ever has on W10! MS needs to keep up these awesome updates. Just smotthing everything out and making W10M great. Well done MS!

I got a downvote for enjoying the OS and it's updates on my Lumia phones? lol

Yes i also observed that 1320 is running same like it runs on 8.1
No heating issues.
No lagging.
All apps and system apps working.
Glance is not present though...but its not very important.

I can't get it to install on my 1520. What am I doing wrong? It stalls at 0% during the download. I've had the same problem with several of the earlier Insider updates. Someone else mentioned spoofing the registry. I appreciate any details. Thanks in advance.

Does anybody get windows 10 creators update officially for your phones ?...

Still waiting for official creative update for my Lumia 950 dual sim in India . Have Anyone got it?

Anyone seeing issues with Outlook 2016 locking up and not responding? Wondering if the changes to the Mail app had a negative impact to Outlook.

It has a lot of bugs. Turning of background processes is very unstable, notification area opens after seconds, the more apps with notifications you have, the more time it needs to open. Their are more of this bugs, where it takes ages to opens something or just kills the phone. Ao, do n't be surprised of e-mail issues.

I have the same issue, in DELL 7510 and Surface 4, it seems to be a bug of Build 16184.

I run Office 2007 including Outlook, which build 16184 broke, Oulook stalls on trying to retrieve mail and locks up, starting in safe mode makes no difference. Also graphics is still broken, requires reset from dual to single back to dual displays to work.

How about insider preview build 15208 in my Lumia 830? In Brazil not sale 650, 950 or 950 XL

After the last update my good old 640 works even better than before. I don't know how they managed to make an outdated device to work so smooth so congrats for this. However what they did to maps is a disaster! It doesn't run in the background any more ignoring even the specific app settings. You can imagine what this means for the battery if someone only needs audio directions while screen is off. Please MS fix this!

I think the rollout of creators update for mobile in india hasn't yet started...I can see a lot of comments on this...Even my 640 is not seeing the creators update.

Whats your build number ? Try the fast ring, you should get updates. I have the Lumia 735, though it was never launched in India and hence cannot exactly be called a Nokia India phone. I used the fast ring and got two updates in two days. I started from 14393, first it updated to 15063.2, and then to my plesant surprise, the very next day it gave me 15063.138. Absolutely smooth operation after the updates. One or two apps are still crashing, esp FB but thats very very ok.

Performance with Build 15208 on my L950 is very good, all is snappy and smooth, Installation went fine and no Problems so far.

Just got 15063.138 through Fast Ring on my Lumia 735 in India. Amazingly fluid and smooth ! Love it... Not sure about 15208 yet though

Latest build for mobile its a lot more stable and energy efficient! :D Lumia 950

I just loaded 10.0.15208 on my Lumia 640 LTE and it is indeed running a bit smoother now with better battery life. I was always a Slow or Release Preview guy but now that W10M is in "Feature2" territory I am on the Fast track to get the last bits of W10M goodness available before it is EOL. I am getting ready to sell my Lumia Icon with Windows 10. I'm not holding onto this phone when it is frozen at 10.0.15063.251, lacks a microSD slot and will fetch me way more cash than my unlocked-for-free Lumia 640 LTE that I picked up for under $40 (and have a 128GB microSD installed). I will say that the 640 was still a bit more fluid with 8.10.15148.160, but now that W10M is more mature it's hard to regress back to 8.1. Here's hoping we get another few years of updates, but I just don't see it.

otha, ******* u MS, thirutu thevdeya badungala still Bluetooth fixing issue is the

I'm still on build 14393.1066 and I have the Lumia 950XL.

Fast Ring should give you an update. Where are you from ?

L950. Updated to CU. No new features, no serious changes and most disgusting, no sound bug. I can't even answer to calls. That's enough. Going to buy midrange android device or iPhone on next week.

My daily driver, 950XL, is on .251 and just this morning I successfully played around with Interlop Tools on 1520 which I use for trial builds. Downloading 15208 right now and will see how it goes from then on. Tinkering with the registry isn't as hard as it sounds, provided you have another handset... as I wait with bated breath the results of my adventure!!!