Windows 10 build 16184 for PC and 15208 for Mobile now rolling out for Insiders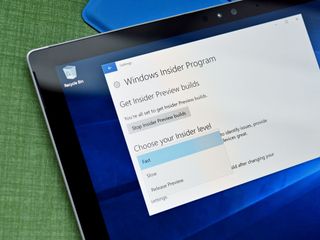 (Image credit: Windows Central)
Microsoft is rolling out a new Windows 10 Insider Preview builds today, one for PC that finally includes the new My People feature that Microsoft announced last October. Today's PC build is 16184, and is available for Insiders in the Fast ring for PC now. There's also a new build for Mobile, which is build 15208 and includes more fixes.
What's new and improved for PC?
My People: Technology is all about making it easier for you to connect with your most important people. Whether you want to share a photo, make plans for dinner, or get an answer from a friend or coworker – My People is here to take it to the next level and bring the people you care about most to the center of your experience.
Pin your people to the taskbar – we'll suggest some to start with, or you can pick your own! (Note: you are currently limited to having 3 people pinned to your taskbar currently.)
View multiple communication apps together and filtered to each person on your taskbar.
Choose the app you want to use to chat and we'll remember for next time.
By now, you are wondering 'but how do I host this party in my taskbar?'. To start with, go to the Store app and make sure you have all the latest updates for the Skype, Mail, and People apps. Then click on the People icon in the taskbar to activate the first run experience and get setup.
Note: Contact syncing is enabled by default following system settings in versions 11.13+ of Skype. If you have an older version of Skype you will need to manually enable contact syncing via the Skype app settings.
Have feedback you want to share with the team? We want to hear it! You can send us feedback by tapping the ellipsis in the People flyout and selecting "Send feedback", or by opening the Feedback Hub and sharing your thoughts in the Desktop Environment > My People section. We have some more work on its way for this that will soon be lighting up for Insiders, including our improved Share story for People, so stay tuned!
New experience for Gmail accounts in Windows 10 Mail & Calendar apps: Last week, we announced we're introducing a new experience for Gmail accounts in the Windows 10 Mail and Calendar apps that brings our latest features such as Focused Inbox and richer experiences for travel reservations and package deliveries that were previously only available to those with an Outlook.com or Office 365 email address. Windows Insiders will be the first to try out the new experience as the roll-out gradually happens over the next few weeks. You'll know the new experience is available for your account when you are prompted to update your Gmail account settings.
We fixed an issue where night light could get stuck in a disabled state.
We've updated Start to use the improved XAML scrollbar style announced during Creators Update development.
We fixed an issue from recent flights where dragging an app from Start's All apps list into the tile grid would result in Start crashing.
We fixed an issue for those using Windows in Japanese, where on first login after an upgrade certain apps would unexpectedly appear at the bottom of the Start's All apps list for an hour or until being launched, instead of the normal sorted position.
Since the preview picture in Start Settings only previewed background and theming changes, which are already available to be previewed on their corresponding Settings pages, we've made the decision to remove it.
We've improved the loading performance of the Notification Settings page.
Some audio drivers have an "encoding Audio Processing Object" feature; this is commonly known as "Dolby Digital Live" or "DTS Connect". This takes the output of the Windows audio engine mix, encodes it (as Dolby Digital, DTS, or some other format) and sends it out over a S/PDIF optical link for decoding by an external audio receiver. An issue was introduced which resulted in this feature no longer working, which is now fixed.
We fixed an issue from recent flights resulting in Photos crashing if you opened a picture from the Collection page and then pressed the back button in the title back.
We fixed an issue resulting in Counter Strike Global Offensive hanging or freezing during game play on the latest builds (16176+).
We fixed the issue where pressing F12 to open the Developer Tools in Microsoft Edge while F12 is open and focused may not return focus to the tab F12 is opened against, and vice-versa.
What's new for Mobile?
We've fixed the issue where some Insiders were unable to open both the Connect UX page and/or the "Add Bluetooth or other devices" setting on the Bluetooth Settings page.
We fixed an issue resulting in an unexpected extra ~20 sec being added to the phone shutdown process due to a deadlock if you tried to shut down soon after switching from one network to another.
As always, you can check out the full changelog, including a list of known issues, at the Windows Blog!
Get the Windows Central Newsletter
All the latest news, reviews, and guides for Windows and Xbox diehards.