Windows 10 build 16226 for PC: Everything you need to know
Here's a closer look at all the new features and improvements included in Windows 10 build 16226 for PC.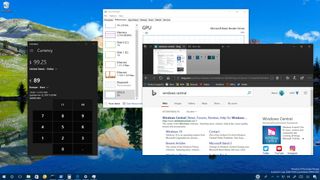 Microsoft is now rolling out Windows 10 build 16226 to testers with PCs configured in the Insider Fast ring. This is another significant update that delivers a new set of features and improvements that users will get as part of the Fall Creators Update, which is expected to release later this year.
Windows 10 build 16226 is a big rollout that brings more Microsoft Fluent Design System tweaks, and there are new updates for emoji, OneDrive Files On-Demand, Touch Keyboard and the handwriting experience. The Settings app adds new options and a few new changes, Task Manager now tracks GPU performance, and Microsoft Edge gets a lot of new improvements.
In this Windows 10 guide, we take a closer look at the new features and enhancements included in the latest test preview.
Windows 10 build 16226
Start menu
The Start menu on build 16226 remains pretty much the same as in previous test releases, the only difference is that the acrylic element, part of Fluent Design, is now more transparent.
Action Center
Similar to the Start menu, Action Center has been updated to be more transparent, and the experience now uses the new "conscientious" XAML scrollbar.
Taskbar and Task Manager
Visually, the Taskbar doesn't introduce anything new, but when you right-click the network icon in the notification area and select Open Network and Sharing Center, the Network & Internet settings page will open instead of Control Panel.
If you connect a pair of headphones, it's now easier to enable Windows Sonic sound. Once your headphones are connected, right-click the sound icon in the notification area, and select Windows Sonic for Headphones or Dolby Atmos for Headphones. Additionally, you can even set up sound for your home theater using this menu.
My People isn't getting new features, but you'll find new text in the overflow area in the flyout to make it clearer that contacts listed there are pinned. The Switch apps button in the flyout now uses a new hamburger button. And you can quickly enable or disable My People by right-clicking the Taskbar and selecting the Show People button.
Also, the Task Manager can now track GPU performance over time in the Performance tab, and in the Process tab, there is a new GPU Engine column.
File Explorer
Starting with Windows 10 build 16226, the File Explorer context menu has been improved to let you share files quickly. You just right-click an item in File Explorer or the desktop and click Share to open the new Windows Share experience.
To prevent confusion, Windows 10 now renames Share with sd Give access to in the right-click context menu.
OneDrive Files On-Demand
When using OneDrive or another cloud service, and an application tries to download a file store in the cloud, you'll now see a notification with information about the file with a progress bar, and an option to cancel the download, dismiss the message or block the app.
Shell
Alongside with the improvements in the Start menu, Action Center, My People, and File Explorer context menu, this new update enables by default the Reveal Highlight. This is a new visual effect, part of Fluent Design, that helps guide users. You'll see this new behavior whenever you come across a ListView and other XAML collection controls, such as in Microsoft Edge and the Settings app.
Input
Emoji 5.0
In this flight, Windows 10 features an updated version of emoji that adds support for the latest Unicode updates, including new snacks, actions, dinosaurs, and even fantasy characters. It's also possible to access the profession emoji and gender-diverse options.
Users with hardware keyboards can now search and find emoji more easily with a new update in the Emoji Panel. When you want to enter a new emoji, you can use the Windows key + period (.) or semicolon (;) keyboard shortcuts and keep typing to trigger a search. However, you must press enter or click the emoji. Otherwise, the word will stay.
The experience has also been tweaked to support a dark background when you enable the dark theme on your system.
Touch Keyboard
Starting with this flight, shape writing and text predictions are available in 30 different languages. In addition, the Touch Keyboard for East Asian languages is available in Simplified Chinese, Traditional Chinese, Japanese and Korean.
Japanese users now can get their hands on the new one-handed, curve-flick touch keyboard to quickly input text in Japanese Kana. While this is new for Windows 10, it's the same experience found in Windows 10 Mobile.
When copying text to the clipboard, you'll now see a clipboard icon in the touch keyboard candidate pane. Tapping the icon will paste the clipboard content into the text field.
Additionally, you can now use the Shift key to switch between capitalization states. There is a new language key in the one-handed keyboard to make it easier to switch between languages. And the settings flyout has been updated to have better access to Language Settings, Keyboard Settings, or help.
Handwriting and pen
The handwriting experience is also receiving some improvements, including the ability to erase words in the handwriting panel using the back of your pen. And the processed text in the handwriting panel now uses Windows 10's Segoe UI font.
You can already scroll using the pen on Windows Store apps, but starting with build 16226, you can now scroll traditional (Win32) apps too.
Settings
Windows 10 build 16226 also delivers many changes to the Settings app, including a touch of Fluent Design, tweaks, and new options.
Storage Sense
In Settings > System > Storage, the Storage Sense page has been updated. When you click the Change how we free up space link, you now get check marks to select the temporary files you want to delete instead of toggle switches.
The new page also includes an option to remove a previous version of Windows 10 after an upgrade. (You'll only see this option when an older version is available for deletion.)
Remote Desktop
On Settings > System, the Remote Desktop page was originally included in build 16215, but now it appears above the About page.
Inside the page, you can quickly enable Remote Desktop and select the users that can connect remotely. In the advanced page, you'll find additional settings, such as to configure network level authentication, and you can see the current remote desktop network port.
Xbox Networking
In Settings > Gaming, the Xbox Networking is a new page introduced with build 16226 to give users additional tools to troubleshoot and fix issues that prevent using voice chat and playing multiplayer games on Xbox Live.
The page shows the network connection status as well as the status of Xbox Live services. Under "Performance," you can see network latency and packet loss. Then under "Xbox Live multiplayer" you can check NAT type and server connectivity.
If something isn't working correctly, you can always click the Fix it button, and then the Check again to test the fix.
Magnifier
In Settings > Ease of Access, the Magnifier page includes a new Enable bitmap smoothing option to make text appear smoother when using the Magnifier.
App-requested downloads
In Settings > Privacy, the App-requested downloads is a new page that allows you to unblock apps from downloading files from the cloud, when an app tries to download a file from OneDrive, for example.
Backup
In Settings > Update & Security > Backup, once again you're allowed to configure File History to back up your files to an external drive or network location.
Windows Update
In Settings > Update & Security > Windows Update, when updates fail to install, you'll now see a description with an error code that is easier to understand. You can even select and copy the text to research a fix.
Microsoft Edge
This release also delivers a new update for Microsoft Edge that bumps the version number to 41.16226 and adds a number of new improvements.
If you've been using Microsoft Edge for some time, you'll quickly notice that the tab bar incorporates a darker shade of gray with gradient, which is similar to older versions of Google Chrome (without Material Design).
When you open the tab preview bar, you'll find that your current tab now stands out from the rest with a subtle highlight, but you can still view the other tabs.
Microsoft Edge also introduces some subtle Fluent Design touches when hovering over list elements and clicking buttons.
In this new version of the browser, the close button will be available for tabs, windows, and other features even while a JavaScript dialog is open.
If you're making Microsoft Edge your primary browser and ditching Google Chrome, now your Cookies and settings will migrate too.
Starting with build 16226, you can select text, and the context menu will include two additional options to Copy or Ask Cortana.
While working with an EPUB file, it's now possible to add notes and draw with the pen. Simply hover over the note button and start writing.
Books that you buy from the Windows Store will sync across devices with your reading progress, bookmarks, and notes.
There is also a new Favorites experience that lets you view your bookmarks as a directory tree when you save new links, and collapse or expand folders from within the experience.
Additionally, you can now edit your bookmarks links from the Favorites bar. Just right-click, and select Edit URL.
Other changes
The Calculator app has been updated, and now includes a currency converter function, and there is an offline mode, so the calculator doesn't use data while you're on the road to make a conversion.
Narrator now uses artificial intelligence to create descriptions that don't include alternative text, and it can also extract text within images.
Microsoft's Hyper-V introduces a new feature to quickly share a virtual machine. When you click the new zip button in a Virtual Machine Connection, Hyper-V will compress the virtual machine into a .vmcz file, which you can take to another computer and simply double-click to import.
Finally, this release also brings new improvements to the Japanese Input Method Editor (IME), which includes new enhanced learning for predictive input changes, search from Japanese IME Candidate List, and English predictive candidates with spelling correction.
Wrapping up
Windows 10 build 16226 is now available for testing, and it's a monster update that includes welcome additions and changes, which users will get with the Windows 10 Fall Creators Update later this year.
Overall it's a good release, but it's still a prerelease version of Windows 10, and you should not run these builds on your primary machine. At this point, the OS is buggy, and it has several known issues, which may cause unwanted problems.
If you're planning to use the latest preview build of Windows 10, we recommend using a virtual machine or a spare PC.
What do you think about the new changes included in this build? Tell us in the comments.
More Windows 10 resources
For more helpful articles, coverage, and answers to common questions about Windows 10, visit the following resources:
Windows 10 help, tips, and tricks
Get the Windows Central Newsletter
All the latest news, reviews, and guides for Windows and Xbox diehards.
Mauro Huculak is technical writer for WindowsCentral.com. His primary focus is to write comprehensive how-tos to help users get the most out of Windows 10 and its many related technologies. He has an IT background with professional certifications from Microsoft, Cisco, and CompTIA, and he's a recognized member of the Microsoft MVP community.