Windows 10 build 16237 and 16232 for PC: Everything you need to know
By Mauro Huculak published
Here's a closer look at the changes included in Windows 10 build 16237 and 16232.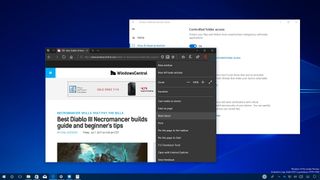 Windows 10 build 16237 is now rolling out in the Fast ring for PCs. This new release delivers a few new features and a lot of improvements that will be available later this year as part of the Windows 10 Fall Creators Update.
While build 16237 is a minor update, it still brings a number of small improvements to notifications and Action Center, Emoji, touch keyboard, Task Manager, and to the Settings app.
Windows 10 improves the way it handles scaling for High-DPI displays, Microsoft Edge also gets updated with a few new features and more.
Also, Microsoft recently released Windows 10 build 16232 to the Fast ring. It was not a big update either, but it included a couple of new security features, such as Controlled folder access and Exploit Protection.
In this Windows 10 guide, we'll take a closer look at the features and changes that recently appeared in the past two previews of the upcoming Fall Creators Update.
Windows 10 Fall Creators Update new features and changes
Start menu
On Windows 10 build 16237, the Start menu doesn't include new visual changes, but users with a touch-enabled device will notice that pressing and holding an app in the App List, the context menu will now appear after a moment without needing to lift your finger off the screen.
Notifications and Action Center
Notification banners now include a right-arrow button in the top-right to dismiss, instead of a X button to make it clear that the notification is being pushed to Action Center and you're not deleting it.
Action Center now auto-expands the first notification in each group to make easier for you to take action on your notifications.
Emoji and touch keyboard
Starting with this flight, the emoji panel is getting updated so that when you type to search, the result will also show new emojis from version 5.0. Also, hovering over an emoji, a tooltip will appear to reveal the exact name of the emoji.
The touch keyboard isn't getting significant changes, but it's improving the experience by adding sound every time you press a key.
Game Bar
According to Microsoft, the Game bar experience has also been updated with a new icon for Game Mode. Also, you'll notice the interface uses a light theme, but it's not clear if it's a bug, or if the original theme color will return in future builds.
Task Manager
Back on Windows 10 build 16226, Task Manager introduced the ability to track GPU performance over time. Now, on build 16237, Windows 10 is improving this experience with new interface tweaks and more details, such as the version of DirectX and physical location of the GPU in the motherboard.
Microsoft has also revealed that Task Manager will only show graphics information for hardware GPUs, while on software-only basic display adapters will remain hidden.
Lock screen
It's now possible to reset your password from the Lock screen without the need to use a different device.
When trying to sign in to your account, you'll now notice an "I forgot my password" link that appears below the password field.
If you ever forget your password, you can click that link to launch a page similar to the out-of-box experience (OOBE) featuring Cortana that can help you to quickly recover your password.
It also appears that Windows 10 is changing the "Welcome," "Signing Out," and "Shutting down" wording to "Just a moment" when signing in or out and powering off your machine.
Settings
In the past two flights, the Settings app has been getting a few improvements.
Taskbar
On Settings > Personalization, the Taskbar page renames the People settings to reflect that "taps" on My People are now known as "pops".
Video Playback
On Settings > Apps, now includes the Video Playback page to change settings for apps that use the video playback platform included with Windows 10. Previously, these settings were located in the Personalization section.
Cortana
On Settings > Cortana, the Permissions & History page now includes a new option under "Cloud Search" to include or exclude cloud searches in results.
Windows Update
On Settings > Update & Security > Advanced options, the Delivery Optimization page includes new options to control download and upload bandwidth limits, and activity monitor.
Inside Advanced options, you can specify the amount of bandwidth Windows 10 is allowed to use every month to download and upload system updates and apps. When the limit is reached, Windows 10 will stop downloading updates on your device.
In Activity monitor, you can see update download and upload statistics for the current month.
File Explorer
File Explorer remains without visual changes, but now when trying to format a drive using NTFS, you will get additional allocation unit sizes that you can choose (up to 2048 kilobytes).
Also, the context menu when right-clicking an image file now shows an Edit with Photos option, and "Set as desktop background" has been renamed to Next desktop background.
Microsoft Edge
On Windows 10 build 16237, Microsoft Edge is also receiving an update that bumps the version number to 41.16237.
This new version of the browser introduces a new animation to make clear that your link got saved in your favorite list.
Starting with this update, Microsoft Edge also expands its read aloud feature (previously only available for epub ebooks) to PDF files and web pages.
You only need to select the text in a PDF file or web article, right-click and choose Read aloud.
Alternatively, you can just click Read aloud from the browser's main menu.
Once you started the feature, you'll get access to controls to play, pause, skip to the previous or next paragraph, and you can also change the speed and voice.
In addition, the Share experience has been updated to appear below the Share button, instead of in the center of the browser.
Windows Defender Security Center
On Windows 10 build 16232, Windows Defender Security Center introduced two important security features, including Controlled folder access for Windows Defender Antivirus and Exploit Protection.
Controlled folder access
Controlled folder access is a new feature that helps to protect your data from malicious programs and online threats, such as ransomware.
The new security feature works by monitoring the changes apps make to files stored in protected folders. In the event a blacklisted app tries to modify your files, you'll get notified about the attempt to prevent your files from being compromised.
If an app you trust is getting blocked, it's also possible to allow it through Controlled folder access by adding the app to the allowed list.
By default, Controlled folder access is disabled, but when enabled it protects those files inside the Documents, Pictures, Movies, and Desktop folders. While you can't remove the default protected locations, you can always add more folders to the list.
This new feature is available on Windows Defender Security Center > Virus & threat protection > Virus & threat protection settings.
Exploit Protection
Exploit Protection is an advanced security feature that allows you to audit, configure, and manage Windows system and application exploit mitigation settings in Windows Defender Security Center without the need to install additional tools. According to Microsoft, you can use this feature even if you're using a third-party antivirus.
This new feature can be found on Windows Defender Security Center > App & browser control.
Under "Exploit Protection," you can click the Exploit protection settings link to configure your system and applications options.
Other improvements
In addition to the changes already mentioned, build 16237 and 16232 include a number of other enhancements.
On Windows 10 build 16237, Microsoft is delivering changes to improve scaling on High-DPI displays.
For example, traditional desktop applications that become blurry after connecting or disconnecting an external monitor, or after using remote desktop, you no longer need to sign out to render them crispy again. You now simply need to restart the affected applications.
Additionally, message boxes created by win32 apps are now per-monitor DPI aware, which means that the boxes should no longer appear blurry when changing the DPI settings, or when having a multi-monitor setup with different DPI settings.
Microsoft's Hyper-V now includes a new "virtual machine gallery" under quick create, but this feature will be functional in later builds. "VM Name" and "Networking" options have been moved to the "More Options" section. And Hyper-V now offers a default network that shares your device network connection with your virtual machines using NAT.
Starting with Windows 10 Enterprise build 16232 network administrators can now configure a Group Policy to allow users access to their favorites, cookies, and saved passwords while using a Windows Defender Application Guard session.
Wrapping things up
As we get closer to the final release of the Windows 10 Fall Creators Update, we're likely not going to see any more significant features. Instead, we'll start to see bug fixes, minor tweaks, and general improvements like the ones included with build 16232 and 16237.
Remember that like with any pre-release version; you should not be running these Windows 10 builds on your primary machine, as there are still bugs and things not working correctly.
If you're planning to use the latest preview build of Windows 10, it's recommended to use a virtual machine or a spare PC.
What do you think about the new improvements? Tell us in the comments.
More Windows 10 resources
For more helpful articles, coverage, and answers to common questions about Windows 10, visit the following resources:
Windows 10 help, tips, and tricks
Mauro Huculak is technical writer for WindowsCentral.com. His primary focus is to write comprehensive how-tos to help users get the most out of Windows 10 and its many related technologies. He has an IT background with professional certifications from Microsoft, Cisco, and CompTIA, and he's a recognized member of the Microsoft MVP community.
Can we please refer to Edge by its render engine version and not by its UI version, since they're linked anyway and aren't updated separately in final releases? RS3 will feature Edge 16, not Edge 45 or whatever.

I'm dissapointed that Edge is not decoupled from the OS. It's time to make it upgradeable though the Store. Two Edge updates a year have hampered its development and killing it's acceptance.

Not quite, and the dev team has said so themselves.

I still had to uninstall .NET Framework 3.5 to get 16237 :( Also, ran into a problem where the Windows Boot Manager failed to load, and had to run the startup repair from a USB. First issues I have ever had during an update in the Insider Program (I have been a member from the beginning). Anyone else have issues upgrading?

I am still on 16199... update fails Everytime

Have you tried to uninstall the .NET Framework 3.5?

Some Apps on SD card fail to update or install... (16232). Change settings for new apps on C fix it (but in this case, the same app is installed on C and D...)

june update killed me (15063.413 for me) got a "NO SYSTEM" at reboot - had to do a "Factory"" re-install of uefi system. , . . Fun (also member from beginning)..there is a First time for everything

This is the 1st time beingf on the SLOW Ring has let me down. Thanks for another option to try when I get home to fix my system.

This is EXCELLENT. I love summaries I can read versus I a video I may need to sit (suffer?) through for the real content. ☺

Agreed, hard replay a sentence over on a video.

Mauro, Zac, or other Windows Central Reviewer (or any Fast Ring Insider), has Microsoft fixed support for nested folders in the Favorites Bar? The way it works on the current production release, if you have a nested folder in the Favorites Bar, when you click the folder inside the folder, instead of opening a flyout, like in every other browser (including IE) or Windows application, it bounces you to the Favorites Hub. Disconcerting and makes you start over to look for your folder. Further, and evidence that this is a flat out bug, if you repeat the process it will produce different results -- this time taking you to the proper folder in the Favorites Hub (better, but bad that you have to select a favorites folder twice to get this to happen). Also, does Find on Page work in any of these updates? This has been defective in every version of Edge so far in my experience. It works... sometimes, for some words, on some pages. It never finds my own name (GraniteStateColin) at the head of a comment when I search a Windows Central page, for example, but it might find it inside someone else's comment referring to me. I have not seen it fail on anyone else's name, so I don't think this is a universal problem, but rather shows how flaky Find on Page is. It's also really slow. In other browsers, you can hit "Ctrl-F" almost as soon as the page starts to load, enter your search, and it will show you the # of hits increasing as the page downloads. In Edge, press Ctrl-F does nothing at first. It makes the user wait for most of the page to load, and then often doesn't finde what you search for, or finds it, only to blink out of finding it a few seconds later. I've reported these in Feedback and so have many, many others, but in spite of all the reports of updates to Favorites, I have seen nothing about the Favorites Bar here on Windows Central or from MS. Same with the broken Find on Page feature. I assume that's because Zac, Mauro, and others don't use the Favorites Bar or Find on Page (tougher to demo this one, because sometimes it works OK)? Fair enough, but if you could just check it out and maybe acknowledge if it's still broken in one of the videos, that spotlight might encourage MS to fix these problems.

I use find on page really regularly for pretty much the same reasons you do presumably, to find my own comment (and any replies) in threads on forums like this one, or linked PhpBB/IMF frontends like on Ars Technica, Anandtech etc. I haven't had any of the slowdown you are experiencing - although admittedly I haven't been on many sites that would take longer to load than it takes me to Ctrl-F and type my search term. Have you ensured you have no extensions installed etc that could be impacting page rendering? It's all I can think of that might be causing problems. I have uBlock Origin and Lastpass installed, although I have Windows Central whitelisted.

Could be extensions, but I tend to think that's not the cause. I have LastPass, AdGuard AdBlocker, and JSON formatter. The JSON one is a very new addition and it always happens even if AdGuard is off (including just now on this page). I also think that all of these problems trace back to before MS added extension support to Edge. I confess I'm not sure on that -- maybe they did start with extensions. I'll try some experiements. But just to confirm, if you turn off your ad-blocker on this site so the page loads slower and go to a WindowsCentral news article and press Ctrl-F while the page is still early in loading (like within the first 1-2 seconds), do you get the "Find on page" box? I do not. I don't get it unless I wait for several seconds, and that delay is uniqe to Edge (Core i7 system with SSD drives and 48GB RAM). It appears just about instantly on IE, Firefox, Opera, and even Chrome (which I don't use much).

Good stuff, very informative for me. There's always some faults in Windows 10 whenever they release a new build version but Now Microsoft is continually correcting things right, that's why I installed windows 10 pro last week being bought its license from their authorized reseller at odosta store. I activated my OS and update windows too but I'm having some issues being installing its video and some other drivers as bluetooth, sound and external hdd. Can you please guide me, how I can do it without buying a license of driver's software. Thank in advance for your kind support.

It would be nice if the June creators edition would install without errors before MS releases the Fall edition. Installation of spring version causes all icon text to disappear. So far no solution for those of us NOT using Comodo Firewall.

I really dislike the notification behavior since the start of Windows 10. In Windows 7 you had a kind of "smart" system that detects mouse movement and will show a notification until you get the chance to read it, closing it with the X did delete it. In Windows 10 if you get an annoying notification you have to click 3 times (!). Oooooh the update was successful?! THANK YOU VERY MUCH! But I read it, why do I have to delete this manually from the Action Center? Action Center is nice, but in this form it's fundamentally flawed and annoying, IMHO.

I think windows is progressing nicely now. I think the fall creators update feels like a pivotal moment of finally being more well rounded and "finished".I' getting the impression backlog listings are dealt with with higher priority. I still think microsoft could improve more on improving the tablet experience more by improving the touch UI. On a surface pro the OS in tablet mode is still too desktoppy for my workflow. Several UI and elements ported from windows 8, amongst others, would help improve that. Would be fitting for fall creators update to be a true milestone "finish" in the windows 10 history.

Oh great!
Now you cannot tell anymore if you're logging in, logging out, or powering down the pc. And wtf was wrong with 'set as desktop background'. If you want to change it to something that all desktop monkeys understand, it's more like 'set this image to be my wallpaper'. It would be nice to have MS focus on the more important stuff, like bug fxing...........

I am one of the users suffering the burry text issue. Hope the fall CU will be fixing it more flexible way. Couple of queries: Why can not MSFT give option to do scaling value other than 100, 125, 150...? There might be need to use 110% as scaling for per-display scaling? Why can not Windows 10 save scaling settings for when connected and not-connected with external monitor and also switch automatically when detecting external monitor? For example, I prefer 100% scaling on laptop when not connected with external monitor and prefer to change to higher scaling automatically on laptop when detecting external monitor. Switch back to 100% scaling when external monitor is disconnected. Maybe too much to ask? MacOS can do those why not windows 10?
Windows Central Newsletter
Get the best of Windows Central in in your inbox, every day!
Thank you for signing up to Windows Central. You will receive a verification email shortly.
There was a problem. Please refresh the page and try again.