Microsoft brings SwiftKey to Windows 10 with latest Insider Preview build 17692
Another week, another Insider Preview build for those in the Fast ring featuring new changes and improvements.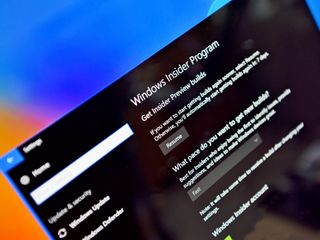 (Image credit: Windows Central)
Microsoft is back with another Windows 10 Redstone 5 Insider Preview build today for those in the Fast and Skip Ahead rings. Today's build is 17692 is features improvements to the touchscreen keyboard, Game Bar updates, and a whole lot more.
The most notable change in this build is that Microsoft has gutted the old typing experience that Windows was using and replaced it with the technology that powers SwiftKey. This means that the on-screen keyboard in Windows 10 Redstone 5 is now technically SwiftKey, albeit a lot nicer looking. Redstone 5 will begin rolling out officially in the Fall.
Updated June 14, 2018: It looks like Microsoft outed the option to control whether sites are allowed to autoplay media before it was ready for primetime. In an update on Twitter, the Edge team's Kyle Pflug confirmed the feature isn't present in build 17696, but it will be included in a future build.
What's new?
SwiftKey intelligence comes to Windows: SwiftKey gives you more accurate autocorrections and predictions by learning your writing style – including the words, phrases and emoji that matter to you. It's available for Android and iOS, and starting with today's build SwiftKey will now power the typing experience on Windows when using the touch keyboard.
Control whether media can play automatically: One common piece of Insider feedback for Microsoft Edge is that you want more control over autoplay videos. In this build, we've added a new setting in Microsoft Edge to allow you to control whether sites can autoplay media.
WebDriver improvements: Beginning with this build, we're making it easier than ever to automate testing in Microsoft Edge using WebDriver. First, we've made WebDriver a Windows Feature on Demand, so you no longer need to match the build/branch/flavor manually when installing WebDriver. When you take new Windows 10 updates, your WebDriver binary will be automatically updated to match.
We're now rolling out more functionality to the RS5 Game bar. In this flight are the following new features: Audio controls which let you change your default audio output device and mute or adjust the volume of games and apps running. And Performance visualizations which let you see your game's framerate (FPS), CPU usage, GPU VRAM usage, and system RAM usage.
New options are now available for Game Mode that are expected to improve the gaming experience on desktop PCs. Gamers on PCs with many background processes may also see performance improvements when they toggle "Dedicate resources" in Game bar.
Find software downloads faster in Search! Continuing our theme of improving the search preview experience, we're rolling out an update to make it easier to find official download pages for Windows software you want to install. The team is continuing to develop this experience and more is coming.
Ease of Access Improvements
Make Text Bigger: We've heard your feedback and are excited to announce that the ability to increase text size across the system is back and better than ever! When you go to Settings > Ease of Access > Display in today's build, you'll find a new setting called "Make everything bigger" – this slider will adjust text across the system, win32 apps, and UWP apps.
Narrator Standard Keyboard Layout: Narrator now ships with a new keyboard layout that is designed to be more familiar to screen reader users.
Automatic Dialog Reading: Narrator will now automatically read the contents of a dialog box when brought to the foreground. The experience is for Narrator to speak the title of the dialog, the focused element within the dialog and the static text, if any, at the top of the dialog. For example, if you try to close a document in Word with unsaved changes, Narrator will speak the title "Microsoft Word," the focus "Save button" and the static text within the dialog.
Narrator Find: You now have the ability to search for text using Narrator's new Find feature. If the text is found Narrator will move to the found item. Please refer to the accompanying keyboard layout documentation for command mapping.
List of Objects: Narrator now has the ability to present a list of links, headings or landmarks present in the application or content. You are also able to filter the results by typing in the list or the text field of the window. Please refer to the accompanying keyboard layout documentation for command mapping.
Selection in Scan Mode: Along with being able to select content in Narrator's scan mode using Shift-selection commands, you can now also select a block of data by first moving to one end of the block and pressing F9, moving to the other end of the block and pressing F10. Once F10 is pressed the entire contents between the two points will be selected. Stop on Controls in Scan Mode: Scan mode is a feature of Narrator that lets you use just a few keys to move around your screen. Scan mode is already on by default in Edge and you can toggle it on and off by pressing Caps lock + Spacebar. While you're in scan mode, you can press the Up and Down arrow keys to read different parts of the page. With this update, the press of a Down arrow in Scan Mode will stop on interactive elements, so that they are easier to use. An example of this new behavior is that if you are reading a paragraph with multiple links, Narrator will stop on these links when you press the Down arrow.
General fixes
We fixed an issue resulting in audio glitching on systems with lots of firewall rules.
We fixed an issue from the last few flights where Eye Control would fail fast and not start.
We fixed an issue resulting in certain games, such as Counter Strike: Global Offensive, to crash on launch in the last two builds.
We fixed an issue resulting in Settings crashing when attempting to open Data Usage Settings in the last few flights.
We fixed an issue resulting in an unexpected "codecpacks.vp9" entry in the Start menu.
We fixed a recent issue for some Insiders resulting in an explorer.exe crash with AppXDeploymentClient.dll.
We fixed an issue resulting in some Insiders recently experiencing a bug check (green screen) with the error SYSTEM_SERVICE_EXCEPTION in afd.sys.
With Build 17672 we made a fix for an explorer.exe crash in structuredquery.dll – that fix stopped anyone new from encountering the crash, however we heard your reports that anyone already impacted was still impacted. Today's build has a fix for this issue that should resolve it for anyone who was already impacted.
To improve discoverability, we've moved Delivery Optimization Settings to now be directly listed as a category under Settings > Update & Security.
We fixed an issue in Microsoft Edge impacting websites like Facebook.com, where when starting a message only the first contact name entered was automatically resolved while typing.
We fixed an issue in Microsoft Edge where if both images and text were selected, right-clicking on the image and selecting copy wouldn't work.
We fixed an issue resulting in the Windows Security app crashing recently when adding a process to the exclusion list.
As always, make sure you check out the Windows Blog for the complete changelog, including a list of known issues!
Windows Central Newsletter
Get the best of Windows Central in in your inbox, every day!
Zac Bowden is a Senior Editor at Windows Central. Bringing you exclusive coverage into the world of Windows on PCs, tablets, phones, and more. Also an avid collector of rare Microsoft prototype devices! Keep in touch on Twitter: @zacbowden.
has anyone seen any info on when a new slow ring build is expected. there has yet to be one redstone 5.

Hm..yea, it is weird, it's been like 4 months if I calculated correctly. It's usually 2-3 months. Though it is a big release, lots of stuff to take care of. Hopefully soon. Can't wait for it to hit RP though. Have you seen that gamebar thingy, it's insane. Finally an update I'm hyped about.

Start menu reliability issues are still present.

Start menu issue seems to be resolved on my SP and thankfully Edge no longer opens on the last tabs open. 😊👍

It may have been resolved for you but it's still listed in the known issues (which is what I was referring to).

What's this? I haven't noticed any start menu issues for the past few weeks.

Referring to this item in the known issues:
Some Insiders may find increased reliability and performance issues when launching Start on this build. We're investigating.

Highly appreciate this standardization.

Any idea when "Your Phone" will be available? I thought when it was announced they said it would be in one of the early fast ring builds...

Does any one have issues with certain apps and windows not scaling correctly on screen when maximized?

Love SwiftKey, and have been wanting it to come to Windows since Microsoft acquired it.

I do not know why but text prediction On the Windows 10 Keyboard is really bad comparing to Windows 10 mobile which I love more than swiftkey. but I agreed Swiftkey is more mainstream now and integrated to Windows 10 is a good step forward?

I don't have any issues with it. When I activated the directional keys was the only time I had issues with SwiftKey. I kept accidentally pressing them, when I tried to type. This caused the cursor to always insert itself in another part of the text and caused lots of misplace or misspelled words.

Would take W10M keyboard or even WP8.1 keyboard over Swiftkey anytime.

I always felt the Windows Phone 8.1 keyboard was much better than the Windows 10 Mobile one. When I updated my Lumia 1520, prediction and autocorrect was way off. I do like SwiftKey though and use that.

a interesting addition with swiftkey add with a Surface tablet due out later this fall 👀

Does this mean there will be a swipe to type function now?

it in 17134. but it a lot more smarter rs5

Bigger fonts size across system?! Thank God!🙏🙏🙏☺💖

Will SwiftKey offer downloading a new theme or make ur own like on Android?
I love the feature. I've created some nice keyboards using that feature.

It looks like that's coming later it was leaked earlier in screenshots

What's the difference between this SwiftKey and the SwiftKey microsoft already supports on the virtual keyboard since the creators update and april update?

before it was not running on swiftkey engine for text prediction/ shape writing
another added benefit is we might see SwiftKey other Features like stickers later come to

Well, Windows 10 mobile text prediction has worked much better than SwiftKey for me. I want that on my android phone.
Windows Central Newsletter
Thank you for signing up to Windows Central. You will receive a verification email shortly.
There was a problem. Please refresh the page and try again.