Windows 10 build 17713 now rolling out for Insiders in the Fast ring
Build 17713 is now available for Insiders in the Fast ring, featuring new changes and improvements.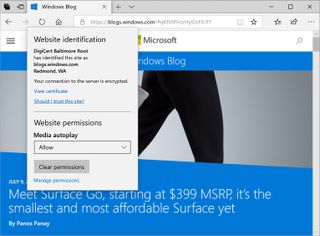 Microsoft is back with another Windows 10 Insider Preview build for those in the Fast ring. Today's build is 17713, and features more improvements to Microsoft Edge, updates to IT admins, and a whole lot more.
Microsoft has also announced that Redstone 5 is almost feature-complete at this point, with the company now focusing more on stabilization on the lead-up to release in October. Development on the next feature update coming in April next year is expected to start soon.
What's new?
Microsoft Edge
Improved toolbar options: The toolbar available on a PDF document opened in Microsoft Edge will now show text descriptions for the icons to make them easily understandable. by the users. New options like "Add notes" are now available in the toolbar so that these tools are handy when you need them.
Pin/unpin PDF toolbar: The toolbar can now be pinned at the top of the document, making all the PDF tools easily accessible if you need them. You can also unpin the toolbar for an immersive reading experience. If the toolbar is unpinned, it will hide itself – just hover over the top area to bring it back.
Rendering improvements: We've included a bunch of rendering performance fixes with this build. Now you will see less and less of the white pages when you navigate through PDF files in Microsoft Edge.
Notepad Improvements
Wrap-around find/replace: We've made significant improvement to the find/replace experience in Notepad. We added the option to do wrap-around find/replace to the find dialog and Notepad will now remember previously entered values and the state of checkboxes and automatically populate them the next time you open the find dialog. Additionally, when you have text selected and open the find dialog we will automatically populate the search field with the selected text.
Text zooming: We've added options to make it quick and easy to zoom text in Notepad. There is a new menu option under View > Zoom to change the zoom level and we display the current zoom level in the status bar. You can also use Ctrl + Plus, Ctrl + Minus and Ctrl + MouseWheel to zoom in and out and use Ctrl + 0 to restore the zoom level to the default.
Line numbers with word-wrap: A long outstanding request has been to add the ability to display line and column numbers when word-wrap is enabled. This is now possible in Notepad and we've made the status bar visible by default. You can still turn the status bar off in the View menu.
We've improved the performance when opening large files in Notepad.
Notepad now supports Ctrl + Backspace to delete the previous word.
Arrow keys now correctly unselect text first and then move the cursor.
When saving a file in Notepad, the line and column number no longer reset to 1.
Notepad now correctly displays lines that don't fit entirely on the screen.
Inking Updates
We introduced the embedded handwriting panel with the April 2018 Update, and after taking some time to refine the experience based on your feedback, in RS5 the embedded handwriting will now be the default experience for text entry with a pen in modern applications. Just tap a text area, like a search box, and it will expand to give you a comfortable area in which to write.
Remote Desktop with Biometrics
We're happy to share that with this build of Windows 10, Azure Active Directory and Active Directory users using Windows Hello for Business can use biometrics to authenticate to a remote desktop session!
Web Sign-in to Windows 10
Until now, Windows logon only supported the use of identities federated to ADFS or other providers that support the WS-Fed protocol. We are introducing "Web Sign-in," a new way of signing into your Windows PC. Web Sign-in enables Windows logon support for non-ADFS federated providers (e.g. SAML).
Fast sign-in to a Windows 1- shared PC
Do you have shared PCs deployed in your work place? Do you wish that signing in to a PC with your account was faster? Starting with this build, we are introducing "Fast Sign-in," which enables users to sign in to a shared Windows 10 PC in a flash!
Other changes
We fixed an issue where the state of a Narrator command such as toggling Scan Mode on and off, volume up and down, voice speed, changing verbosity and context verbosity commands may not be announced when executed.
We fixed an issue where you could see pixel thin lines in the fluent shadows depending on where the popup UI had been invoked.
We fixed an issue where some of the text on the Settings > Privacy > File System page under "Allow apps to access your Filesystem" has some unusual characters in the place of spaces.
We've made some improvements to the performance when loading the Language Settings page.
We fixed an issue where powercfg /batteryreport was missing numbers in certain languages.
We fixed an issue resulting in some apps failing to update via the Microsoft Store with error 0x8007019A if the update was paused and then resumed.
We've adjusted the design of the "Settings and more"/"…" menu in Microsoft Edge so that the text "New inPrivate window" will no longer be clipped and added tips about the keyboard shortcuts for creating a new window and new inPrivate window.
We fixed an issue where imported favorites on favorites bar in Microsoft Edge may not always load favicons.
We fixed an issue that could result in an unclosable inPrivate window if it was created by dragging an inPrivate tab out of an existing Microsoft Edge window.
We fixed an issue resulting comments with markdown on github.com not previewing correctly in Microsoft Edge.
When viewing the certificate details for a website in Microsoft Edge, the text is now selectable so you can copy it out if needed.
We fixed an issue resulting in some sites showing an unexpected small blank tooltip when hovering over text fields in Microsoft Edge in the previous flight.
We fixed an issue where Ctrl-key combos on the wide touch keyboard layout wouldn't work in website text fields when using Microsoft Edge.
We fixed an issue resulting in an open PDF in Microsoft Edge crashing in the previous flight if you right-clicked on the PDF to bring up the generic context menu.
We fixed a high hitting DWM crash in the previous flight.
As always, you can check out the full changelog at the Windows Blog, including a list of known issues and more!
Windows Central Newsletter
Get the best of Windows Central in your inbox, every day!
Zac Bowden is a Senior Editor at Windows Central. Bringing you exclusive coverage into the world of Windows on PCs, tablets, phones, and more. Also an avid collector of rare Microsoft prototype devices! Keep in touch on Twitter: @zacbowden.
Anyone else notice that this build is from 'rs5_release' branch and not 'rs_prerelease' ?

It's early but I think there starting to whine down development. And getting ready to re lunch Skip ahead build

As noted in the article, MS announced that RS5 is nearly feature complete.

That's good so it should hit the Release Preview ring at some point.

Not until the final code is ready for release, RP will get it about a week before general availability

Rumours are that it will be called October 2018 update, which seems a long way off if it's that close to completion. I'd say more likely September, version 1809

October will be 6 months, so that's probably accurate. The extra time will allow them more time to squish bugs, after complaints about that following the last update.

And the hamburger menu still isn't fixed in the store...

The hamburger menu works fine. It's the full screen …
but it is mentioned as known issue in the blog post

Where the heck is the Phone app they said was coming "in the coming weeks"

What is the size of this update?

I still have no Store app. Tried every published fix out there.

have you tried installing any store appx?