Windows 10 build 18267 (and earlier) for PC: Everything you need to know
These are all the most significant changes included in the first ten preview builds for the next version of Windows 10, codenamed 19H1.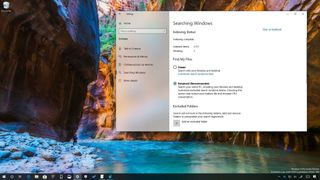 Microsoft is already working on the next version of Windows 10, currently known as "19H1," (even though, we're still waiting for the re-release of the October 2018 Update), and recently, the company made available build 18267 in the Fast ring, which is the tenth preview rolling out to participants of the Windows Insider Program with new improvements and features.
Windows 10 build 18267 is still a minor update, but it ships with several changes, such as a new indexing feature to search your entire computer and improvements for the touch keyboard and Narrator experience.
Alongside the latest preview, Microsoft has also released Windows 10 build 18262, 18252, 18247, 18242, 18237, 18234, 18219, 18214, and 18204, and while the majority of them didn't introduce significant changes, some of them added a few interesting improvements.
In this Windows 10 guide, we'll take a closer look at the enhancements that Microsoft has been working for the next feature update planned to come out sometime in 2019.
Windows 10 19H1 latest features and changes
Here are the most worthy improvements that the Windows team has been working on the first ten Insider Preview builds of the Windows 10 19H1 development:
Sign-in screen
Starting with Windows 10 build 18237, the Sign-in screen gains an acrylic effect, part of Fluent Design, which you'll see in the background as you transition from the Lock screen.
According to the company, the new effect should help to focus on the sign-in task.
Taskbar
In the notification area, Windows 10 now includes a new disconnected icon that aligns with the minimalist iconography design that we see across the OS. You'll see the new icon when no connection to the internet is detected for the wireless, Ethernet, or Cellular adapter.
Also, in the notification area, you'll notice a new microphone icon, which appears when your microphone is in use.
Settings
Windows 10 build 18267 and previous releases are also introducing a number of changes to the Settings app.
Printers & scanners
On Settings > Devices, the Printers & scanners has been updated with build 18262 to include a link, under "Related settings," to quickly open and run the troubleshooter to fix common problems with printers and scanners.
Ethernet
On Settings > Network & Internet > Ethernet, the Network page now includes an "IP settings" section that allows you to set static IP address and DNS preferences. The new interface includes options to configure IP version 4 and 6, and of course, there's an option to set the networking settings automatically using DHCP.
These settings are available starting build 18252 and later.
Fonts
On Settings > Personalization, the Font page now includes the Windows Ebrima font to view ADLaM documents and websites (usually used in western Africa). Also, the new font supports other African writings systems, including Osmanya, N'ko, Vai, and Tifinagh.
This new font is available beginning with build 18252 and later.
Apps & features
On Settings > Apps, the Apps & features page, beginning with build 18262, allows you to uninstall additional apps that come preinstalled with Windows 10, including:
3D Viewer
Calculator
Calendar
Groove Music
Mail
Movies & TV
Paint 3D
Snip & Sketch
Sticky Notes
Voice Recorder
This is in addition to the inbox apps that you're already able to remove in the previous version, which includes:
Microsoft Solitaire Collection
My Office
OneNote
Print 3D
Skype
Tips
Weather
In the next version of Windows 10, you can not only remove these apps using the Settings app, but you can also uninstall them from the Start menu by right-clicking the app and selecting the Uninstall option.
Language
On Settings > Time & Language, the Language page is getting updated with build 18262 so that when adding a new language, you can set the new language as the "display language." In addition, the updated experience now offers separate options for installing packs, and you'll see a separate option for installing the Text-to-speech and Speech recognition features.
At the bottom of the settings page, there's a new link to access a new page, which allows you to select the input method to always use as default.
Searching Windows
On Settings > Cortana, the Searching Windows page is new starting with build 18267, and it includes new settings to manage the content indexing feature on Windows 10.
The page includes four sections. In the "Indexing Status" section, you can see the total number of files that have been indexed and are searchable using the search box in the Start menu and File Explorer.
The "Find My Files" section, includes two options. The Classic option (default) only indexes files in the known folders, including Documents, Pictures, Videos, Music, Downloads, and Desktop.
You can click the Customize search location here link to access the "Indexing Options," using Control Panel, to add and remove indexing locations and customize some additional settings.
The Enhanced option is new with the 19H1 development, and it allows Windows 10 to search all the folders and drives connected to your device (except for those locations added in the Excluded Folders list).
The "Excluded Folders" section allows you to specify the locations that the search feature will not use to look for content.
The "More Search Indexer Settings" section only includes a link to access the Control Panel settings to configure the search experience further.
If the search feature isn't working as expected, at the bottom of the page, you'll find a link to open the troubleshooter to fix common problems with this experience.
Troubleshoot
On Settings > Update & Security, the Troubleshoot page has been updated with a new Recommended Troubleshooting feature allowing Windows 10 to apply troubleshooting steps automatically when common problems appear on your device.
The page also includes an option to see a history of the times the OS ran troubleshooting steps on your behalf.
Although this feature is officially new with build 18262, Windows 10 originally introduced "Recommended Troubleshooting" during the development of the October 2018 Update, but then it was removed.
Touch keyboard
Windows 10 build 18267 also ships with an updated version of the touch keyboard experience that now includes Vietnamese Telex and Number-key based (VNI) keyboards.
In addition, when using the touch keyboard, you can now access more symbols and special characters by tapping the &123 button, and the tapping the omega (Ω) button.
Task Manager
In build 18262, Windows 10 is improving the "Details" tab of the Task Manager, which now shows the scaling mode (opens in new tab) that apps support, per process.
If you don't see the new column, right-click the header of any column, click the Select Columns, and check the DPI Awareness option.
Accessibility and input
In a continued effort to make Windows 10 more inclusive, build 18267 and build 18262 ships with additional improvements for Narrator.
For instance, starting with build 18267, Google Chrome users can use the up and down arrows in scan mode, navigate with the tab key, use continuous reading commands, and navigate by headings and links.
Narrator Braille now bumps the version number to 5.6 and introduces USB support for Inceptor and Orbit 20 displays. Also, Baum displays can now use B9 and B10 interchangeably. When using USB the BrailleNote can now be recognized, and the Liblouis binaries and tables have been updated to version 3.7.0.
The UI Automation framework (opens in new tab) now supports translating IAccessible2 information from Google Chrome, which according to Microsoft, enables clients to receive the IAccessible2 data through the UI Automation client interfaces.
Also, starting with build 18262, Narrator introduces "Read by Sentence," which allows you to read next, current, and previous sentences using a hardware keyboard and touch.
These are the keyboard shortcuts to use with Read by Sentence:
Caps + Ctrl + . (period): Reads next sentence.
Caps + Ctrl + , (comma): Reads current sentence.
Caps + Ctrl + M: Reads previous sentence.
Additional improvements
Along with all the new changes, in the latest preview for Windows 10 19H1, you'll also find a few other minor improvements.
For example, when using the Registry Editor, pressing the F4 key will add a caret at the end of the address bar to expand autocomplete drop-down.
Finally, if you're a network administrator, you can use the Group Policy Editor to enable or disable the security questions to reset passwords for users with local accounts. (You can find these new settings on Computer Configuration > Administrative Templates > Windows Components > Credential User Interface.)
Wrapping things up
While the first ten previews are updates without significant changes, they incorporate some welcome additions that should help to improve the user experience of Windows 10.
As always, and seeing the track record of Windows Update, remember that these are test previews of Windows 10, and they're not intended to be used on your primary machine. Until the next version becomes available as an automatic download, there's a good chance that you will experience bugs, errors, data loss, and features not working correctly.
If you're planning to use pre-releases of Windows 10, it's strongly recommended that you use a spare computer, virtual machine, or at least make sure to create a full backup of your files before making the jump.
What are your thoughts on the first wave of changes coming to Windows 10? Tell us in the comments.
More Windows 10 resources
For more helpful articles, coverage, and answers to common questions about Windows 10, visit the following resources:
Windows 10 help, tips, and tricks
Windows Central Newsletter
Get the best of Windows Central in in your inbox, every day!
Mauro Huculak is technical writer for WindowsCentral.com. His primary focus is to write comprehensive how-tos to help users get the most out of Windows 10 and its many related technologies. He has an IT background with professional certifications from Microsoft, Cisco, and CompTIA, and he's a recognized member of the Microsoft MVP community.
Great to see moving things under Settings to gain pace, and Shell stuff being improved on, though the sign-in page development is either a waste of effort to me or hopefully a lie, and changes are happening to it due to Core OS development under the hood rather than this non-sense explanation.

a new disconnected icon er, i suppose Ms must make sure we know that we are disconnected, other wise they will not be able to see what we are doing. Again, nothing in that list that will make a slightest bit of difference to how I use my computer and it have been that way since Windows 10 was pushed onto us. Saying that, being able to uninstall more of Ms rubbish is a good thing, should have been that way at the start instead of us having to use a third party app or CLI

when this October update will come out? Any Idea?

I'm really looking forward to seeing how the new indexing/search options work. I've been quite frustrated with the current system, which sometimes fails to find frequently used files and other times decides to open cloud-stored versions of files that are mirrored locally.

You can try to troubleshoot to fix it

Notepad, find/replace now limited to 127 characters. Auto-correct(without ability to disable) with 18267. I've been using notepad since Windows 3.1 to csv files from vendors and configuration files. They are doing everything in their power to completely destroy their insanely useful, previously light weight tool.

Lots of good stuff. Wish they'd fix HDR, though. It's been broken since at least June.

If you've already sent feedback about it, you might wanna reach out To Jennifer on Twitter.

I did send feedback the other day, but I'll try reaching out to her on Twitter or Reddit about it. Thanks for the suggestion.

Waiting for new features to be added to RS6.

Does the login screen still have this insane animation latency so that we can't enter our password too quick?

I was having issues with my computer, I got rid of Windows and installed Russian Altbase and Astralinux and it's now a better computer!
Windows Central Newsletter
Thank you for signing up to Windows Central. You will receive a verification email shortly.
There was a problem. Please refresh the page and try again.