Windows 10 build 18323 now rolling out for Insiders in the Fast ring
By Zac Bowden last updated
The first 19H1_release branch build has been released to Insiders, which means the company is now starting to finish up its next feature update release.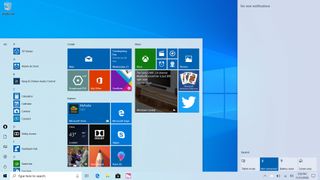 Microsoft is rolling out another Windows 10 Insider Preview build today for those in the Fast ring, packing yet more improvements and new changes to the OS. Today's build is 18323, and is the first build released to Insiders from the 19h1_release branch, the branch where Microsoft is expected to sign-off and release 19H1 when ready.
While we're still a few months away from 19H1 being finalized, Microsoft has started that process already. The OS, at this point, is more or less feature complete, and the main focus now is on bug fixes to ensure the OS is stable for release in April. With that in mind, let's see what's new.
Changelog
Improved RAW image format support
Do you like taking pictures in Raw image formats and wish that the Raw files from your camera were natively supported by Windows? Good news! Targeting 19H1, we've been working hard to release a new store-delivered Raw codec package that dramatically improves native raw file format support in Windows.
Improved Light Theme
We introduced the new Light Theme in Windows 10 with Build 18282 and today's build has some improvements to Light Theme worth taking note of based on your feedback:
We fixed an issue where the text in the battery flyout might become unreadable in light theme due to it being white.
We fixed an issue where the scrollbar in the network flyout wasn't visible in light theme.
We fixed an issue where the autoplay icon in the systray wasn't visible in light theme.
We fixed an issue where impacting the network and volume icons in the notification area where after switching to light theme they wouldn't update from white to black until explorer restarted.
We fixed a similar issue where not all supported app icons in the taskbar would switch colors on the taskbar when switching between light and dark theme (particularly on the secondary monitor).
We've made some adjustments to address issues where when using light theme white icons in notifications weren't readable.
We're updating the Settings icon to now be dark grey in the taskbar when light theme is enabled rather than black.
General improvements
REMINDER: The new tamper protection setting in the Windows Security app protects your device by helping to prevent bad actors from tampering with the most important security settings. You may see a new recommendation in the Windows Security app suggesting you turn this setting on.
We fixed an issue causing Update Orchestrator Service to stop working periodically. As a result of this issue, you might have seen an error on Windows Update Settings saying that the update failed to restart. This issue also resulted in restart using Update and Restart to sometimes just restart you back into the base OS.
Clicking your account in Cortana Permissions doesn't bringing up the UI to sign out from Cortana (if you were already signed in) for some users in this build.
We fixed an issue resulting in night light not working recently.
We fixed an issue where the quick actions section of Action Center would be missing sometimes recently.
We fixed an issue where closing an open Excel window from the taskbar might cause Excel to go non-responsive.
We fixed an issue an issue where the WIN + Ctrl + [[ number ]] hotkey wasn't working.
When using your accent color on the taskbar has been enabled, the taskbar and start jump lists will now also be accent-themed.
For the time being we're returning the Volume Mixer link in the volume button context menu to its October 2018 behavior while we look at improving the experience based on feedback.
We fixed an issue where themes and Microsoft Edge extensions downloaded from Microsoft Store wouldn't appear in their respective locations after the download finished.
We fixed an issue impacting Action Center reliability in recent builds.
We fixed an issue where you might see multiple Focus Assist notifications in the Action Center at a particular time.
We're adding Nearby Sharing to the list of default Focus Assist exceptions.
We fixed a recent issue where if you used the screen snip quick action in the Action Center then the resulting screenshot would have the Action Center in it.
We fixed a recent issue that could result in not being able to launch UWP apps from the Start menu sometimes.
We fixed a recent regression resulting in File Explorer sometimes hanging when interacting with MP4s and folders that had MP4s in them.
We fixed an issue where Cortana would close immediately if opened from the Start screen when using tablet mode.
We fixed an issue impacting Snipping Tool reliability.
We fixed an issue resulting in Ctrl + P not activating the Print command in Snip & Sketch in recent flights.
We fixed an issue resulting in Snip & Sketch potentially crashing when closing many Snip & Sketch windows in a row.
We fixed an issue where rebooting would set Nearby Sharing back to an off state if it had been turned on.
We fixed an issue where the lock screen preview in Lock Screen Settings wasn't showing in recent builds.
We fixed an issue where the scrollbar in Settings was overlapping the text fields when manually configuring your IP address.
We fixed a rare issue that could result in the screen locking up when using the Surface Dial.
We fixed an issue where the tooltips in the Emoji Panel were truncated on the bottom.
We fixed an issue where the Windows feature update might fail but would still be listed as a successful update in Windows Update history page.
We fixed an issue where you might see a Windows Update icon in the notification area saying there was an update when no update was available.
We fixed an issue where you couldn't type on the touch keyboard when "Turn on Activate a window by hovering over it with the mouse" since focus would move away from the text field and set to the keyboard itself.
We fixed an issue on certain devices that could sometimes result in the screen staying black on boot until CTRL + Alt + Del was pressed.
We fixed an issue resulting in certain devices experience increased battery drain on the last few flights when in Disconnected Standby Mode.
We fixed an issue for devices with multiple monitors resulting in Task View (WIN + Tab) sometimes showing UWP app thumbnails on the primary monitor rather than the monitor where the app was open.
We fixed an issue where some key labels were cut off in Armenian full touch keyboard layout.
We fixed an issue when using the full touch keyboard layout in Korean where pressing the FN key unexpectedly highlighted the IME ON/OFF key. We also fixed an issue for this language where tapping the tab key wouldn't insert a tab.
Thanks everyone who shared feedback about the new Japanese Microsoft IME we've been working on. With today's build the IME and settings pages are returning to the ones that we shipped with the October 2018 Update, while we take your feedback into consideration.
We fixed an issue where Narrator sometimes did not say anything when reopening Action Center after it was dismissed using the Esc key.
We fixed an issue where Narrator did not speak the volume level value when using the hardware volume button to change the volume setting.
We fixed an issue where Narrator command read from current location did not work when on a heading in Wikipedia.
We fixed an issue where Narrator announced read-only at the end for links.
We fixed an issue where Narrator continuous reading command read the last word of a sentence twice on a web page in Microsoft Edge.
We fixed an issue impacting a small number of users enrolled in Microsoft Intune where they might not receive policies.
We fixed an issue where signing out from inside Windows Sandbox resulted in a blank white window.
We fixed an issue resulting in running c:\windows\syswow64\regedit.exe not launching regedit in recent builds.
Settings header rollout update: This is now available across most regions for Insiders in Fast using Home edition and Pro editions of Windows that are not domain joined.
Small app update: Thanks everyone who reached out about the grid alignment issue in the Calculator – this has been fixed with the 1812 version of the app.
As always, you can check out the full changelog, including a list of known issues, at the Windows Blog!
Zac Bowden is a Senior Editor at Windows Central. Bringing you exclusive coverage into the world of Windows 10 on PCs, tablets, phones, and more. Also an avid collector of rare Microsoft prototype devices! Keep in touch on Twitter: @zacbowden.
and once again, another 19H1 build that freezes at 48% installing on the hp spectre x360 because the audio drivers (that work perfectly on 1809) cause the install to hang. I think there is an issue with the audio subsystem. I've reported this for EVERY build, yet not even an acknowledgement of the defect.

Could you not uninstall the drivers before doing the Windows install? I don't have the device you use but it's just a suggestion. Reinstall the drivers after

I really like this feature.

There's a rather nasty known issue with USB devices potentially not working in this build. I've paused updates for 7 days in the hope that the next build will fix that.

18323.1000.19h1_release.190119-1759 (UUP-CTv2) strange name for this build

VPN in this build don't open and work.

My only complaint is that Cortana does not seem to want to accept typed queries anymore. I use Cortana a lot but working in an open plan office I don't like to speak allowed to my computer. I like its separation from the search bar but it needs that typed interface.

I haven't tried this build yet but I cant get Cortana to use "Hey Cortana". I turn it on but it just turns off. Seems to be a few issues with Cortana due to the separation from Search.

This is actually showing as Version 1903 in the System info/winver box

It is supposed to. The versions will continue to be 1903, 1909, 2003, etc it's the code name that's changed so instead of threshold, Redstone, etc they are doing the year and major release so this will be 19h1 and 1909 will be 19h2.

Its a really nice build for insiders to feature
Windows Central Newsletter
Get the best of Windows Central in in your inbox, every day!
Thank you for signing up to Windows Central. You will receive a verification email shortly.
There was a problem. Please refresh the page and try again.