Windows 10 business users will be able to access Azure Active Directory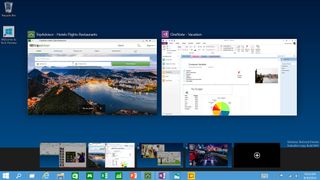 Microsoft continues to offer more information on how businesses can leverage the features in Windows 10 when the final version is released sometime in 2015. Today, the company revealed some of the different ways enterprise customers can manage their Windows 10 installations, including support for Azure Active Directory.
Microsoft stated:
Microsoft also plans to improve the mobile device management features in Windows 10, including support for multiple users, full control of the Windows Store and more. All of this will hopefully allow for more businesses to upgrade from Windows XP and Windows 7 to Windows 10, as many of them decided to bypass Windows 8.
Is you business considering an upgrade to Windows 10 on their PCs?
Source: Microsoft
Get the Windows Central Newsletter
All the latest news, reviews, and guides for Windows and Xbox diehards.
Running the technical preview, I still think there's a lot that can be improved but yea, we all know that it's a preview. So when it does come out, they will "force" us to switch.

When did this site attract all the crybabies?

Depends on who is commenting.

lots of people seem never satisfied.

Microsoft's cloud service. It's the cloud infrastructure that hosts everything from Office 365, Xbox One Titanfall servers, customer web servers, customer database servers, and pretty much any custom server/app that someone wants to have remote/cloud hosted. Basically, it's a whole bunch of massive datacenters spread out around the world where you can lease existing hosted apps/services (either MS or third party) or lease virtual machines to run your own hosted apps/services. A business can basically build thier own "virtual datacenter" with a bunch of Azure virtual machines instead of building and maintaining their own physical datacenter.

Thanks all of you for enlightening me on azure! Appreciate it a lot :)

Dude, thanks a lot!! I was wondering what the hell Azure is, but I was afraid of asking. I really appreciated your explanation.

"Azure" is a network manager's worst nightmare. It is a branded, "no one is ever fired for using MIcrosoft," excuse to irresponsibly cram data over network services that senior management expects to cost less every year. The ultimate easy button, it transforms anything that goes wrong in IT into a "network problem."

It's basically virtal servers in the cloud.

Gross oversimplification and kind of wrong. It's way more than that. Virtual machines are available in Azure but there's way more than just that.

think Skynet, only instead of killing humans, it kills google.

lol +1. Most entertaining description I've read so far!

It provides both PaaS and IaaS services and supports many different programming languages. source:wiki

Our company is really looking forward to upgrading when it comes out.

Same here, we have some users with Surface Pro 2 but those are the only device's that will get Win8.1, well except for us at IT. :)

this preview works quite well. the final version will be the best.

This is extremly good news I just hope its simple ..

I haven't tried it yet but already have proposed we follow it's progress to see if it's a feasible upgrade

Read the comments above yours. It has already been asked and answered.

Having just gone through a massive SSO project for O365, SharePoint and Yammer online using DirSync, this news is welcomed and also frustratingly late.

Dirsync is easy. ADFS is a royal overly complex pain in the backside. Escpecially if you proxy it properly. The hybrid Exchange is also waaayyy overly complicated. The other annoying thing, is ADFS web pages to sign in on the phone. Its a horrible user experience. Password resets also cannot be handled by ADFS and WP just says "attention required". Not (as it should be) your password has expired, please enter your old password, and your new password twice. Yes, you are right. Azure AD connectiion and native sign in cannot come soon enough.

AD is huge in business so this will only accelerate win10 adoption. MS really playing to its enterprise strenght here cutting off google from exploiting any openings and basicaly sealing google off in the mobile device while the enterprise plays the profitable MS enterprise game.

Agreed. This will be very useful for smaller/medium companies that want to host most or all of their infrastructure in the cloud while still having enterprise level functionality.