How to check the weather anywhere with Cortana on Windows 10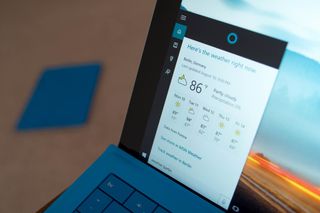 Cortana, your personal assistant on Windows 10, can help you find things on your PC, manage your calendar, track packages, find files, chat with you, tell jokes, and more. One of its awesome features lets you check the weather anywhere. It's really simple. We'll show you how to do it in several ways.
If 'Hey Cortana' is enabled, simply say "Hey Cortana, what's the weather in Boston?"
Use the keyboard shortcut, Windows key + C, to brings up Cortana's listening mode. You can then say, "What's the weather in Seattle?"
If you don't want Cortana to say the weather out loud, you can simply type "Weather San Francisco" in the search form. You can also use the keyboard shortcut, Windows key + S, to open Search.
Cortana displays the current weather even if you don't press Enter. If you press Enter, Cortana also displays the five-day forecast.
When you're using Microsoft Edge, you can type "Weather New York" in the address bar. Cortana displays the weather underneath the search form without loading a web page.
If you need more detailed weather information, you can open the built-in Weather app. We've also compiled a list of the top rated weather apps for Windows 10 if you need more choices.
Note: Cortana is currently only available for the U.S., UK, China, France, Italy, Germany and Spain. Cortana is also expanding to Japan and Australia, and in English in Canada and India for those on the Windows Insider program (early access). Later this year, Cortana will be available to Windows Insiders in Brazil and Mexico, and in French in Canada as well. Read more about Cortana's cultural training and programming from Microsoft _right here._
Was this guide helpful? We have many more posts like this in our Windows 10 help, tips and tricks page.
Windows Central Newsletter
Get the best of Windows Central in in your inbox, every day!
The first thing anyone asks these things is weather... Why would anybody out of this world would search for " how to ask Cortana weather"...

it will still show your local weather , as it works as your PDA , so it assume her weather as your , where she is operated by you .

It's nice to outline the different ways to do it. And the different results. Like saying weather Seattle will give it to you without responding out loud.

wow ! cortana becomes my new bff , make task easier around devices running same MS A/C and with windows 10 - it truly showing more

Too bad Bing isn't working in my area.

Man, Cortana can't come to Canada soon enough.

What do you mean? Cortana even in alpha on my 1020 can report weather this way, however not much use of her after that since in Canada she's lacking in many features.

I was refering to no Cortana on the pc in Canada. That is what Ièm really looking forward too.

Best use for Cortana? And don't say weather or music or any ad related interest rubbish please.

I like reminders: "Remind me to get laundry in 30 minutes." I also use math at restaurants: "What's 20% of $38?"

Hmmm - reminders is pretty much all I use it for too. As for tips, well one of my degrees is economics so that's moot lol. Any other ideas? As aside from reminders (I have a pa) I can't find a use and that's bugging me lol

For my phone I typically use reminders, ask for directions while driving and my daily snapshot. I tend to use her as my curated news source now. For my PC, I use her a lot. While I asked her to to look up many things for me quite often. I have used her to compose emails and quick access to apps. I find myself using her quite differently on different devices.
-
-
Also to add on. I don't find one particular feature to be mind blowing (although cool). For me, it is how she fits in to my flow depending on my device and seems to be around when I need her to be. I hope more gets added, but I will say that how I use my machines, she has evolved that for me.

Thanks for that - that's quite an informative view on how Cortana could integrate into someone's work flow. Voice activation when one is driving is a must so that is an excellent use of the system, though, for me, I can talk to all my cars so that's cool feature but not a must for me. Hmmm. Personally I don't buy into it, especially as a curated news source - but I can see how it could be cool for some. I've just gone ahead and disabled all the msft stuff and Cortana - I'd need something competing to give up all my privacy, and it's not there yet. That said I'm loving w10 - for me it's the ui. Don't get me wrong, there are problems, buyer on the whole I'm really liking it. I really want to see where Cortana goes in the future, and whether it gets integrated into financial and brokerage systems and the like (though I doubt that would happen as the ping counts) but I'll see. Anyway, thanks for that! Enjoy ;)

Ironically, Microsoft is the only company that guarantees walled access and privacy, especially for features like Cortana. Apple doesn't and Google's business model is based on using your data.

On my phone I always enjoy using the command "take me home" and Cortana launches Waze (my default voice nav) and gets me headed home in the most efficient way based on current traffic conditions.

I love the info cards of movies, artists, etc.

Can I have that car Wallpaper please? I'm a big fan of those kind of pictures.

Found it on InterfaceLift

Thanks will try to image search part of the picture to find it hopefully.

As a new feature, Cortana is not bad for windows 10 users

It's not bad for the country's in which it is available. Unfortunately it's available here in the Netherlands. Well it is but not in Dutch.

Shame her isn't avaible in finland ._. I love Cortana!

You OUGHT to provide OPTIONS to CHANGE FONTS. Besides, the view is also horrible on a PC. I have a full HD screen and the articles are not readable. The app layout is also horrible on Windows 10. Why are you guys SLEEPING?

WHAT are YOU talking ABOUT? who IS sleeping AND what DOES it HAVE to DO with HD screens? i CAN capitalize EVERY other WORD also. this IS fun! WHO needs TO be ABLE to CHANGE fonts? I ate SOME pancakes YESTERDAY, they WERE great UNTIL the MOTOR cycle WAS next TO my DOG and HE didn't LIKE the COLOR broccoli. see, I can WRITE about RANDOM things TOO.

FROM this DAY forward, you will ALL refer to ME by THE name BETTY! You GO that WAY, I'll GO home. I have CHOSEN the LARGE tub. WII U wii u WII U wwwwi uuuuuuuuuuuuuuuu WII U Nintendo NX, my FIGHT MONNNNNEEEEEEEEEYYYYYYYYYYYY!!!!!

Get glasses, or new eyes?

What configuration in a laptop you need to have "Hey! Cortana" feature?

Open Chrome type weather sorted.

Do yourself a favor. Buy a chromebook.

Weird, who would waste time walking over to the computer and loading a bloated browser, then typing out a question. Secret tip, there are many things bing/cortana are far more accurate with than Google. Heck even silly little things like "bacon number".

Its his wish he isn't forced meanwhile we enjoy Cortana

I use Cortana (in Italy) but I think that Microsoft must expands Cortana for all countries, so everyone with WP have their personal assistant and no one is exclude

There are variations that she can also use, for example asking about the weather and giving a zipcode(or equvalent) or named locations like a monument, etc.

I would just like Cortana to work on mine !!!

Use Cortana for the weather? I rather use other more precise apps.

How to launh apps or program and stuff~!?
Windows Central Newsletter
Thank you for signing up to Windows Central. You will receive a verification email shortly.
There was a problem. Please refresh the page and try again.