Windows 10 is getting a new touch keyboard experience, and it's pretty great
Hands-on with the new Windows 10 touch keyboard.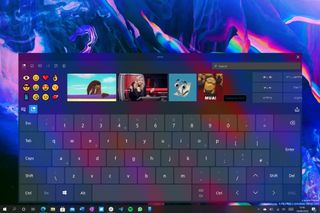 One of Windows 10's biggest criticisms has often been that it's just not a very good experience when using it with touch. This stands in stark contrast to Windows 8.1, which was much more touch friendly at the expensive of being more difficult to use with a mouse and keyboard. Microsoft hasn't yet been able to find a nice balance between the two, but that might soon begin to change.
Microsoft recently started testing a new "touch optimized" desktop environment in the latest Dev Channel builds of Windows 10, but all it really does it make a few hitboxes larger and minimize taskbar buttons that don't make sense to be on full display when using touch. I still wouldn't call it a good touch experience, but it at least shows that Microsoft is looking into ways of improving it.
One area that does appear to be getting a big update soon is the touch keyboard. It's still using the older Modern Design Language 2 aesthetic that was introduced with Windows 8, meaning it's well overdue a refresh. That appears to be exactly what Microsoft is working on right now, as the latest Dev Channel build as a brand-new touch keyboard experience that's hidden from the user.
The new touch keyboard is using the newer Fluent Design aesthetic, and has a bunch of new features, many of which were first seen on Windows 10X. The new keyboard includes gif supports, a better emoji panel UI, clipboard integration, more animations, new sounds, and much more. It's an excellent update that will give tablet users a breath of fresh air.
In addition to the new touch keyboard, Microsoft is also bringing over the Windows 10X emoji panel, which also has a new design. Overall, I think these touch improvements paint a bright future for Windows 10 on touch-driven devices. Windows 10 hasn't been the best when it comes to touch-driven experiences, but that may soon change if these touch keyboard improvements are anything to go by.
What are your thoughts? Watch the video demo above and Let us know in the commentsl
Zac Bowden is a Senior Editor at Windows Central. Bringing you exclusive coverage into the world of Windows 10 on PCs, tablets, phones, and more. Also an avid collector of rare Microsoft prototype devices! Keep in touch on Twitter: @zacbowden.
"Overall, I think these touch improvements paint a bright future for Windows 10 on touch-driven devices."
Do they really? If history is anything to go by, then no, if we're being honest. This may be the beginning of new tablet-based improvements or just all of it already. We'll have to wait and see.

Things aren't as bleak as your post suggests. Whilst not perfect a Windows PC is waaay ahead of an iPad or a MacBook as a touch device for doing actual work.

Well, MacBook for sure, but I'm not sure that's an apt comparison. And iPad, that depends a great deal on what you consider "actual work". I don't subscribe to the idea that only the kind of work that requires mouse and keyboard can be considered "actual work", I find that rather arrogant. Touch on Windows is not completely abhorrent, and I didn't suggest so, in fact I think it's mostly workable, but it could be much better.

I am on build 20185 and I still have the old keyboard.😒

You didn't see the full video. It's not enabled by default.

Looking forward to this. I never understood the over-correction MS made from Windows 8.1 to 10 in terms of touch.

But you did understand the overcorrection they made from 7 to 8.1? Just yanking your chain.

This is interesting I guess, but I don't see a lot of functionality changes when it comes to actually typing. Specifically, how does swiping to access secondary characters work? A few years ago, MS changed that and made it worse, not better. Previously, a single quick swipe in a given direction on the period key would give you, say, a semicolon. Also, the emoji panel (Win+.) isn't new to Windows 10. It was available on 1909.

I think it's fantastic, and long overdue! Not sure why there is so much skepticism, but anyone paying attention can see that Microsoft is moving in the mobility direction. That means more flexibility in it's approach to device design. Touch will become more important moving forward, and it will be great if they can keep current versatility as well.

Wow that Background looks really dope ! Does anyone know where to get it ?

Looks nice. Finally getting away from the Windows 8 design.

It's not exactly the touch keyboard overhaul I was hoping for, but it's the update I will take. I hope this gets fast-tracked for release asap!

"Windows 8 - being more difficult to use with a mouse and keyboard. " Nah, it was beyond easy. I threw myself in and forced myself to use it.

I would love to have the new keyboard. I really missed the Windows Phone keyboard sounds and this is a little way to hear it again. Also, can I get a link to where you get that gorgeous wallpaper? Thanks!

I could be seeing it wrong, but it doesn't look like it takes care of my biggest annoyance w/ the touch keyboard: that it covers up parts of desktop apps I use (like Photoshop, etc), unlike iPad, which would usually push the window upward to make room for the keyboard so you can see what you're actually typing.

Windows 8.1 was easily the best touch UI
Windows Central Newsletter
Get the best of Windows Central in in your inbox, every day!
Thank you for signing up to Windows Central. You will receive a verification email shortly.
There was a problem. Please refresh the page and try again.