Windows 10 Insider Preview build 10568 gets leaked online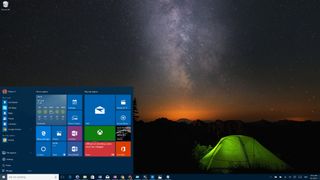 Yet another leaked Windows Insider preview build of Windows 10 for the PC, with the build number 10568, has now been leaked and is available for download on various pirate sites. This leak comes just a few days after Microsoft officially released a new 10565 preview build to Insiders.
According to online reports, the leaked 10568 build does not contain any new features compared to the officially released 10565 version. As per our usual policy, we will not be providing direct download links to the leaked 10568 build. In addition, we would strongly advise users not to download or install the build as it could cause issues with updating to future official Windows 10 releases.
Via: Neowin
Windows Central Newsletter
Get the best of Windows Central in your inbox, every day!
I laughed. Best thing in my day.

Wow. Kinda sad if your day was that boring.
:) j/k you know ily :3

Have you got anything better to report? Posted via the Windows Central App for Android

Watch this video. Quite funny, made my day :P
Its a surface book video btw
http://youtu.be/sfnZv5gN8LQ

Is it news if nothing is new in the build? Not really.

Well people will complain if you don't report it, and people will complain if you do. Best just do what you want :)

Does that make it "olds" instead of "news"? ;) Well it was news to me, I had no idea...

Weekend, bru. They need a break as much as you do!

Yeah, such groundbreaking news needs to be reported on earlier.

I hope they'll have the right click menu's sorted out by the next build. They should give them all that black look and the same animation as in Start

Sometimes I wish there is a like button on the article. Make it happen? Hehe

I need to download that build... I can't stand my phone anymore! It's terrible!

It's a PC Build... Good luck shoe horning that into your phone :P.

Oh well... Did not see that... Current Mobile build it's pissing me of...

Actually I felt the same way until I figured out the trick. When you Install a new phone build, don't load a backup from your old phone. Just start with a clean slate. That has made a world of difference for me to the point where it really feels like a finished build. I'm no longer worried about the mobile os being ready in time.

This article is about a PC build. And have you installed the last phone build? It's very smooth for me, and I have a Lumia 820. Also lots of the apps open nearly as fast as the WP8 counterparts now. (Like Groove, Groove opens instantaneously)

That leaked build is for PC, not for mobiles. Nevertheless, a few days ago, I new build was released for mobiles and it's pretty much stable, fast and fluid. At least, it works great on my L-1520. However, you need to downgrade to WP8.1 through the Windows Device Recovery Tool first and then upgrade to the new build. In case you can't stand a technical preview performance or aren't willing to go through such procedures, you should just stay away from the Windows Insider program since it's not for you, and downgrade to WP8.1.

Are we not allowed to go from 536 to 549 directly on phones? I must have missed that.

Allowed? Yes. Able? No. A glitch in the programming designed to identify glitches. Posted via the Windows Central App for Android

Thanks. I guess I'll wait till next weekend to jump to 549 then.

The build is pretty good, but the file explorer app crashes continuously.

Why do you report leaked builds when they are illegal?

So you don't have ppl downloading it then saying no one told me I shouldn't........

Having to scrounge around on a torrent site to install it would be warning enough...

The news report crimes, and they're illegal, no? It's called reporting

Because many of the dimwits will complain and raise their pitchforks. Good on wc

i​t's only illegal for the leaker, not for the person wanting to download it and install it. anyway it's a leaked buggy version, so nothing to see here, it doesn't have anything new.

Not true. You're not allowed to be in possession of stolen property. This would be stolen intellectual property.

Illegal? Who decides that a software is illegal? Is there a law? As long as you install a software on your own device and take responsibilty, no law in the world can make that illegal.

Not sure what planet you live on. It's stolen intellectual property. That's illegal all the way. It may be something that No company will spend the resources tracking someone down for, but it most certainly is illegal.

You're not in possession of anything illegal if you're given consent, and Gabe has already said that while he doesn't recommend you install leaked builds, they don't care and won't stop you or disable anything.

Which says nothing about the legality of it.


I hope they bring coloured icons back.

+1, they really looked great!

Do pirate sites still exist? LOL
Man am I getting old!

They do, and they're bigger than ever.

Calling them "pirate sites" is sign you're getting old too haha :)

Guilty as charged! I am old. LOL

In the future please don't even bother publishing useless information like this. The less people know about this the better.

Well, it's still news, it's just not exciting news, lol.

It's not useless information to the people who want to go to all the trouble of getting it. Unfortunately I'm not one of those people but I still like to know what's going on in the Windows neighbourhood.

Hello, (damn comment didn't post...) i just updated from Win 7 to Win10, it's great. But you guys are talking about new builds for PC and mobile, I thought Win 10 is officially out for both, and maybe incremental updates are pushed out but you guys are talking about new builds, I do like ideas like having right click same themed as start, that's brilliant. So dont new updates get pushed by MS to us or seems like we need to dl from weird sources. Someone please le elaborate, a sanke yo!

It is out, but Microsoft is continuing insider builds for people to test new features and give feedback before new stuff is out for everybody.
Once in a while a build gets leaked to external sources like this one before it gets released by Microsoft, but it's not supposed to happen

Just to add that Windows 10 is only out for PCs, not phones.

I suspect Microsoft is leaking it. This seems pretty regular these days.

These are preview builds, they are just beta buggy builds and RTM users won't get them until they are stable and "complete". but if you want you can join the preview program and you can install them, but you will probably get bugs, since they are still on preview stage until later this year. But nobody knows the date when these new builds with new features will be released to everyone, so if you want stable build, keep using the RTM one, if you want to test new features and see what's new, you can go preview and get some bugs.

Maybe we dont want to update to any official release.....lol

Bug fixes? It has bugs itself.
1.store apps can't update automatically
2.Runtime broker crashes sometimes.
Theses 2 bugs were in this new build. I installed it this morning.
And realized that the previous build was much more stable and reliable so i rolled back.

Ok. They add a few bugs in this build lol.

Does it fix the networking problem?