Windows 10 Mobile build 14393.189 rolling out to the public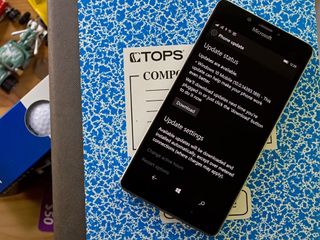 Microsoft is pushing a small Windows 10 Mobile update to the public. If you're not a part of the Windows Insider program, the update will bring your Windows 10 Mobile phone up to build number 14393.189.
It isn't clear what's included in this update just yet, but it likely contains a number of bug fixes that should make the Windows 10 Mobile experience a little smoother. If and when Microsoft provides a list of what's new in the build, we'll update this post with more information.
It's worth noting that, in addition to tips about the update arriving on unlocked phones, we've also seen it arrive on our AT&T Lumia 950. In any case, if you aren't enrolled in the Windows Insider program, you should see the update arrive soon.
Update: According to Microsoft's support page (opens in new tab), this update has the same list of changes as the 14393.187 update that recently made its way to Windows Insiders on the Slow and Release Preview rings. Here are the details (note that only a few changes refer specifically to Mobile):
Improved reliability of Windows Shell, map apps, Internet Explorer 11, and Microsoft Edge.
Addressed issue causing push-button reset to not work correctly and roll back on devices with language set to any of the Unicode languages.
Addressed issue causing devices to crash after disconnecting an e-reader that was attached to the device.
Addressed issue causing devices to not recognize a Secure Digital (SD) card if it is inserted and removed multiple times.
Addressed issue causing some apps to not respond to the commands in the app bar in Windows 10 Mobile.
Addressed issue that sometimes blocks alarm notifications in Windows 10 Mobile.
Improved support for using the camera app in Windows 10 Mobile Enterprise.
Addressed additional issues with rendering 4K resolution, missing Start menu tiles when running on battery, Internet Explorer 11, Microsoft Edge, Bluetooth compatibility, graphics, display rotation, app compatibility, Wi-Fi, Feedback Hub, Miracast, Windows Shell, revised daylight saving time, and USB.
Security updates to Microsoft Edge, Internet Explorer 11, Microsoft Graphics Component, Windows kernel, and Adobe Flash Player.
Thanks for the tips, everyone!
Dan Thorp-Lancaster is the Editor in Chief for Windows Central. He began working with Windows Central as a news writer in 2014 and is obsessed with tech of all sorts. You can follow Dan on Twitter @DthorpL and Instagram @heyitsdtl. Got a hot tip? Send it to daniel.thorp-lancaster@futurenet.com.
Downloading now. Unlocked 950 in Canada. How can non insider update be newer then Release Preview update

Any issue with your download

Maybe they found some bugs in RP and they fixed it in production build.

And after fixing the new bugs, there's no need to test?! This is why MS is where they are in Mobile; there's no clear cut procedure or direction on where they are going

I am also in unlocked 950 (RM-1118) , did you receive Double tap to Wake Up firmware update

AT&T 950 updated...can't find DTTW. Does anybody have it, if so, where would the settings be?

ATT released the firmware update through the windows device recovery tool, updating via that will reset your phone to factory settings. The over the air update is still pending from them.

It was released in last update. Go to personalization and lock screen. Mine is unlocked 950

I don't see anything under Lock Screen settings for Double Tap To Wake?

DTTW setting on my lumia 930 (UK - build 10.0.14915.1000)
all settings->extras->Touch
Just tested it works fine. I hope you find this useful?

Nope - on ATT 950 the Settings->Extras->Touch menu just has one option, "Vibrate when I tap the navigation keys."

I switched my region and language to UK and i got it

I'm guessing it would be some last minute changes that they made to address issues.

Completely illogical: Insider Release Preview .187 and Production .189...

They are on a completely different branch. Different numbers with the RS2 branch

No this is RS1 branch. Preview release is RS1

How downvote ? Because I'm right ?

Just ignore them. They won't listen. Like they're paid by Microsoft or hipnotized

Dont look at the votes. This community is full of people who dont like it when you ask some questions...

So is this the point that those of us on release preview can opt out and continue getting updates?

If I remember correctly, Microsoft has been doing this before 1607 release as well. I wasn't in release preview ring so I thought they were releasing that version to all the rings that are in same branch at the same time.

Still didn't fix Slow motion on my Lumia 930. Whenever I try to shoot video it gets blurred and darkened. Normal recording works fine. I hope this will be fixed soon.

My guess is that a camera app update is needed for that.

That`s normal since the "blur" is because it uses 720p and not 1080p for recording and because it is slow motion (aka many frames / second) the phone has to use a faster shutter to have a good slow motion and not a blured motion. When using faster shutter speeds you lose light since the sensor is exposed a lot less to light than normal with each frame. Normal video is at 1/50 shutter for 25fps, if you do 120 fps slow motion you need 1/240 shutter for a good slow motion.

Thanks for the explanation, but somehow before the anniversary update, videos were sharper in slow motion for me. I noticed the change so it's not everything in shutter speed, there has to be some software issue, OS or camera..

Before the freakin' AU, all of the apps I used worked wonderfully 'cept for ringtones & texttones. Now, there are too many that crapped out to mention.

Downloading now for my 950 XL NAM CV on T-Mobile.

Me too... hoping this fixes the issue that eats my Band's battery like it's a bucket of popcorn, invariably polished off before the third act of the movie.

What's with all the colourful analogies today?
Ha ha!!

Hope it starts letting me use my band 1 again, keyboard never connects, Cortana says I'm never near my phone and the wether app always weeks out of date!

Unfortunately, the bug with the weather tile is with the tile on the Band or in the Microsoft Health app.

The Health app on my partner's iPhone works wonderfully, just like mine did before the AU.

They are the exact same issues I have with my Band 2.

Mine does the same thing. What I have started doing is open MS health ( or now MS band) and leave it running in the back ground. I find it works for me.

Awesome, I'll give that a shot, thanks.

Update was a success, no obvious negative side effects noticed as of yet... Three hours in.

First time ever that production has a higher build number than Release preview. And 1.32GB to go from 14393.187 to 14393.189 - that's a massive bug fix.

Same here. 1GB+ for an incremental update?
This was not just a bug fix, this was a mother of all giant stag beetle fixes...

Who says it is incremental?

It is incremental because Microsoft says so. Go to your phone Settings >> System >> About >> OS Build >> 10.0.14393.189
Release numbering in Windows has used the same logic for many years. Revisions (such as the one we are talking about are by definition incremental updates. Major - 10
Minor - 0
Build - 14393
Revision - 189


Hit me with all you got Microsoft, my 950 is ready ....

The windows 10 mobile software is getting better and better but the hardware's getting rarer and rarer : ) : (

Rare are the most precious ones ;)

So many small things that never get fixed in mobile..
What really pisses me off is why can't they freaking render app icons correctly throughout settings, sharing, and update history. This issue is around since forever.

Yeah and thanks to Nutella for hiring amateurs' for developing Mobile OS

Quantity over quality my friend. They keep releasing new features full of bugs and then go on to the next, instead of fixing all of the bugs they leave behind. There are bugs in Windows 10 AU that havent been fixed since Windows 8 and I see them every damn day. Instead they take like months to change the simplest things like for example the german translation of the notification when you install or update a new all says "Listen now", even if you are installing a text editor. This for me just shows the incompetence of their teams from manager to simple developer. The manager doesn't care and the develper either doesn't care or they don't dare to tell their managers or they just can't tell their managers. All of this is just a big mess up. Maybe if journalism would stop crawling into MS's ass and tell them what the hell is wrong, this could be changed.

Or the ridiculousness of not being able to remove music controls from the volume menu. This freaking issue is annoying people for years. How hard is it to add a little clear button???

Nice...joined DP Release to get .187...now left and going to .189....Reminds me of when I used to run FreeBSD and constantly compiling new builds for fixes...the gears just are not as mesmerizing as the out of 'make' :)

I'm not seeing .189 yet. ATT Lumia 950.

ATT 950 - I installing now. Since Win10 all s/w updates are handled by Microsoft not ATT. Not true for firmware updates though.

I am losing hope for firmware updates from ATT.

For production it is a rather big bugfix update coming all the way from .67. Bluetooh fixes, Band 2 battery wasting fixed, some performance tuning...

Preparing to install... The news came out late here though.

How is this update working on 640XL if any issue is steel there then I will not download this update

Not understanding the difference in build numbers if its the same changelog for 87 and 89

I think, but am not an insider. In 187 there were troubles with log-in on homescreen and a other thing. So they must have fixed that and makes it different with 187

These troubles are for RS2 that was released yesterday

Intalling on my lumia 625

installing now on lumia 640 lte, England.

Yup. Keep em coming. Camera improvement most welcome but what is W10M enterprise?

Wow.. Seems a bit snapier .. All over ! L950xl unlocked finland...

Hahha i thought the same u r comment proved it wasnt a illusion. :P

gears rotating on my 950 screen right now

Glance screen still keeps lit in charger

That used to be an optional feature earlier and now it is just a feature everyone has to live with. You can keep your phone face down, That'll cover the proximity sensor and your screen will stay off while charging.

But the qi coil is in the back... ;) However, hope the option will be re-added soon so that I can re-enable glance.

Put anything over the proximity sensor, like a piece of paper, a tissue or some cocaine

Yeah, that is what I call a flagship phone!

LOL. Tony Montana uses a W10M phone? Sweet!

Downloaded here on L950XL in Argentina - Movistar

Improved support for using the camera app in Windows 10 Mobile "Enterprise" ???

EDIT: No, it's gone .... works fine.

What is camera app in Windows 10 mobile Enterprise? -_-

The camera app used on the enterprise version of Windows 10 Mobile. WP8 has an enterprise version too.

Enterprise has nothing to do with the camera. No idea what they are on about.

It probably means that enterprise-level device management can control additional settings in the Camera app and/or bug fixes to existing controlled settings. There are tons of settings an enterprise can control throughout the OS and various apps that users are blissfully unaware of.

I am so excited!!!!!!!!!! The update just bricked my phone! My first device recovery for my 950XL

"bricked my phone"​? I bet that you were reading news about iOS10 and bricked iPhones :P

Nope, I was not. I saw the update was available. I downloaded and installed the update. At the end it says it needs to reboot. It says it has scheduled the update or I could reboot now. I Reboot now. It reboots and stops at the Windows logo. I wait. I gave it 1hr and still nothing. In the past when this has happened, I have pulled the battery. Install the battery. I get the first Windows Phone logo, then it starts with the Windows Logo. There is blip and the Windows Logo shows a second time and NOTHING! Done, finished dead. I used device recovery to install everything and now waiting for all my apps setting etc. to reinstall. That has been my afternoon/evening.

Must say it's a great update. Working very nice and smooth on Lumia 730. The best so far. Multi tasking is good too

Hmm downloaded this update but no mention of a fix for the scaling bug that effects the Lumia 635,638 yet they know about it as they fixed it on RS2 build 14926 will just have to just keep waiting for it.

Yes but Rs2 adds alot other bugs at the moment like no auto connect to WiFi no WiFi icon when connected battery overheating and random resets and no sim card detection as well as no onscreen keyboard. So basically I would like to see the scaling issue fixed by a small update to RS1 tree of builds to make the phones usable. Again.

And users will be waiting untill RS2 hits production release? :/

I really hope not charis I am hoping it is added as a bug update to RS1 instead of having to wait months and months for RS2 to go public I would imagine the development team would say well if this is a problem RS1 users are facing at the moment let's patch a fix in now as they know how to fix it on RS2 builds.

I'm still waiting for an update that fixes the overheating issue with my lumia 950xl. The overheating has been so bad especially when using edge that it even ruined my mozo case by melting the glue that holds the material to the case.

Wow, you sure you didn't actually get an early released Note 7?

Any phone that overheats like that is a very serious issue, I know you were trying to be funny since all of us geeks know about these things, but imagine the poor souls who have no clue and it does bad damage. Scary stuff.

I hope this fixes the heavy battery consomption I've noticed since Anniversary update (.67).

Ok, so yesterday's update did NOTHING to address my issues with the proximity sensor, the screen blackout during calls nor the camera/photo issues. While I didn't specifically mention the camera/photos last time, I do also have the same issues as others.
Here goes nothing...and with what happens after these updates, I'm really starting to feel like it's nothing in them to help make anything better.

Ok, so yesterday's update did NOTHING to address my issues with the proximity sensor, the screen blackout during calls nor the camera/photo issues. While I didn't specifically mention the camera/photos last time, I do also have the same issues as others.
Here goes nothing...and with what happens after these updates, I'm really starting to feel like it's nothing in them to help make anything better.

1.32GB update and it didn't anything??????????

The blackouts as the double tap (maybe) problem is from the screen protector (tempered glass made from plastic??) as it has to do something with the sensor, been there, done that! Hope this helps :)

Suffering from similar bugs. Irritating to have a 950xl and these basic features are "BUGGY" LOLZ.

is there any possibility of getting led notifications for l930 in future, as i have learnt that it does have hardware supporting led notifications.

I believe that would require a firmware update, and since the phone is old, a firmware update is unlikely.

Which update fixed the Bluetooth bug killing the Band's battery?

All's well with my Icon. Even got "Hey Cortana" back. Excellent!

Not download at Saudi Arabia

But you have public executions ...

I lost all my address photos in people hub in the last update.

That happened to me too. Also knocked out photos in contacts on my 640 on 8.1. So maybe its not the update. Posted via the Windows Central App for Android

Yeah it sucks big time so now I gotta replace all the photos.

I had the same thing happen in People app it fixed after I went to Store checked for updates and a update appeared for the People app after it updated pictures of contacts started showing again in live tile.

Updated to 189 sometime back... Phone seems more snappy ...lets see after a day or 2 if battery life improves further

Sometime back? You mean before you wrote this comment? This only came out today unless you're writing this from Mars.

Downloading for my Mi4! I hope it fixes the camera and screen blackout during calls.

Wow! MS did a great job with this os update. I downloaded this from Nigeria region. My Lumia 640XL appears to be quicker than before, screen rotation turns faster in/out of landscape view. I've been watching 'Suits' for close to one hour with wifi on and store apps updating and my phone didn't even break a sweat (no heat at all), Camera is snappier and pics now process faster even when HDR is activated. Cool! Thumbs up MS :D

I'm on 640XL too, left insider, installing now.
If the camera has improved, I'm happy. That has been my No. 1 gipe in the .67 build - HDR crashing and camera saving to Photos app unreliable and slow. If this really improved the picture taking and processing, I'll be a happy camper. Also, this build will allow bulb mode in ProShot, so time to do some light painting this weekend!!!

Anyone have random reboots or just black screen after anniversary update?, does this update fix those issues?. Gotta wait a fee hours till I can update.

Random reboots sounds like your on RS2 build 14926 to me i had to revert back to RS1 build 14393.189 just to get my phone usable again.

Edge is back to life and better, there's something swift and smooth about this update. Loving it.

My phone (L1520) prompted me to update, so I did. Now it's been stuck at the blue Windows 10 logo for over 2 hours. Is this normal? Anyone experiencing the same issue? The article says it's supposed to be a small update. I can't imagine a small update taking so long to download. Or could it be too many people updating at the same time and choking up MS server?
Update: After 4 hours, I decided to do a forced shutdown by pressing the power button for 10 sec. The phone rebooted and the update finally went thru ok, but now Bluetooth is all messed up. It won't connect with my MS Band, even after the app got updated from MS Health to MS Band. So very frustrating!

My 640XL took a long time, after a half hour I walked away, so I don't know if it took that long though.

Good here on my L640. :))))))

Fixed Hey Cortana on my Nokia 1520

Installing it on my 640 now!

L640 . Best update so far. Keep the good work Microsoft. Samsung is watching...

Yay, now my 950XL doesn't auto-reboot the 2nd time I launch the camera.

Waiting for the day that when I turn my Bluetooth off it actually turns off. Not just say its off but still connect to everything around it.

Installed....on Lumia 640. everythng seems smooth

What's the size of update?

Less than 75mb on my L535..

Hey aman are u running on latest build (.187) soo is this build smooth on L535 what changes do you see, help me.
Curious about this build??

It is just but fixes. OS is very smooth. Photos app runs little smooth then last one. App crash issues solved for 50%, Still need to work on this. So far it is better build then .187

Still not getting any crash, but problem in outlook calendar, calculator tile update. I've done hard reset after installing it. Battery backup is increase in this build.

Just installed on Lumia 735 successfully. Messing around with it now. So far so good.

Its been more then 30days i am unable to use my Lumia 950xl because its battery heats' up to much

I had been to all the care centers of Microsoft in Bangalore but no one has battery

Spoken to customer care at least 20 times no solution somebody pl help me were. I can find one

I had tried sir not available thanks

Preparing to install updates...let's see Bluetooth bug fixed or not, some apps are showing like "pending" even there is no update on background n also some UI glitches at top of action center sometimes! Hope they fixed those :D -L640DS

I have a single SIM 950 XL and was having problems with MS Maps losing GPS signal, rendering navigation pretty much useless. I installed this update and successfully used the Maps app without losing the GPS signal. Looks like it fixed my problem.

Well, I take that back. Tested the maps again this morning and I get "No GPS Signal..."

So, I figured out why I'm getting "No GPS Signal". I had a phone case that comes with an aluminum band around the edge of the phone. It blocks the radios from communicating. Took the case off and Windows Maps works without any problems. The case I was using was a Ghostek Cloak series. It's a shame, I really liked the case.

Has anyone with older devices (Lumia Icon/930, 1520, 839 etc) problems with fast battery drain? My phone (930) loses battery super-fast!

You should formate your phone. Since aniversary update my problem with battery stoped. Lumia950xl

By formating you mean hard reset? I already did that while being on Release Preview, build 14393.187. I guess I'll have to start all over again with a hard reset. Or should I roll back to Win 8.1, upgrade to Win 10, and update it to the latest Production build? (14393.189)?

I did that only I was on the latest RS2 build that made my Nokia Lumia 635 unusable as a phone so I used the windows device recovery tool and went back to 8.1 then updated to win 10 then to this build and all is good as far as battery life is concerned. No heating battery ect.

Did anybody with an AT&T 950 get Double Tap To Wake? If so, where are the settings?

Through windows device recovery tool, will reset your phone. ATT hasn't released it over the air (yet?).

I downloaded ATT's update over the air last night, so I presume it's now released...but I can't find Double Tap To Wake settings anywhere? Is it confirmed that everyone with this update has DTTW?

Should be at the bottom of the lock screen settings.

Im waiting for this update and i hope it will be smoother than was the previous update on Lumia 650

Is someone running build .187
Plz comment about the changes & bugs

Hello
After Anniversary update people hub is dead. I cant see news in "what's new" tab because i am not able to add updated new facebook and twitter and linkedIN. how to fix please tell me

Photos app still doesn't work.
Does anyone has a recommendation which app to use instead?
Thanks!

No problem with the Photos ass on my 950XL

I asked for alternative app because MS support recommend me to go with hard reset. Have same phone, tomorrow they will tell you to **** your self in the same way :)

Lumia 635. Navigation bar error.

Lumia 930 work perfect after Update !

I'm now on build .187 ... Can i just "stop getting preview build" to get this update ?

Yes remove windows insider program app and stop the build under settings. Then try to update the phone.....

.189 is available for release preview

installing error 0x80310027 in my lumia 650 ??how can i fix this issue

only solution is to soft reset and try again

I have been download tonight or just hope :)

They removed the SIM setting "Only LTE and 3G" :((

Yes, also missing for me. I really needed that because 950xl ds always reverts to 2g when I try to user mobile data, this making it useless.

Wait, how does this imporve Internet Explorer 11 on my phone?

Explorer 11 ? or MS Edge ?

This build still doesn't fix the broken notifications, there is no vibrate or sound when notifications arrive under screen lock. Looks like I'll have to hard reset phone tonight to fix this issues.

Just check in "Notification and action" if "show notification on lockscreen" is enabled or not. Enable it if its disabled. Sometimes OS mysteriously disables it on its own

Two new bugs that haven't fixed one in Spanish language the graphic accent. (tilde) on words looks the letter broken and the phone if it's left by a long time without interact with it the touch is not responsive and have to do soft reset have happened this twice it's amazing that the first bug already doesn't been fixed by Microsoft started with the browser and now also with the store occurs, as the insiders in Spanish language don't work at all if this insider programm to my point of view it's an disaster product which instead of get fixes gets worst.

evillama, search for it under touch in settings

evillama, search for it under touch in settings

I dont know of it's just my 950xl or not but after todays update my battery is lasting heaps longer. So far I'm very impressed.
That said the driving mode icon is still at the top of my screen 5 hours after I turned the car off.

Today I update my Lumia 535 to build 14393.189, and after this update many apps of my smartphone can't open. Example:- Sniper Fury, Asphalt 8 Airborne, etc. How I fix this update problem?

uninstall and install them. u may loose the app data but can't do anything. Try to soft reset and play the game.

I had the same issues (950 dual sim)
with apps greyed out and saying pending.However,I couldn't open My App free so I uninstalled and reinstalled it.The other apps eventually loaded and I was able to open them.

I have this problem on previous build...whenever I get this "pending" error without any background update...I just turned off WiFi for few seconds..so that the app became normal from that grayed out pending issue!
It worked for me :D Hope it works for u too :D
-L640DS

Try reinstalling those app

Is someones Cortana get crashes on lumia 535 build (.187)

Waiting for the day when Windows Mobile will be stable like Windows Phone 7 or 8.1...sigh...is it really tough programming or its just that MS laid off so many employees that only two guys are working for Windows Mobile 10 development and that QA is being handled by Insiders? I hope not.

They are not going to sell any Lumia's, they killed it. They laid off somany employees and remaining ones r developing insider builds and new features.... Even they care about less than 1% market share, profits. I am running this build in L730 dual SIM. Working fine so far no issues. Only issues are Alarm/Phone sounds are not better audible. We can't blame programmers, with very limited resources they r doing amazing work. Have to blame M$ for ruining win10 mobile OS.

Me too. Is this going to go on FOREVER? Why are they wasting so much resources on 3 different versions of this OS when they have no plans to increase market share anyway?

My Yahoo account is no longer working. Constantly asking me to Fix my Yahoo account. I have already deleted the account and added again. Doesnt work.

Stil have UI glitches in action centre.(L640DS)

Bluetooth problem too :D -L640DS

Action centre problem, no icons when notifications come. L535 dual sim. But it started to behave like that 20hrs after update. Soft reset didn't help

I'm on release previewin the UK and the .189 update was waiting for me to install when I woke up a couple of hours ago.

How to check the size of an update?

For me the Step Counter was the last few builds a complete mess. He counted while lying still on a table. With .189 this is solved. Lumia 930.

Also shown up on Release Preview Ring today!

This one is great it's fixed my hey Cortana on my wp1520

It's rather unfortunate that such a wonderful OS like this would be criticized so much. I've had no problems with the updates. It was the transition from 8.1,that was really the coin in the pie.... Maybe, I'm too old for games like 'pokémon', I've left that for my kids; each update has been an improvement on the last one. I use a 640xl dual sim, which has been hitch-free from the outset. Even tried to get friends in 730, 830 and 930 on board, it seems they all have something negative to say about the platform. I'm sure this may not be the best place to say this, what with all the layoffs and what not (including the eventual lack of support for Lumia). Whatever was Microsofts intentions, it was never to create a platform like this, with so much potential and bust, but rather leave something in the mouth of people to long for. Whether its Microsoft or the OEMs, the platform may not have the lions share of the market, but it will always have a share... We will never know what plays in the offices of this technocrats who have been job swapping from google to Microsoft to apple, and vice versa. I guess they never really had the commitment, the drive to succeed and make a headway with the product. (Not like NOKIA, despite its adherence to the symbian OS) They managed to leave something for everyone to long for. Durable, long-lasting batteries and wonderful looking smartphones that make you want the next one coming. Money was never really the problem at Microsoft. They could have invested enough in the R&D, I guess they just cashed in knowing they had lost the desire to succeed with the product..., the hardware part that is. Hence, their desire to get more OEMs in board. On board of what, i might add, when there's an obvious failing on their part to light up the night with their own.... We'll see, I guess. I'm crazy about the software though. Gets me through the day, hitch-free. More updates please, just be sure to make them right with the passion to succeed with it... I like the effort HP have put into their product. I should by that next instead of the 950xl... Bye Lumia.

What kind of an update is this?! Yesterday the action centre...today I lost aaaaaallll the contacts pictures,custom tones etc. By itself! 15 minutes ago they were there and now gone! Fix this piece of bleeep you call update. Update to what?! I don't care there are no apps,I don't care there is no Snapchat or some stupid thing like PokemonGo. I care about the PHONE and if my PHONEBOOK is gone just like that what next? Photos? Mail? What?

I have an unlocked BLU Win HD LTE, still on the AU build, which I got the day after the announcement. It's been 3 days since THIS announcement and I still haven't received the update. Any suggestions? Thanks

I had the same delay with my Lumia 735. It actually showed up a short while ago, and is downloading now.

Am i happy with 8.1? Oh yes, i am!!!

This latest CU 14393.189 right now has fixed all of the bugs/issues I've had recently after the .103 update. The bugs I've had with windows hello unlocking, screen dimming on unlock, screen blackout on calls, hey cortana hit or miss all seems to be working and this is going on 3 days now. Let's hope from here on out that the builds continue to get better.

yes indeed its a very nice OS...i liked the action centre even more now...very nice effort Microsoft...keep up the good work.....i haven't tested the battery life yet on my L930...anyway that doesn't bother me much now...

Still clutter's on transparent start screen .

The location icon stays on the display in the upper left corner all the time and the ringtones for personal contacts can't be switched L930

Not available for 730 in india

Thought this update fixed the blackscreen windows hello unlock bug and for a day or two it worked flawlessy. Guess that was speaking a bit too soon, as it's back. Hate having to restart my phone to fix that. By now MS should be a whole lot better with this mobile OS.

whenever i try to install this update.....its shows installation failed.....plz help me

Weeewwww way to go Lumia fans .. Hold on, someday everything will be ok and we all be satisfied, better than iOs or android.. More updates pls...

Terrible build. No longer receiving WhatsApp messages unless I am in the so itself. Glance stopped working and only came back after several reboots.

Yet another person who's be stuffed by the latest Windows 10 update. Ever since I got the update (14393.189) last week half the apps on my Lumia 640 have stopped working, a lot won't even install. Even though I can download one of the PDF readers (not Adobe) none of them work which is a reall headache. I've tried 2 full reinstalls and the problems are still there. Until last week my Lumia hadn't missed a beat in the 12 months I've had it but now...

This build enables the finger print reader on the HP Elite X3, btw. Camera still crashes though.

Just downloaded it now on a L640. Apps automatically close when I switch apps. Very annoying.

apps close randomly on my Lumia 435, but then again they have always done that, it's just more frequent. I actually find it sad that after a year Windows 10 mobile is not too much more reliable than when it was first released. If Microsoft actually wants there mobile operating system to succeed then a good idea would be to produce less but more stable updates

Has anyone noticed any abnormalities on the battery life of Lumia 950xl with the recently released build? My phone goes off randomly and has never happened before. I ha e to remove the battery and put it back on. This is a major headache for me with this build .189

For some reason this build runs very very smooth on my L730. 90% of the bugs resolved.

A big issue on windows 10 mobile is blink screen in every 5 to 10 seconds with my lumia 830. It goes black for a while. Fix it soon plz.

Working smoothly in my L550....

I am using build 14393.189 and when I try to add a background to start, I will go to settings>personalisation>start and then when I choose an image it will say none like before.

People live tile has been fixed. But this build pull down my Lumia sim towers.

I can understand down voting comments that blatantly bash this OS, but why do same to people commenting about issues experienced?? The reasons for commented is to report the positive and negative about the device or service offered by MS. So makes absolutely no sense being negative when people who're using this OS only want the best from and for it.

Because people are stupid, that's why, and heaven forbid you should say anything negative about something they like. Regardless of whether it is constructive criticism or not.

I often DV when folks excessively/needlessly necro, or if I feel a point made is too simplistic (lets not even get started on the childish/destructive/inflammatory ones, which are the overwhelming bulk of -ve posts here nowadays) & I don't have time to counter/explain, not because my "beloved OS is being bashed". The folks who think that's the only reason for DV (& always bring-it-up), are usually fanboys for other platforms*, or people who think they've got everything worked out, & everyone else are morons. I don't think that applies to you, though... There's a tonne of rationales for why folks might chose to DV, it doesn't take much of an imagination. Anyway lets end this, it's clearly already waaay off-topic, & I'm sure other subscribers would not appreciate it! Cheers. *or bitter ex-fanboys (often mutually exclusive)
Windows Central Newsletter
Get the best of Windows Central in in your inbox, every day!
Thank you for signing up to Windows Central. You will receive a verification email shortly.
There was a problem. Please refresh the page and try again.