Windows 10 Mobile cumulative update build 14393.594 now rolling out to Release Preview ring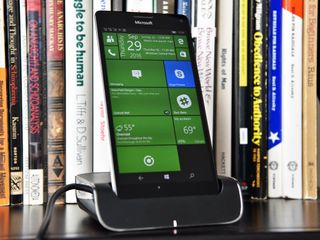 Microsoft is now rolling out a new cumulative update for Windows 10 Mobile users in the Release Preview ring, packing a number of new under the hood changes and fixes. This cumulative update was released yesterday on PC, and is now finally making its way to Mobile.
Much like with yesterday's release, Microsoft is yet to provide a changelog detailing everything that has changed with this released. We're expecting the usual amount of bug fixes however, as cumulative updates never really include any new features for consumers.
The update is now rolling out, so if you're on the Release Preview ring on PC or Mobile, make sure you check for updates and get it installed!
Thanks for the tip, @mccools2013!
Windows Central Newsletter
Get the best of Windows Central in your inbox, every day!
Zac Bowden is a Senior Editor at Windows Central. Bringing you exclusive coverage into the world of Windows on PCs, tablets, phones, and more. Also an avid collector of rare Microsoft prototype devices! Keep in touch on Twitter: @zacbowden.
Thank god I hope this addresses the battery and freezing issues

Random freezing or repeatable?

Hopefully also the camera issues and random apps crashing.

I constantly get voice messages via email through work.
The files play via Groove but once u play the file, it constantly repeats even if I delete the file, I cant stop the message repeating over and over. Only way to fix it is a reboot.
Using WM10 in the corporate environment and it sucks hairy balls.

I had loads of crashing to an a black screen which could only be remedied by a soft reset, reboots and battery drain, so I sent it to B2X who Microsoft have outsourced their phone support to, and they changed the battery and flashed the software, and it's been going well so far....

I hope it fixes the waking lag as well.

I hope so, that is a horrible bug. It has been quite frustrating to deal with.

Me too! It wakes really laggy and even Glance takes a while to show up. In short, hopefully will fix bunch of issues of W10M in general.

So far I haven't seen it, but it didn't always happen. So, fingers crossed.

This is a good news I believe.

How do you like those gigantic tiles on your HP Elite X3 Zac!? Regular three colum set up? Why not use the "see more tiles" option? I use it on my 950xl. They seem a tad small but the regular three colum tile set up makes it so I can't fit all the tiles I want on my start screen without too much swiping.

Hahaha.. I like smaller tiles so much, I have set my display resolution to 150% (default at 200%) on my Lumia 730. I set four columns of tiles, and also 4 app cards show up while showing the background apps. But then, not everything scales upto that resolution..and it looks weird at times, but I can't really go back to the default resolution..it appears too big now..

Same with me, I have a Lumia 830 only I set the scaling to 175%, I still get 4 tiles and 4 cards on the app switch screen but the texts are slightly larger.

It's a 950XL in the pic, is it not?

Wow if that's how you really look hit a fella up....mama cita.

Her(?) name's Floppy Donkey. You sure bro?

Alot of freezing on my idol in random apps and sms alot like 15 second freezes a few times throughout the day

The idol is relatively a new phone, so I suppose that might be a firmware thing, and not an OS thing. Remember the HP elite x3 was a bit slower than the 950xl at the beginning.

I wish I could get this on my 635.

when i take a shot by my L950XL and press on it to show the pic, the screen goes black! that happens since the arrival of Anniversery update -_-

Same on my sisters phone, not on mine. Weird bug. Do you also have zooming issues? Sometimes I can't zoom a photo.

I had zooming bug too..you cannot move the pic after zooming it..and sometimes you can't zoom at all..and sometimes, going back from a pic closes the photos app

Oh man, this zooming issue is ******* me off !!!! How can a feature from 2004 be wrong on a windows phone in 2017 ! It's so embarassing when you want to show a picture to a coworker, can't zoom, lags, and reboot for no reason... so un-professional

Yes I've zooming issue, and these are the 2 major issues on mine

Screen also goes black/blank and unresponsive to touch after a call or before answering a call or snoozing/dismissing alarms.
.
With the call issue, hovering my hand over the proximity sensor does nothing.

Me too. Another issue is when photos or videos not saved at all, which I only realised during holidays when I lost so many photos and some videos because it wasn't saved at all. Speaking of bad experience that I have to carry another Android phone or just borrow somebody's iPhone which works reliably. Shameful. Sometimes the camera app even sticker at "Saving..." screen especially often with HDR. What's worst is I get camera error occasionally on recent updates where it refuses to launch the camera drivers, forcing me to restart the device.

I feel the quality of pictures were quite good with 8.1..and even the photos were captured very fast..the whole OS was so snappy..I miss those days..

Well the quality of photos is likely to do with firmware which seems not as well optimized as they used to be. Lumia before wasn't really known to take shot quickly, it was been always an iPhone strength, but at least you know it works and photos are actually saved. Now even though it maybe faster, its really unreliable that 20% chance that photo isn't saved or camera app sticker at saving it, rendering the camera unusable from any apps until you restart the device. It really feels like MS these days in regards to Windows doesn't seem to much care about optimization and polish. The fact that they lay-off bunch of their QA manpower and later on it feels the software quality goes down with it. Was it just all coincidence? It seems not but we'll sure never know (who will admit anyways). Since Windows 7, their OS is becoming more and more rock solid. Windows 8.X were not highly welcomed with its UI changes, but past that it was even regarded to be a great OS itself in terms of performance and stability. Now in Windows 10, its becoming well know to have its several issues.

As regards the iPhone it's only faster and any more reliable because it takes tiny low resolution images, you can set a Windows phone to such low res too if you want and it will be a lot faster. Currently I probably lose one photo in 1000 due to instability, so yeah it's not perfect, but it's no where near 20%! (950xl) I think it is, or at least, was a fair point about 8.1 OS being snappier, but there was a lot less going on with 8.1 and I would say 10 is now where 8.1 was.

Happened to me a well. Photos were actually saved but not indexed by Photo app. File manager could find, edit and share them.

Photos app is really sluggish in terms of updating its database of photos, it takes ages in comparison from Windows Phone, and any other platforms really and photo managers. Photos app is generally slow app, even when viewing photos in the app takes a second to do its animation to zoom in and out. The animation doesn't asynchronously loads the image at the same time. The old iPhone 5S that is already considered outdated flies with its Photos app even with zoom animations. Something inefficient on how they built and the UI framework they used in this current version of UWP. It's clear that they didn't really thought this out very well. Back in Windows Phone where animations were everywhere remains snappy and responsive. Even with low-specs. Photos Hub in WP just works.

I took the photos app is ding some kind of post processing on the images, especially if you are using her or living images, going to the photo app when it has a large back log of images, especially on the SD card is meet with a lag in updating, especially if battery saver was on.

Could be an SD card issue. Though if you take a lot of high res HDR photos in a row it's going to need time to record them all, there's just that much data involved.

No I'm using the phone memory only without an SD card, but many users here are facing the same issue so it's an issue needs to be fixed

Which specific issue? There are a few referred to above.

Read my first comment, screen goes black when I press on the pic to show it

Yeah, I've had that bug in the past, but not on the most recent couple of builds, not clear if it was the OS, the camera app or the photo app (suspect photo app). But I think it was essentially the same problem as people were getting with photos not showing up quickly in the photo app, again I think that's related to some issue with processing photos after they are taken. L950xl takes very good pictures, but that comes at a cost in terms of processing time, iPhone users just don't understand what a quality picture is so are happy with low res, poorly focused, poorly lit, motion blurred images! ;) If speed over quality is really important you can turn the settings 8MP, 4:3 and living images off, and HDR off, but even then your camera is probably using more processing power and taking better pictures than the average iPhone! It think it also helps to make sure you have plenty of free space available on the phones internal memory. I also find to keep the phone running really well I need to do a complete reset every 5 months or so, usually the hint that something is up is when typing becomes laggy. That's better than android's I've owned though which seemed to need resets every 2 or 3 weeks much of the time.

Which specific issue. There are a few referred to above.

The 12 people who have these phones will be pleased.

Yeah the smarter people. You know what they say about the masses.

Yeah, you're right -- the masses go for app availability.

Nah, the masses go for what they hear about the most from all sources (I.e. Ads, friends, family, in stores, etc). The idea that the 'masses' give a crap about the app argument is silly at this point. The only reason they may say they care is because they heard it from someone else, not because they actually did research to fund out what apps exist on each platform.

No research required, unless someone's considering a Windows phone.

You are a ****, aren't you?

Just being honest, which I guess can be hard for some to hear. As long as you're happy with your device of choice, that's all that matters -- no need to be embarrassed... ;-)

Then why are you typing...? ;-)

trolling someone's choice of mobile platform=no life

Intensive research required. Heck, maybe even give a disclaimer. :p

That, and I feel so embarrassed when my sister in law complains how she can't do simple things on WP, that she could do on Android apps..and when I teach her the alternatives, she is like, Android was easier..and gives me a look that it was a mistake buying a Windows device. and well, I was the one who suggested Windows. Coz she was having problems with Android being laggy on her old Samsung, and also infected by viruses..it is pretty obvious, she hates Windows..she can't share files, pics, etc..even basic file manager isn't as functional..and more basic apps like email lacks features.. She hasn't updated to win10m..even after I told her, coz she heard it is buggy, and yes, it is buggy..but apps are a little better..

Sounds like my auntie also with bit similar reason why she got a Windows phone replacing her old Android. Then slowly it caught-up where it ask me why she can't make Facebook calls and other apps that she used feels not as functional compared to her friends using similar app from Android or iOS. She upgraded to W10M, which I even suggested (which I felt partially embarrassed) then she told me some issues come with that sometimes the front camera glitch with only green brands that is visible during video calls, some apps crashing, camera refuse to load driver, and notification sound being too high-pitched sometimes. This didn't happened altogether but observation overtime. If this issue persist long enough, this she may not like having a Windows phones anymore.

She has to update to win10 otherwise if course it's limited. Its not significantly buggy now. (obviously avoid insider releases)

Of course the millions of people that have Windows will be pleased.

If only all those "millions" translated into any sort of measurable market share... even if it were just single digit... :-(

The Surface Pro line has 1% market share. The Surface Studio exceeded expectations by 100% by merely selling 3% of what Apple does. ( A mere 30,000 units in a quarter ) Money is more important than market share.

Doesn't bother me personally really. I can do everything I want despite not being an android peasant.

Interesting.
Jesus had 12 disciple's also, what a coincidence.
And didn't that dirty dozen go on and change the world as we know it today.

To the worst. Muhamed followed Jesus' steps and look where we are now.

I'm starting to fear some of these updates. Many improvements and new features. However, some nasty-ass bugs occasionally.

I could understand issues on slow and definitely the fast... But release pv is suppose to be a lot smoother.

Yeah, I went back to full production after some of the crazy ass bugs I started getting with insider releases toward the end of the year.

Just installed it on my950. Doesn't seem to fix my app hanging issues though. After last update, my apps like evernote and stock apps have stopped working for some reason. It just hangs and crashes. Tried reinstallation and factory reset but no luck :(

Do a couple hard resets.....not factory reset.....then after win10 starts....do not restore any apps or setting from a Previous bachup.....install apps fresh

I never really like this suggestion because it shouldn't be necessary to do this....I would say not restoring from backup is a very last resort. First try resetting and restoring (Doesn't take that long) and see how it goes IMO

Yeah. I did a factory reset and reinstallation which didn't work. What is interesting is I don't see this problem on my 1520 which runs fast ring. Starting to suspect its a release preview issue :p

Hard reset = factory reset.

Yeah, some apps just randomly crashes and few refuse to open sometimes. It's not really because of the apps especially apps that works reliably recently suddenly became like a beta. It's harder to point out the issues recently that sometimes I have to give up and use a backup phone. I might do another hard reset this year (wow a first hard reset in 2017!). This becoming another meme of W10M doing hard resets that seems slowly becoming mandatory these days. Recovery tool is really handy especially.

Yeah mine is the same. It hangs when opening and app and blacks out and crashes when you go back to It. So far as happened on evernote and my stocks portfolio. Interestingly, didn't have this issue on my 1520 running fast ring. You would have thought that the fast ring would have this problem instead of release preview :p

Not even surprised when one of my laptop dual-boot with Fast Ring Insider Preview of Windows 10. Edge extensions works just fine while my main PC on production ring, Edge extensions doesn't work correctly. How was that? :p I can't be really bother to do reformat as it is tedious for me and used for some work to do all over again, and I just did fresh install for Anniversary Update. Edge have alot of shortcoming anyways thus I'm not even missing it.

If you have your apps installed to a micro sd, try popping it out with the phone off and turning back on - then moving a few of the freezing apps to the local storage. I was getting a lot of crazy app issues with my 950xl and found out I had a bad sd card.

That might be the case. Because I've seen so many app crash and app freeze comments, but personally i only witnessed 1% or even less app issues on my 950XL (also on my 1520). I've never installed an app on SD... Photos and videos go to SD.. Internal storage dedicated to apps and m running all cylinders..

I tend to keep my photos and videos on the internal storage just because I tend to trust it more as they are memories being saved. I move all games (don't have too many but the ones I have are large) to the SD card and keep all my others apps internal. Getting low on internal space right now so either going to send new photos to the SD Card or just remove my local copies of the photos/videos

You shouldn't trust the internal storage more than the external. If your phone dies for any reason, everything on the internal storage will be unrecoverable.

My wife and daughter had issues with photos saving / crashing on their 950s recently, and when they switched from saving to the SD card instead saving to internal memory, the issues vanished. I had similar, but much less frequent issues with my 950XL.

Mine were all installed to the device. It was the first thing i checked :(

The main app issue I've noticed is when I resume an app I get a black screen for a while (Navigation bar still stays on screen), it's almost like the old "Loading" screens which I haven't seen for ages but without the message showing. Not sure if it's a bug or not but seemed to happen with the last few cumulative updates

Waiting still for a Bluetooth stack rewrite. It's terrible, always has been, multiple phones, cars, and headsets.

I cannot stand the Bluetooth on my L950. Constantly disconnects with multiple devices whereas my other devices have no problem.

Me too. Always disconnecting for a few seconds in the middle of a call, no matter which device it's connected to.

That's very strange. I never (and I mean NEVER) had a Bluetooth disconnect, and I use it all the time. I only talk on Bluetooth headsets, never on the phone itself.

On Lumia 950, the Bluetooth voice HFP (Hands-Free Profile) and music A2DP (Advanced Audio Distribution Profile) are almost flawless for me. By almost, I mean that sometimes music starts stuttering when I do GPC map navigation with turn-by-turn instructions turned on. The main problem is the Bluetooth HID (Human Interface Device) protocol. While it works for me in the beginning it degrades further and further until I restart the phone. For example, I use a Satechi Media Button to play/pause skip tracks in my car while driving. W10M works fine responding to those commands, but after making a long phone call or some other trigger, it just stops responding to the commands. Sometimes disconnecting the media button and reconnecting helps, but it finally degrades to the point of having to restart the phone. If you think about, yeah, perhaps Bluetooth is messed up depending on how it's being used.

Bluetooth works great on my Elite x3.....with production release - :P

I,m with you.. I loved the Insider preview on my 1520, but I'm sticking to My Elite X3's Production. I get the Firmware updates and everything works!!! Battery life unreal.. I wish we all could experience trouble free systems .. Everyone who is standing by windows deserves a great phone experience

It only works great for me with one device if I have more it won't switch reliably. Also static even when starting a Groove song from time to time

Sorry @zacbowden, but I did not make it past the headline picture to actually read your article. Still deciphering your very interesting book selection shown in the background... :-)

I know right! I was literally waiting for someone to comment about the books! :D

I think these must be Daniel's books :-) It fits his 'profile' more hehe!

I think they are.. I remember seeing the picture in one of his articles

will there ever be an update to fix the external speakers? they are quiet AF. disappointed in what are supposed to be kick@$$ B&O speakers.

Just downloaded on my Lumia 735. Installed good and phone is noticeably faster

Same here. Last update had been kind of funky. I hope it fixes the continual drop off of WIFI that I had last month with my 735.

Any difference in battery life?

Maybe this will solve the issue where the phone absolutely refuses to show the display unless you press the lock button multiple times or just sit there and wait. And sometimes when it does come up, the display is dim and doesn't respond to the screen brightness settings. Happens on my wife's L950 and my own. Doubt it's the screen because I had an OEM screen replacement on my two months ago because I cracked it. Reset solves the issue and neither of us are on Insider. Both phones have been reset via WDRT multiple times. Anyone else having this issue?

I saw the dim issue last week. Power off/on and the display return to normal. L950 on Release Preview.

My wife and I have been doing this since middle of last year. I've done some research on it and found that as a solution. However, having to power cycle the phone constantly is irritating and is only a temporary solution to a problem that has existed for a long time. When it happens on my phone and since I have Windows Hello activated on my device, the iris scanner turns on and can hear the audible unlock sound and then a couple seconds later if comes up. But if I am trying to quickly unlock my phone, 5-15 seconds is a long time for it to respond correctly and not have the dim issue. It's intermittent and I cannot seems to figure out the cause. Wife doesn't use Windows Hello so that's not the issue. Glance isn't the issue as she doesn't use that either. Display driver maybe?

I have the same exact issue its so frustrating.

i had the same problem turn off auto brightness!

I don't use auto brightness on my phone. My wife does but I like my phone to be at max brightness.

This issue phone being dark on phone calls and during unlocking screen is being there for quite a longtime, its really hurting in front of others, dunno when microsoft gonna resolve it.

Yeah, some issues related to crucial functions seems there. I did get some call related issues before where the display won't show up but touchscreen works, but eventually will show up which means there is a massive lag. I'm really starting to think if MS employees even use W10M in their everyday lives and not pretending on social media that they use them.

Turn off audio routing from call settings which causes the bug

How do you turn it off? I see Auto, Bluetooth and Phone. And an option to turn on speaker phone but that is off. Currently set yo Auto.

Go to system settings-phone-audio routing-turn off the feature which automatically turn call into speaker phone while your phone away from ears and turned back to normal while you are holding phone close to ears
Bug-this new feature makes phone unresponsive or black screen its irritates sometimes because reinserting the battery is the only solution.

How much did it cost to replace your display?

To fox your display is easy you can do it yourself. A LCD screen for a Lumia 950XL runs for about $110 dollars.

I only cracked my glass, looks to be really cheap,$10 but I don't think it's the same gorilla glass. Really hard to replace/reglue, the complete screens I don't were about$200, where did you find out so cheap? Is it oem?

I only cracked my glass, looks to be really cheap,$10 but I don't think it's the same gorilla glass. Really hard to replace/reglue, the complete screens I found were about$200, where did you find yours so cheap? Is it oem?

$180 through palcotech. Contacted Microsoft and apparently they are the only ones who have the OEM displays. That amount was the total for shipping, screen, and the repair. About two weeks later i had it back in my possesion looking brand new.

Had the very same problem L950

Have this in my L950xl.a frustrating bug.did hard reset,wiped with wdrt nothing helps.only hope if switched to fast ring , it may solve.

Ok so not just wifes 950XL. My 950 does not have this. Hers: Call comes in cannot turn on screen and then misses call.

Same here.a soft reset helps for sometime and the bug comes again

Turn off audio routing from call settings. The screen went black in a call or incoming call because of audio routing option this new feature has bugs

I been having this issue and having to restart the phone shouldn't be an option. I see that as a real inconvenience. But again I am with you hopefully it fixes that issue.

Had the dimming issue on my 950 but it's been gone since a couple of updates back, sucks that it's still there for you :(

This is NOT a hardware issue. I know this for a fact because I've got this issue on my L650 and 950XL and both have been hard reset on the Anniversary build trying to solve this AUTOMATIC brightness dimming to 0% and then not changing (increasing) even when manually increased.

Can any one mention the calender app in this image :)

Simple Calendar, I guess.

There were potential issues related to build 14977 where non uwp apps were failure to launch. Hope that get addressed.

I get some issues exactly like that where apps refuse to open sometimes. Not permanent as they will eventually returns to normal after a while. Actually even UWP apps experience similar issue sometimes. So there is really something there.

Lumia 650 here. Take ages to take picture using whatsapp camera. Facebook also crash during scrolling. I hope this build fix this problem.

Facebook crashes is common issue which is shamefully hasn't been fixed most of them. Not to mention the poor performance still that makes L950 beats by mid-range Android phone. Facebook is mostly to blame here, but MS if they really care the platform should do something to resolve this matter. Most people use Facebook apps such as Instagram, Messenger and Facebook app itself. If these apps works poorly to remotely unusable at times, people will blame their device which is W10M device and likely replace it with something else that is 90%it won't be another W10M. Worst is if the user knows the OS and leave a bad taste, hating the platform for a long time.

I use Facebook BETA app and it works really well on my 950. No issues at all

I hope this update fixes the low market share bug lol.

I notice that there is a lot less loading.

How about Sync settings, Favorites etc. Been trying to debug this for a week now.

why not enable editing of contacts labels, i mean those mobile 1, mobile 2, work 1 etc, why not make them editable so that we can put our own labels/names there

YES!!!! That really annoys me!!!! You can edit the google contacts but you can't wait outlook contacts. That is the only reason I have a separate Gmail account for contacts. It's very frustrating.

I hope this fixed the issue with the lock screen on the Lumia 950XL,. The screen usually stays black until unlocked. It's a real annoyance to have to restart the phone from time to time just to have a normal lock screen. Then there is the issue (you guys can test it) with multitasking when there are more than 16 apps open and you open that next app. You don't see the app but it's running never the less and the only way to close those apps would be to close ones already opened and then keep hitting the back button to close each app one by one.

Hopefully makes Facebook app faster. Hopefully

Lol yeah
Hopefully this makes people's Android faster.

The original Microsoft Facebook app works very well for me (L950). The much larger (MB) Facebook app didn't run smoothly so I removed it.

ಯಾವ ಅಪ್ಡೇಟ್ ತಗೊಂಡ ಏನ ಮಾಡುದು . ನನ್ನ ಮೊಬೈಲ್ ಯಾವಗ್ಲೂ resuming...............resuming...............resuming...............resuming...............resuming...............😭

Buy a class 10 memory card

This release seems to be buggy since it's not a simultaneous public release as they usually are!

Is that the last build before Nadealla shutters Windows 10 Mobile for good?

Nah, I'm pretty sure Satya has a little more petrol to pour on the burning platform first! Oh and do please remember that he did say that if partners did not support W10m then MS would. I'm guessing that means we'll be seeing a new MS device in the next few days or so /S

Hope it resolves Cortana issue. Location is not working with Cortana. There is no option to on it. It's showing grey button

Good news :D My 650 updated itself overnight, and I was wondering why it asked for a SIM PIN when I woke up. I was like "oh god, here are the random reboots so many people were talking about but I never experienced them". And after I entered the PIN, I checked the notifications, saw the one about the update, and was like "thanks, I'm still a lucky one" :D Anyway, I'll have to update my 535 as well, because it doesn't have enough free space for anything anymore, so I skipped the last build on it as well :D

Yeah, this happened with a friends 535 and even after deleting ALL possible apps INCLUDING Word, Excel, PowerPoint (which is a shame because they should bot be uninstallable) in the internal memory, the update didn't happen. Had to hard reset and update.

Thankfully, i have a 650 !!

And when will we see some new builds in the Fast Ring?

There's nothing good on fast ring for now.....

My Lumia 950 works great. None of these mentioned problems.

Im currently on the release preview ring on my 950xl and this build feels great so far. Previous builds have been slower and having a massive lag between power button a screen on time. Like 5seconds. How is the fast ring these days? I used to rock those updates when they were better than stable builds but I was just wondering how its going?

Release Preview isn't showing up as an option in the Insider Programme settings on both my PC and Mobile. I was hoping to change from the Fast Ring to try this build, but maybe not!

if your on the fast ring you will have go back to 14393. first

Fast ring not so good. Still to many bugs. I installed fast ring on my Lumia 735 and ended up going to back to release preview

That is one boring Start screen...

I cant open some apps like Acrobat Reader, SkyAlert, Acer Leap Manager, Fox Play, Gadgets, i Podcast, Hyperlapse Mobile, Netflix, Steam and Shazam. The store throw error 0x800B0100. According to Windows Dev Center, the error occurs cause the app package have a signature error (https://msdn.microsoft.com/en-us/library/windows/desktop/jj835836(v=vs.85).aspx). My phone is a L950 and is on release preview ring.

After a hard reset, the error remains on my device. I'm backing to the previous build via WDRT.

Help! My Lumia 950 updated over night. I woke to the gears followed by a :( and shutdown (then restart since it was on charger). It's been looping all night. I pulled the memory card like I do on my Surface Pro 3 during an update and it is still crashing during the update. This is the first time I've seen this. I didn't see anyone else with this problem commenting. What do I do?

You have to use the recovery tool the only draw back it will reset your phone I have a 950 but did update normally except for some app not downloading

Thanks. I performed a recovery this morning. Still waiting for all the apps to finish downloading back.

I hope this addresses the flickering issue on Lumia 830

I can't 😞 download Netflix and nfl mobile for the rest its ok I have a 950

Is gestures back on windows 10 or at least speakerphone option in touch. It's been 2 years 2 years since I had that on 8.1 lumina 930. An6news on paypal or if he remaps or santander apps has come back for the UK?

Update broke Qi charging for me

Hmm. Can no longer get win 10 on my 1020...or 530. *sigh*

This update does nothing for my L950xl on release preview. Black nonresponsive screen.

This build is much better on my battery. Back to getting longer battery life on my idol 4s. Even the quick charge charges better now. I hear there with be a different update tues a build number in the 600s

One of my family's 640's died during this update. WDRT cant do anything, totally bricked phone. This is the first time this happens, though. I guess I'll try warranty.

The battery still sucks on my 930 :(

Yes huge battery issues in 930

Lumia 640. Slight hit on battery, official Instagram app crashes and only post all blacked out photos. Reinstalled 6tag, no issue posting photos. The last build was rock solid, come on MSFT! I have stood by since WP7....

Any real bug fix to improve general stability or just the usual pile of crap?

Why do you even bother to ask if it is pile of crap for you?

Because I'm on production build with very bad quality and I'm checking if it's worth it moving to another ring, hoping it brings any improvement. Checking the other comments it seems not

Please tell my Windows 10 Lumia 930 mobile text message tone and notification banner not coming if all notification are turned on.how to fix this problem.all hardware are Good.

This build has was the best on my idol

Don't install on 512 mb ram on mobile please whyy?? Tell friend plz

What is the name of app, with this big tile on the top of screen in foto of article..? I like this tile...

It's called Simple Calendar. Used it before, bought and loved the app. Don't really use it on Windows 10 mobile anymore though.