Windows 10 Phone app will include Call Recorder feature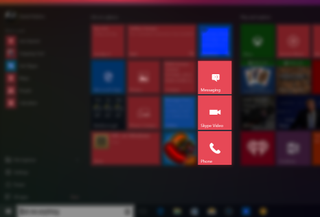 Windows 10 users will be able to record and play back any phone calls they receive or make with its Phone app. That's what the Windows Store listing for the app shows, which was found as part of this weekend's leaked Windows 10 build 10558 build.
The store listing says:
As we noted this weekend when the Phone app appeared with this build 10558 leak, it doesn't really do much at the moment, but the call recorder feature in the store listing will likely be added in a future version.
Thanks to @Sachin_990 for the tip!
Windows Central Newsletter
Get the best of Windows Central in your inbox, every day!
MS. Plz implement that in windows 10 mobile!! We will be glad...

That is what they meant..to introduce it on win10 phones

Windows tablets can finally have calling feature...

This is what we've been waiting for all along.

Requires consent? That's awkward. Why do that when I can just record the output from the headphone jack?

That's a privacy law thing in a lot of countries.

And some states in the U.S. (look up "one-party state vs. two-party state"). I suspect that it may make an announcement to both parties when the recording feature is activated. If the other party keeps talking after that, they have given implicit consent. If you need to be sneaky, keep using the headphone jack.

In Texas, it's a one-party state. If someone calls you from a two party state, which law applies I wonder.

If the NSA can do it, why can't I? Heh.

That's because you aren't a law enforcement or intelligence agency. Besides, they have guidelines to follow as well. They don't just track any and everyone they please.

Legality is better than feeling awkward.

You still need consent in order for it to hold up in court. Feel free to do it on your own all you want, but you can't really use it for anything legal related. Consent can be considered the person not hanging up though, so say "this call may be recorded" and if they don't hang up, you're good to go.

The real question how do you get the concent?

Might be just a legal thing. It doesn't actually ask for consent but legal made them add it so they have their ass covered. Also, if a call a company and they say the call may be recorded that counts as consent for you to record without telling them you are because they establish consent for you even in a 2 party state.

Would be funny if one user presses record button and on the receiving end a red flashing light on screen appears.

That is simple. By staying on the line and freely speaking is consent. To hang up is a rejection

because you don't want to go to jail. it's against the law in many states to record a conversation without informing the other party.

I'm so excited about this. If Microsoft make it possible to send texts via PC to phone it will definitely bring more people to Windows devices. This is just huge!

This... I need the ability to text from my PC!! I don't care about calling so much but would still be great...

Don't you need a cellular data to be able to text? Or just use Skype. It'll be integrated anyway

I'm guessing you need to have a windowsphone on the same account, then it'll just reroute it fit you (fingers crossed)

You can already text via email, you just can't receive a response.

This is what I was hoping for with what'sapp tuning win10 that you send and receive text with person using phone and PC using any phone to PC within the whatsapp

Dont know when will it truly be released, apart from beta that we always see.

Skype? Use a skype number and bam, give people your skype number.

I really miss this feature. Had this years ago in Nokia PC suite..

Just Hope so , as @BataBole said... That should be real... Then windows 10 Devices can beat the OX 10.10 and will be much famous.
Microsoft Please do something Great of all time.

Windows maket share always blow OS X out of the water. It's no comparison. Even in the case of Vista or Windows 8.0

I guess you guys are writing for people who don't have Windows 10 Mobile

Will it require you to say "this call may be recorded for quality assurance"?

Jeez, if that was the case I would use it simply because it's hilarious.

Awesome, we've been waiting for this.

Do they make fans? I thought that was mostly Dyson... =p

Now that's what im looking forward to.

Another highly requested feature coming in. Hurray!

Awesome!!! ( I can hear Hallelujah Hallelujah Ha-lle-luuuuuu-jah)

The current w10 build have smart dial facility... Am I missing something.

I'm not sure, but this was there in WP7, got removed in WP8, and again resurrected in W10M. Ah, glorious MS :)

Worries still remain. With just 2 or 3 new features in the upgraded OS(WinM10), I dont think it would make a difference. Something cutting edge is needed to make it sustain. Posted via the Windows Central App forvAndroidbon Windows 10 mobile

"Something cutting edge is needed to make it sustain."--- It's a lot 'cutting edge' already..... ===========

Vj bhai....yaar kyon desh ko badnaam kar rahe ho....international forum mein iss type se desh ka naam nahi lete....aap jo kar rahe ho voh personal hai.....but aapki baaton se log samjhenge saara desh tharki hai....comment ko pls edit kar do ya delete kar do.....

Translated: Vj, bro...why are you giving our country a bad name? You can't speak about your country this way on international forums. What you are saying may apply only to you personally, but others might think the entire country is loopy. Please edit your comment or delete it.
P.S. I'm only translating. I haven't the foggiest idea to whom he is speaking or which comment he's referring to.

I like this much. It would save some time while on the PC. Not having to pic your phone up to read or send. All done in house sort of speaking. Windows everywhere

Look forward to hopefully seeing this in detail tomorrow,including functions like the handoff feature in iOS hopefully (which I wasn't expecting until now) Also hopefully new builds for both PC and Mobile So we can try it out

Hope there's no beeps when you record.

Consent with an S, please. You copied it wrong, it was spellt right in the original text...

After How many thousands of build the w10m will stop showing LOADING SCREEN and open apps directly?

Whatever they can do to help us block calls and texts from spammers would be greatly appreaciated. They need to be blocked. No ring, no vibrate, no bluetooth broadcast, nothing. Oh, and don't send them to my voicemail either. So, I guess it needs to do a background answer and hang up. Or answer and play the beee Beee BEEE this number has been disconnected or is no longer in service message. Lets face it folks, this spammer thing is going to get worse and will not get better. Our phones need to have the smarts to deal with it.

Consent is not required to record in all states. Only in 12 states the including Washington state (all of those 12 states are blue states Maryland, Massachusetts, Connecticut, California, Nevada, Florida, New Hampshire, Washington state, Michigan, Pennsylvania, and Montana (requires notification only in that state) all of those states are ran and governed by Democrats. Benghazi anyone? Illinois used to be one of these but thanks to cop block the state supreme court brought freedom back to our phones.

Edit used to be 12 now just 11 un free states.

Hello I need your helping with getting Text Messaging from Windows 10 to Phones, how works, my Cortana does not show text messaging, how ?? Please help me with getting text messaging install into Windows 10! Will Windows Update - Text Messaging fixes on my Windows 10? Will Text Messaging enables using send and receive text messaging? Let me know, smile! Please let me know! SMILE! Thank you for our serious helping? Sincerely, David Johnson

when this feature will be included? I think when market value of phone will be lost, the company management will be active. In short i want to say that call recarder of good quality be added well in time lest the microsoft phones loose its value in market.