Windows 10 Mobile preview build 10136 now has a dark theme for its app store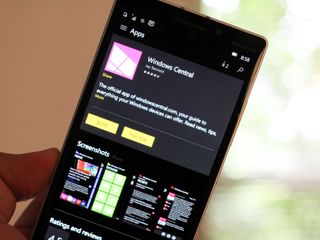 Microsoft continues to make changes to Windows 10 Mobile, even inside its own builds. The company released the latest version, build 10136, for Windows Insiders earlier this week and now the app store in that build has been updated to version 2015.5.29.1. The big change is a new dark theme for the store that appears to be the default.
The dark theme is certainly a big help in making images and logos pop out of the store. It's unknown if Microsoft will keep the theme as the default when Windows 10 Mobile launches officially sometime later this year.
Thanks to 12ColourPencils and Montpbm for the tips!
Windows Central Newsletter
Get the best of Windows Central in your inbox, every day!
C'mon he means hand on video of this build

I have to say this made me giggle "Of a static dark theme?"

Day: wasted; buggy on my 925; may work better on high-end...

Did you try a hard reset? If you do, then don't install from a back up post reset. That should make the phone usable.

Using it on Lumia 820 and it's hundred times better than last build. Enjoying using it at last. Search/Cortana now won't open, but all the rest is good. Still looking for a right swipe to be added. Would love a media centre to view music video photos etc etc

yup after a hard rest i am usin it as daily driver.

I don't know why so many people are reporting buggy build because here on Lumia 640, this is the MOST stable build ever. Though some apps fail to start or crash randomly, system apps work fine. The resolution fix seems to be implemented because my start screen looks so much better

My 925 won't make it past the lock screen

Yeah its horrible for the 925 for some reason.

Now if only outlook mail would adopt the dark theme...

Right... Really wish it did\does

Definitely, or at least the option for one

The one in wp8 had the option, I guess win10 one will also have it.

Does anyone else notice thay the tile resolution is lower on the 1520after windows 10 update?

Yes, also I can no longer get 4th column on the start screen on Lumia 640xl.

me to on the lumia 930 but i have 4th column

Sorry accidently reported ur comment
Yes tiles resolution have decreased i think its kinda nice ... How about the rest of the stuff ???
WhatsApp seems to crash along with many other apps.
I have to tap 2 -3 times to open an app sometimes
Didn't try the hard reset yet

The new version has 3g only 4g only for cellular data ;)

We also got Developer Option in the Settings.

I don't buddy, I want informations like these.
Thank You Yahia :D

Most wanted feature for me! I miss this option very much when visting my village. :) Thanks for the info! :D

U've got to be kidding me ! The 3G lock was the most important feature i ever wanted on my Lumia.

Dark theme is awesome, especially for AMOLED screens, because it saves power. Hopefully this is an indication of the dark theme coming back all around the OS.

Its everywhere else already. Edge and Settings both have default dark settings.

They are using grey-ish theme, for Cortana and Spartan, so the complete black feel won't be there even on AMOLED screens.

They have to be careful with the grey as it can look depressing, just like Office 2013. Black however is elegant looking.

Gave up, went back to 8.1 last night.

me too, still too slow and many bugs... i reported everything i found and revert back to 8.1... and a litle warning for ppl, when you and if you go back to 8.1 and try to update to 8.1 update2 with windows insider trick, you wont get update2, it updates straight to win10...

Not for the Icons though yet.

I waited for You guys. Read too many negative comments about the new build so I keep waiting. I hope the next release will be better because I really want to use the 10. Thank You keeping us updated!

now only if the store would work on all phones.

Looks good. Hope it looks good in clear black display.

I've just had updates for the Outlook apps too, and they're looking MUCH better. Design makes more sense, and they run better (on my shonky old 920). It's been a slow start on mobile but this latest build and the app updates (also for Onedrive, Music and Word and Excel previews) are now starting to look very promising. Still couldn't use the preview on a daily phone though, way too sluggish at the moment.

It's still not possible to switch between light and dark mode on the PC version, isn't it? I hope we'll still get that by RTM.

Do you mean on an app-by-app basis? Its possible to switch the theme by going into settings.

It is without any registry hacks? I must have missed that. I'll check it out, thanks.

Works with few apps..like store, Spartan, calculator, etc. Ctrl+T

Although not liking the grayish thing on the download bar!

Hahaha the most funny thing is that Microsoft ALWAYS take some feature that was available for years from us on WP and then when it comes back everyone gets excited!
I'm tired of this took-waiting-comeback game that MS love to do with their loyal fans!! This week I finally decided to install Windows 10 on my laptop and MS simply took the Brazilian Xbox Music and Video Store away from us!! There is no way to download, rent or buy music and videos here in Windows 10 besides from the website!!

"Hahaha the most funny thing is that Microsoft ALWAYS take some feature that was available for years from us on WP and then when it comes back everyone gets excited!
I'm tired of this took-waiting-comeback game that MS love to do with their loyal fans!!" Considering we are not even near RTM for the mobile version, this feature was never really gone in the first place.

Wich feature are you talking about? I'm saying general....

I'm talking about the feature I assumed you were talking about, which is the one this news story is about.

They are listening to feedback and showing some attention to detail whether you like the change or not. ​

Store UI looks better than 8.1..

So is this build any good?

For me, yes.. For others, no.. Hard reseting device fixed almost all the bugs for me.. L720

For me hard reset messed everything on my l720 Posted via the Windows Central App for Android

What probs are you facing?

yes, it's running very smoothly for me. A huge difference from Build 10080. I had issues with many apps when I first installed. Did a hard reset and reinstalled all my apps. Everything is working smoothly now. There are still some kinks, but I'm able to use it as my daily driver.

Having login issue in windows central app... Any fix for that?

Wait are they still letting us change this with background settings? So if I want white I can change it? Posted via the Windows Central App for Android

Yes, that is possible (just tested).

Thanks. :-) Posted via the Windows Central App for Android

Dark theme is what I like the most about Windows Phone. I wish the mail app also gets the option for dark theme. Dark theme is best at night.

I always use the dark theme. Seems to make the content afloat, especially with the curved screen.

Noticed it yesterday. Felt weird to update the Store in the Store

And how do I do that ? Posted via the Windows Central App for Android

They should put a feature which notifies when an app has been downloaded. Sometimes I forget that I was downloading the particular app

Windows Central app doesn't work well on Windows 10 Mobile by the way. For instance I cannot comment on articles from the app

Some people doesn't understand the state Windows 10 Mobile is in right now and what 'Technical Preview' means. Just love to hate and curse Microsoft for (supposing) delivering a half baked product when it in fact hasn't been delivered yet. Its you who cut the queue and voluntary throw yourself into this unfinished product.

Yeah totally agree with you......
Some time situation become so worst that, they even start to through their phone like hell anger they get.
I mean for example, my friend became soo iritate with technical preview that he refuse to buy any windows phone in future.
(even if it will 940)

Looks like he's exactly the kind of person that's not supposed to test pre-release software.

So where is he heading next? CyanogenMod nightly builds? God be with him on that one.

Does it finally show 'last updated' date? Jesus Christ. I think they hide these dates and numbers like number of downloads on purpose because they are low and the last update dates are way in the past with many apps. It would make the store look bad.

Is it a news for you ?!! W8.1 store has this also !

I know that's why it still sucks.

Who cares about a dark theme! This tp is so bad, its not even testable to provide feedback. That's why most everyone is going back to 8.1.

Are you using the technical preview? The updates also includes UI changes, and more functions added. Not just a dark theme.

ONE DRIVE APP HAS ALSO GOT THE DARK THEME :)

What about a new build for PC?

And a build 10080 insider user who didn't roll back to Wp8.1, sitting here like dumb and see articles about build 10136 T_T
(my pc is not working)

I had no choice but to roll back and installed build 10136. Once 10136 was released, 10080 becomes unusable for me. Both store and store beta not loading, many things became a mess. Now I'm glad I'm not 10136. A huge improvement from 10080.

Ohhh noh...
U make me more Jealous ~_~

Dark theme ftw!!!
This is what i like wp for :D

Lumia 535 is bug supported NO PHOTO NO IE .. DAMN IT..

Wish i would be able to send apps directly over bluetooth incase the device is not connected to the internet. Just like how we share exe files

Critical update for other devices (mine l620) rooling out now that fixes reboot issue. GO grab it now.

has anyone spotted startscreen landscape support and Cortana for Dutch language yet?

Still saying: "I'm afraid I'm not available to help in your region."

I always thought windows phone means dark theme. Why take it away at the first place?!

Had the Store dark theme the first time I installed this preview. Had to reformat because I couldn't download speech files for Cortana, though.
Second time around, updating the Store app to the version with dark theme broke the app. It wouldn't open anymore.
Maybe third time's the charm.

Same for me opened once more it won't open anymore really don't want to hard reset, anyone have any other ideas?

Same for me opened once more it won't open anymore really don't want to hard reset, anyone have any other ideas?

Love it! I hope they get rid of those outlines on the tiles, they look ugly... the rest looks hot!

They should include a transfer rate meter while downloading......

Nice! I posted in the forums about this yesterday. Guess i should have tipped!

If you are not seeing the updated store or dark theme make sure you install the Windows Insider app again on the phone. Made that mistake and the phone was not on the insider fast ring to get these updates. Once I installed and put the phone in the fast ring I did a search for updates for the phone and there was one that needed to be installed.

Thank you! I was about to reset the phone. My store beta version was still an April version.

I prefer textual content in white backgrounds

That started with word processors simulating printed pages. But monitors are transmittive, not reflective based displays. It increases eye strain/fatigue and reduces visual contrast. Also, darker based backgrounds can be used in bright full sun or in dark rooms.

The app store has the same design as blackberry word app store hmmm...

Microsoft need to do something about app updates,, in Google's play store app was updates with the limited and updated size upto which they want,,, in our store update=reinstall over ask size of app

Speaking of which.....
Ever Considering updating your App??
I mean come on so many bugs And problems
Missing features
Comments are shit comparing to the one on the site
#Update !

Yesterday, I checked out Windows 10 Mobile on my Lumia 925 for the first time, but I was really schocked about the bad performance. And with bad I mean really really bad. After touching a tile on the start screen it took about 3 seconds until it event starts to load the app. And then it took another 5-10 seconds until an app acutally showed up. Also I realized there are still many major bugs in the system (sometimes even the BACK-button was not working, ...). I thought the development progress of Windows 10 for Phone is way more further... The strange thing is that when I look at videos on YouTube, most of the previews look smooth, too. So is the performance issue maybe just related to some phones (such as the Lumia 925)? Or what would you say about the performance on your phone compared to Windows Phonw 8.1? Thank you :)

It's sooooo bad on the L925 for some reason. It sucks. I have the exact same problems even AFTER a hard reset and starting fresh. Hopefully it will run smoother on it in future builds.

This update is pure garbage... I reinstalled and rolled back 4 times in the past twenty four hours and still no store or music app... What the f*ck... Get your sh*t together with this random updates. Some people with 830 has it some dont

Unlucky... I rolled back to wp 8.1 and then straight to w10 10136... No problem at all, just bed to be patient due to the update screen hanging for nearly 10 min at the end (as told by Microsoft)... All good on my L1520... Looks and works great for a preview, far better than 10080... So far, only pb is with the windows map app no working...

So now it looks like a crappy dark version of the Play Store except with less color. Good job.

No change to colors at all. Just white background replaced with black. Which enhances color preception.

The less color comment was about the Play Store being more colorful.

So the Play Store is designed to appeal to children and this is more grown up?

Possibly but except replace more grown up with bland and boring.

I didn't get the dark theme.. Is it updated automatically or do i have to do something?

Hope they fixed the constant crashing

Build 10136 was better than the other efforts, but still unusable. Tried it for a couple of days then reverted back to 8.1. Once Windows 10 has been released, I will check out any new builds after July 29th. At least the team will be able to concentrate on finishing Windows 10 for mobile., because they have a pile of work to do....

Has anyone successfully gotten the W10Mobile Store app to actually search for updates? I haven't. I click the button and it just sits there like I did nothing. Of course, it's what I've come to expect from W10.

Don't do it! The new store updates are breaking apps with no way to fix.

Why the People hub has no more live tile

Has anyone managed to get the windows map app working on w10 10136???
On my L1520, it directed me to the store beta and then failed to download.
I had the same issue with skype, i uninstalled it and then back to the store for manual install... All sorted.
I can't do the same with the map app, won't uninstall...

I had the same problem with the Music app and I found that downloading from the old store got me the new Music Preview app.

Apps should adopt their default theme setting from the OS. Apps should be able to override the OS' default setting for their own purposes, but apps definately shouldn't have their own default. So far this new store app is barely functional and very much still in a state of development. The UI is somewhat similar to Netflix' browser UI, with categories organized vertically, where each categorie's content is scrolled through horizontally. The 'apps', 'games' and 'home' entries in the hamburger menu filter out some categories in the vertical list, where 'home' shows the unfiltered list. I'm not a fan of the horizontally scrolling app lists, and generally not sure this app will serve us any better in terms of surfacing interesting apps, but here's to hoping...

My phone is f**ked up, due to this build but its a preview so I'll tolerate. The main problem is that I did not let the migration process complete due to which I ended up in a funky state with a few of the new apps missing and a few new apps not opening.

Try a hard reset! You can accomplish that by dialing ##777##. My 1520 was a mess with no setting and worse. A hard reset brought it arround and it is now stable. Make sure when you do the hard reset you have wireless or data enabled. Otherwise you will end up badly again.


I have a problem on my 820. I downloaded fast ring update last night and this morning I can't open my phone because my lockscreen is stucked. Can anyone help me?

i have problems when update some apps like touch, display, glance, here drive and any other apps at store (beta). Anybody here have same problem with me? were there a way to fix this error?

Lets hope it doesn't have stupid UI as the current store

in my L720 Force Close please Help me..

We won't get official win 10 for mobile till next June or July. Cause it's Microsoft.

So... after update to W10, i have to make hard reset?

A dark theme because like 10080, it is a smelly ass POS! Cortana is broken. Windows Central is broken (probably because of no updates since 10-2014). Did 4 hard resets, and nothing. Went back to 8.1, and now Update 2 isn't even an option. Goes straight from 8.1 to 10. WTF!!!!

I can't see any option for a dark theme on the Store, on my newly upgraded build, and the default is still horrible white.

how do you get this build, im stuck on the preivous one and when i go to phone update it says upto date (fast windows insider)

Guys who have reverted to 8.1 plz tell me how to fix the recovery tool issue mine wont install tried all of this
1 run as admin
2 disable driver signature enforcement
3 manually downloading files from the links in the logfile