Windows 10 Mobile supports 'typing...' SMS message indicators on some carriers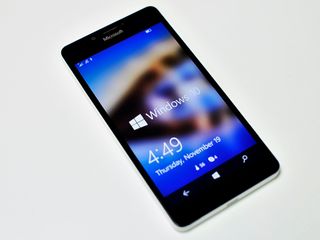 Update: Video added demonstrating the feature.
Windows 10 Mobile users on Vodafone in the UK can reportedly now see typing indicators on their SMS messages. Similar to WhatsApp and other messaging services like Apple's iMessage the feature lets users have a more real-time awareness of the chat partner's status.
The feature was first spotted by GMRtec. Their screenshot also shows a "Read" indicator to show the reception of the message has checked out the post, in a way similar to apps like Facebook Messenger and WhatsApp.
Interestingly, the 'Send on' option says "SMS Chat" instead of the default "SMS text". That change from 'chat' to 'text' indicates the new feature is enabled and lets the user know of the option.
Microsoft announced support for the feature some time ago and even their support page comments about the feature:
As mentioned above, this is a carrier-dependant feature.
In the US, both T-Mobile and AT&T have announced general support for the features described above and they fall under the category of "Advanced Messaging". Similar to Wi-Fi Calling the feature is specific to certain phones and requires carrier-approved firmware to enable the feature. From AT&T's support page:
Currently, only Samsung Android phones have the feature enabled on T-Mobile, and there is no indication yet if the Lumia 950 on AT&T will gain this feature. It is safe to assume that AT&T would need to have Advanced Messaging added to the Microsoft firmware, and this could be something holding up the firmware update on the Lumia 950. However, at this time, there is no confirmation if that is the case.
While it is perhaps unsurprising that Windows 10 Mobile supports Advanced Messaging it is unfortunate that users will still be at the mercy of carriers to enable the feature. For now, many of us will have to wait for Advanced Messaging to roll out to our respective countries and carriers. As of now, only Vodafone in the UK is known to have enabled this for Windows 10 Mobile devices.
Anyone else seeing the feature enabled on their phones? Let us know in comments including phone, carrier, and region!
Source: GMRtec; Thanks, Jragar, for the tip and video
Get the Windows Central Newsletter
All the latest news, reviews, and guides for Windows and Xbox diehards.