Windows 10 Mobile's March cumulative update now rolling out
March's Patch Tuesday update is now rolling out for Windows 10 Mobile.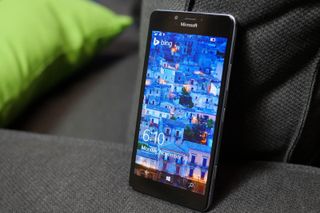 It may be lagging behind Microsoft's other Windows 10 updates, but March's Patch Tuesday update for Windows 10 Mobile is now rolling out.
Coming in at build number 15254.313, the update is listed as KB4090912 (opens in new tab) and includes a fix for a lingering issue with opening PDFs in Microsoft Edge. Additionally, all of the improvements Microsoft rolled out to Windows 10 version 1703 this month are also included. From the release notes:
This build includes all the improvements from KB4088782

(opens in new tab)

.
Addresses issue in which PDFs cannot be rendered in Microsoft Edge on Windows 10 Phones.
It's worth noting that this update also comes with a trio of known issues. Here's a look:
After taking a screenshot, the error, "Couldn't take screenshot" appears. However, the photo is saved.
In some photo-related apps, there is an error when saving photos.
In Lumia Creative Studio, recently taken photos will not appear in the Latest gallery.
For each issue, Microsoft says it is working on a resolution that will be included in a later release.
If you're using a Windows 10 Mobile device, you should be able to grab this latest cumulative update now.
Updated March 20, 2018: The March cumulative update is available for devices on the Creators update (Version 1703) (opens in new tab) and Anniversary Update (Version 1607) (opens in new tab) as well.
Dan Thorp-Lancaster is the former Editor-in-Chief of Windows Central. He began working with Windows Central, Android Central, and iMore as a news writer in 2014 and is obsessed with tech of all sorts. You can follow Dan on Twitter @DthorpL and Instagram @heyitsdtl.
Good to see the updates coming in still.

They'll still come until April 2019, lol.

No they won't. Windows 10 is the last version of Windows.
It won't stop.

Windows 10 Mobile is not Windows 10. Different operating systems, different code branches.

windows 10 mobile is a dead man walking. he's on the green mile.

Checking now on my Lumia 950 and my wife's idol.

Yes nice I actually just bought a 950 on eBay...gluten for punishment :)

I just did the same as a backup for my current. 950XL. I love this phone so much, I won't be without one.

I know. I'm the same way with bread despite my glutton allergy ...

but only 1 is a really an issue though 😏

Please it happens on all platforms

Thank god they fixed the problem with PDFs not opening in Edge as it's always set to the default PDF viewer on mobile

I wish they would fix the keyboard. It now obscures the message you are writing. Bizarre.

You must have dragged the keyboard. It is movable. Tap and hold the space bar for a while, then drag it to the bottom, it will pin to the bottom.

Probably a dumb question but can anyone tell me how to get the latest builds on my 1520?

Creators update and feature 2 are basically the same (with some enterprise features add for feature 2)
a registry hacks if you wanna get to the form creators update to feature2 branch

Awesome, thanks for the reply! I'll look into it, but it already runs very well so might just ride it out.

It a great article on how to do it at aawp (all about Windows Phone)

That is what i was going to say, http://allaboutwindowsphone.com/

I was going to suggest the method at http://allaboutwindowsphone.com/features/item/22769_2018_update_How_to_get_your_Lu.php but that won't do you much good since Microsoft recently killed the W10M Insiders programme. Try this one instead: http://allaboutwindowsphone.com/features/item/22816_How_to_2018_edition_Take_the_L.php

It's good for us 520, 640 and 950 !!!

How RS3 doing on the L520, lol?

Not seeing the update on my 950xl

Ditto. Same thing last update.

Make sure you're on production ring and not an insider

Got it on my 950 XL late last night.

I just got it on my 950... it can take a few days to roll out to all zones

Now, who says win10 mobile is dead!!!

Realistic people not being filled with MS's crap talking to the top.

They admin. Not realistic people.

Anyone who looks to target W10M with the newest UWP SDK.

It's quite dead, don't worry. It's only security updates. W10M doesn't receive any additional bug fixes.

You obviously didn't read the article.... It is all bug fixes....

What, the PDF thing they broke previously? Please.

Currently downloading on 650 although my new main device is moto G5S+ android 7.1.1

Maybe we should call it "Mobile Patch Thursday" :-)

Except it got delayed to Wednesday this time. Same last month.

Only 1 or 2 of the 5 of us still on Windows Mobile will appreciate this update. I am rocking a non-upgradable Lumia Icon, and only a small fraction of the non-upgradable Nokia owners went through the "interop" tools or "insider" to get the latest version. In fact, most probably didn't even upgrade their 8.1 devices, as you needed to go to the store, get an app, and do the "upgrade advisor". The abandoned devices and OS reminds me of late 2010, when enthusiasts started leaving the Windows Mobile 6.X forums, mostly for Android. At least then we had something new from Microsoft to look forward to: Windows Phone 7. Do we have anything now? Andromeda? When?

Downloading right now on my 950xl

So now the photos are broken. I mean come on, MSFT...

I'm not seeing that problem on my 950XL, and the pdf problem is fixed.

It would have been nice of they enabled the option "open with" so that we are not so dependent on edge and ADOBE ACROBAT READER can be used alternatively.

Everytime I open a pdf I get a choice, Microsoft edge or acrobat reader. Sounds like that behaviour has changed. My L930 is rocking the anniversary update.

Galaxy S8 running Android 8 Oreo is now my main phone after my Lumia 950 Single SIM decided to not support SIM cards anymore after 2 years and a half of daily usage (when a card is inserted, random shutdown occurs (no reboot, just instantly off). However, without the SIM card, it's running really well). That's a pity because I changed the battery just the month before (random shutdown of no juice between 20-30% and won't boot with anything less than empty battery logo, totally logical for a battery who had a daily charge (sometimes twice a day or only once but with Qi... High temperature after 30 minutes))... This update didn't change anything to the issue with SIM Card, even after hard reset and restauration of latest savings on OneDrive.

Hopefully your Samsung doesn't catch fire 🔥

I've had my GS7 for over two years, smartass.

Then go to crapdroid central

Then why are you trolling over here *********.

To pi$$ off you desperate pathetic fanbabies...

Do a reflash with Windows device recovery app and DO NOT restore settings. There was a bug awhile back the corrupted restores so this was likely what happened to you.

I hope NEVER TO have to go to Android or IOS. I'm looking forward to the full Win10 pocketable tablet with telephony. Win10 is by far the best interface for all device sizes. I want all of my devices to be the same. Only difference is size.

I have the same problem to my Lumia 950 XL. Unfortunately there is not a solution for this

I have the same problem, with random instant offs. I thought it was the battery, but come to find out it was SD card. This makes 3 Windows phones I had where the SD card became corrupted or affected performance. No more random shut offs.

Anybody who is on the Fast Ring and was able to download? I guess I have to wait a bit longer as it rolls.

Make sure you're on production ring and not an insider
You could switch then return after installing the update

On fast ring & downloading. Device: Lumia 550

Insider Rings for W10M don't work anymore.

They seem to for apps but you are correct. No more preview builds foe mobile.

had no problems in the release ring

Still not getting update on elite x3

I got it on my elite x3 earlier today, my location is Taiwan.

Windows 10 mobile is the most sexy phone OS on the planet . Hate those Icons on Droids and IOS . One bit of advice to Microsoft, don't kill 10 mobile , until you have something solid and tested to replace it

Keep some of the interface for the Andromeda device when in mobile form.

They killed WP8.1 when W10M still wasn't ready (it got truly usable only with RS1). Then they didn't really bother with RS2 and clearly there's no RS3 for W10M. Don't expect anything mobile related from Microsoft.

We WILL see a full Win10 pocketable tablet with telephony.

...and the moment it is on the crux of becoming successful, if it is a consumer device, Microsoft will kill it off, because they can't possibly allow themselves to be successful in the consumer space. Before you go saying but but Surface is successful!! Surface Hub = business. Surface Studio = professional designer/business. Surface tablets, book and laptop = majority business, a few enthusiasts. In Windows land Surface is a business tool used mostly by professionals with some enthusiasts out there rocking it as well. Anything pure consumer, won't be allowed to survive at Microsoft.

Too Late. It's already killed off!

Quite a big update. 1.14 gb to be exact.

Ah, that explains why it took a while to download!

Where on the phone can we see the size of this update?

It was only ~500 MB for me.

i Only got the Lumia creative bug 😀

After Droid W10 Mob makes you realise how good it is. Droid really is awful.!

After buying my sister an Iphone X, i took her Iphone 6S Plus and i used it for about a month. Windows 10 mobile spoiled me on UX. Never knew how important the smaller things are.

When MS decided to drop my 1020 I decided to drop windows mobile. Never knew how important the LARGER things were....Like Apps, accessories, etc were. Yep w10m was a great LOOKING OS, however, it was and is terrible performing, and having nothing to do with your phone only browse the web, MEH...NO THANKS.

Is this a regional based update cause here in South Africa I still haven't received the update

Same here in Malaysia . Takes time to be released worldwide i guess but is coming

Hello, fellow Malaysian here. I have just gotten the update.

Just getting it in Russia.

"For each issue, Microsoft says it is working on a resolution that will be included in a later release." Yeah, and it's working on a new bugs, too!! C'mon...

If they fix everything in a single update then they have nothing to do afterwards.. Hehe

Just finished the updates.. Malaysia here, still on insider...

This time, no patch update for RS2 on Lumia. 😕

I have not received latest tuesday update i have lumia 640 xl window 10 phone location delhi in india

Just installing it in Australia. Thanks for fixing the pdf problem. You don't realise how often you use something until it breaks.

I had forgotten about this update until I tried to open a pdf, which I rarely do on my phone. Woops.. Installed it and works great. And camera saves images so much faster now. Tks MS, still loving my 950!

Have to pause my insider Account to get the update.W10M is alive and kicking.

I Got it, version 1709 on My L950

Last 3 remaining users must be thrilled 😁

At least we aren't sheep's

Actually you are flybywire...you are a microsoft SHEEP. That comment just proved it. People who are not sheep are open to all platforms. Not just one and calling the other platform users names.

You are the one trolling a Microsoft site so go off to lagdroid central and have a circle jerk over there.

That's it Hoppman...enjoying Nadella's sh***? Did you put a sherry on it? Pathetic fanboys...

I don't use android. Good try though Hoppman...As I type this from my MICROSOFT WINDOWS 10 DELL COMPUTER. Wow...Lagdroid, so current with the burns.

Just switched over to an S9. Certainly has some innovations, the speakers are a sleeper feature. But it took...hours to get the phone to resemble my 950XL. Great phone, needs a camera button, bigger battery+removable battery. Heart rate sensor feels gimmicky.

Even dead we get more update than android or apple!!!!

Security updates without bug fixes or features don't mean jack. RS1 was the last worthwhile update to WP.