Here are some of the issues and bugs users are experiencing with the Windows 10 November update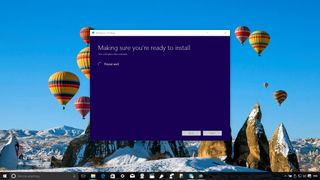 The first major update to the desktop version of Windows 10 is slowly reaching out to users, but not everyone is having a smooth upgrade. On November 12th, Microsoft finally pushed the button to release Windows 10 version 1511 on all supported regions.
The new version brings significant changes and a number of new features that are meant to fix and improve the operating system experience. Those who successfully upgraded will notice changes on the Start menu, and how Cortana now can handle missed call notifications and handwriting recognition to create reminders.
The Settings app also gets updated with a number of new features, such as the ability for users to install new apps on secondary or external drivers, new default printer manager, new personalization options, and the ability to configure a new feature to enable you to find your device if it ever gets lost.
Microsoft Edge received much-needed performance and security improvements, and the operating system includes a number of fixes and changes under-the-hood that makes version 1511 a great upgrade.
However, even though the changes are significant, not everyone is having the best upgrade experience, and many users have been reporting a number of issues and bugs during and after the upgrade. As such in today's article, we're going to go through some of the issues that are currently concerning customers and how you can avoid or fix a few of these issues.
Windows 10 November update bugs and issues
Installation problems
While not everyone is experiencing the same issues, one of the most common problems we're seeing are related getting the update.
For example, some users reported that they can see the November update is available to them, but the installation will just get stuck. An error will occur, and after rebooting, the computer will display it's up to date even though it's still running the original version of Windows 10.
It could also happen that during the upgrade process. Your computer will get stuck, and a black screen will force you to hard-reboot, therefore sabotaging the upgrade, rolling your computer back to the previous version.
Or the November update installation through Windows Update will simply fail, and then no update will appear to retry the installation.
We also have previously reported that there is a known bug that is causing the installation to stop responding at 44 percent. According to the company, some devices may experience this issue if they have an SD card inserted during the upgrade -- Simply, removing the SD card during the installation process fixes the issue.
It's worth noting that many other users have been complaining because they haven't received the update, but because Microsoft is rolling out Windows 10 version 1511 over time. It will take some time for the update to reach everyone. Also, people who have recently upgraded to Windows 10 will notice that it will take a little longer to receive the update. This behavior is intentional to allow users on the 31-day trial to be able to roll back to their previous version if they are not satisfied with the upgrade.
Driver problems
Another area where users seem to have problems is with graphics drivers. Many users, including myself, upgrading to Windows 10 version 1511 will continue to experience graphics driver crashes even though the latest drivers were installed.
After the computer stops responding for a few seconds, the display will start to flick, and a toast notification will popup saying "Display driver stopped responding and has recovered." If this happened once in a while, it might not be a big deal, but when you rely upon your computer to be productive, it can get a little annoying to see the same issue three-to-five times a day.
A similar issue has been reported happening on Surface Pro 3, Surface Pro2, and many other devices.
Here are a few reactions from users:
Also, in some cases, hardware will just stop working, and it will require drivers to be reinstalled. This could be a problem with Windows 10 version 1511 as well, as some reports point out that the new update replaces previously manually installed drivers with default drivers after the upgrade.
Settings and apps problems
Some people have also been complaining about previous settings getting reset or lost after the upgrade.
For example, some users had noted that after installing Windows 10 version 1511, their "Documents" folder location gets redirected to OneDrive, and trying to restore the default location to the local drive will not work.
There have been also cases where the November update resets all the default programs and other settings.
Some users have noticed the NVidia driver settings reset to defaults too.
Furthermore, in some scenarios, the update reinstalls previously removed apps, or it will uninstall apps without prompting the end user.
For example, Reddit user XBrav points out: "After upgrading to 10586, this notice was concerning. App wasn't installed through the App Store, yet Windows removed it without prompting me."
Another user experienced that the November update removed the CPU-Z app without proper prompting.
On Reddit, user lucuma says: "Just upgraded and Windows removed my Cisco VPN program. Now I can't connect to clients and my network. A very poor experience."
"Also TH2 automatically installed apps like OneDrive, XBox, People etc... I uninstalled them when I upgraded to Win10. Now I had to remove them again using Powershell." -- says topna on Reddit.
Additional Windows 10 version 1511 concerns
Then we have other isolated issues, such as:
Prevention and possible solutions
We can't stress this enough. Anytime you're about to make a major change in your computer, always make sure to create a full backup. A copy of your entire system would ensure that you can go back to the last good configuration if something were to go wrong.
It doesn't take too much time, and it will save you a lot of headaches. If you need help, refer to this previous guide to perform a full backup of Windows 10.
It's been noted that some peripherals may prevent the upgrade to succeed, as such once you have a way to recover, and you're ready to upgrade, disconnect unnecessary peripherals. You only need a keyboard and mouse, network connection, and monitor, after the upgrade you can reconnect all your peripherals again.
Make note of your default apps by going to Settings > Default apps, and remember that you can check more settings by clicking the Choose default apps by file type and Choose default apps by protocol.
Also, you may want to check your privacy settings by going to Settings > Privacy, noting your custom options, and after the upgrade, come back to settings and double-check none of the settings have lost.
Although, you shouldn't have to worry about your installed apps, it seems that for some compatibility reasons, the Windows 10 November update may choose to remove certain apps during the upgrade. As such, do your research to check if those must-have applications are compatible with the latest version of the operating system before the upgrade. It's important to note that the chances for you to come across this issue are very slim, but it'll be a big problem if it continues to happen.
While it's always very important to have running security software to protect your system, often a firewall or antivirus software may be the cause of a failure during an upgrade. As such, when possible try to disable your antivirus, firewall, or other security software before the upgrade begins.
If you're running Microsoft's free antivirus, you can go to Settings > Update & security > Windows Defender, and turn off the Real-time protection option to disable the antivirus.
If you're using the Windows built-in firewall, you can go to Control Panel > All Control Panel Items > Windows Firewall > Customize Settings to turn off the "Windows Firewall".
Remember to return to Control Panel after the upgrade to re-enable your antivirus and firewall.
To avoid stumbling upon the BitLocker issue, you may want to enable encryption before the upgrade, while you're in Windows 10 build 10240, and then perform the upgrade.
In case that after the upgrade you can no longer enable Windows Defender, you could try to modify the registry to get it working again.
Simply open the Windows registry and navigate through the following path: HKEY_LOCAL_MACHINE\SOFTWARE\Policies\Microsoft\Windows Defender.
Inside Windows Defender right-click anywhere, select NEW, Key, and choose DWORD.
Name the DWORD: DisableAntiSpyware.
Double-click DisableAntiSypeware and make sure the value is set to 0, which means it's enabled -- 1 means it's disabled.
If after the update a peripheral isn't working or it's acting up, the first thing you want to do is open Device Manager, expand the device in question, right-click on it, select Properties, and navigate to the Driver tab. Make sure you're running the latest driver for that particular device.
If it's not, click the Update Driver button to see if an update is available for download. Alternatively, you'll need to search if the manufacturer offers a driver update for its device.
Wrapping things up
Today, we have listed some issues that many people are currently experiencing, during and after, the upgrade to Windows 10 version 1511. While the majority of them are not big issues affecting everyone, it seems to be that the new version of the operating system has various isolated small problems that Microsoft has yet to address.
Throughout the research on the Windows Central forums, Reddit, Microsoft forums, and around the web, I have come across a vast number concerns from people and the majority of the problems always came down to upgrade, drivers, apps, and settings.
In my upgrade experience, I have come across various issues, such as graphics driver and settings problems, but the upgrade did more good than bad to my system.
Again, it's important to note that not everyone is experiencing the same issues, but you need to be aware that there is a slight chance you might come across some of them, but hopefully our workarounds and information will prepare you to successfully move to the latest version.
If you haven't yet received the new version, perhaps there is a reason. Maybe there is an issue that needs to be fixed before version 1511 is compatible with your installation. As such, waiting until the upgrade is ready through the Windows Update could be your best strategy. If you have done the upgrade by other means, you can always stop by the Windows Central forums to get help.
More Resources
If you want to see more how-to for Windows 10, make sure you check the following resources too:
Windows 10 help, tips, and tricks
Have you upgraded to the new version of Windows 10? Did you have any issues? Let us know what you think and experience in the comments below.
Mauro Huculak is technical writer for WindowsCentral.com. His primary focus is to write comprehensive how-tos to help users get the most out of Windows 10 and its many related technologies. He has an IT background with professional certifications from Microsoft, Cisco, and CompTIA, and he's a recognized member of the Microsoft MVP community.
Nothing is always perfect in life. Well done MS

Sure, but this is EXACTLY why people complained about the semi-forced updates. If Microsoft is serious about this "software as a service" model, they need to get on top of their QA issues ASAP. I'm not sure what changed internally after Ballmer left, but quality across the board has been notably worse. Satya -- whatever you guys are doing is not working.

Seems that way. But now Satya has people by the balls and isn't afraid to give a good hard squeeze every so often to remind us whos really in charge.

Many of the QA people had been let go. So it doesn't surprise me at all. The problems aren't Windows 10 specific either, the newer Updates for Windows 7 and Windows 8.1 also introduced a couple of new bugs.

On the other hand all of Microsoft's apps updated

Agreed...I decided to upgrade to a new Surface Pro 4 and I am met with the video driver crashes and "phantom" clicks on my screen all the time.

Seriously, I would sack the QA teams who are doing shonky jobs. Well done MS.

They've laid off a load already.

They've outsourced QA to us.

I guess we should also blame the insiders too then...

Thats like shooting the mesenger... Lol

That's part of the problem. There were layoffs in part of QA/Testing teams...

Yeah, many of the people included in layoffs are part of QA and Testing teams, ever since then the quality of their software suddenly gets worse. Sure bugs and issues do happen even before but as I remember which not that long ago, Windows 8.X, Windows 7 issues aren't that bad and the issues are not as diverse as in Windows 10. I actually not just in Windows 10, this applies also on W10M and their apps. Fortunately, other big products such as Office on desktop didn't have that much issue or not at all as far as I remember. About the Insider, well we cant blame much on the Insiders since most of us cant test and check any possible issues since we dont really use tools for testing. Insiders only rely on real-world experience and just normally using it. Thus many bugs still remain without Insiders noticing whether it's visible or not. Some bugs left unreported even some Insiders detected it, relying on faith that Microsoft will fix it and because of the mentality that "Its not finished" and "it's expected". Insider program is inefficient or ineffective when it comes to these kind of issues especially that are small. Insider program is only good for feature request, feedbacks on certain things and reporting only for all visible issues. This is where their QA comes in and Microsoft still have one, but they laid off alot of them and who knows that maybe number of them are actually great QA member that are not in the team anymore. With this softwares that are so complex and serving different kinds of machines and users, it seems QA team has to be really big.

They did, alot of them, but it became worse these days ever since they sacked tons of their QA teams by random. Who knows that maybe number of senior and competent ones are sacked.

It's funny because none of the computers I've upgraded to had any issues at all. And those who experienced problems had some sort of crap adware/malware in the computer, not to mention extremely outdated bios and drivers.
Most people don't have a good antivirus or don't know how to use it or even properly setup. Besides, most people never do any maintenance to their computers, and then they expect all to be smooth.
Even worse, lots of people have really old hardware, and then they pretend Windows 10 to work nicely on their computers.
In the end, most people will blame Microsoft due to their ignorance, but they forget (or don't know) that their computer manufacturers are also to blame.
Look at HP or Acer! They have some of the worst support to their own products. In fact, if you go to HP's support website, most products (if not all) will say "Windows 10 drivers MAY be available through Windows update". That right there tells you how mediocre and careless their support is.
At least companies like DELL or ASUS let you know if the product has been tested or not for Windows 10.
But the bottom line is: Most people don't even check or know what they have, and think that just because you have an eligible Windows 7/8 license, they will run Windows 10 just as well.
And theeen they blame and complain to Microsoft for something that was their own fault.

My Dell Venue 11 Pro was stock and factory reset, and it has lots of problems. The worst is the random reboots that happen without warning right in the middle of me using the device. All unsaved information is lost. The only non-stock program installed on it is MS Excel. That's a one year old tablet with all the latest drivers. The lack of stability and lack of consistency throughout both the desktop and mobile versions of the OS make them feel very much like a work in progress. Even dark theme and light theme are half done, half implemented and are very inconsistent. This must be a load of fun for developers wanting to make universal apps.

I had no issues with downloading and updating. After using it for more than a week, I haven't came across any issues. Except for reinstalling drivers for my touch pad.

I have a Dell XPS 15. It is compatible, but the updates from Microsoft have messed up several things on my computer, most noticeably the graphics drivers. But also apps that speed up my SSDs, and my preferences for what files open with what were reset. I'm pretty aware of what's going on in my computer, I'm a developer and have been using computers for over 25 years. I had my computer set up *exactly* how I wanted it, after troubleshooting a few issues that came up with the original Windows 10 update. There was no option to *not* install the updates, just when to reboot. At which point the computer, during both of the recent updates, was partially broken. I'm going to ***** and complain because it IS Micro$oft's fault.

Were you able to fix the graphic driver error? I tried rocking 2 screens. 1 hooked up to the mini display port and one to the HDMI and it kept doing the noise that you get inserting and taking out a sub and it wouldn't show the mini display port monitor. This was probably back in October when I updated to Windows 10. I presently am back to 8.1 till I know it's been fixed.

Nothing is always perfect in life, yet in the same breadth the ones who acknowlege that strive to improve upon their failures instead of progressing the failures they've already made. There is a certain level of professionalism and quality control that one expects from a company such as microsoft. Between these issues and the fact that each update is giving the end user less and less actual control of the operating system, it seems they're making every wrong decision at every turn.

My problem - OneDrive will randomly crash and restart.

This way at least it triggers a refresh. no way to trigger a refresh on this bloody client. come up from sleep and this client can stay unsynced for hours before doing anything

True when my project group and I discussed cloud storage OneDrive wasn't an option at all.

still havent been able to download it for all my systems

I have it on two computers but the update isn't showing up for another. Now that they removed the iso, I don't have a way to get it.

I rolled back because of the driver issue, i contacted Microsoft but they didnt get it, maybe i didnt know how to explain, its the gpus driver of nvidea after the windows 10 ready driver, that