Windows 10 PC build 16193 and Mobile build 15213 heading out to Fast ring Insiders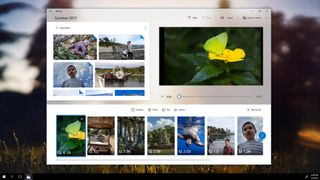 Build 2017 may be in full effect, but that's not stopping Microsoft from launching a pair of new builds to Windows Insiders on the Fast ring. Rolling out now are builds 16193 for Windows 10 PC and 15213 for Mobile. Each brings a whole load of changes and improvements, and PC users, in particular, are getting their first crack at the new Windows Story Remix app (an evolution of the Photos app) that was shown off during the Build day two keynote.
What's new for PC
Tell your story your way: Today at Build we unveiled a big update coming to the Windows 10 Creators Update and the Windows 10 Fall Creators Update. Story Remix is an evolution of the Photos app that makes it easier than ever to relive your memories and introduces video story creation from your photos and videos. Windows Insiders will be the first to try out many of the new features demonstrated today – with more to come!
Videos made easy: Story Remix uses its understanding of your content to find collections of content most relevant to you and automatically brings it together into video stories – each with a soundtrack, theme, and transitions. You can keep these suggested video stories to enjoy and share, remix them with just a click of a button, or edit them yourself in story editor to get it just right. Anyone can get started creating great videos with the help of Story Remix.
Search: Story Remix uses deep learning and AI to automatically tag your content. Now you can search by people, places or things to easily find specific photos in your ever-growing collection so that you can view, edit or create a story.
Updated UX: The Story Remix app now includes elements of Fluent Design like connected animations, conscious scrollbars, and acrylic. The Explore page is the hub for your entire collection of photos and videos, where you can view your content in three different sizes – small, medium, and large. The Create page is the jumping off point for creating new stories.
Discovery bar: The new discovery bar gives you quick access to delight and common tasks, making it easy to create a new story, see stories we've created for you, and discover your past memories of people, places, and things.
Share your stories: Upload your video stories quickly to YouTube and Facebook, or share them easily via email or via OneDrive.
Power Throttling Update: Starting with Build 16193, the Task Manager column name has changed from "Background Moderated" to "Power Throttling". For more information on Power Throttling, read this blog post here.
Individually controlling the volume of your UWP apps: We've updated the Volume Mixer to now include UWP apps (like Microsoft Edge, or Groove Music), so you can set their volume without impacting the overall system volume. Appreciate everyone who's shared feedback requesting this, let us know what you'd like to see next! Note: UWP apps will only appear in the Volume Mixer once they start playing sound. To open the Volume Mixer, right-click on the speaker icon in the taskbar.
Changes, improvements and fixes for PC:
PC Reset via Settings > Update & security > Recovery works again on non-English Insider Preview builds.
Navigating to Settings > Personalization > Lock screen should no longer crash Settings app.
We fixed an issue where Settings would crash on launch for Insiders using certain display languages, including Russian, French, Polish and Korean. If you were impacted by this on Build 16188, that means you won't be able to open Windows Update to check for updates. However, your PC will download the new build in the background. Once the build is downloaded and staged, your device should automatically restart to install it when idle and outside of your configured active hours. Or you could go to Start and Power and choose to Update and Restart to install the build.
We fixed the issue causing XAML designers in Visual Studio and Blend for Visual Studio to show an exception when a XAML file from a Universal Windows Platform project is opened.
We fixed an issue resulting in some fonts not rendering properly in Greek or other single-byte system locales such as Hebrew or Arabic.
We fixed an issue where the "clear all" button in Action Center wouldn't work if a notification had been expanded. You can now use Ctrl + Win + N to directly open Narrator Settings.
We fixed an issue where the Windows Store App Troubleshooter was erroneously showing the message "Not Fixed" instead of "Fixed" after following the steps to troubleshoot the error "Windows Store cache may be damaged".
We fixed an issue from recent flights that could lead to the PC no longer recognizing any USB device until the USB Root Hub had been disabled and re-enabled in Device Manager.
Changes, improvements, and fixes for Mobile:
We fixed an issue where the Battery Settings page caused the device to become unresponsive and appear to have hung.
We fixed a general issue where certain background tasks were being incorrectly starved under resource contention. This issue would impact music and video playback.
Under low memory conditions, additional app launches will cause the OS to run out-of-memory and the device will restart unexpectedly to recover. This fix detects the condition and blocks app launches until memory is freed up.
We fixed an issue with Microsoft Edge which prevented the phone from entering Connected Standby which caused battery drain.
We fixed an issue where the word auto-correction service would crash.
We fixed 2 issues causing the device screen to stay off when unplugging from the Continuum dock after screen has timed out normally requiring the device to be rebooted to recover.
We fixed an issue with the Notifications Settings page which made the UI appear unresponsive.
We fixed an Enterprise MDM issue where the policy could hide all pages except the Work Access page.
That's all for what's new, changed and fixed. For a complete look at known issues in these builds, check out Microsoft's full blog post.
Dan Thorp-Lancaster is the Editor in Chief for Windows Central. He began working with Windows Central as a news writer in 2014 and is obsessed with tech of all sorts. You can follow Dan on Twitter @DthorpL and Instagram @heyitsdtl. Got a hot tip? Send it to daniel.thorp-lancaster@futurenet.com.
happening now 👍 downloading

UWP APPS NOW HAVE MIXER CONTROLS!? YES! You have no idea how long I've been requesting this! Thank you Microsoft and yes I'm super excited about all the other new features and fixes.

EarTrumpet has done this for ages, and with a better UX. :)

And apps appear in it when they're loaded, not only when they start playing sound. And EarTrumpet also deals with store apps that are not UWP.

My feelings exactly... I'm kinda hoping this comes to Xbox at some point too... I'm a little sick of cranking up my volume from 30-35 on my audio system all the way up to 50 whenever I pop in a movie and watch it through the Blu-ray player. And then I forget I had cranked it up and when I say Watch TV, I make my little baby cry.

Thats how you do it Microsoft! Nice

thumbs up for German speaking guy

I can't believe it UWP Audio Mixer

So, how do I get this when I can't access setting due to build 16188's bug???

I heard on Twitter that ISOs are available as well

Cut and pasted directly from the article: "We fixed an issue where Settings would crash on launch for Insiders using certain display languages, including Russian, French, Polish and Korean. If you were impacted by this on Build 16188, that means you won't be able to open Windows Update to check for updates. However, your PC will download the new build in the background. Once the build is downloaded and staged, your device should automatically restart to install it when idle and outside of your configured active hours. Or you could go to Start and Power and choose to Update and Restart to install the build."

Yay! 😍 FDS, Volume mixer,.. Happy 😊

Much improvments and bugs fixes for mobile,no new features but nice to see more improvments.I want stability from windows phone 8.1

Great improvements, still waiting for them to fix File Explorer libraries...

Mobiles list is gettin smaller and smaller

Actually quite long if you ask me...

we have a list , that itself matters

It's like getting an "how's your day" text from someone you really want to date, but they've been blowing you off.

And all we're getting are fixes. No new features.

Yep, biggest list for a considerable while

As the Windows Insider team explained a couple weeks ago, (Windows 10 Mobile recently got its own "feature2" fork, which is a temporary measure to let the team do some OneCore work on the main OS. As a result, Windows 10 is getting all the love right now but Windows 10 Mobile will rejoin the main Redstone 3 development branch at some point.) WHY OH WHY DO PEOPLE NOT LISTEN to statements out of Microsoft and instead listen to gibberish in these threads?

Well said! People who refuse to read and/or listen probably shouldn't be in the Insider program to begin with.

It must be nice to believe their reason.

Its not a "reason" Michael its a simple statement, but "simple" people do not seem to get a simple statement. Ironic.

I'm the simple person for actually thinking through and not buying any and everything I'm told? Okay there. Have fun just eating whatever crap they give you.

Ok sweetie live in your world of Trump fake news, it seems to work on some.

Trump has nothing to do with it. I will believe that Microsoft isn't abandoning mobile when I see it. They already abandoned all of the Windows Phone 8.1 users after abandoning all Windows Phone 7 users.

That was a reference to the stupidity that happens when fake news rules, but i understand you dont get that. Yeah, like Apple and Android have abandoned every single old OS. Dude your now way off topic and just trolling. Yes endlessly commenting on another persons comment is the very definition of trolling. Make whatever comments you like in the main thread, not my comment thread.

A) You don't own this comment thread B) Apple abandoned an OS and gave people the ability to update. Microsoft abandoned users. People who bought a phone in 2014 have been abandoned. Not even Apple does that. C) This is in topic, pointing out Microsoft and mobile ends with people on an abandoned platform and that they're likely going to to it again and all of us (myself included) are going to have to get over that idea.

Wait, Trump is fake news? Good news indeed, for a second I thought that buffoon was running the country.

Its like 3 times as long as the last build...

Should i w8 fro the slow ring or get to fast ring XD

Considering that they released ISOs, I imagine that it'll be in the slow ring very, very soon (usually ISO and slow ring is within a day of each other).

"We fixed a general issue where certain background tasks were being incorrectly starved under resource contention. This issue would impact music and video playback." I hope this fixes the Bluetooth playback issues that sometimes happen when connecting to wifi, opening Facebook, etc..

I kept having issues at the gym while I tried to watch a video and the wifi at the gym would connect and disconnect (gym wifi proble, not phone problem) and the sound would drop out on my headset. I thought it was VLC player acting up lol.

I was going to ask, how stable is fast ring on desktop now?

I would not say it's very very stable. But it's very easy to live with. My daily driver PC is on Fast ring. I love getting new features fast. There's no such critical issues as we were getting in earlier AU builds.

Is the project neon design on fast ring now?

Elements of Neon have been available in all rings (including public release, I believe?) for some time. What exactly are you asking?

I was wondering if I sign up for fast ring will I get the new design for windows 10, inlcuding the cool new animations for things, etc they showed today? And how buggy is the fast ring steup....OH, can I revert back to non insider build if it goes bad?

I have the update installed now but where is the Story Remix? There's no new App and the photos app is still the same

Try reopening Photos app again. Mine only showed the updated app after doing so.

doesn't work. I even reset the whole app in the settings.

Installing for my Nokia 920 😜

Did you do the registry hack?

Doing the same on my 1320 and 1520!

Fingers crossed it addresses the insane amount of reboots my 950xl has been experiencing over recent builds.

Too bad my Lumia 930 doesn't get any more updates. Hate it, that they just cleared it from the list, while with each Redstone release, it got better ☹

Edit your registry - pretty sure there is a how-to in the forums, else check Google/Bing for a walk-through. Any device can be spoofed for a valid "supported" device and receive the updates. However, this would be entirely at your own risk.

what does the 1020 work like when it's spoofed? anyone using one?

Works great. No issues. Spoofed as a 950xl.

Correct! I did it with my 1520 and my 1320. Both run fantastically on fast ring.

Nice. All i need now is a icon on top line to show VPN status

The latest update on Fast Ring bricked my Lumia 735 in India today. It was 15063.210 before today but the new one I recd today, 15063.297, bricked my phone. Many apps stuck on loading and I just had to hard reset. Did not reload older setups and began from scratch. File number is 15063. 297 only. No way to go back.No improvement. Google search and Whatsapp still not loading . Will have to go and ask for a complete format tomm at the old Nokia Care. Hopefully I will get 14393.xxx. My hunch days the 15063.210 was brilliant. The 15063.297 ruined everything.

use the windows device recovery tool...

People in the insider program should always have the recovery tool installed on their PC

I'm worried about my Lumua 550 that Microsoft may stop releasing builds to this phone after Redstone 3 because I noticed most of the apps like Groove Music, myTube Beta and the whole system wont work as smooth as the Lumia 950/950XL or Lumia 930. I hope that Microsoft won't decrease the availability of Windows 10 Mobile just like in Android Beta Program which has only 3 devices to run Android Oreo. I just wish that some day Windows Mobile and PC would take over the market.

Any USB Audio Class 2 support for W10M yet? Asking for a friend.

don't quote me on it but I have a vague memory that it was mentioned in release notes many months ago...

I think there is native support for it now on desktop Windows 10. But sadly W10M is still missing it. I will need to check with 950XL and Chord Mojo to be sure.
http://www.gadgetguy.com.au/confirmed-windows-10-now-supports-usb-audio-class-2-0/

Notifications settings page (mobile) finally updated. Now it loads much faster. Thank you

Installing on my Lumia 1520 :)

I did the same. Running good so far.

Just finished installing, the Windows Store disappeared :S. Time to do a reset?

"We fixed an issue with the Notifications Settings page which made the UI appear unresponsive."
YEEEEEESS!!! FINALLY!!!

Why are you so happy about it

Just updated my Surface Pro 4 to build 16193 and guess what... there seems to be no preview of Story Remix. The photos app is still the same as previous. Expected the Photos app to include the Story Remix preview. Anyone else seen Story Remix yet? Are we expecting an update to the Photos app via the Store?

Works great both on 950 XL and HP EX3. Very nice update.

SO happy that that the UWP apps have indvidual volume control now! Not sure why it wasn't there earlier, but glad it's here now

Well....I do not see any difference in the fast ring and release. project neon, no new video maker...etc.

I followed a Spanish language YouTube video to spoof the registry on my 1520. I've gotten every Insider Fast Ring update so far and no problems have emerged. I just checked and there are lots more videos in English available. It's not that hard to do.

Now waiting for the next build for to fix app's resuming/loading problem. Especially sometimes it's impossible to start Telegram or Spotify apps. Like WeChat. Apps loading times need a serious improvement for Windows 10 Mobile.

ANyone get the new video app? I don't...anyone?

OMG! Does the new mobile update resolve the CONSTANT crashing of the OS? Also, is anyone else experiencing the same issue, where the screen on your phone just blacks out, and only a soft reset will make it work again?

Did anyone experience slow boot or stuck on Surface boot logo?

Anyone else having ridiculous battery drain on this mobile build? Went from 80% to 30% in 3 hours. Phone was hot. Using a 950xl

Do NOT do this...I never got any benifit......and when I reverted, it cleaned my DRIVE.

i have also facing this problem in Lumia 650

Battery charging take 5 hours and drain very fast , is this update very bad. My Mobile Lumia 650 is heath very much.

Microsoft edge is hanging oftenly,

Windows Phone OS still under beta..! Any new Update having bugs ..testing testing and testing! Mixed up in which direction! They want to reach ! If not consumers and not to compate others competiters for get it ..wasting time and money 💵.

Anyone experienced Continuum not working properly in the latest build? My Lumia 950XL only passed the video but not the Audio. Thanks.

Updated to 15213 on my 920 and phone seems to be working faster than last official W10 Build, almost like 8.1. I'm worried though about those battery drain comments, gotta see in a few days.

Store problem's again I can't even install or update

I dont got any of this update

I dont got any of this update
Windows Central Newsletter
Get the best of Windows Central in in your inbox, every day!
Thank you for signing up to Windows Central. You will receive a verification email shortly.
There was a problem. Please refresh the page and try again.