The first Windows 10 Redstone 2 ISO files are now available to download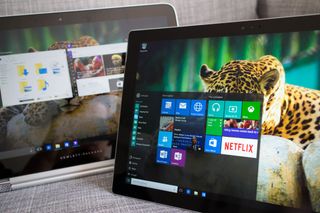 Microsoft has released the full ISO files for the Windows 10 PC Insider preview build 14931 that was sent out today for members of the Slow ring. These are the first Windows 10 ISO files that have been released since the big Anniversary Update and are the first with features for the forthcoming "Redstone 2" Windows 10 update that is due later in 2017.
The Microsoft Windows 10 Insider Preview ISO site lets you pick the OS version that you currently use. Here are the versions available for download:
Windows 10 Insider Preview - Build 14931
Windows 10 Insider Preview Enterprise - Build 14931
Windows 10 Insider Preview Education - Build 14931
Windows 10 Insider Preview Home Single Language - Build 14931
Windows 10 Insider Preview Home China - Build 14931
Keep in mind that you have to be a member of the Windows Insider Program to download these ISO files and the PC itself needs to have been previously activated with Windows 10 or with a Windows 10 product key. After you download the file, you can transfer it to a USB flash drive or DVD and then boot your PC from that location to perform a clean install of the Windows 10 Insider preview build 14931.
Download Windows 10 PC Insider preview build 14931 ISO files (opens in new tab)
Windows Central Newsletter
Get the best of Windows Central in in your inbox, every day!
Aw fantastic! I have a laptop in the Insider program that has some broken system fonts and even after updating to a new build, it didn't fix it. Having the ISO will give me a few more recovery options to make it work properly again without resetting (I really, really don't want to do that).

You can do a 5 min refresh. You don't need an ISO for that.

I know what option you're talking about... that did not fix the problem... It's a really rare, bizarre issue, where all text areas all appear as big fat rectangular blobs on the lock screen, the Start Menu, Action Center, and all UWP apps (including Settings... OMFG, right?). A handful of people have reported it through the feedback hub and I sent lots of debug info, but it's still not resolved (yet). The main problem is that something in the SxS folder got corrupted. And the current known issue preventing sfc from scanning beyond 20% is not helping any. ;-) Anyway, I have some experience doing some low-level Windows "surgery", so I've been waiting for an ISO to become available so I have the files I need.

I'm an insider, but its way too early. This version is going to be seriously broken.

That's kind of the purpose of the insider program though, isn't it? to find all the broken pieces?

Very true, but this early of a stage is definitely not recommended for your primary machines.

I saw a firmware update article pop up and vanish for surface 3 and pro 3/4. Was it a mistake or a glitch? Too early for WC to post it?

I'm wondering the same thing.

If I have a pc that is running the education version (on latest insider build), can I use one of these iso's to get out of the education build and onto home version?

Yup, seemed pretty sure. Try it out, not so much. I just don't to try a clean I stall just to find out that I can only reinstall education w/ (no Cortana).

Because I'm a non-insider user, i didn't install insider preview on my laptop. #better to ask it from MS ONLINE SUPPORT.

Since you aren't an insider, maybe you shouldn't be answering a question aimed at Insiders? Especially when you don't have an actual answer and say "Try it out" :P

You can do that... it just won't be licensed and you'll have an "Activate Windows - Go to Settings to activate Windows" watermark in the bottom right hand corner until you license it (i.e. pay for it).

I'm not too sure. As they are both two separate Windows 10 editions, its kind of like asking "Can I go from Home to Pro by just using the ISO"
Answer: Yes, however you will need a licence key for the edition you're installing. It will highly likely allow you to install the ISO, and will likely boot up in Home edition, but unless you have a Win10Home licence key, you will not be able to activate Windows10. However if you have Education edition due to it being a laptop borrowed from your place of education, under your name, I'd recommend staying on your current edition as it is still their property and is under that edition for important reasons.

Well, given Insider builds wouldn't install to my PC a couple of months back, and the Anniversary Update won't now either, I'll just skip this. Updates have been a colossal pain for me on W10, both personally and at work.

I was able to install the AU updated on a PC without issues then again i used the iso that microsoft released last year. As the one created through the media creation tool wasn't creating a bootable usb for some odd reason. Whereas last year's one works without a hitch - I use Rufus to create my bootable usbs.

In the search bar, type "Troubleshooter" and it should show an option labeled under "Control panel" (if it doesn't show up, go to control panel manually). There's a troubleshooter there for the Windows update. That can find and repair a lot of issues. If not, using an ISO will also repair them issues (however I recommend using MS's Media Creation Tool (which will install a fresh install of AU update) instead of a insider ISO, for obvious reasons.) I suffered the same issues as you before I installed AU. I haven't suffered them issues anymore since then.

Thing is, I'm not going through the trouble of doing ANOTHER clean install right now, if I have to. I just did it a couple of months back, if that, to get out of Insider when its builds wouldn't install. Maybe I'll do it after I move, but it's too much hassle right now. That said, I already have an ISO of W10 (which I used on the initial install).

Try the troubleshooter method I mentioned at the start then. It should hopefully repair any win10Update components and repair any corrupt directories. (If you cant find it in your win10 version, if you search "Windows 10 Update troubleshooter" on the internet, MS have a download now troubleshooter via their website

I did, it said it couldn't identify the problem.

?due later in 2017?... I thought we would be looking at Update 3 by then.. Seriously?

With it only being 3 months til 2017, them saying "due in 2017" can technically still mean in a few months time. Let's hope so anyways

But. They did say "later"....

They could have meant "later from now, in 2017" maybe? I'd have thought they'd say "In late 2017" if they meant near the end of 2017. Can't imagine RS2 will take til late 2017 to complete, so they likely just mean "later from now" :p

Thought RS2 was mainly mobile advances...but they release the desktop OS first?

They're focusing more on Mobile features in RS2. However that doesn't mean they won't be updating Desktop too. The mobile features won't work unless they add the foundations on Desktop first. Otherwise its just empty shells of features on mobile

Microsoft, please, and I mean PLEASE, add tabs in File Explorer in Redstone 2. PLEASE!
Windows Central Newsletter
Thank you for signing up to Windows Central. You will receive a verification email shortly.
There was a problem. Please refresh the page and try again.