Windows 10 for phone lets you expand notifications in the Action Center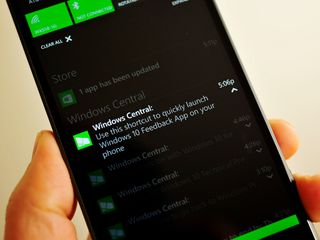 One of the more useful tricks in Windows 10 for phones is the ability to expand notifications in the Action Center.
When you get a list of emails or alerts, only a snippet is previewed, often cutting off much-needed information. Indeed, on Windows Phone 8.1, you often cannot see the whole Toast notification in the Action Center, making it a bit cumbersome.
Now, in Windows 10 you will have a little down arrow that can be tapped. When you initiate the arrow, the full snippet expands, revealing the entire notification. Even better, the OS dims the other notifications bringing the current one to the forefront.
You can even expand Toast notifications when they come in as they too have a the same down/up arrow.
This feature is but one of the many little changes in Windows 10, and we are happy to see it!
Daniel Rubino is the Executive Editor of Windows Central, head reviewer, podcast co-host, and analyst. He has been covering Microsoft here since 2007, back when this site was called WMExperts (and later Windows Phone Central). His interests include Windows, Microsoft Surface, laptops, next-gen computing, and arguing with people on the internet.
Is there a way to make the expanded view the default one?

I can think what you are trying to see, but that would be too much cluttered if notifications not checked for even few mins !!

I was thinking the same thing.

Defiantly put that in feedback idk why Microsoft doesn't do it in the first place just have that option

Because if you give everything an option you'll be buried settings. Much better approach to make it based on user usage or feedback.

I want this also. I'm usually on top of my notifications so I rarely have more than 4 or 5 at once. I'd like to be able to see the entire notification by default.

Can someone with w10 check if you can edit personal dictionary for keyboard. I want that probably more than anything else

Is there a way to reply to messages and stuff directly through the notification shade?

Great way to get around the "blue double checks" on whatsapp

That may not be the case at the moment, they probably need to update there app to take advantage of the feature, as with iOS. And if that's anything to go by, it's going to be a while.

Not the case. Look the apps in the picture: they didnt receive an update for W10.

Oh, I wasn't referring to the 'expansion' feature, but the 'replying via the toast notification' feature.

The real question is...when can my 1520 have it?

It's already arrived on 1520, oh wait didn't you get it? Microsoft probably banned you from Win10 for being a nuisance posting the same thing in the comments of every article :P

Truncating the text in 8.1 is really a bug. They just need to word wrap this text, no need for interaction like this.

Hopefully you can do more than just read text on expansion, and have the ability to have actions much like the feature rich notifications of android. For instance you can play, pause, or stop music just from its notification center.

And you could always do that just by tapping the volume rocker on WP. Better implementation IMHO.

Nope. Not always. Most of the time I want to start playing some music and have to first play it from the music app to get it to show when I press the volume keys.

Absolutely! I am desperately hoping it allows that already.

Well needs a transparent /translucent notification centre for better enhanced look .! Personalisation at a better level

That's great. Looking forward to the preview on my lumia 820.

Was wondering if the #seemsfaster comment would make sense here too

Noice! Welcomed change. =)

g​ood trick but i thought they are going to make a new form of toggles :/

The toggle can be expanded.

At last! Thank you Microsoft. There is nothing more frustrating than having just a half message.

When are we gonna get the update on other Lumia devices??

I hate those little arrows. Difficult to tap and they look horrible. Sorry, but Android does this better.

I am a Windows phone fan. So guess what, I'm not a troll.
A swipe to the left on the notification would be much easier to expand. Swipe right to delete.

just suggest something in fdbck. dont compare wp in android

Maybe he's not on the preview yet. And I agree with him, the swipe feature would be much nicer.

i have big hands but i dont have problems tapping it. we should not compared it to android. just believe in the creativity of ms in make a unique and different experience. i used android and ios way back 3 yrs ago but the exp in wp really fits me well...

Personally I'll take functionality over unique and different

WP is functional enough so I WANT unique and different.

Agree too. Android or not, some fanboys are easily blinkered.

Lol, u definitely brought the wrong platform to this comparison. As an owner of a nexus 7 2013 running lollipop, I must say the notification centre is the worst (even worse than earlier versions), even though it's really good looking . It does suffer from the snippet problem of WP8.1 action centre. And even worse, the new thing in lollipop is that when notifications pile up, newer notifications cover the older ones (to give a nice UI). When u get useless ones (which pretty common in android), there's a big chance u miss the important ones because of this (happened with me alot), not to mention the still messy listing of notifications in the notification Centre makes things worse. WP8.1 listing all notifications under their respective app make things alot easier.
The currently real king, tbh, in terms of notification centres (not counting W10) is iOS (I have an ipod touch with iOS 8). It does show u the full notification and the app notifications grouping like WP8.1, making finding the important notifications from the useless ones really easy, but if the notification gets big, it may take at least 1/4 of screen which may result in lots of scrolling if u get many. W10 having the good WP8.1 action centre while tackling its problems and the iOS one problems (the arrow) has made it jump in front of the race . As a user of the three OS's (but I am a WP guy first and foremost), i must say MS has definitely the best notification center in business.

Android has always been the king of notifications. Ios always playing catch up there.

Perhaps it allows pull down gesture for each notification in the final release?

I LOVE those little arrows and they look great... no problems at all tapping them. But then I don't love Android.

I disagree. I love this implementation.

Should come in handy when google sends me confirmation codes. The last digit is always hidden :')

You can set up your Google two-factor authentication with the Microsoft Authenticator app.

Okay. What about text messages? Can we reply to them directly from their toast notifications?
As in, replying to it on some other screen just from the toast. Without opening the messaging app?

Yes we can.. But it is not available now. May be later

Yes, Belfiore already showed that in the video they released today. You can reply to messages right from the toast notification.

Oh. That's pretty cool. So we might as well expect Microsoft to allow other developers to include that in their apps.

Yes, it will be possible for developers to include what they want in their notifications if i remember correctly from january 21st :3

What about Xbox music UI ?

Do the rest of the notifications dim into the background when a notification is expanded or is that just PhotoShop work to highlight the feature in the image?

Even though I despise the Notifications Center and wish I could turn it completely off, I did jump in to test it to be able to answer your question. Yes, it dims all other notifications when you expand one.

Or, you could have just read the article.

Mmm. Yeah, I still have no use for the Notifications Center and STILL wish there was a way to completely disable it. Live Tiles or nothing.

Just, I don't know... don't use it?

You cant please everyone no matter what you do!

Just disable all aps from being included in notification center, easy as that.

It's useful for people who don't want every app they don't want to miss notifications for pinned to their Start screen. It makes WP far more functional with or without it.

When you're browsing the web or doing something else, it makes absolutely ZERO sense to have to close it out to check a live tile for a notification. I swear to god people are dumb.

From your lips to God's ears.

If you don't get it that other people may have different wants and likes from you, then that includes you too.

If a notification is expanded and you see a whole message, will then the message act as read (e.g. in Telegram or WhatsApp)?

Noooooo. I often read them in the action centre but never open them in the app. That way nobody knows I have read it ;)

Hallelujah!!! I was expecting to see the entire push notification text since the beginning of the WP!!

No kidding, drives me nuts everytime there is a gate change from Delta the gate is actually cut off in the notification.

Sweet. Posted via the Windows Phone Central App for Android

The other nice addition is that notifications can be dismissed individually. I hope they haven't removed the group notification dismissal ability though.

They haven't. You can swipe away the group notification header to swipe all notifications on the group

That little down arrow is what has been in W8.1. That *should* be used in Windows instead of the "hamburger button". How far does it expand? Will it show the entire message or just a few lines of a message?

This!! ^^^
I prefer a right arrow to the hamburger anyday

I prefer the three dot menu so easy within thumbs reach but often forgotten about. This is to appease lazy devs nothing more.

will it let me hack my neighbour's wifi ? :) xD

Would be great if you were able to reply from the notification center like you can on other platforms.

It will happen once developers get new SDK, you should be able to directly reply and do more. Down arrow is there for that reason to expand notification and show more options.

Hey Daniel, Can you please talk about the new built-in stopwatch/timer universal app that appeared in latest Windows 10 preview. Thanks!

They should be expanded by default, and then when there are too many notifications they should shrink. Just like the auto taskbar thing in windows desktop.

What about the 925 etc.. The once flagship phones?? This nonsense putting out for lower end products first!!?? What sense is in that? Those people are not going to run out to buy a new flagship and support the system!! Not that there is a flagship to buy! Hell lets give it to the people that have waited the least amount of time and spent the least amount of money! Way to go ms.

I'm actually ok with the delay, their faux pas was releasing the device list after the release. Give it a couple of weeks and it may it the 920 et al. It is likely to be a better build too. Personally, I dare not try it just yet anyway, too unstable.

There is a post further down the homepage that explains why. It makes sense.

I don't want this junk anywhere near my 1020 in this current state! I count it a blessing

I have a different take... I think it better that the other guys are testing it before me so they can find the bigger bugs and Microsoft squash them before it comes to my phone.

Make sense as eventually all notifications are going to be directly actionable from action centre, once developer gets new SDK. You should be able to reply whatsapp, twitter etc. directly. Down arrow will give an options as coded by developer, either reply text box or some action buttons.

So all settings is a toggle?

how to fking update using data connection? i got unlimited data connection with 10 mbps downlaod speed -_- Microsoft plshh let us update using data connection

How to hide the navigation bar in 730... Please help....

put it in the water for 10 min :) then it will hide :D

lol sorry we are not apple users, we don't believe everything we read on internet. :)

I think that was mentioned earlier as one of the bugs so it'll probably get fixed in the next update.

I am hoping that there will be an autocorrect for when someone types seems faster.

lol to be replaced by - No, it does not. Go away troll...

Don't install windows 10 FO god sake....bugs bugs bugs.....

Obviously, It's a preview!

i want to be able to open up to 4 screens SidexSide on my 1520 6 inch phn.

people who make negative comments here dont trust ms or a troll. a suggestion would be best but not a negative comment

These arrows just reminded me... What about interactive tiles?

That sounds too metro. Ugh last years model. This year is all about Windroid Uglypop edition.

That's a funny combination.

I feel the same. I really hoped for more useful tiles. But no mentions so far :|

Anyone please tell me how to hide the navigation bar In 730

That was talked about earlier in one of the articles... that's a bug.

How many times are you going to ask the same thing?

Daniel, do you actually have to hit the down arrow or does just tapping the notification expand it? To me the latter would be preferable.

If the latter is used, then how do you open the app to read the full message or info?

What about half split? Left 70% opens the app, the right rest expand it...

Don't go messing up my ideas with logic and usefulness.... I guess a right edge tap would work (kinda like the current way you pick multiple items on the left edge)

Some. Should be tap to view complete notification and double tap it to open :)

Yes, I was looking for the same. Any thoughts?

At the top of my head right now, what I want is for the music and volume be part of the notification center as opposed to pressing the up and down volume buttons to access the music and volume.

Yeah absolutely. Also if you were not playing any music earlier it doesn't show the music controls when we press the volume buttons :(

I prefer it in the volume rocker where it makes more sense. To put so many things in the notification center would clutter it so much it becomes a mess to use.

Call recorder for wp10????

MSFT should do this. Lots of people would get windows phones for this reason itself.

This is what I asked in the suggestions page for windows phone.. That was like, a year ago.. Guess Microsoft listened to me.. Glad to see this.

I want to be able to have flashlight icon for the notification center.

I hope we can further collapse to indivudial app groups.

Why don't we have single tap to expand notifications and double tap to open them? Should be that simple instead of having arrows. Also it would save a lot of frustration caused by accidental clicks on notifications. :)

Also need double tapping notification group header to collapse/expand the groups!

"welcome to lumia cyan".. Is this downgrade?

Swipe down would be a more natural way to expand the notifications. I think that's a little too Androidy but there's nothing wrong with taking good implementations and further improving them.

Navigation is not possible to hide Windows 10

This is a pretty handy feature and will make the use of the phone more productive. For instance after implementation of two factor authentication by banks, email service providers and other enterprises such functionality will prevent users from opening the message for just looking the password.

Navigation bar hiding not possible huh...?

Next to add should be a way to interact with these expanded notifications from action center and not just from toasts because you often miss toasts anyway.

Umm you CAN do that ( for now only while texting). If you miss the toast then you can just tap the down arrow in action center and reply from there without opening the app. So even if you miss the toast you can reply from action center. It is awesome. Seriously cannot wait for other apps (like WhatsApp, fb messenger, etc.) to get the sdk and implement this in their apps.

I hope they add progress bars to action center like downloading apps,send/recive a file...

Before 8.1 i was never a dedicated windows phone user. I got the 520 just for a toy. Android was much better with the various pull down notifications available from different oems. Since 8.1 tho i love wp. Glad to see new refinements and improved functionality.

Yes you can reply from the toast notification. Press the down arrow & text box appears. Write text & press the 'flying envelope' to send

How do you send feedback to MS? I hate the translucent tiles, much p