9 touchpad gestures every Windows 10 user should know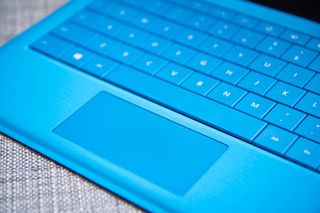 Windows 10 has touchpad gestures that everyone should know. You'll need a precision touchpad to use them all, but experiment to see which ones work on your PC. We'll show you how the gestures look on a Surface Pro 3.
Scroll: Place two fingers on the touchpad and slide horizontally or vertically.
Zoom in or out: Place two fingers on the touchpad and pinch in or stretch out.
Show more commands (similar to right-clicking): Tap the touchpad with two fingers, or press in the lower-right corner.
Drag windows: Double-tap and drag the menu bar (top of app window)
See all open windows: Place three fingers on the touchpad and swipe them away from you.
Show Task view: If you're viewing all open windows (from the step above), swipe up again with three fingers.
Show the desktop: Place three fingers on the touchpad and swipe them towards yourself.
Switch between open windows: Place three fingers on the touchpad and swipe right or left.
Cortana/Action Center: Tap the touchpad with three fingers.
How to check if your PC has a precision touchpad
Precision touchpads are a new kind of touchpad designed for PCs that run Windows 8.1, Windows RT 8.1, and Windows 10. They're great for using a variety of touch gestures to get around your PC quickly. To find out if your PC has a precision touchpad, go to Settings > Devices > Mouse & touchpad. Look for the message, "Your PC has a precision touchpad." You can also change or disable gestures here.
If you think this guide is helpful, we have many more posts like this in our Windows 10 help, tips and tricks page.
wow awesome tip , thanks bro .

"9. Cortana/Action Center: Tap the touchpad with three fingers." I can only get this gesture to open Cortana. How do you get it to open the Action Center?

This I was about to tell and also ask the same question.

go to Settings > Devices > Mouse & touchpad and change it there. Cortana is default.

hmm... this doesn't work on my SP3

Works perfectly fine on my SP3

Ha nice ! Well thanks to this article and your comment my productivity with windows 10 just increased insanely !

You choose which one you want. Cortana is the default. I just changed this in my Surface Pro 3 since I already have a Search (F5) key on Type cover and no dedicated single key for the Action Center

Try tapping with 4 fingers at the same time.

Action Center by default is a 4 finger tap.

Cortana can also be called out by swiping your finger left from the right edge touchpad

Tap the touchpad with four fingers.

You can also tap the touchpad with four fingers to bring up the action centre

If only acer upgrade the freaking drivers for my v3-571....

Nice that my 2.5 year old Asus ultrabook got these gestures with a recent update as well, although it is not a precision touchpad.

My 2-year-old Asus N550JV has the gestures too and they work perfectly. I'm impressed.

Awesome. Tnx for sharing. Posted via the Windows Central App for Android on my BlackBerry Passport

Thank you. Last ones are really useful.

This explains some weird behavior I've been seeing.

Yeah, cleared up for me too haha, especially the switching between windows.

I didn't know about the three finger gestures! Thanks for this.

Also have these on my ASUS without having a precision touchpad. Symantec got updated shortly after the Windows 10 update, enabling the gestures.

Thanks Mark. I do use the SP3 keypad a lot more on Windows 10 due to discovering these gestures, but, just discovered 2 more watching the video. Sweet!

They should have gestures for touchscreens like two finger swipe up or down changes brightness etc.

Swipe from right edge to bring Cortana up in listening mode.

I wish Windows 10 had the 4 finger swipe to move between desktops like on the Mac. It works really well, and I now actually use mutliple desktops. But it is too many clicks in Windows still.

Here are some keyboard shortcuts: Windows Key + CTRL + D = Create New Virtual Desktop
Windows Key + CTRL + F4 = Close Current Virtual Desktop
Windows Key + Tab = Task View
Windows Key + CTRL + Left/Right = Switch Between Virtual Desktops

Keyboard shortcuts are nice. Would still like to see the four-finger swipe gesture as well.

Well shit... Never knew some of these Posted via the Windows Central App for Android

Anyone know the command or exe to open Cortana? I don't have a precision touchpad, but my synaptics supports all those gestures, and a three-button press to run a command. Would quite like to set it to Cortana.

Windows key + C or S may work. Does Hey Cortana work?

yep! FYI:
WINKey+S = search (via cortana of course)
WINKey+C = Cortana in listening mode (keyboard shortcut for "hey cortana")

Needs to be a command, not a keyboard shortcut. Unfortunately, Synaptics doesn't allow an imitation keypress for it.

Hmph... Sony VAIO still haven't got their line's driver updated yet.., many things went wrong.

3 finger swipe used to be my web browser forward/back, this gesture is very important and needs to come back. 3 finger swipe to switch btw apps is not that useful.

My PC doesn't state that I have a precision touchpad but these gestures still work, except I can't customize the gestures from the Devices > Mouse & Touchpad settings.

Synaptics updated their drivers recently and added their own implementation of these gestures.

I have the same problem. Every Windows 10 help page tells me I can go fix things under Mouse & Touchpad settings, but there is nothing in there (other than turning it on or off). And I'm being driven crazy by Cortana popping up ALL THE TIME when I try to use two finger scrolling, but I don't want to lose my ability to use two finger scroll (i.e. just turning it off isn't an option for me).
Any ideas where else I can go to change what gestures do?

Anybody facing problems with Dell laptops? I have a Studio 15 ( 1558 ) and even basic scrolling doesn't work. Gesture control is a distant dream.

Have you tried uninstalling the touchpad driver and reinstalling it?

You're not alone, Dell XPS 702x has ages to see a proper Dell-Synaptics driver release and all Generic and/or Windows Inbox Synaptics drivers misbehave even with the most basic gestures, plus, when the laptop resumes from standby the touchpad is not working till next reboot(!)
Thx DeLL, NOT!

Am I the only one who don't like gestures?? I only use the touchpad to move the mousepointer. Maybe I am stupid?? ;-)

No, you're not the only one, but MS don;t like to listen to us

You can just turn them all off, how is that not listening to you?

The Synaptics touchpad driver software taught me about all these gestures itself.

If you're still confused, ask your CEO for assistance. He's been doing this on his MacBook for years.

I get random results when I strike the touchpad in a fit of rage with 8 fingers. Not only does my screen change, but people start to gather around my cube and ask if I'm okay. Is that by design?

2 finger tap NEED to be middle mouse button stop fucking this up for me Microsoft! Dont oblige to apple users defect gestures, we got a perfectly fine right click for right clicking!

Who needs a middle mouse button? and for what?

Closing tabs and that lille scroll wheel thingie. I use it a lot tbh. I need to change the registry every time I update preview, caus it somehow changes back when you update.

Ctrl+W = close tab. Scroll is via two-finger swipe - not sure why you need the special scroll icon thing...

I just want W10 to stop resetting my touchpad settings every time I reboot ...

+100500 New windows update procedure is a shame for MS. It's so stupid that users have to "fix" touchpad settings, default programs settings, etc.

The problem is that after certain time using chrome... the 3 finger swipes change to alternate between tabs or go back and forth webpages (If restart the PC W10 gestures come back again)

I have this problem a year later. How can this not have been fixed, it seems so major. One min. 3 finger swipe works as advertised. then it acts as go back and forth between web pages, which I like. My computer also won;t go into sleep. I think they are related

yep! FYI:
WINKey+S = search (via cortana of course)
WINKey+C = Cortana in listening mode (keyboard shortcut for "hey cortana")

It's a pity that they replaced "Maximize" gesture with "See all open windows". Maximize is much more important

When I'm scrolling windows 10 often randomly shows all open windows, even though I'm only scrolling with two fingers, weird.

I am very frustrated with Windows 10 on tablets.

So cool.. Thanks for sharing

What's the difference between #5 and #6? I can click "Task View" with my mouse, but I don't know what "See all open windows" looks like. Is that "Alt + Tab" as opposed to "Windows Key + Tab" for Task View?

wow for those 3 finger gestures! i thought the show desktop gesture was a bug/ghost tap

Not showing about precision touchpad but all gesture are working perfectly on my lenove G50-70

Any thoughts in mouse gestures to open action center or view open windows? (Win 8 had the corners mouse pointer to access charms via mouse). Would be nice to point mouse far left/right to mimic those swipes.

Okay, just watched Simon's video on taskbar functions: http://www.windowscentral.com/tour-windows-10-taskbar-and-what-its-icons-do and I guess I can just mouse click the Taskbar View button bottom left and Notifications bottom right. I guess that works, although they had me trained differently on Win 8, lol.

Four finger tap to open the Action Center. Three finger swipe up to view open windows.

I don't see the "Your PC has a precision touchpad" message, but I can do all of those gestures

I have Asus K53SM-10D laptop and the three finger gestures are not working :(

I know this article is for W10, but only #1 & #3 seem to work on W8 (SP3)

Now I am struggling on finding how to switch between virtual desktop on windows 10 with touchpad (surface pro 4) normally you can do it with windows key + ctrl and arrow left or right I found it quite difficult to use than touchpad. Did you figure out how to use touchpad to switch for each virtual desktop? like mac os, in mac os they use 4 finger swift left or right to move between virtual desktop. regards, from Bangkok, Thailand

Yeah, I can't switch between virtual destop on windows 10 touchpad too. What should I do? My computer is Dell Vastro 5480. Thank you

sadly i dont have a precision touchpad :\

****** Is it possible to switch between virtual desktop in windows 10 ******* using 4 finger swift left/right on touch pad? (like mac)
Windows Central Newsletter
Thank you for signing up to Windows Central. You will receive a verification email shortly.
There was a problem. Please refresh the page and try again.