Windows 10 two years on: Defining a service
With Windows 10, Microsoft kicked off Windows as a Service, but has updating Windows as a service actually paid off?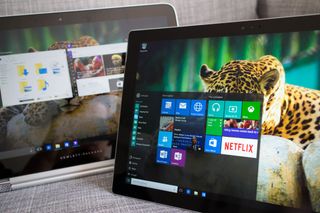 On July 29, 2017, it will have been two whole years since Windows 10 launched to the world. Two years is a long time in the technology industry, and with Windows 10 being a whole new approach for Microsoft when it comes to Windows, these two years have been crucial. So, two years on, how has Windows 10, the Insider Program, and Microsoft's "One Windows" vision as a whole progressed?
Windows 10 is probably Microsoft's most ambitious version of Windows to date, not because it admits Microsoft's wrongdoings with Windows 8, but because it's the first version of Windows that's built to move it into the modern age. Up until Windows 10, Windows itself was an old, clunky beast that was plagued with old code and functions that just didn't make sense on in this day and age.
Windows as a Service is probably the most important ongoing role that Windows 10 has. When Microsoft first announced "Windows as a Service" in 2015, we weren't entirely sure what to expect. Yes, Windows 10 would be updated more often, but outside of that we simply didn't know what to expect, because Windows had never been treated an OS that needed updates as often as twice a year.
New features and improvements
With the original launch in 2015, some would say Windows 10 felt rather unfinished. The base of Windows 10 was there, but going back and using the original build of Windows 10 in 2017 feels like a vastly different experience. So much has changed, big and small, that you just haven't noticed over the last two years, because that's the beauty of Windows as a Service.
Original Windows 10 Launch Review
For example, the Start menu that was introduced with the original launch of Windows 10 is nothing like the Start menu found on the latest version of Windows 10. In a number of small tweaks and changes over the last two years, Microsoft has been able to completely redo the Start menu, changing its behaviors and feature set, as well as give it additional functions and even change its design.
The Start menu in 2017 can do so much. You can remove the Apps List, or make it so the Apps List is the only thing on show. We have live folders, the ability to resize the Start menu diagonally, and a whole lot more. None of that was a thing when Windows 10 first introduced. These are features that are essentially no-brainers, and they weren't there in 2015. They are now.
Microsoft has been able to do similar things with a whole bunch of other areas on the OS over the last two years. The settings app has essentially had itself a redesign and over the last two years has had more features and functions implemented into it, Cortana became useful with the ability to sync notifications across devices, and Edge became usable.
Windows 10 Anniversary Update Review
Even smaller things, such as the Action Center button being moved from the System Tray to the very right of the Taskbar. Context menus are now far more consistent, too. Context menus in the original launch of Windows 10 were all over the place, with different designs and functions being implements in different apps, areas of the OS and more. All that has improved too.
Windows Update opens the door to better servicing
Some of the biggest and most exciting changes to be implemented over the last two years are improvements to Windows Update, that really position Windows 10 as an OS that can be updated as a service. Up until the upcoming Fall Creators Update, Windows 10 still downloads a full 4GB update when a new version of Windows 10 becomes available.
Should Microsoft release only one major Windows 10 software update per year instead of two?
Microsoft has worked hard on improving Windows Update to the point where the next Windows 10 release will a much smaller download for users, thanks to something called the Unified Update Platform. This new platform allows Windows 10 to download only the new bits of an update, making overall downloads much smaller. Windows Update is also far less invasive with the latest updates over what it was two years ago.
Insider Program
One of the reasons Windows 10 is where it is today is due to Microsoft's Windows Insider Program. The Insider Program itself was a new thing for the company, opening up OS testing and development to the general public was something Microsoft hadn't often done, especially on the scale that it is with Windows 10. Microsoft is essentially building Windows 10 alongside fans.
At first, the Insider Program was used as a testing ground for new features, functions and early builds. Microsoft would issue a build to Insiders to test, some of which had experimental features that were buggy and broken. This was all in the name of feedback, of course, giving Insiders a say on what they think of the feature, how it can be improved, and more.
The Insider Program has come so far since then. Insiders are now getting builds at a much faster pace, more Microsoft employees on social media are active and engaging with the Insider community, and feedback is the heart of Windows 10. Microsoft now even lets Insiders start testing the next-next version of Windows before the upcoming version is even done.
Windows 10 Creators Update review
The Windows Insider Preview is actually one of the ways Microsoft were able to test updating Windows as a Service. With the Insider Program, Microsoft is essentially releasing a new version of Windows 10 every week, which allows them to test Windows Update, the update systems and more without pushing it on the rest of the world. The Insider Program has helped out in so many ways.
One Windows
Windows 10 brought the promise of One Windows. Windows 10 everywhere. Microsoft has brought Windows 10 to phones, laptops, tablets, desktops, IoT devices, wearables and even Xbox. Over the last two years, most of those device types were brought closer together thanks to Windows 10 and work being done synergy between platforms. New Xbox games are now UWP, and all first party games on Xbox are also games that work on Windows 10 PCs.
Microsoft brought phone and PC closer together with Cortana, but unfortunately, in 2017 Microsoft is now retrenching its Windows 10 Mobile efforts. This could be just a temporary measure, but without a mobile presence, Microsoft's goal of One Windows falls down pretty hard. As I said, this is probably just a temporary blip, but until Microsoft can get behind Windows on mobile devices like phones, the Universal Windows Platform and "Windows everywhere" really falls down.
Windows everywhere else is doing great. HoloLens is pushing Windows in a new direction entirely, IoT is allowing Windows into our homes with Cortana powered speakers and smart home items, and hardware makers are building great, high quality and premium Windows 10 devices for consumers and professionals alike.
Microsoft did have a goal of one billion devices within two to three years after the launch of Windows 10. That hasn't happened, and Microsoft has since admitted that it won't reach its goal in time. I'm not sure if that really means anything, at least not right now. Windows 10 is still doing great without that one billion number.
Two Years On
Windows 10 two years on is exactly where I'd hoped it'd be. I'd say about a year ago, Windows 10 finally hit a stride with stability, and today Windows 10 is now better than ever. Microsoft is currently working on some exciting stuff for the next versions of Windows 10, including a brand new design language, Mixed Reality, and new features that tap directly into the Microsoft Graph.
What are your thoughts on Windows 10 two years on? Let us know in the comments.
Zac Bowden is a Senior Editor at Windows Central. Bringing you exclusive coverage into the world of Windows 10 on PCs, tablets, phones, and more. Also an avid collector of rare Microsoft prototype devices! Keep in touch on Twitter: @zacbowden.
when I wanna say I like the feature movies &TV provided with mini view and groove music for listening experience and feel of a music and if the Microsoft community new builds are going to struck us with interesting then there will be more users compared to know because of the pinnacle in the security development in the windows until now Cortana is more better experience for me if u bring the feature of connecting friend network in music apps through social networks for sharing at the same time providing privacy from the users who are strange to us will bring u the huge users family

Pro tip: Use punctuation. It helps a lot for reading 🤔

I find this bit funny "This new platform allows Windows 10 to download only the new bits of an update", because Microsoft was the champion of doing delta updates since online updates became a thing. W10 took a step backwards, and finally they came back around to doing updates the way they were being done since WinXP.

Zac is referring to updating to new versions of Windows, not the Patch Tuesday type updates when he talks about delta updating.

It's not a 1:1 comparason anymore, but since WinXP any SP install would only load the missing updates from your system and not the entire SP. You would see dowload size range, since it would vary depending on what you already had installed.

Again, he (or Zac) are not talking about that old annoyance of endless patches/updates. The change is that rather than downloading a 2gb+ sized largescale 'upgrade' update only the parts of the code changed since your existing build will be downloaded. This is a big change (!!) - meaning in some cases that what would have been >4gb in bandwidth to download could now be a few hundred megabytes for example.

Wasn't UUP a RS2 thing? Why isn't it in effect already for when RS3 launches?

It came out in RS2 but outside of the insider program you wont see the benefit of it until RS3

This was something @Zacbowden mentioned in a post a couple of days ago when he questioned the frequency of semi-annual updates vs a more industry-standard frequency of yearly. Personally, I've been very pleased with being able to see (via the Insider program) the incremental updates on a more rapid pace. Only being able to hear about updates via leaked builds, or pictures of leaked builds and never really knowing what was going to come I think contributes to a fear a lot of people have from the days when an update would screw everything up. I think smaller, more frequent updates gives people more of a chance to digest new chunks of functionality and gives Insiders more focus on testing things. But, to be critical, with the smaller updates and what seems to be a certain capriciousness with regard to feature-sets, we don't seem to have as many "fall in love all over again" moments from both critics and fans as we used to (well, since Windows 7, I guess). I think we need to see a lot more from Microsoft in terms of marketing the value and power of the new features (and they need to be able to allow more people to participate in new releases more quickly. The fact that we're only two months away from FCUpdate and CUpdate is only now in full release - sheesh!).

I want them to look at the desktop UI elements and the UWP UI elements and see where the two could have common ground.

Nope, if the recent updates are any indication it's been made worse. 8 gigs of ram is now not even adequate for basic tasks. I was getting constant out of memory prompts doing basic tasks until I set a static size of 8 gigs for the page file on a SSD T_T. Now I get it time to time but regardless it's occurring more frequently then before after the recent updates. Aa before I would have to an insane amount intensive applications like a few virtual machines, a game on ultra settings, firefox with a dozens of tabs, blender and a few other programmes to get out of memory dialogues box. Now I can't get near that performance without that dialogue box popping up and crashing applications.

They can call it Whatever as a Service, but realistically the OS is all on your PC. Sure, there some neat features running in the cloud, but those are not really part of the OS. Score 1 for marketing, I guess.
The major updates? More marketing, because "Service Pack" just doesn't have that sexy zing to go with WaaS. Microsoft has issued Service Packs, I mean, Major Updates to Windows for over a couple decades now, and more frequent minor updates over the internet for almost as long.
Really the only thing that has changed is that now we have a regular frequency for all updates.
Microsoft said Windows 10 was going to be the last version, but after enough Service Packs/Major Updates they are going to have rename it if for no other reason than to make another marketing splash. Maybe they will follow the Surface trend and call the next one simply Windows. Or maybe they'll bring back letters, paying homage to NT, Me, and XP. (Note that the name of the second letter must rhyme with "e".) Or, maybe they'll go with a word. Windows One could be just around the corner. They've already got the S edition, so perhaps Windows One S and Windows One X will be the next new thing after we've hit the historical Service Pack limit of 5.

Nobody should ever pay homage to Windows Me. Just saying. 🙂

Very true! Likewise, Bob. BTW, there's a fun tech support scammer video on YouTube where the guy gives the scammer Bob to deal with.

I have to disagree with some commenters on the RAM issue. 4 gigs is plenty for basic computing, the Surface 3 works well with 4 gigs for basic computing. 8-16 for gaming a heavy video or photo editing. I have to say if Microsoft keeps listening to the insiders Windows 10 will continue to be a great OS. As a matter of fact I work in it in a large medical school and university and we are beginning the migration to Windows 10. When large businesses start the move to a new OS it shows the OS has matured. Especially since we stuck with XP u till the bitter end. Now if MS can get a foot back in mobile with Windows on ARM and a Surface Phone I think they can win some Apple users back.

It depends on the technical ability of the OEM.
I picked up an Acer i5 7th gen with 4gig ram and it wouldn't do anything.
After installing an extra 8gig to a total of 12gig, i get the same performance as another HP i5 old gen with 6gig ram

I have a 4th gen Acer i5 with 4 GB RAM and it works just fine for basic tasks. Of course, I had to reinstall a fresh copy of Windows 10 in order to notice a boost in performance.

Even 2 GB can work if the manufacturer optimizes it well. I got a little 2 GB Atom Beelink box for an older guy. It works great for the Web, video and documents. Edge is very good on low spec devices. Chrome completely bogs it down.

I think it's less about optimizing and more about not including all the crapware. The Microsoft Store is now my first choice when looking for a new machine, because the only thing installed is Windows.

Two years and Tablet mode still sux

2 years later and UI is a mess. When will they hire some proper UI designers?

I like W10 BUT like was mentioned their total failure in mobile makes it hard to see a future for Windows. The next year or so will tell us much, as far as what their mobile plan is and will determine if I stay invested in the Microsoft ecosystem at all.

I think Microsoft has made great strides with Windows 10. But it has come at the cost of fit and finish which I had expected sooner. I think it would have helped greater to see a better fit and finish with many updates, but has instead increasingly been pushed forward, increasing a backlog of issues and incomplete features. Some features that are on going but seem to slow down in progress are things like: -Cortana language support -Cortana regional access to Cortana and bing functions and services -tablet UI experience -more consistent UI design across the OS. Getting better, but still patchy. Cshell seems to hold some promise. Wait and see if the roadmap update can keep up over time with fit and finish. - further merging of control panel with Windows settings. Ongoing... I think with the current new and surprising new features in new updates is becoming increasingly less interesting and even a greater burden and something to look less forward, simply because the fit and finish backlog is increasing. It seems leas enjoyable over time, than say if the fit and finish was addressed earlier and the OS could be used at its value. I think I would be a happier end user, more productive, and happily eager await and praise the new future updates and service model. I don't think the current model is holding up well in its current form. I sometimes wonder if Microsoft can truly keep up with their own roadmap for Windows 10. Their servicing and Windows branches are increasingly expanding. I wonder if oversight is still possible without compromising quality.

There are still way too many bugs for a two year established OS. It really sucks when they finally get Edge working perfectly with Anniversary edition then back to high CPU, fan noise and Surface overheating with creator's update. That's only one example of many growing annoyances I have with it.

Some weird things in between old applications and new (UWP) apps... * By accident, I made IE default program for certain file types..(no, not web pages) * How to return to Edge? Since Edge is not a Store app, I cannot change to Edge in "choose by file extension"... This is meant as an example of the current dichotomy between apps and applications. And make no mistake: support for applications is a necessity for me and many others (lots of "old" code is still needed)... so I don't really like the development where the Control Panel has been removed from the Start menu.
--
Other things... Pen Support... a logical place to add this would be in MS' own drawing tools. Visio! And, why not reduce the price of Visio, or make a scaled down version for students limited to drawing/flowsheeting/layers? * Go to Control Panel? This works for apps, but I'm unable to find the exe file for Edge... so, I'm stuck.

What file types exactly? Did you use Choose by file extension in the Settings app? Try Control Panel. This is weird looking and may not work but the exe is here: C:\Windows\SystemApps\Microsoft.MicrosoftEdge_8wekyb3d8bbwe The 8wekyb3d8bbwe could be something else I suppose (depending on version).

So one thing you did not mention, Zac, is the ability for Windows 10 to improve your hardware over time. This a complete new for me. Just this month, my regular laptop got a new power control slider, and battery life has vastly improved since. On my Surface Pro, which has touch and pen, the pen experience has improved immensely! We are almost at a point now, where the SP4 and the SP4 pen, is as good as a real pen. And if I had the SP5 and the SP5 pen, then I am sure I would agree, that it IS like using a real pen. In short: The most impressive thing for me with Windows As A Service, is its ability to revive old hardware and even improve the experience with it. It is something I have never seen before in my two centuries of Windows use.
Windows Central Newsletter