Windows 10 virtual machines now live to help website developers test Microsoft Edge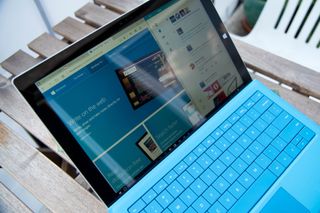 The Microsoft Edge web browser launched as part of Windows 10 a few weeks ago. Now Microsoft is allowing website developers to download Windows 10 virtual machines so they can test how their sites work on Edge.
The downloads are available on the newly updated Microsoft Edge Dev site (opens in new tab), which has now ditched its "beta" tag:
In addition, the Microsoft Edge Dev site has an updated FAQ page for the browser, along with "substantial improvements to accessibility, including improved markup to make the site and tools work better with assistive technologies."
Source: Microsoft
looks good , hey you check your website http://dev.modern.ie/tools/screenshots/#http://windowscentral.com ( direct link of your website ) in MS edge dev.

Lol its embarrassing to see the nav bar for wc compared to cb on wp8.1.1

Edge on phones > Edge on tablets

I agree. I wish the edge UI shifted to something similar to the mobile version's UI when in Windows 10 tablet mode. They should also bring back swipe to go back/forward in tablet mode (or as an option for all modes).

Edge with Sufrace Pro 3, Cityman (950XL) and other Pro convertibles with digitizer > Edge on everything else. The reason Edge was created is to take advantage of a Pro Stylus with a digitizer.

I like that MS is listening

But let me guess you still needed w8(hyperv)

You did read the article right? The article clearly states that not just HyperV but additonal options like VirtualBox and QEMU will be offered in the coming weeks as well. Edit: Curently downloading the Vmware package for Windows 10 & planning on trying Linux Virtualbox package.

Yesterday I finally just had to switch my win10 PC to default to ie11 instead of edge. Really don't like the way edge handles favorites, my company's vpn won't launch from edge, but mostly it just doesn't seem ready for primetime with some sites (as this article implies).

Edge is ahead of Chrome and Safari with note taking capabilities/one note export capabilities, this tech is ahead of time and it will be months until Google and Apple catch up with this feature. Give it a few more months and Edge will be much more solid for the enterprise with this amazing note taking features, specially for Cityman (950XL) which will be a good competitor for the Galaxy Note 5

Just talking PC without a touch screen.

I don't like that the dev-pane in edge is not snapped on the bottom like in is... In fact, one cannot snap it anywhere...

I really need Edge to have the "Save As" option when downloading files. Strangely it has "Save As" for pictures (when right clicked), but not for general downloads.
Windows Central Newsletter
Get the best of Windows Central in in your inbox, every day!
Thank you for signing up to Windows Central. You will receive a verification email shortly.
There was a problem. Please refresh the page and try again.