Windows 11 build 22509 brings improved Start menu layout and more
Some impactful changes to the Windows Shell are now in testing.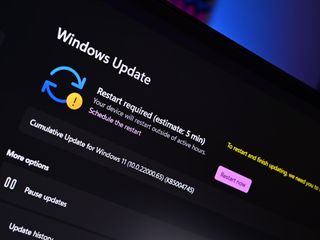 (Image credit: Daniel Rubino / Windows Central)
After taking a week off, Microsoft is back with another Windows 11 Insider Preview build for the Dev Channel. Today's build is 22509, and features a handful of notable new changes and improvements that are the result of direct feedback from Insiders testing Windows 11 since June. Microsoft is finally adding a more adaptive layout to the Start menu, and bringing back the ability to display the clock on secondary monitors!
One of Windows 11's big complaints with the new Start menu has been that its layout isn't very flexible. In the current shipping build, you're stuck with three rows of pinned apps, and three rows of recent documents. In today's build, that's now changing. Users can now configure the Start menu to show either more pinned apps, or more recent documents by increasing the size of each area of the Start menu.
Additionally, Microsoft has responded to another bit of feedback regarding secondary monitors. This build finally allows you to re-enable the clock on extended monitors, a feature that was weirdly omitted from the shipping build of Windows 11. Here's the complete list of changes in today's build:
We have been working on a collection of improvements to web browsing with Microsoft Edge and Narrator. Specifically, typing in edit fields should now be faster, when navigating around the web more useful information is provided, and lastly you will have a more consistent navigation experience with Narrator.
Starting in this build, you can right-click on Start to quickly access Start settings and choose the "More pins" or "More recommendations" layout option to show an extra row of either pins or recommendations, respectively.
When a secondary monitor is connected, your clock and date will now also be displayed on the taskbars of the secondary monitor or monitors for glanceability.
For apps that send notifications for calls, reminders, or alarms that leverage Windows notifications in the OS, 3 high priority notifications will now be shown as stacked and shown at the same time. This means at any given time, you might see up to 4 notifications at the same time – 3 high priority notifications and one normal priority notification.
We have moved the advanced sharing settings (such as Network discovery, File and printer sharing, and public folder sharing) to a new page in Settings app under Advanced Network Settings.
We've made some updates to the device specific pages under Printers & Scanners in Settings to show more information about your printer or scanner directly in Settings when available.
Some of the entry points for network and devices settings in Control Panel will now redirect to the corresponding pages in Settings.
Added a new option to the Installed Apps page in Settings to sort the list from Name (Z to A), and accordingly, updated the previous "Alphabetically" option to now be called Name (A to Z).
We'll now remember if you turn on Bluetooth or Wi-Fi while in airplane mode. Next time you use airplane mode, the radios will reflect your preference and stay on to make it easier to keep listening to headphones and remain connected while travelling.
Windows Sandbox now supports reboot inside of its virtualized environment (for example, if you were to click the Restart option under the Power button in Start).
There's also a number of new fixes as well:
The Start, Search, Task View, Widgets, and Chat icons in the Taskbar should no longer be unexpectedly large when the system scaling is set to 125%.
Pressing the Windows key plus (the number corresponding to an app icon's position in the Taskbar) should cycle now through the app's windows if you repeatedly press the number instead of stopping at the last window.
When Narrator focus is set to the Task View button and the Desktops flyout appears, Narrator will now let you know information about the Desktops.
Fixed an explorer.exe crash some Insiders were experiencing in recent flights related to updating badges in the Taskbar.
Handwriting should be working again now when the language is set to Chinese.
Mitigated an issue related to the mouse that was causing some Insiders to experience a bugcheck during hibernation sometimes in recent flights (making it appear as if the computer had rebooted).
Updated the Chinese Simplified IME candidates to be center aligned with the candidate window height has been customized.
Fixed touch keyboard invocation in PowerShell so it should work now.
Hovering your mouse back and forth between different desktops in Task View will no longer result in the displayed thumbnails and content area unexpectedly shrinking.
CompactOverlay should be working again in this build (aka the option that some apps use to create a small always on top window).
Fixed a race condition that was causing explorer.exe to crash sometimes when closing a snap group of 3 or more windows in Task View.
Removed the unexpected tilt animation when clicking down on a corner of the New Desktop button.
Made a tweak to address an underlying issue that was causing the context menu to animation down to the mouse instead of away from the mouse when right clicking a Desktop in Task View.
Fixed a high hitting DWM crash in recent flights.
Fixed some overlapping text for certain languages on the Installed Apps page in Settings.
Clicking the Uninstall button when using the Installed Apps page in grid view will now show a confirmation dialog.
Changed the new ms-settings:installed-apps URI to now be ms-settings:appsfeatures, to address scenarios where existing links expect the latter to lead to the list of installed apps, for example, when selecting the App Settings option after right clicking a UWP app in Start.
Fixed an issue that was causing some Insiders to see error 0x8007001f when trying to upgrade to recent Dev Channel builds.
Fixed an issue where some PCs are unable to install new builds, or other updates with an error code 0x80070002.
Fixed an issue causing some devices to roll back with error code 0xc1900101-0x4001c when installing new builds.
Did some work to help address an issue leading to the Wi-Fi connection getting lost after resuming from sleep.
Be sure to check out the Windows Blog for the complete changelog, including a list of known issues.
Zac Bowden is a Senior Editor at Windows Central. Bringing you exclusive coverage into the world of Windows 10 on PCs, tablets, phones, and more. Also an avid collector of rare Microsoft prototype devices! Keep in touch on Twitter: @zacbowden.
I quite enjoy the look of the Start Menu but wish we could organize our pins as easily as organizing Live Tiles in Windows 10. I don't need or want to see recommendations. Instead, I'd rather have quick access to my commonly used apps without filling up my taskbar with pins.

Everyone rushing to set it to more recommendations? :)

"More recommendations, please" said no one ever.

Better, but not good enough. Ability to have All pins is needed.

Maybe if I could organize my pins in little named groups. Possibly a pin could include some information relevant to the app.

I say this is a step in the right direction, here's hoping they bring more customization features to the start menu in the near future!

Just give me the option to switch back to Windows 10 menu. It's bad enough they've removed the registry hack to do so. This should let them know that some of us found the old Start more useful and functional.
Windows Central Newsletter
Thank you for signing up to Windows Central. You will receive a verification email shortly.
There was a problem. Please refresh the page and try again.