Windows 11 Chat app powered by Microsoft Teams gets little love from our readers
The Chat app on Windows 11 doesn't appear to be picking up new users.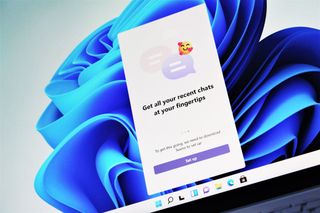 (Image credit: Windows Central)
What you need to know
Over 80% of polled Windows Central readers never use the Windows 11 Chat app powered by Microsoft Teams.
Several voters stated that the app is limited because it only supports personal Teams accounts.
Others explained that their friends and family already have a communication platform of choice.
Windows 11 includes a Chat app powered by Microsoft Teams. It's a lighter version of Teams geared towards personal users. Since Windows 11 has been out for almost a month, we ran a poll over the weekend to see if people use the Chat app. The results don't look good for the default communication app of Windows 11.
The vast majority of Windows Central readers that voted in the poll stated they never use the Chat app powered by Microsoft Teams. Just under 81% of polled participants never use the app, and an additional 12.7% only use it occasionally. Just over 6% of voters use the Chat app as their main communication app on Windows 11.
Several complained about the fact that the Chat app only supports personal accounts. Rick Mathers said, "I would use it if it supported business accounts. I try to get my friends to use it, but no go."
Another user known as poddie echoed similar sentiments:
Others pointed out that many people have already settled on a communication app of choice. ElRodeo stated:
While only a few people stated that they use the app regularly, one feature came up several times in the comments section: The ability to send SMS messages. This functionality is limited to the United States at this point but is a preferred option for some PC owners. "I use it to send texts, simple SMS. So none of my private contacts really [need] to have windows 11 or teams," explained leo74.
Windows Central Newsletter
Get the best of Windows Central in in your inbox, every day!
News Writer and apps editor
Sean Endicott brings nearly a decade of experience covering Microsoft and Windows news to Windows Central. He joined our team in 2017 as an app reviewer and now heads up our day-to-day news coverage. If you have a news tip or an app to review, hit him up at sean.endicott@futurenet.com (opens in new tab).
I think the Chat app would be better it you could use it to tap into other services, i.e. Messenger, Whatapp, Skype etc. Having an app that duplicates an existing app is really pointless and lacks proper thought.

Thank you! My thoughts exactly. Just like in the People Hub on Windows Phone 7. Make your "Chat" icon sync basic chat for all messaging apps, but allow people to expand to the full app if they want to go deeper. The key function of the Chat app is quick messaging. And you can quick message on multiple apps. If you can have grouped multi-platform conversations accessible from one location (the Chat app) that location becomes a very valuable and regularly-visited "hub".

they could have purchased one of many tools that had been doing that for years.

The same mistake that Microsoft makes in limiting the widgets panel in Windows 11 to their own apps is the same mistake I feel they make in making a "Chat" app that is limited to one service, which is still fledgling. They limit the importance and usefulness of that feature (and make it quickly obsolete) since the activity is happening somewhere else.

1. Does the Chat app replace Skype? 2. Does Microsoft plan to replace Skype personal with Teams?

No, and No. Skype personal is not being changed at this time. TEAMS personal, and the Chat app, which is really a link into TEAMS personal chat, are independent of SKYPE. Which some see as part of the problem.

Yeah, I'm in that camp. I don't really care which of the two they push (Teams Personal or Skype), but by keeping both, they're ensuring neither will prosper. If I had to choose, I'd say promote Skype for consumer/family/friend use and Teams for business use, but then also make them compatible. If the enterprise security settings permit, then Teams users should be able to talk with external Skype users. If they did that, it would be perfect, in my opinion.

For social circles Teams is great. The issue is that Facebook exists. The calendar features and the way file sharing is handled are superior to Skype. The Chat engine is superior. The app is superior and definitely performs better. What they should have done was rolled this out as an update to Windows 10… Particularly with the way the Windows 11 requirements shut out so many PCs. There just aren't enough users for this service to be attractive, and most on Windows 10 will not seek it out. Also, the way it requires a phone number and sets the number up as an alias to log into your Microsoft Account is disgusting. Almost everyone I know balled once they got to that step of the setup. I'm the only one in my house with Windows 11 compatible computers, and I can't even run this on my mobile devices because I don't want to give Microsoft my phone number to use as an account login.

It's only a month of being out.

I was excited to try Chat as soon as it became available in my Windows 11 VM. I sent a message to two normally reliable contacts who don't mind helping when I want to test new tech. Neither replied which is unusual. Later, I got one of them on the phone and tried again. After they confirmed receipt, I asked for a screenshot. It turns out that my messages are being relayed through some unknown phone number. Even though I'm already in this person's contacts and my name displays when chatting via Android or Samsung Messages, chat via Microsoft Chat (I refuse to call it Teams for Families or whatever) appears as an unknown contact. Just one of several shortcomings/pain points that I've noticed already. If Microsoft leadership's understanding only goes as deep as the Teams brand name having a more favorable public perception compared to post-Microsoft acquisition consumer Skype, then failure is almost certain from the start.

Unknown contact, eh? Very good insight. Thanks. It's in preview, I can give it time.

Don't forget the proportion of readers who can't even use the function as although they have hardware that's perfectly capable of running win 11, they can't because of tpm. Rant over

Or they meet the tpm criteria but fail at CPU for some obscure reason as we're on the same oldest i7 generation as the surfaces approved...

Well, they CAN install, they just need to bypass the warning.

Chicken and the egg. Microsoft hopes that with this on PC they could initiate a cycle where people also install teams as their personal chat app of choice on their phone. It doesn't work but the other way around also wouldn't have worked. There is no space in the market for it currently, unless MS adds a popular original feature. Teams for business did work as covid created a need where there is none for personal use.

If they make teams the main chat and call platform, make it simple to add friends and make it more attractive for non team users to start use it, like instead for Skype it may get more attention but it's state and how far away it is from the leading chat and call apps out there why would anyone outside work use it?? Take away the name and put this in Skype and just transfer the tiny amount of good features from Skype and we have the app me deserve.

I'm not surprised by this poll. The app is far too limiting. Also, why is there still no federation between Teams for Personal life, Skype and GroupMe? This is just beyond me.
Anyway, I think changes are afoot. Not least because the Chat app has not been updated since before the launch of Windows 11, which is nearly 5 weeks now. Unless, Chat goes the way of the dodo. But I find that hard to believe with a new boss in place for Skype, Teams, GroupMe (forgot his name, sorry).

Yeah, the current publicly announced plans around these make no sense to me. I hope that's just because things are simmering and getting ready, so that when there is an announcement, it's a cohesive plan. The concurrent push for both Teams and Skype and the lack of compatibility (federation) between Teams for Business and Teams Personal and Skype are both mind-bogglingly bad decisions. I don't know enough about GroupMe to have an opinion on that, but probably the same logic applies there.

The problem is you need to get people to set up Microsoft Teams to really make this work and no one is interested in using it. I have a family plan where it pretty much sets it up for everyone automatically, and they still won't use it. Microsoft is not really ever going to take the messaging space back after the screwed up Skype. People have moved on and now other platforms are so good there's no reason to switch.

I would agree that their current plan won't do it, but there's no such thing as "too late" in tech. There's always a new innovation around the corner ready to supplant everything that came before it.
Windows Central Newsletter
Thank you for signing up to Windows Central. You will receive a verification email shortly.
There was a problem. Please refresh the page and try again.