Windows Central Podcast 28: Full Windows 10 comes to ARM
This week on the Windows Central Podcast: Full Windows 10, with x86 support, is coming to ARM. We also talk Project EVO and new VR advances with Windows 10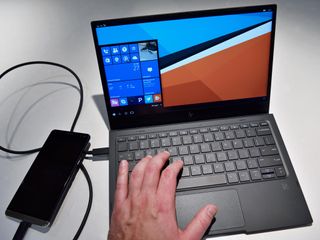 In what might be one of the biggest announcements all year, Microsoft unveiled plans to bring Windows 10 to ARM, with full x86 emulation next year. It'll fun on processors from Snapdragon, making it phone-capable. Microsoft also announced a bunch of new hardware advances for Windows 10 PCs that will benefit Home Hub, and new VR experiences too. This is our WinHEC Special.
Help us make this show the best Microsoft podcast in the world. Tell your friends, share it on social media using the hashtag #wcpodcast, and give us a five-star rating wherever you download your podcasts! Thank you so much for listening!
We've got two options for you, either the video podcast or the audio podcast, both featuring the same content.
Show Notes
Subscribe to the podcast
Hosts
Make this show great by participating!
Send in your comments, questions, and feedback to:
Windows Central Newsletter
Get the best of Windows Central in in your inbox, every day!
Zac Bowden is a Senior Editor at Windows Central. Bringing you exclusive coverage into the world of Windows on PCs, tablets, phones, and more. Also an avid collector of rare Microsoft prototype devices! Keep in touch on Twitter: @zacbowden.
It is available if you're in Canada, Europe countries, and US countries

Private here and unavailable on YouTube?

Great show guys.....ive been wanting full desktop windows to come to the smart phone,and it looks like were going that way :)

Does this mean the Surface RT tablet line will get a Win10 update?

not likely, the old processor does not support emulation thus windows 10 cannot be run.

No it has SD 810. The Demo was on a SD 820 and the first devices to feature this will be SD 835 devices.

The OS is not emulated, it's native ARM. x86 apps you may or may not want to run will be emulated.

Surface RT was discontinued a long time ago and the hardware hasn't been maintained. There was someone in the forums trying to get Windows 10 Mobile Threshold 1 (build 10240) on it, but it doesn't look likely.
.
Ignore it and move on to a newer Windows 10 device

What he said. Any chance that a technical preview is in the works for Surface 2 RT?

We do talk about that during the podcast.

In addition to surface phone running windows 10 with continuum, i wanna see docking station with GTX 1080/Tegra to enable video editing and gaming. And also, I head that Qualcomm is working with MS to build more powerful custome ARM CPU for their future device. Hope it will be more powerful than A11.

That might be possible in 5 years, but for now the GPU will have the limitation of the ARM chip. However for Pro users that don't require 3D animation, video edition or other high GPU requirements, a Snapdragon 835 will be as powerfull as a Mobile Intel Core i5 4th generation (Haswell) or perhaps 3rd generation (Ivy Bridge) that means more power than Atom CherryTrail but less power than Intel Core M-3

How about an 8" Cellular PC, docked and Continum, running Visual Studio 15 Community and SQL Server 16 Developer from an external SSD? I say 8" Cellular PC because I am still hoping for a UWP Kindle app and a UWP Safari Books To Go app - both for the offline reading features.


Well, i think we're going see windows and android in the next Samsung Galaxy Note 8.

I really hope so. If not maybe the Note 9.

W10M can already do VR. The Alcatel Idol 4s proves that.

Yes, but it's very limited VR. There's only about 2 games or so. Alcatel does want to add more, so we'll see what will come.

Also, on the demo, they ran full Windows with a Snapdragon 820 and 4GB of RAM. So I know my Idol 4S can update to this.

I read on Neowin that an Microsoft Exec stated that they will start with SD 835 devices so no update for SD 820 devices.

And what is the real benefit? Can i run SAP on mobile via continuum? Vpn via certificate-based access? Probably not.

Of course, if SAP requires less than 4GB of RAM and a Intel Core i5 mobile 3rd or 4th generation chip as requirement, the ARM chip will get the job done for you.

emulation is not full desktop environment. Will se, but I am a bit sceptic. What we expected, is full desktop apps environment on mobile, not some kind of emulation. I would expect, it will require HW support, meaning again new phone with new chip and new OS. Again. Come on Microsoft, that's not serious job.

Yeah but who else has done this though, right. Lets take it one day at a time. We have to walk before we can run.

For me this is the most important announcement of the whole decade. This is IMO bigger news than Xbox One emulating Xbox 360 Games or HoloLens, since this makes ARM progress a benefit for Man Kind. The most important fact of this news is that Intel and AMD will no longer be able to focus on low end devices and that might impact Intel/AMD revenues in long term

Sorry for being off-topic, but could someone post a link for the wallpaper that Dan uses on his HP Lapdock? Looks pretty nice.

Listened about an hour ago and it is looking like the future is bright.

I can see a paradigm shift happening on the desktop for even lower power systems.... Why was that the first thing I thought of?

What does this mean for mobile devices like Lumia 950/XL going forward?

You will continue to get Windows 10 Mobile updates.

At least the Lumia 950 will still be supported

"it'll fun on processors from Snapdragon" I think you mean run, and Qualcomm

the awkward moment at 32:10 hahhaha

Awe... Zac, you've got cold!😪☺ Get well soon!

SD835 uses 10nm process chip. But the 7nm process chip is coming soon. According to TSMC's production schedule, 7nm process chip will arrive in 2018, 5nm process chip will arrive in 2020 and 3nm process chip will arrive in 2022. The Snapdragon chips will become increasingly powerful and efficient in coming years. A lot of mobile Cellular PC devices will show up in different form factors. Surface Phone will be one of them.

Yeah don't count on those schedules sticking. Remember alot of engineering goes into making these work and every time you go smaller the job gets harder. So take those schedules with a bucket of salt.

The real challenge for Microsoft will be to make the W10 so efficient and optimized that full x86 emulation can run on devices with Snapdragon 4xx series........

No they mentioned that in video. More than likely they will focus on future chips.

Just to point out. Although not easy, Microsoft did most of the hard work, of being able to port a full version of Windows NT to a new CPU, back in the Windows NT 4.0 days. They had Windows NT 4.0 running on x86, MIPS, PowerPC and Alpha processors. Running it on ARM now, was done in a similar manner. Later on, in the days of Intel's Itanium processor, they had an x86 emulator, which was able to run x86 applications on the IA-64. So again, nothing really new here. (Although all of the old processors listed above were very power hungry! ARM isn't. So, that's new.)

Conjecture here but I wouldn't doubt that Qualcomm added instructions to the processor to help with x86 emulation. Microsoft and Qualcomm modified the Snapdragon hardware before for Windows Phone 8.

They are not allowed to add instruction to ARMv8 as they need to agree to the license terms.

Oh yeah, my bad. Qualcomm has to implement the ARMv8-A instruction set and no more (per the licence agreement) but they design their own CPUs microarchitecture (Kryo) and not just take the Cortex-A73 design from ARM Holdings.
Windows Central Newsletter
Thank you for signing up to Windows Central. You will receive a verification email shortly.
There was a problem. Please refresh the page and try again.