Windows Central Podcast 37: Windows 10 Mobile is still dead
By Zac Bowden last updated
This week on the Windows Central Podcast: We talk 4K webcams, Windows 10 Mobile and its deadness, Microsoft Surface table and more!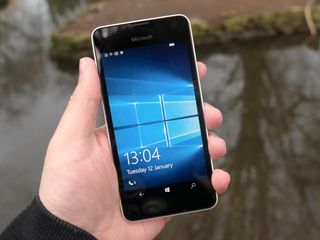 It seems like once every month we're talking about the death of Windows 10 Mobile, which makes you wonder if death actually means anything at all. We talk Mobile futures, 4K webcams, Windows 10 tables and more on this weeks Windows Central Podcast!
Help us make this show the best Microsoft podcast in the world. Tell your friends, share it on social media using the hashtag #wcpodcast, and give us a five-star rating wherever you download your podcasts! Thank you so much for listening!
We've got two options for you, either the video podcast or the audio podcast, both featuring the same content.
Show Notes
Subscribe to the podcast
Hosts
Make this show great by participating!
Send in your comments, questions, and feedback to:
Zac Bowden is a Senior Editor at Windows Central. Bringing you exclusive coverage into the world of Windows 10 on PCs, tablets, phones, and more. Also an avid collector of rare Microsoft prototype devices! Keep in touch on Twitter: @zacbowden.
I'm about to move to android, not because I don't like WP10, it's brilliant but my 950xl is falling apart, it gets a lot of use and there is nothing new. Thinking a note 5 for now, want a stylus as most of my works in onenote on my desktop, tablet and main surface pro units I use everyday. So the styles Will be great for this and all my apps are there on android. My issue with MS and WP10 is not the OS at all, not the lack of some apps, not that I really wanna share dick pics on snapchat, not that i cant shop using an app or book an hotel... I have edge for most of that, not the dick picks, not a pubebessant teenager. BUT it's the lack of phones, the HP has a poor camera as does the Idol and they are expensive for a phone with limited functionality when compared to iphones and galaxy at the price. Why can't MS just make two handsets for the WP10 users who are still here. OR RELEASE THE SURFACE PHONE AND THE SURFACE PRO 3 MINI we all know you have!!! Seen the instructions and know your CEOs etc have them!!!!

I'd be happy if they allowed HP et al the opportunity to licence the tech in the 950 camera and allow them to use it in their devices. A 955xl with an 835 Snapdragon and a tad more RAM would do me for a bit, in terms of tech. However, the app issue is real for me, I'm hoping Whatsapp get some traction with their improvements, as I think Snapchat deserves it's wings clipped. So many people I know use Snapchat, from my age (40) down. My banking app is solid and regularly updated. As for websites, I find that Edge can be hit and miss. As sad as I find it, I will likely be Android by this time next year. Incidentally, I suspect that the closest we will come to a Surface device could be the Surface Pocket. A dual screen, foldable small form factor pc in your pocket. Some time away though.

Snap is going to fail soon

A follow up to the 950XL would've been great. I just switched back to Android because there weren't really any solid and cheap (Elite x3 was more than I wanted to spend) alternatives. I'm hoping there might be something announced soon, so I can get back to Windows. If not, I can wait until the Surface Phone

Jay, my reasoning is similar to yours. Day one 950xl here. Now I'm bored...

Day one 950 here. That said though, I don't feel any real need to upgrade just for the sake of it. The camera is fine. The power is fine. The features are fine. It runs every app. The battery is a little funky but I have a replacement for that. It's hard to convince myself that I need to spend another £500 just so my phone seems faster.

You are not the norm my friend. I completely agree with you though. Don't understand how people are in such a rush to waste money on something because its shiny and new yet adds nothing. Even iPhone users tend to wait 2 years between new phones. The state of the current mobile phone industry you may as well be waiting 3+ years because its stagnant as hell in terms of what's actually available to buy today. I know people who have spent £800 on their credit card to get a new phone because they were bored

The elite x3 does not have a poor camera. You are misinformed.

I have the ELITE X3 and the camera is good. However, the focusing on the camera freaking sucks compared to the 950XL.

It's pretty awful: • Camera head to head: HP Elite X3 vs Lumia 950 XL • Review: HP Elite X3: part 4 - Imaging

I'm pretty sure there ahve been more firmware updates since that review.

The reviewer updates his reviews to reflect updates. The photo comparisons revealed no grand improvements.

It's really not that bad. Firmware updates really helped out... But let's be honest, Lumia imagining set the bar ridicilously high for competitors. Thats both amazing and frustrating (got spoiled)

Just not seen any phone get the low noise levels of the 950 series.. I mean the things better than the 1020. I'm a photographer and love having this quality when I don't have my main shooter.

I showed a co-worker some pics and video from the weekend (nice weather, took the kids out), and he was like, "Wow, what did you take those with? You must have a really good video camera." He didn't believe me when I told him, "You're looking at it." The camera is one of the main reasons I went with the 950. I wasn't willing to pay for an S7 that will be crap like my S5 was in 6 months use

You're not alone, im sure there's tons of wm users rdy to switch over, i myself allso have a 950xl. but that will surely be my last windows phone, im so tired of all the Microsoft bs all the time doing nothing useful. Everything is America only.... every time there's an Microsoft offer of any kinds.. its America only, Cortana i still useless in so many countries that its a damn joke ( selling point for their phone ) MEH :-/ app lacking and app leaving wonderful platform .... nonetheless im pretty sure my next phone will be a Nokia, the nokia 6 looks so nice, cant wait to see the p1 :D WM or Win10 arm and all that, i does not matter.. Microsoft will never get back into the game and people could't care less about them.

I'm not trying to sway you to stay (I quit doing that long ago), but I take issue with a couple of your comments. First, the cameras aren't the junk that people keep referring to them as. I'm getting really decent photos and videos from my Idol 4S. Is it as good as the 950XL? No, but it's a good camera. Second, how can you say it has limited functionality for the price compared to an iPhone or a Galaxy? The unlocked Idol 4S is available on Amazon for $450. Where can you get a new Galaxy or iPhone for that price? They are several hundred more. The Idol has excellent build quality (better than any of the Lumias that I owned) that I would stack up against the very best running any OS. I've never heard better speakers on a phone (they are so good that I prefer them to headphones). The battery life is fantastic and it has quickcharge 3.0. The phone has an 820 Snapdragon, 64gigs of storage, 4 gigs of ram and a micro SD slot too (you won't find that on an iPhone). FOR $450 unlocked ($288 if you're on T-Mobile). It may be the best bang for the buck of any phone right now. Yes, it's lacking NFC, but for anyone like me that doesn't want, need or have any use for that, it's a super phone at a super price.

I was meaning all the eco system that goes with those other phones, speaker docks, battery packs, cases and somewhat better system apps. (not app apps just what's built in)

Also I'm a photography teacher and a pro photographer... Kinda placed my self in the 950xls quality realm for a reason, it's better than the 1020 ffs which was amazing and still beats iphones and galaxy. I've tried them all head to head and the noise in low light conditions is simply not there on the xl... But now I'm stuck. Might give the idol a go but get the feeling its lens Will not be bright enough and the HP seems to loose on every test ive seen. Maybe I will get a second hand xl and a really solid case and see how long it lasts lol

The price hasn't a single thing to do with the functionality. The Nexus 5X had good speakers too, stereo in fact. iP7 does the same thing. Battery life is great on the Pixel XL, Samsung S7, etc, it's not really a big problem with phones right now. Honestly, the snapdragon 820 isn't the best chip at this point, 821 is faster. Samsung S8 is going to have the 835, blistering fast. 64GB of storage is pretty good, but there are phones with a lot more (iPhone 7 with 256GB). 4GB of RAM is pretty decent considering Windows Mobile is a lean OS. For $450 I would rather get a OnePlus 3T, plus it has NFC. :P

Note 5 is a good choice because the price has come down a bit plus Samsung always pack the best components for their Note series. A good headphone amp, fast flash memory, a GPS sensor that work and archieve fast lock on. I have use many mid end phone and their GPS normally suck. No lock on for a full minute under the sky.

Did this recently - moved from a 950XL (my second) to a Google Pixel, after many years of WP ownership. The first few days I really missed the 950XL, particularly the hardware - but all of a sudden I was left thinking "why did I not do this sooner". W10 is prettier and more intuitive IMO, but jeez, when compared to Android it is just so unstable and feature-lacking. Anyway, we don't need to report on whether W10 mobile is dead or not, it really doesn't mater - it's a free world and those who want it can still have it and use it, I don't see Microsoft completely dropping it for the foreseeable future, so long as it stays aligned with the desktop OS. Hardware-wise, you can't really blame manufacturers for not producing phones running this OS, I mean they need to make a profit after all, and it's getting harder and harder to do that. What we need is a way of running whatever OS we choose on mobile hardware (obviously not iOS, because Apple will never allow it), but that would be cool. IMO that would help to gain some W10 followers. At the same time, I wish I could just put Android on my 950XL

I'm thinking of moving from a 950XL to a OnePlus 3T and I wondered what it would be like. Always thought, like you, if I could get the Lumia running Android it would be like having my cake and eating it too.
Out of curiosity, what have been the biggest things you've noticed you are either glad to now have or missing from W10M?

The HP Elite x3 is a great alternative to your Lumia 950xl, I own one my self and it's fabulous device (the only downside is it's so, so camera) Or the Alcatel Idol 4s looks like a good contender an it's globally for sale at Amazon.com, so maybe that's an option for you if you'd want to stay in the ecosystem :)

Yeah.. It's not a new news.. We all know Windows 10 mobile and windows phone is dead.. Dreamers can dream freely about surface phone and all ***** but Microsoft is never gonna succeed again in mobile division

In that case, my 950XL makes for a pretty competent Walking Dead ;).

I think they have a really good chance with full Windows 10 on ARM, but I also think we should stop expecting some sort of magical turnaround when it comes to mobile. We probably have to wait for the next paradigm shift. Mobile websites are slowly replacing apps which I personally find very interesting and it would solve a lot of problems. But we'll just have to wait and see how that pans out.

I agree, MS might be ahead of the curve for the future, but right now it is kind of feeling like it's a waiting game and we're all twiddling our fingers. Waiting for the next thing is good, but I think users are considering what else they could do in the meantime with their money.
I'll be honest, I'm starting to think like that.

I agree. My added thought is that when the fans leave due to app gap, stability issues, lack of good flagship level devices, etc; the cost and or contract of new non WP10 phone will delay their return. If the Surface phone isn't announced with firm 2017 release date, many will jump ship this year and not have the money for a year or two to come back to windows. Then with that issue, it will be even harder to convince iOS and android users to come over. I feel if it is released by 2018, I will leave 950 for another device like a Note 8 if it arrives first. So by waiting, they lose more fans who on leaving can't afford to return to a hopefully game changing device. Developers will refuse to support Surface phone due to low sales. App centric users won't convert for that reason. On the optimistic side, Samsung and Apple have poor leak management; that when flagships come out, there are no surprises anymore. Microsoft did better as the 950 was a surprise as they didn't release the Surface phone with the i finished OS. So I hope MS "surprises the naysayers with a 2017 release that supports a Surface pen.😀

I love my 950xl. But will have to move to Android unless Microsoft surprise us with a Surface Phone that I think will never come. We needed some cool Win10 app. But, now, I realize that will never come. It's been a nice run.

If i were you, go with the Alcatel 4S. If i didn't buy my Lumia 950XL too soon, I would have gotten that one right away, but didn't learn about it until it was too late. Now i'm rocking both the Lumia and my LG V20. Two really amazing phones and would recommend them both. I can hold off for now until Microsoft brings out their Surface phone, and Surface pro 5. I'm very patient and don't need an upgrade right away anyway.

Agree...im looking to go back to a android as well, either waiting for the galaxy 8 or going with a pixel now. Seeing that we are for the most keeping w10m alive, how about we all move to end it now, in It's current iteration. That way if Panos works some magic we can all look at it at that time with fresh eyes.

In a recent feedback session on the new Xbox dashboard(alpha), I was asked what could make certain features better, of the multiple choice answers one was "Create an android or ios app to ....." No mention of a windows 10 mobile app. That says it all as others have mentioned.

I noticed the same. Just does not send a good message.

At first glance it doesn't look good, but since the plan is to put full Windows 10 on ARM in the future, who knows? I personally don't think W10M has a place for mobile computing anymore. W10M might be interesting for IoT related stuff though, bit like a raspberry-ish idea.

Windows.phone has no future but it had past. Moving now to some f-a-g-g-o-t OS alternative. Lol!

Sooo does that now make you one since you're moving on to it? :-/

So then you just prefer to sound like a homophobic idiot. Gotcha

I understood the joke. See no reason for starting the political correctness bullshit!

It's called respect for someone other than yourself. Nothing political here. Don't use "political correctness bullshit" as an excuse for ****** behavior.

What's point of such an article

Because people still have hopes and dreams.

Dumb for this site to write such

You know you DON'T have to visit it...

No matter what they say we won't lose hope.. 😉

I really wanted Windows Mobile to work. I kept going back and forth when I saw the 950XL and HP Elite. I really wanted to convince myself that MS was what I wanted for my mobile OS. But reality was I'm just to invested in Android even more than when I had the 1520. So much better fitness options and wearable that just doesn't make me intrigued enough to go back to Windows. I'm pretty sure I'm completely done with WM.

I'll probably stick with my 950XL for a long as it runs, unless a suitable W10M replacement comes along. Considering my iPaq 6315 lasted for seven years, I could see my 950XL hanging on that long. Except for the fact that these days Everything as a Service most likely means key features will be deactivated in the server side, rendering a perfectly good piece of hardware insufficiently operable before it would have died on its own. A friend of mine who changes phones and platforms semiregularly once told me something I already know: no matter which OS I may eventually end up with, if it isn't Windows I will be disappointed with what the alternatives have to offer.

Why do you torture yourself that bad? Just switch to iOS or Android and use all MS apps anyways that are FAR better than WM10 versions

Torture myself? I do that every time I have to futz with an iPad at work. iOS is in serious need of a facelift. If I had to switch today, I would probably go to Android. Or maybe wing it for a while with nothing more than a plain old non-smart phone. I think I still have an old Nokia tossed in a box somewhere.

Rumor is is that Nokia is bringing back the 3310...had that phone back in the day when Nokia ruled the cellphone market. I will consider one if it comes to the U.S. .

If I switched, I would use the tools of the ecosystem. Groove would get canceled, for one. I already have Amazon Prime, so I'd use their music service. No more OneDrive. I'd use the free Office though.

Listen to the podcast and find out?

I really like my 950XL. Once the next release that fixes adding devices to bluetooth is released.. I will back off a bit and at least go to the slow ring. Latest release that killed adding bluetooth devices corresponded with my purchase of two new bluetooth headsets... oh well.... what can you do? fast ring is risky. lol It's a good phone... especially considering I have been on the fast ring the entire time I've had it.

I'll probably be moving to the lg g6. Nadella killed Windows Phone. All the apps I used have already left.

The classification of a dead OS is important here. I classify a completely dead OS as one where no updates are made. Having said that, the OS is on life support as not many devs are supporting the OS. I switched to iOS a year ago and since then I have not looked back. The support and app quality is amazing. A lot less buggy than WM. As much as it's each to their own, I would advise people to switch. You don't have to be loyal if ms is not paying you. And when ms comes with the next and best thing, then you can just switch. It's what I'm planning to do. Ms is not forcing people who want the surface phone in a few years to stick with them first.

Yeah, Apple's support is down right garbage and super expensive, only for the filthy rich. Hell they wanted to charge me $65 just to ship back an ipod that got a few drops of water on it. Their great and amazing ipod broke after 2 months and with just a few drops of water as i dropped it in the sink with just a few driplets of water in there. Sorry to say but i'm both carrying a Lumia 950XL and an LG V20 on T-mobile. I'll stick with Windows and Android. By the way Windows mobile is far better than it's ever been. It is fast, smooth, vastly improved and I just love using Windows hello on it. The LG V20 has the finger print reader, so both phones have their features that makes them great.

Here in Russia the government has given Apple until May to unify their support. Seem that here if you crack your iPhone 7 screen Apple advices you buy a new phone because they don't have replacement glass.

Totally opposite of my experience. They replaced my sons screen free of charge including shipping about a week before he was out of basic warranty. and NO, apple is not only for the filthy rich. That's hilarious when I hear that.

You think I have that kind of money to waste on such a venture, switching here and there.
Why do I need iphone anyway?
1. Bluetooth not compatible with other phones,
2. No SD card,
3. No file manager,
4. No removable battery,
5. You can't simply delete a song without the assistance of a laptop.

I've gone to android but I'm still and avid insider, posting feedback and what not. The OS just isn't reliable enough (phone rebooting during a call, freezing whilst trying to send a file to a colleague, camera failing to start). Also the lack of decent hardware was doing my head in. iOS works great for what it needs to do, although I have some trouble with the UX when it comes to the UI. Definitly needs an overhaul. Android is a bloody mess but its workable if you put some time in it. Then again, I probably shouldn't have gone with Xiaomi...

Abandoned ship last xmas to gs7. Best thing I ever did from a mobile perspective. It was hard to leave but it had to happen. Now that it has happened, Microsoft just need to officially announce it instead of playing their cards close to their chest.

Why should they stop supporting it? I bought my Lumia 950XL back in September all so i could bypass those carrier update lags, and get those Insider builds. I also bouth it, because I've always wanted a Windows phone, and would have gotten one in 2014, but went Samsung instead which in my opinion was a bad decision. I got no support for an entire year as it got so hot one day and almost burned my hand. Eventually they fixed the issues with it like 14 months later, but seriously Samsung needs to get their **** together on building cooler phones like LG and Microsoft.

Very nice job. Apreciate the insight and opinions on Windows phone.

You guys keep saying it's dead, while I continue to use my Lumia 950XL on T-mobile along side my LG V20. Yeah it's not being bought by many people, but that is only because Apple and Samsung has a huge advertising campaign for their phones and that's all people know of or even care for these days. I mean where is the advertising for the Alcatel 4S? Ofcourse i'm holding out for the next Surface phone, or HP's next gen phone, or Alcatel 5S myself. Either way I love both Android and Windows. Mostly Windows though, as i have 5 Windows devices, 2 Xbox One's and my Lumia 950XL. I just own 2 Android phones and 1 Samsung Galaxy tab S which I barely use these days since i just use my Surface 3 most of the time anyway. Also the Lumia bands are not that great in my area, as i don't get good reception here at home, but my LG V20 gets 3 or 4 bars while my Lumia struggles to get 1. Luckily my Lumia gets better reception out in the city and closer to Harrisburg in PA.

Most devices are designed for certain regions, it might be that the particular one you have might not be wholly for your region. So you might experience poor network reception.

"Windows 10 Mobile is still dead" Just like Generalissimo Franco

Retired my windows mobile devices in 2014 what a blast they were.

"And we'd all have cancer.." LMBO!!!! I literally laughed out loud!!!!

What is dead may never die

Yes, this so true. What is dead cannot die twice.
I like when they say W10m is dead. If this is how dead W10m can be, then I am cool.
It can't get [deadier] than this.

Everyone wants more updates. I love my 950L, wireless charging, retina scan, Cortana, removable battery and expandable memory with one of the best cameras around. I don't need 1000's of apps. I just want a great phone, and the 950L is one.

I realised this when I got iPhone se last year. Windows mobile has been dead for some time, so much so I got the iPhone 7 plus and haven't regretted it one bit apart from the plus being a little big. However with nokia coming back soon I may jump back to android. Who knows

Why jump around if the iOS meets all your needs?
It goes to show that apps is the only reason. Take away apps, you'll quickly notice that there will be no reason for any switch.

The SE was cheaper to try it out. But I loved it so much I got the big one and kept SE for work. But I think I prefer the Single handed use of SE now to be honest. It's so fast compared to to thumbling about with a big handset. As for nokia. Well it's Nokia. They made good windows phone. I'm sure they will make a fantastic android.

Keep in mind that its HMD thats making the Nokia phones. Nokia just licenced the name. The Nokia 6 does look great, heavy Lumia influences I'd say.

I really want to see the flagship before I jump again. Sounds like it's gonna be good

I'm right there with you. I can't wait to see if Nokia carry over some of the features that I simply love on my Lumia's. Glance, Double Tap to Wake and awesome camera. I love W10 mobile but I've always jumped between iOS, Android and Windows Mobile so Nokia on Android is a no brainer for my next phone

I have never considered changing my lumia to either android or ios.
W10m does all that I need, though I miss having a few apps, but I am very ok with alternatives provided by my windows phone.
If I am to switch, what do I expect an android or ios device can do, that I can't possibly do with my Lumia right now? Maybe to serve me a cup of coffee or snapchat or play Pokémon. I am ok with my windows phone.
As long as my windows phone keeps running, I'll keep using.

I'm sure if we get missing apps as uwp, and if those apps are frequently updated it would keep many users, I'm living my 950 xl, less crap ware, has all apps i need

Windows phone was dead a year back....

Dead to you though not to many that use it like myself.

but i feel still alive with windows mobile, with my win 10 pc, perfect, awesome :*

I use a 950XL as my work phone and an Nexus 6P for my personal use. The 950XL is perfect for work and I did use it as my daily driver for about a year but it was the lack of banking apps for me. I think W10M is excellent as a platform and I really hope it succeeds, and I'm sure Microsoft has a strategy for it, but they need to let people know!

As much as many as myself wanting WM10 to succeed. I worry with no advertisement. Most people seem to forget that there even a windows mobile or don't even know of it.

With no new hardware its bound to die. Wish there was something upgrade to from my 640xl here in India.

To speak of such of WM10 is dead is incorrect with many still use there WM phone. It may not have a big global share like the other two platform. Though not dead yet. And like many other platform that have died the rest will follow as technology improves.

I'm so sick of the, "xyz" technology is dead narrative. I originally started using this site because it gave me useful information. Now, it is just another echo chamber for tech press diatribes. I'm done with WC.

The OS isn't dead, nor are the phone itself. I don't know what's next for Windows 10 mobile, and judging by this Podcast and other posts by users and Windows Central, no one does. They have it extremely quite for what's to come next. I don't think //Build is going to show us anything new either, for phones that is. That's at least my opinion and expectation. I will listen and watch from Windows Central, like always. I will still use my phone, like I always do. If worse does come to worse, well then, I'll move to iPhone. That way I know my friends and family can chat and text me all the same, and I won't feel so left out. (Beside, I really don't like Android/Google and wouldn't give them $0.02 for the best all around phone). Technology changes and now we have more knowledge of that and what's to come.

Windows Central WinPhone app still hanging when I scrolling articles. Fix it please☹

MS mobile team is just over pills pls dont disturb them

Lol the amount of retardation in the comments is unbelievable. Morons thinking os dying because no one buys them, when the people who do, switch to something else later.
Retarded fanboys just choose to ignore that the os has badly designed basics, unpolished features and ui, broken basic apps, killed basic apps, limited ram, limited customization, and so on

Be gone, pest. Oh, and just to let you know, you are 100% incorrect about everything you said.

I can't see me upgrading my phones for a long time now. Still using my 930 on 8.1 as my personal phone, my my 950 bought when the price dropped to £249 as a mini tablet. Still got my Lumia 800 on 7.8, my 920 on W10, my Nokia N8 on Symbian Belle as backups, if needed. My wife uses my old Nokia 5800 as her phone. My work phone is an iPhone 4S. I just don't feel the need to upgrade, and if I do I'll just put my sim in the 950.

Things that went wrong with Windows Phone / Mobile:
Ugly UI design
Inconsistent interface
Cocooned and slow Apps
Locked down OS
etc...

Really interesting section on if Windows Phone is dead. I agree with most of what was said, although just like to clarify when Daniel said that of the 0.6% of phone market that 75% was WinPho 8.1, correct me if Im wrong but I believe that the 0.6% figure is a sales figure not whole market share so I would assume that they are all Windows 10 mobile devices as WinPho 8s arnt sold any more. Not that it makes much difference with these kind of figures but sales and market share do get mixed up a lot. I have no idea what the actual whole market share of windows phone (8.1 and 10 ) is, although I think it was somewhere between 50,000,000 - 100,000,000 a year or two back. Source : 50 million in Jan 2014, then about 40 million per year 2014 and 2015, dropping to 10 million a year 2016 and now even less. http://winsupersite.com/windows-phone/windows-phone-device-stats-january... and http://www.gartner.com/newsroom/id/3323017 Keep up the great content! :)

I don't care whether Windows Mobile is dead is or not. I took Windows Phone because I loved its UI and I still do love its UI even after upgrading to Windows 10 Mobile.

If someone forget it, WC must recall that wp is dead
Lol

Two non-tech family memebers have new Android phones and always ask for help. One big thing is figuring out the address book. There seems to be a difference between "contacts" and the "phone/email" address books. They keep asking "why are these people here" and "where are these other people"? And then the confusion beteween favorites and frequents. I shake my head and think Windows OS is great compared to the endless complexities in Android. (there are lots more for the non-tech user)

I switched to Android several weeks ago from my Lumia 950. I still like windows OS but I have to say Android is not that bad. Many features and customization options on droid and so much more hardware choices. I am personally waiting to see what Nokia is releasing and hope T-Mobile will carry Nokia phones in the future. My 950 had issues with text size issues and other minor annoyances that were developing. I really wanted to give Android another chance with a better phone and now I have the BLU VIVO 5R. I like BLU phones and this one is a good performer with a very decent camera. No need to spend hundreds of dollars as the low and mid range androids are getting good specs and performance.

And Nougat is less clunky than past Android OS. I am beginning to really like Android

Reading through these comments I've found different opinions on just about every turn. There is no thread of continuity anywhere. People agree/disagree insult each other, when it comes to W10M. All we have on this subject is speculation and hypotheses. And to be honest the whole conversation about Mobile is repetitive if not absolutely redundant now. I think Dan and Zac should cease to speculate on the mobile issue, put it down and forget it for a long time, it no longer serves a purpose or brings anything new to the table. All I'll add is that Microsoft are still updating their mobile phones. I'm on a Lumia 640 lte. Apparently the lte stands for Long Term Evolution...we'll see for just how long.

It's all getting updated just takes time and btw I love the Microsoft 650 phn

ah yes, the phase where you swap old hardware for new hardware. I think we are all getting tired of that. Windows Phone 7 to 8 required new hardware. 8 to 10 for the most part required hardware upgrades. So if they next one requires a hardware upgrade again.... it becomes painful for people. I've still got a Lumia 900, and two Lumia 920s now laying around at home as I use my Lumia 950. I'm getting tired of having to buy new hardware because all the software keeps getting shut down.

I am still using a Nokia 635, running 8.1, I don't consider myself one who needs new shiny things always. That being said how is the Acer jade primo. Anyone have an experience with one

What why I'm using old devices and they will out due any of the new devices no need to get a new devices just enhance the one you have

But yes on my lap top I took 3 of my old computer and combined them all together

One of my phn is the Lumia 650 and I have a Samsung galaxy s4 mini

And ill put either phn up against any new phn

And sry yes I'm trying to work out alot of problems with my laptop I almost had it and I didn't delete 1 old update and I haven't had chance to save the new update so yes it crashed everything

I have a 950xl and my other half a 950...both are snappy machines with fantastic cameras. We used Android for several years, but I wanted to try Windows 10, so I purchased her a 950 and for me a 950xl. There are some differences and missing some apps, but overall, it does what I want: email, youtube, netflix, and phone...I find the OS really quite good compared to competitors. Still, it is sad how Microsoft simply let these machines simply die...I hope their replacement plan works well. Do not want Apple and am tired of Android. cheers, SEADRIVe

Just listened to the podcast today. Something Zac said got me thinking. He was talking about how he hoped that even with Windows on Arm, that Microsoft would continue developing a Win10 Mobile platform for low end devices since WoA would require higher end hardware. And here's the thing, I've been thinking of Win10M as a stripped down version of Windows 10, with all the desktop legacy stuff removed. And that's true given today's reality where phone has no market share, and desktop is really where Windows lives. But if it comes to pass that UWP eventually replaces the old Win32 API for everything but maybe niche and legacy markets, then you can flip that perspective and think of what is now Win10M as the core of Windows 10. It's the NT kernel plus just the necessary libraries to support UWP apps. Sure, it's currently targeted at smaller screen phones, but with cshell and expanded continuum (split screen and/or multi-window support on larger screens), if the UWP app library is sufficient it could be used for tablets, 2 in 1s, and even desktops, at least for mainstream markets. And then these other platforms (Windows Cloud, Windows on Arm) start to make more sense to me as having add-on legacy bridges of sorts. If so, I think it goes something like this: Windows 10 Cloud = Windows 10 core (aka future Win10M with cshell/continuum on steroids) + Win32 libraries limited to running Project Centennial apps (win 32 apps from the Windows store). On ARM devices this would include the WoA emulation. Full Windows 10 = Windows Cloud + full ability to run non-store Windows apps (again using WoA for legacy compatibility on ARM devices) So even if for a period of time nobody ships devices that run "Win10M", it seems to me that Microsoft will have to keep developing a version of it since that's the basic.layer underlying Windows going forward and may even be the ultimate result - eventually - for a significant portion of non-phone Windows users.
Windows Central Newsletter
Get the best of Windows Central in in your inbox, every day!
Thank you for signing up to Windows Central. You will receive a verification email shortly.
There was a problem. Please refresh the page and try again.