Windows Central Podcast 92: Windows 10 on ARM is better than you think
This week on the Windows Central Podcast: Some thoughts on Windows 10 on ARM "complaints", Alexa, the Dell XPS 15 and more!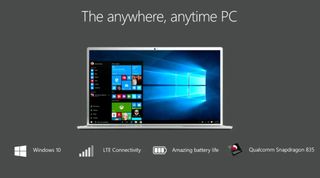 We're back with another exciting episode of the Window Central Podcast. This week, editors Daniel Rubino and Zac Bowden talk about the many complaints surrounding Windows 10 on ARM, and how many of them are unjustified, Alexa exclusives on Windows 10 PCs and how its not a good thing, and the new Dell XPS 15 2-in-1. Also this week, we talk about the Twitter PWA and its latest updates, and new Insider builds!
Help us make this show the best Microsoft podcast in the world. Tell your friends, share it on social media using the hashtag #wcpodcast, and give us a five-star rating wherever you download your podcasts! Thank you so much for listening!
Show Notes
Subscribe to the podcast
Hosts
Make this show great by participating!
Send in your comments, questions, and feedback to:
Windows Central Newsletter
Get the best of Windows Central in your inbox, every day!
Zac Bowden is a Senior Editor at Windows Central. Bringing you exclusive coverage into the world of Windows on PCs, tablets, phones, and more. Also an avid collector of rare Microsoft prototype devices! Keep in touch on Twitter: @zacbowden.
Whats the purpose of making a dual screen phone without apps?

It's not a phone, Its a telephonic enabled device. ;-) The answer here of course is it should run most pc programs from the store (like windows 10 on ARM) and PWA's. Google is backing PWA's for android app development, these should run cross platform, so this should encourage buy in from app developers.

You mean without a bulk of useless consumer apps and shallow games that track everything on your phone? Give me a good update & security policy anytime.

@Denver22

"Whats the purpose of making a dual screen phone without apps?"

Hi, as I can tell from your comment you did not actually listen to the podcast before making a comment. As a result, your question seems, weird and out of touch. I suggest listening to the podcast - or our previous coverage on Andromeda - where since 2017 we have been stating that this is NOT a phone, it's a foldable Surface PC. I hope that answers your question and I look forward to you listening to our podcast in the future, thanks!

Seriously? Not a glowing endorsement. It's like saying my first wife "wasn't all that bad". Customers are generally not looking for "not that bad".

You know what's weird? In Star Wars: The Last Jedi, it turns out Luke really wasn't the last Jedi. Titles can be more than that. You should listen first instead of rushing to comment. I mean, I appreciate the whole "Nah, I DO judge a book by the cover" approach, but from past experience, I have learned it's usually not that accurate (See "A Modest Proposal"). Also, "ain't all that bad" is colloquium for "pretty good". Next week, I'll tell you about K-Pop. Finally, the cool thing about my job is I can change the titles to more accurately reflect the content. WHERE IS YOUR GOD NOW?

Not that bad? :))))) Seriously...had too much koolaid Zac?

LOL... WC is literally the only ones saying "it's not that bad." For the kind of price these things have, I expect a lot more than "not that bad."

Yeah the first batch (that Asus one and that Hp tablet) was priced to high, I wonder if the next generations will be more interesting.

Actually, if you did a Google or Bing search for Envy x2 reviews you'd find positive reviews from: Cnet Forbes Australian Finance Review Laptop Mag PCMag t3.com But, I get it, why let those facts get in the way?

Windows 10 on ARM is a complete cop out! Ridiculously expensive & underpowered.. It is just a glorified atom! I don't care if it's just a recompile issue. The processor is slow, 835. Battery life, all day, who cares. I have a charger, always on, so what. I'm sorry it's another attempt at a painful experience. If you need a simple machine buy a Chromebook!

If you don't care for long battery life than why comment on a topic about devices which one of the main marketed advantages is the long battery life? ;)

Well, I'd suggest you stay away from our site next week then. Also, it's 100 percent clear you have literally never touched a Windows 10 on ARM device, which means your thoughts on its performance have literally zero value.

" I have a charger, always on,"

It's an odd look, but I support your bold fashion choice. On a serious note, crazy thought: Not all PCs were designed with "richard levett" in mind. I know, it's weird. But go with it.

Daniel, it's nothing personal, it's my opinion! Sorry about that. I just feel it's not going to get full support, we've all been stung before by new configurations of laptops that long-term just don't stand the test of time.. Thanks for your reply (P.S I love the podcasts and site, so if I've come across as passive aggressive, it's because I was that guy who was sold on Windows RT!)

No worries. All I have to say is (1) let's revisit this next week (hint) (2) let's also revisit this next year. ARM will be a journey/process. We're just starting. It's going to get even better very soon.

Daniel, thanks for your response, you obviously have much more of an insight than myself, so I respect that & I'll obviously take both points on board, kind regards Richard .U.K

Does your (hint) have anything to do with just announced A76 by any chance?

Next week computex 2018 Dell(Snap850) and Asus (Snap1000)

As Elon put it, without failure, there is no sufficient innovation. Germany took 10 years to take back world club by kicking Brazil. Microsoft needs 10 years of trials and errors to experiment with Win8, WinRT, W10M, W10, to get to modular WinCoreOS that underlies the next generation Win10 OS seen in Surface Hub2 and Andromeda OS. We are in the beginning of mobile device Renaissance. The combination of Modular OS and highly adaptive CShell, means Microsoft ecosystem will pioneer not only more surface new category, but empowering OEMs to democratizing the birth of many more innovative new categories!!!!!

I like the idea of Windows 10 on ARM and I believe it has a lot of potential. First-generation hardware will always have its issues and yeah, the 835 is OK for native apps, but to better emulate x86 apps, we would have to wait for the rumored Snapdragon 850 Windows 10 apps. I will hold off until then, because the battery life would make it amazing for my work.

People also forget that some x86 apps also have some .NET code, which is a sort of bytecode that gets natively compiled at runtime (i.e. the app's .NET code gets compiled into x86 or ARM, depending on the CPU) and that should help matters somewhat.

Windows 10 on ARM looks very promising, but there needs to be lower end devices with it *cough* Surface 4 *cough*. People here forget that 95% of PC users use their PC for Light Weight tasks and not 8K video rendering.

Let us wait for computex 2018. The fact that just a few days before the event we have leaks all coming from trusting websites from Germany on Dell (Snap850) and Asus(Snap1000) suggests important announcements are coming! Both companies have been working on these products since last year.

We need xps15 9750 with non soldered 2 slots of Ram! Can someone varify this.