Dell XPS 15 2-in-1 (9575) review: A powerhouse convertible with only a few sacrifices
Dell's new XPS 15 (9575) merges a convertible with its juggernaut 15-inch laptop for the first time. Here's what works, and what doesn't.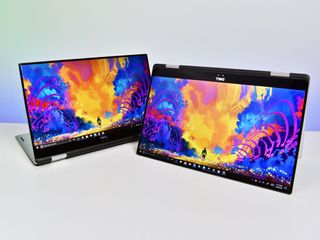 For the last couple of years, few laptops have caught as much attention as Dell's flagship XPS 15. The juggernaut 15.6-inch laptop is one of the ultimate all-around Windows 10 PCs that balanced good battery life, ports, with sheer power.
But there was one problem. While the XPS 15 had a touch screen, it lacked pen support, let alone the ability to act as a tablet.
That changes in 2018 with the all-new XPS 15 2-in-1 (9575). While the familiar XPS 15 (9570) remains, the new 9575 is for those who want the best of all worlds. Today we'll tell you if there are any severe compromises to this first-gen product from Dell.
Dell XPS 15 2-in-1 features and hardware
Dell said it aimed for few compromises for this 2-in-1 compared to its regular, non-transforming 9570 bigger brother. That's mostly true — the 9575 is arguably the most potent 2-in-1 PC — but there are some drawbacks too.
For processors, there are two options. The Intel i5-8305G or Core i7-8705G. Both are quad-core processors and part of Intel's new 8th generation line, but they are now coupled with AMD Radeon RX Vega M GL graphics (8MB cache, up to 4.1GHz). For this review, we had both the i5 and i7 options for testing.
These CPUs are not the familiar Ultra-low Voltage (ULV) chips found in Ultrabooks, but the more powerful 45-watt types. The AMD Radeon is a new, odd partnership with Intel, but its addition replaces the standard Intel HD graphics for a much more powerful Vega-based system to give the 9575 some extra punch.
Dell XPS 15 (9575) tech specs
Swipe to scroll horizontally
Category
Dell XPS 15 (9575)
Processor
Intel 8th Generation Core i5-8305G quad-core
Intel 8th Generation Core i7-8705G quad-core
Display size
15.6-inch
UltraSharp 4K (3840x2160) touch display, 100% color gamut
FHD (1920 x 1080) touch display, 100% color gamut
400-nits, 1500:1 contrast ratio, anti-reflective 178° wide viewing angle
RAM
8GB-16GB Dual Channel DDR4 at 2400MHz (On Board)
Discrete graphics
Radeon RX Vega M GL graphics with 4GB HBM2 RAM
Ports
2x Thunderbolt 3 with PowerShare
2x USB-C 3.1 with PowerShare
microSD card reader
headset jack
Active pen
Bluetooth 4.2
Multi-mode support including MPP (Microsoft Pen Protocol), Wacom AES1.0 and Wacom AES2.0
4,096 pressure levels
Storage
128GB (SATA); 256GB, 512GB, 1TB, or 2TB (PCIe)
Wireless
Killer 1435 802.11ac [2x2] + Bluetooth 4.1
Intel 8265 802.11ac [2x2] wireless for vPro + Bluetooth 4.1
Miracast capable
Sensors
Gyroscope, eCompass/Magnetometer, Accelerometer/FFS
Biometric
Widescreen 720p webcam with four array digital microphones; Windows Hello compliant infrared camera; Far Field Cortana capable
Optional Windows Hello compliant fingerprint reader in power button
Battery
75WHr (non-user-replaceable)
AC Charger
130W AC adapter
Weight
4.3 lbs (1.97 kg)
Dimensions
0.35 in to 0.63 in (9 mm to 16 mm) x 13.9 in (354 mm) x 9.3 in (235mm) (H x W x D)
Starting price
$1,299.99

(opens in new tab)

Availability
Spring 2018
Dell.com, Microsoft.com
See XPS 15 2-in-1 at Dell (opens in new tab)
The display comes into two options — full HD or 4K — both Sharp IGZO (Indium gallium zinc oxide) with 400-nits of brightness, anti-glare coating, touch support with a pen (Wacom), and those Infinity Edge super thin bezels. The 4K option costs a jaw-dropping $400 extra over the full HD panel. For this review, we were able to evaluate both screen types.
RAM starts at 8GB and can go up to 16GB both of which are DDR4-2400MHz. The RAM is "integrated," which unfortunately means it is not user upgradable because it is soldered to the board. With the Core i5 processor, you can only configure the laptop with 8GB of RAM, with 16GB reserved for Core i7 models.
Port selection is modest with four USB Type-C ports. Two of those are full Thunderbolt 3 with PowerShare, and the other two are standard USB-C 3.1 with PowerShare. Those Thunderbolt 3 ports are 4x PCIe lanes supporting external GPUs and work with the included 130W AC charger. There is also a microSD card reader and 3.5mm headset jack.
Dell XPS 15 2-in-1 (9575) – The good
The Sharp IGZO displays are outstanding. The full HD panel yields 98 percent sRGB for color accuracy (and a respectable 75 percent for Adobe RGB). The 4K screen is even better at 100 percent sRGB and 97 percent Adobe RGB. Both panels hit 400 nits and can get extremely bright especially compared to the last generation of IGZO screens.
The addition of an anti-glare coating makes eye-fatigue a thing of the past while retaining rich color and vibrancy that clear glossy displays are known for.
Touch and pen responsiveness is also enjoyable. The Wacom AES pen (sold separately) combined with the high-performance processor and AMD graphics is a joy when using Windows Ink.
Dell reinvented the keyboard for the 9575 in going with a "maglev" (magnetic levitation) design. Forgoing rubber cups this laptop uses powerful magnets to push the keys back up resulting in a slimmer profile. Good travel on a computer is at least 1.1mm, with 1.3mm being on the high-end. This keyboard is just 0.7mm, which is extremely short and — in theory — not very good.
Surprisingly, this maglev keyboard is delightful to use. There is some minor typing adjustment, but this period is measured in hours, not days. The keys are exceptionally even and consistent with first-rate actuation, making this one of the fastest keyboards for typing. It easily outdoes Apple's "butterfly switches" found in the new MacBook Pros.
The trackpad is great with a huge footprint and a smooth glass feel, all powered by Microsoft Precision Drivers.
Dell includes dual-infrared (IR) sensors near the web camera for Windows Hello and offers a fingerprint reader built into the power button giving users an option. Both worked without flaw 100 percent of the time.
Performance is a bit tricky due to the complexity of the new AMD Radeon RX Vega M GL, which shares the same single-component as the Intel Core processor, but in short, it is excellent. The Core i5-8305G model earned a Geekbench score of 4,597 for single-core and 14,253 for multi-core. That's equivalent to the highly-clocked Core i7-8550U found in Dell's XPS 13 (9370).
Image 1 of 2
Pushing to the more expensive Core i7-8705G, the XPS 15 9575 measured 5,015 for single-core on Geekbench. That single-core score is like the Surface Book 2 15-inch (5,036), but Dell trounces the Surface Book 2 15-inch on multi-core — 16,094 versus Microsoft's 14,237.
Turning to the AMD Radeon RX Vega M GL and its 66,903 scores on Geekbench falls just short of the NVIDIA GTX 1050 (75,665).
The bottom line is for a 2-in-1 the XPS 15 (9575) has the better CPU compared to the Surface Book 2 15-inch, but Microsoft's PC will beat out Dell for raw graphics power. There's no shame in that, it just depends which you value more — CPU or GPU?
The overall chassis build-quality is very solid. There are no creaks or flex, and the whole laptop feels evenly balanced with no hollow points. This laptop is a tank, and it looks great too even if the silver is getting a bit tiring.
Dell XPS 15 2-in-1 (9575) – The bad
The XPS 15 (9575) may be built like a tank, but it feels it too. Of course, using the laptop in presentation-mode (keyboard folder under as the base) is still an enjoyable experience, and inking while flat on a table is also fantastic, but don't look to hold this like a Surface Pro for more than a minute or two without substantial fatigue.
That makes this 2-in-1 convertible less useful than a Lenovo X1 Yoga.
Audio — for a Dell — is quite good, but these are still dual-speakers placed on the bottom edge resulting in a more muffled sound when used in laptop mode. Volume level is decent (but not very loud) with a crispy, well-balanced audio profile. The spatial separation is also outstanding. Some of this praise shifts though when you change positions from laptop to tablet to presentation-mode to tent-mode making a very uneven experience.
Battery life and fan noise are also not strengths. When using the Windows 10 "Better battery" (default) mode for power, the fans are quiet but turning to "Best performance" changes things quickly. Doing a Windows Update or running some intensive software will result in louder than usual fan noise for a laptop in 2018.
Temperatures also get toasty in the bottom center. While never hot for regular use under heavy load that Core i7 may get too warm for some especially when wearing shorts.
The battery life — thanks to a decently-sized 75WHr battery — depends on tasks and the chosen configuration. The Core i5 model can push 8 hours of regular laptop usage (web browsing, video, music, email, running Microsoft Store apps), but the Core i7 one will struggle to hit 6 hours, which is below most premium laptops these days and is akin to a gaming PC.
The power-hungry 4K display also hampers the Core i7 battery. Users can order the full HD display with a Core i7 processor, but Dell does not have an option for a 4K model with a Core i5 processor.
I won't belabor the under-the-display web camera, which is old news. Dell still uses this configuration to maximize those thin displays. If you use a web camera often, it will bother you, but if you barely use it then it won't.
Dell ships the XPS 15 9575 with a decent PCIe NVMe SSD, but performance is lacking for write speeds — around just 600 Mbps — which is far below premium. Luckily, read-speeds (about 2,500 Mbps) — and what users experience most of the time — is admirable. Crafty users can also upgrade storage later with a more performant SSD of their choosing.
Which configuration should you buy?
While most enthusiasts are quick to jump on the Core i7 model with a 4K display — because more is better — the Core i5 with full HD is the real value play and what I would purchase.
With a starting price of just $1,499, this is the model to get for those who want a very good experience with a Windows 10 laptop. While it "only" has 256GB of storage you can always upgrade that later — which is probably a good idea anyway since the write speeds by default are not outstanding.
I found the full HD display to be just stunning. The delta between 4K and full HD has shrunk when manufacturers don't cheap-out on the latter's quality, and that is the case here. While 4K looks sublime, it is just not as impressive anymore when both screens have so much going for them — touch, anti-glare, high brightness, and sRGB color accuracy are all identical.
To help convince you just remember that the 4K panel is a $400 upgrade! That's insane. Combined with the required Core i7 processor that configuration starts at $2,049 making it a $750 additional investment. If you're using this as a student, light-gaming, or for casual use that model (and price) is the definition of overkill.
Of course, if your job necessitates a 4K display for video or photo editing, or you need that Core i7 processor (most do not) then you will be rewarded with a high-performant laptop that is a juggernaut – so long as you do not prioritize battery life.
XPS 15 (9575) 2-in-1: The bottom line
Regarding overall design, Dell did an outstanding job. This laptop is not just an old XPS 15 but now with 180-degree display hinge. The company thoughtfully designed this from the ground-up, and it works.
Performance is so good I have a tough time recommending the Core i7 model unless your job requires it. The Core i5 is like a high-end Core i7 Ultrabook, which is to say fast and responsive.
Strengths of this laptop are the fundamentals: typing, display, trackpad, and build quality. These are well-above average, and it makes using it enjoyable. Inking is also not overlooked here. The Wacom AES 2.0 with 4,096 levels of pressure is serious hardware, and it makes inking on this device exceptional.
Image 1 of 2
Where the XPS 15 (9575) 2-in-1 falters is the overall size — it's large and heavy — and the battery life, which is below average. For many, that may not be a big deal where this is a laptop to take between home and work with moderate usage during a morning commute or short flight. But for those looking for something that where they can leave the (rather large) charger at home you may be disappointed.
The micro SD card reader is OK, but a full-sized reader would have worked better.
See XPS 15 2-in-1 at Dell (opens in new tab)
Pros:
Best-in-class display panels.
Outstanding CPU performance, good GPU.
Solidly built chassis, balanced design.
The maglev keyboard is awesome.
Cons:
Heavy for tablet usage.
Underwhelming battery life.
Gets noisy under load.
The 4K panel is very expensive.
The Killer 1435 wireless card worked well especially with the Linksys WRT32X router, which auto-prioritize traffic for this hardware.
Overall, Dell took a risk in making this laptop – it's not quite a great tablet, and it will have worse performance than the refreshed XPS 15 (9570) – but it's clever, fun to use, and it has a display that makes you want to stare at it for hours even with "just" full HD.
Any laptop that does all of that is a winner and easy to recommend.
Windows Central Newsletter
Get the best of Windows Central in in your inbox, every day!
Daniel Rubino is the Editor-in-chief of Windows Central, head reviewer, podcast co-host, and analyst. He has been covering Microsoft since 2007 when this site was called WMExperts (and later Windows Phone Central). His interests include Windows, laptops, next-gen computing, and for some reason, watches. Before all this tech stuff, he worked on a Ph.D. in linguistics, watched people sleep (for medical purposes!), and ran the projectors at movie theaters because it was fun.
This was my ideal device as a 3D artist. I need the power, I need pen support, I want a 2-in-1. Unfortunately I can't pick the version with 16GB of RAM + 1080p display in my country, so I won't be getting it. Really really sad about that and now I don't know what to do.

OK this might be a classic question, but what is that wallpaper?

You'll find this image on Shutterstock. The artist is Tithi Luadthong and an impressive gallery of similar images. https://www.shutterstock.com/g/tithi%20luadthong?page=5&search_source=ba...

Good article. I'm so relieved precision touchpad is becoming the new normal with these laptops. After my SP4 and SB trackpad experience, any Synopsys powered touchpad is simply junk in comparison. Although I mostly use a (trackball!) mouse, the few occasions of using a touchpad has just got to be precision.

I just bought one of these to replace my Macbook Pro before it developed any keyboard trouble and I could get good money for it. I love this thing. I got the 4k version. Absolutely beautiful machine. Weirdly, I miss the Macbooks butterfly keyboard. I'm one of the few people who liked it. I definatley do not regret my decision though. This just might make me come back to Windows full time and leave the Darkside behind. Lol.

There is so much more value in the xps devices compared to the MacBooks. You get so much more for less money.

Hey Steve Adams, I don't disagree with you at all. That being said, I did like the touch bar. I used it a lot. The more I used it the more I liked it. I won't miss it much though. This machine is a beast. I'm very happy with it. I will slightly miss facetime and messaging. I still have the iPad for that so it's no problem. By the way, I get a kick out of your posts and usually agree with you.

Thanks Kevin. Most of the time, I am joking. But not may macbook hate. They are mindnumbingly terrible. I wasted money 3 times trying to move 100% to apple ecosystems. CAN'T do it. I, like you, love my imessage but with dell's mobile connect, I get enough functionality that I am ok with it. As for my posts, I look at reality. Not blinded by fanboy'ism. On ANY side. I use and own all platforms from Windows, IOS/OSX, Linux, android and soon to be chrome. I need a windows box in my garage because ALL my motorcycle/ATV-UTV/snowmobile Tuning software and devices are all windows based. Therefore, If a client needs something done, I need windows. Also, having touchscreen is a boon when designing custom bikes etc as well.

Steve, you're right about Dell's Mobile Connect. I've been using it a lot on my XPS desktop. It works quite well. I have yet to set it up on the 2in1 though as I just got it.

Yeah, I have it on my wifes and my dell's they work great.

How do you find the heat generated under heavier loads? Is it bearable or do you find the surface gets too warm?

The heaviest loads I've put on it so far were editing some pictures in Photoshop of my grandkids I took over the weekend and playing World of Warcraft. I haven't had much time with it yet. I didn't notice any real heat to speak of. World of Warcraft would make my Macbook quite hot. I had Windows bootcamped on the Mac. The XPS didn't get hot at all though.

I got one of these! So naturally I've been waiting for this review! I love mine! I got the 4K, 512gb ssd, 16gb ram, i7version. Besides an device replacement because of a faulty motherboard, it's a device I plan on enjoying for years to come! It hums (loudly sometimes) and chews through anything I throw at it

Dell's initial quality is certainly lacking: My brand new factory 7559 needed a motherboard replacement... They were great about it... Just wish I didn't need to return by brand new baby...

Yes an great laptop - but not worth the price differential. When suited out 16GB ram, 4K screen and 1TGB of SDD it was $3200+ any additional warranty and taxes! Yikes. (Canadian). I've used Dell XPS laptops for 10+ years but I can't justify that that price tag. Needed a new machine and looked elsewhere. Better service and price, features, and battery life are available from others vendors.

We brought in 4 of these at work and all of them had a shadow across the top edge. The infinity edge means edge lighting is no good near the top edge. I don't know why nobody notices this on reviews!

Can't say I've noticed or even see it. I do have one on order so will check that one.

Nice, but if you can do without Thunderbolt & a 4K display check out the Lenovo Flex 5.

Reading the review of every new Windows 10 Flagship laptop, I always ask one question: Are it's speakers as good as my Macbook Pro's? Alas, the answer is no. EVERY. SINGLE. TIME.

Surface Book 2 and MateBook X Pro both have very good audio.

Every other aspect of any flagship windows laptop is better than your MacBook Pro, and I will just use a Bluetooth speaker if it's that bad, you will never have touch or pen support, a full 2 in 1 design and an antique looking OS from the 80s

Hey Dan, thanks for the review. In all your lovely pictures - which one is the FHD screen, and which one is 4K? They both look identical when viewed through a browser. There has only been ONE YouTube review that I've seen showcasing the FHD model, and it indeed looks just as vibrant as the 4K, at least when viewed through compressed videos. Also, can you comment on the interaction between the Dell Software that lets you choose fan modes (I think there are 4 modes) vs windows power profiles? I.e., I've heard there is a quiet mode, optimized, and then something for full fan speed. I'm wondering if quiet/optimized fan modes made a difference in fan noise or thermals, and still provide a good enough gaming experience for mostly 30fps Triple A gaming. Also - if you have an eGPU I'd love a take on how that is working for you. PS - Also, are you on the latest BIOS (1.1.1 I believe) in which Frank Azor said should really impact fan noise? Cheers,
Eric

These were running latest BIOS. Fan can still get loud when using CPU/GPU full-blast. It's not bad, just you can hear it more than many laptops. Lead image: 4K left, FHD Right. "The bottom line" image, reversed. You'll only notice 4K for text or photo editing. Watching a video, and normal usage they're very similar. There is some lag with the 4K versions for OS animations as OS is now pushing 4x the pixels. I'll talk more about the software in the video review later this week. That SW is same as Lenovo etc. where you down-cycle CPU to get a quieter machine, etc. Nothing really new. Will see about eGPU for video. I have a Razer Core v1 with 1080Ti.

VAIO Flip 15 did it years before this and did it right. Whenever "convertible" makes you turn your keyboard against the dirty surface it is a design fail.

There are standoffs on the surface so that the keyboard is not directly touching said surfaces.

This is my complaint as well. Just because if feels really weird with the keys on the opposite side in tablet mode. So far devices with detachable screens are my only option.

Lenovo has their cool Wave Keyboard, which retracts the keys into the chassis to prevent this. That's one option.

I wonder why the almost redundant trackpad doesn't get pushed above the keys, then the screen could slide forward , which would work nicely for pen, touch and keyboard without the device falling over. Seems like a simple solution that I've not seen. Anyone seen that?

Acer tried that with the apire r7, sadly the touchpad placement wasn't popular (got lots of criticism from reviewers). It would be perfect for VAIO Flip 15 / Aspire R7 kind of devices where you can quickly put the screen in range of your hands/pen when you need to draw something or such.
What I think would work pretty good too is if they would put the touchpad in the front and add a numberpad, than as an user you can put the screen over the f and numbers keys so the screen is still closer and you can still type. I doubt there will ever be a VAIO Flip 15 / Aspire R7 kind of device released again, but one can hope. :)

Interesting. I'll have to check that out.

15 inch 2 in One? At last!
"But there was one problem. While the XPS 15 had a touch screen, it lacked pen support, let alone the ability to act as a tablet."
Oh... Enough said :(

That's the 9570, original XPS 15, not the XPS 15 2-in-1 (9575), which is what I reviewed here. There are two models. It's like you read the first two sentences and then decided to comment...which is weird.

Daniel, Actually, that's quite common here. People will read only the title and go nuts In the comments section.

BTW, have an article coming regarding dell developing a 2 screen foldable?

I love my dell inspiron 2 in 1, but I want the larger screen in the smaller body. Great for on aircraft. Put it in tent mode and have your own entertment system.

I'll never forget my 14-hour flight to Abu Dhabi to cover Nokia where I was the middle seat, middle row and I had an XPS 15 that was too large to open for the entire flight.

Try an acer 7720. Ha ha. The 2in 1 devices are a travellers dream.

I would love to see a head to head comparison with the Yoga 720 15''.

Bravo! I really enjoyed reading your highly detailed review!
Sadly, my special needs son broke my laptop and I'm going without. Over and over, I've read countless reviews on laptops that left me wanting more. Not so,for THIS review.
This laptop is more of a "dream machine" for me. Way more than what I can afford but a big bang for the bucks! Fingers crossed I end up with such.

"Retard" numbers, Dan. It's called "retard" numbers.

Amazing review on this Dell XPS. I would love to own it. Great for my new business endeavors.
Windows Central Newsletter
Thank you for signing up to Windows Central. You will receive a verification email shortly.
There was a problem. Please refresh the page and try again.