Windows Essentials 2012 drops Live branding but makes up for it with new features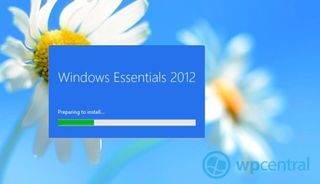 Windows Live Essentials has been part of most Windows Users standard installation for many years now. This familiar and 'essentials' set of applications does much to make Windows come to life as a useful productivity tool. Providing photo editing, movie making, blogging, email, synchronising and instant messaging apps, 'Essentials' forms a solid backbone for basic computing throughput when using Microsoft operating systems.
Whereas a certain other well-known fruit themed OSX has the luxury of these types of applications being built in, Microsoft decided after Vista to detangle these common apps from their OS. In part to make future updates easier to deliver and in part due to avoid any undue and potentially messy encounters with anti-trust bodies. So what's the skinny on Essentials 2012?
Essentials and Windows 8
In many ways Essentials is left in a precarious place with Windows 8. Microsoft's newest OS is to come with its own new set of bundled 'apps', pre-installed and run within the WinRT environment we once referred to as Metro. These new touch friendly WinRT apps cover instant messaging, email and calendaring, whilst not as sophisticated or indeed as complete as 'Essentials' there remains an odd overlap of functionality.
We haven't yet seen the final WinRT apps that cover mail, calendar, photos that set to be included with Windows 8. Our guess is that the current limited functionality of current WinRT apps will be replaced over time with ever-increasing features and services, eventually obviating the need for 'Essentials'. For now though, if you have a Windows 8 machine and want to get on with some real productivity, you'll need to install Windows Essentials to complement the existing, functionally incomplete WinRT offerings. Hopes that Windows 8 would allow us to ditch the traditional desktop have faded fast, until the feature gaps in WinRT and its accompanying apps has been filled we're going to be back and forth between the two environments for a while to come.
Rebranding or not?
Microsoft in their desire to dispel some of the confusing branding will be dropping the Live name from Essentials, but we find ourselves looking at Windows Live Mail rather than Windows Mail or Windows Essentials Mail. Also, Windows Live Messenger is still showing its old name. It's only Movie Maker and Photo Gallery that drop the Live name. This seems odd, Essentials 2012 will, of course be available to users of Windows 7, and perhaps changing the names of the apps too is seen as a step too far for the millions of existing users already used to that name? We'd love to know why the re-branding is incomplete as it remains confusing, perhaps even more so now.
Messenger And Windows Live Mail
Windows Live Messenger continues to look very much the same as before, the only noticeable change of note seems to be the addition of a basic green camera icon next to a contacts name. Windows Live Mail also doesn't appear to have very much changed if at all, let's move on…
Windows Live Messenger - Windows Essentials 2012 update shows Camera Icon in Status
There is Life beyond Live!
Expecting this to only be a rebranding exercise, it comes as a little surprise to see that some applications pick up some changes.
Photo Gallery gets a few nice updates, as well as an updated SkyDrive icon it also gains the ability to upload your videos up to Vimeo. As Photo Gallery also supports browsing videos in your collection this is a nice touch, saves it from having to live only in the Movie Maker. Photo Gallery also now has the ability to do an 'Auto Collage,' combining selected photos into a crazy patchwork hipster art student style image, wild stuff! Actually this is neat and with images that are tonally similar or with a series of similar shots the results can be interesting enough.
Choose Some Photos to Auto Collage
Auto Collage Results - Crazy times with Lemons and Limes
Movie Maker picks up some neat additions including image stabilisation, and it can now integrate with background music services to help liven up your movies. You can now delve deeper into audio editing with some handy new tricks for emphasising video, music or narration for your projects. Text overlaid onto video also sees a minor but important ability to be outlined. Surely that will elicit a sigh of relief to those who struggled with text placement and text colour choice in the past. Best of all, the new kid on the block H.264 is now the standard video type for projects.
Video stabilisation controls Movie Maker
Final Thoughts
Essentials 2012 is rather confusing in its message. It appears on the surface to be a rebranding exercise but deeper in, the Live name still existing in abundance. If this suite of apps were to bring Essentials in line with Windows in the 2012 timeframe then the package misses its goal. On the whole the package lacks any real design pointers to Windows 8. Generally these apps continue with all the same graphical assets as before, much more in keeping with its pseudo Windows XP/Vista/Windows 7 style UI themes. It remains an odd mix of styles that keep it out of step with every OS that it's existed on or will be run on. The latest version of Office shows what could have been done with the UI to bring it in line with Windows 8.
These applications have traditionally been at the forefront of helping showcase a new version of Windows. In many cases these applications may be the only productivity applications some users will ever own. With the arrival of Windows 8 we shall not only see duality of functionality between 'apps' and applications, we'll also be darting back and forth between WinRT apps and the traditional desktop in order to get the meaty stuff done.
The message in relation to Windows 8 story is mixed: in an ideal world, apps already present in WinRT would have all the deep functionality embedded to negate installing Essentials 2012 and avoid the classic/WinRT flip flopping that can become visually distressing at times. This looks increasingly unlikely. Perhaps the touch UI challenge and re-working is too complex and too time consuming to bother?
Essentials 2012 picks up some surprising new features, and perhaps feature development hadn't come to a standstill; there could be more updates coming. There will remain many Windows 7 machines, so future updates would be nice to keep the older OS up to speed. Alternatively, this could be the last hurrah for these desktop-orientated applications as the team moves to bring all those apps to Windows 8 new touch-friendly UI. I'm personally a long time Essentials user. I certainly hope if they do keep the applications in development for the desktop they bring the UI in line with Windows 8, ditch those ads in Messenger, and make the IM client much more like their beautiful Lync application (opens in new tab). If Microsoft draws the line here, fingers are crossed for beautifully designed WinRT replacements of the whole suite.
Whilst many of you may not even be Windows users we'd still very much like to hear your thoughts on Windows Essentials. Was this what you'd expect from a 2012 release? What do you think of the Windows 8 apps that fill some of this functionality? Do you think MS will draw the line with these apps and go all out to get WinRT replacements or just carry on throwing Windows 8 users back into the desktop to get stuff done? We value your thoughts…always…
Download either the Full Installer or Web Install.
Source: Windows Team Blog
I think Microsoft is making a Bold move rebranding everything to match the services on various devices.

Why bold? I think it makes perfect sense! Also, Windows Live __________ was honestly just too long and the Live part didn't really fit in with anything else with the "Live" brand (aka XBox/Gaming).
I'm also secretly thrilled that Metro is getting dropped, too. You could literally come up with a list of all the things that had "Metro" as part of all of somethings name. For a typical user, that's just too much. New lingo on top of a slight learning curve for the UI should be avoided. Calling it simply "The New Micrsofot Refresh/Style" makes everything not only seem logical, but also makes that long list down to one new term, which is a blanket term, too. You might also get that "cool" factor that Microsoft lost to Apple a few years back.

I have fear all of this is far too confusing for the average user. Windows 8 will be 'bad' enough in the beginning.

disagree, but I think they are a bit unnecessary as a separate suite. ideal solution, in my mind, would be to have each of these act as desktop companions to the winRT versions (like IE10), and provide a button within each winRT app to 'view in desktop' so if u need to do some more serious work you cab quickly switch-out to desktop while winRT versions are there for primary/light use.

I don't like the description of the Metro app versions as 'primary'. For me, desktop apps are the 'primary' and Metro apps are 'mobile'. On my desktops, the Metro apps don't help me at all, and actually make things more cumbersome.

Thank god. It never made sense to have "live" sticking its butt into everything. windows essentials roll off the tongue much easier. I only hope that Microsoft makes it easier for casual users to find these tools. I only started to show PC clients about it a year ago when i realize microsoft was revamping Essentials and they were actually useful.

More negative blogger spin as if a company can rewrite every piece of software in a year, nevermind the effect it has on existing users.
These are DESKTOP apps and as such would obviously never be coming to Metro/WinRT so it was nice to see them upgraded for Win7 users (and Win8 also). The anti-shake video feature looks great.
Office is their crown jewel and will also come with WinRT thus the "Metro" look there was obvoius. Over time it would trickle down to desktop apps obviously but not before Win8 ships.

Actually, Vista was the last OS to come bundled with these programs. Windows 7 literally had no consumer type programs unless you downloaded Live Essentials for it, whereas Vista had a more robust Windows Move Maker, Integrated Mail and Messenger (which synced contacts locally to that archaic Contacts folder....which I do not understand why Microsoft even keeps around), and Microsoft Photo Gallery. Wonder if 2012 version works on Vista, or did they give Vista users the boot too?

Awesome correction, I had forgot about Vista having that stuff. As for checking if it installs on Vista? Maybe we have some wise folks who know or Vista users that could tell us? RB

I think WE2012 is more of a nod to Windows 7 users than 8. If you think about the rebranding efforts most of it has been on the web and Windows 8. The only Windows 7 app that I can think off that got Metro re-styling is Office 2013.

I'm sure Metro/WinRT replacements are coming from MS. They most likely won't be branded as a bundle anymore either, just pop up in the store. I also feel like there will be a lot of third-party developers fulfilling the needs that WE aims to serve with freemium apps so the need for WE on Window 8 might be diminished.

Good point, yes I think this package forms a parting gift to Windows 7 users. I'd expect to see WinRT apps fill all those gaps. Ideally MS would have enough of their own free offerings to offer Win8 users. Maybe they will decide to let 3rd parties fill the void? Could make more sense in the long run. RB

Maybe Windows Messenger was to remind people of that evil little service on XP that allowed for pop under ads.

To be honest... I never knew what Windows Essentials was... Now I know.

Perhaps you guys should consider your own rebranding to MSCentral as this article and others have nothing to do with WP.

Lol...ya... I do find the non-WP articles usually worth the read, but always wonder what the relevance is to wpcentral.

Fair points. Maybe in the editor's eyes, its all relevant due to it being all one ecosystem.

@lippidp We routinely cover general-ecosystem news that tie into Windows Phone. Essentials has Messenger (on Windows Phone), Movie Maker which syncs to SkyDrive and other elements that complete the Windows Phone media experience e.g. shooting a video clip on your phone, editing it with Move Maker and syncing to SkyDrive. Three other things: You are free to ignore stories here that you don't find relevant. Doesn't bother me at all. This story is one of the most highly trafficked posts on our site today which means there is high interest Our readers are finding value in it, judging by the comments So please leave the editorial decisions to me and you can keep reading (or not) as usual.

It was just a suggestion and observation.

I think this is still too "Live" or "Vista-esque", I was expecting them to be more Metro oriented, like the icons and font, just like Office 2013.

Read the comments above...

F******** hate the new update !
It uninstalls Mesh and requires you to use the new Skydrive program. This automatically dumps all your cloud contents into the newly created "Skydrive" folder and no longer syncs other specified folders. Anyone trying to manage space on their SSD's is in for a rude shock when they find everything stored in the cloud is suddenly dumped to their hard drive. Likewise, losing the synced folders makes this update a non-option. Microsoft seems hellbent on killing productivity in 2012, wants us all to become simple minded content consumers.

Writer is still in the pack, yes? Hands down the best blog writer on the desktop.

If it's metro then bring it on love all the rebranding

FYI, the new Windows Essentials 2012 cannot be installed on Windows Vista, unfortunately.

Thanks for checking, I thought it doubtful. Vista checked out some time back. If only it were as good as all those Longhorn Demos.. RB

The problem i have had with this suite since they decoupled it from Vista is the "Provide more updates without being tied to OS releases." excuse. So Windows 7 has been out for almost 3 years and we have had how many updates? 2? And this new one is adding features that use to be in the old Windows Live. Although I am glad the update happened, I am disappointed at how this product is being handled.

Agreed, think it's a shame that Microsoft/Live team were unable to deliver constant updates to the package. I say a shame because I think it had real potential and some great features. I wonder now will it be left to one side as we move into the brave new world of WinRT… *Sigh* RB

You have to understand that the "Windows Live" team is the laziest team in Microsoft. I just don't understand how other aspects of MS are bringing big and bold changes but this team, this team... smh, I just don't get them. After all this time, look at the few additions that were made to the products. Hopefully they get their acts together sooner rather than later.

@lucasbrendel
I think there were more than two updates. Some smaller, intermediate updates just happened "secretly". I still remember that, when I starteh up the web installer once in a while, an update was available, although nothing was announced.
Anyway, I agree with your last sentence :-)

I wonder if Xbox is still live ?? Lol

Hmm, I have too much music to store in Skydrive. I use Mesh to sync my music folder on my PC to my laptop, with no Skydrive middleman. Does this mean there is no way to do this with the update?

Windows Essentials is for the Windows 7/Windows 8 Pro desktops, not the Windows 8RT slate environment. It won't even run on the Win8RT slates coming out in October.
It's confusing to lump this in as an enhancement to Win8RT apps. While you can run WinRT on top of Win8 Pro, you can't run Win8 pro apps on WinRT.

Windows Essentials can't compete with iLife. Probably never will.

These toyota scan tool updates will be able to be downloaded to your Flashpaq right from home. Your flashpaq is going to come with a usb port on the box, and a usb cable to attach it to your computer. Just go to superchips.com, and you can always download the latest updates to your Flashpaq right from your computer. How much easier does it get??The three POWER SETTING LEVELS on theFlashpaq for the 08 Superduty are as follows:1. Performance Tune Max 78 HP - Max 146 ft lbs torque - NO TOWING permitted 2. Tow Performance - Max 51.3 HP - Max 110 ft lbs torque - 6000lb Tow Limit3. Transmission Only - Optimizes Transmission Performance4. Stock - Completely restore ALL factory settingsPerformance Tune is the highest level, more often referred to as the "race", "top horsepower", "fast", "extreme" setting. You would put it on this setting to reach the highest horsepower level, and as you may have guessed, No... you should not expect better fuel efficiency in this setting. candi tool It is also not recommended to leave this setting on for long periods of time. Also there should be NO TOWING on this setting. You will want to bring it back down to a normal setting to increase your fuel economy, and have smaller hp gains.Tow Performance is the medium level. This program is recommended for towing applications. Please note that this program does not in any way raise the vehicle manufacturer specified tow limit of the vehicle. This Performance Tow program provides an increase of 51.3 rear wheel horsepower and 110 lbs. ft. of torque.Towing should be restricted to about 6000lb.Transmission Only optimizes your transmission performance.- With this program only the TCM is reprogrammed by the Flashpaq. This program will improve shift firmness and shift points to enhance vehicle performance. Quicker, firmer upshifts and downshifts will be achieved and will enhance both 0-60 and 1/4 mile track times.Stock- This is the original candi for gm file created by the vehicle manufacturer. The user has the option at any time to completely restore the vehicle ECM and TCM to the original stock status. The ECM/TCM operating systems are not permanently modified in any way.This programmer is designed help the overall drivability of your Superduty, while increasing your fuel economy. Also bear in mind that extra load also offers a detrimental affect in your fuel efficiency. Keep you car at its lowest weight. After a necessary journey remove any objects out of your car that can add additional weight, for example roof racks, stuff inside the boot, you realize the points After all.Just about the most important and easiest things to do is always to keep your tyre pressures checked at regular periods. If you learn this difficult gm tech2 candi it is possible to contact at one of the thousands of auto centres through out the country. Most good garages and auto centres will be only too ready to look at your tyres along with your tyre pressures.ECUOBD2.com - A professional OBD2 Code Scanner supplier from China. We concentrate on manufacturing highly qualified auto tools and providing car owners with the best Professional Diagnostic Tools

The concept of your blog is really very informative. I definitely bookmark this blog and share with my close friends. Keeps up the good work going. boats for sale

The concept of your blog is really very informative. I definitely bookmark this blog and share with my close friends. Keeps up the good work going buy instagram followers

The concept of your blog is really very informative. I definitely bookmark this blog and share with my close friends. persuasive essay topics

I was always in search of such a useful information you have shared in this blog. This will help me in my working. free blogs list

I would be very thankful if you continue with quality what you are serving right now with your blog...I really enjoyed it...and i really appreciate to you for this....its always pleasure to read so....Thanks for sharing!!exam paper

This article has some great and useful information about this subject. Thank you for sharing it in an easy to read and understandable format. Thanks for sharing this great information. Sample Sample Test

This is really awesome post, i was looking for the post since for a while, I'm glad to found it to keep update.. Thanks to author for the post. top bookmarking sites

Helpful information indeed. Thank you so much for your sharing with all of us. Kindly Continue your great job and always gain my support! ST0-119 vce

With the many blogs which I have encountered, I never expected to see a very beautiful post online..After reading this one, I felt so lucky to see its content..-)CAT-220 practice test

like it! very worthwhile, lets hope the particular arriving reviews and also hint are usually equally beneficial. Thanks for discussing this info exactly like itfree social bookmarking
Windows Central Newsletter
Get the best of Windows Central in in your inbox, every day!
Thank you for signing up to Windows Central. You will receive a verification email shortly.
There was a problem. Please refresh the page and try again.