Windows Essentials 2012 drops Live branding but makes up for it with new features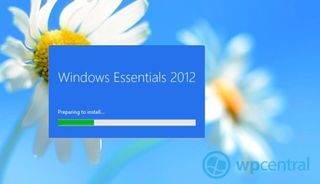 Windows Live Essentials has been part of most Windows Users standard installation for many years now. This familiar and 'essentials' set of applications does much to make Windows come to life as a useful productivity tool. Providing photo editing, movie making, blogging, email, synchronising and instant messaging apps, 'Essentials' forms a solid backbone for basic computing throughput when using Microsoft operating systems.
Whereas a certain other well-known fruit themed OSX has the luxury of these types of applications being built in, Microsoft decided after Vista to detangle these common apps from their OS. In part to make future updates easier to deliver and in part due to avoid any undue and potentially messy encounters with anti-trust bodies. So what's the skinny on Essentials 2012?
Essentials and Windows 8
In many ways Essentials is left in a precarious place with Windows 8. Microsoft's newest OS is to come with its own new set of bundled 'apps', pre-installed and run within the WinRT environment we once referred to as Metro. These new touch friendly WinRT apps cover instant messaging, email and calendaring, whilst not as sophisticated or indeed as complete as 'Essentials' there remains an odd overlap of functionality.
We haven't yet seen the final WinRT apps that cover mail, calendar, photos that set to be included with Windows 8. Our guess is that the current limited functionality of current WinRT apps will be replaced over time with ever-increasing features and services, eventually obviating the need for 'Essentials'. For now though, if you have a Windows 8 machine and want to get on with some real productivity, you'll need to install Windows Essentials to complement the existing, functionally incomplete WinRT offerings. Hopes that Windows 8 would allow us to ditch the traditional desktop have faded fast, until the feature gaps in WinRT and its accompanying apps has been filled we're going to be back and forth between the two environments for a while to come.
Rebranding or not?
Microsoft in their desire to dispel some of the confusing branding will be dropping the Live name from Essentials, but we find ourselves looking at Windows Live Mail rather than Windows Mail or Windows Essentials Mail. Also, Windows Live Messenger is still showing its old name. It's only Movie Maker and Photo Gallery that drop the Live name. This seems odd, Essentials 2012 will, of course be available to users of Windows 7, and perhaps changing the names of the apps too is seen as a step too far for the millions of existing users already used to that name? We'd love to know why the re-branding is incomplete as it remains confusing, perhaps even more so now.
Messenger And Windows Live Mail
Windows Live Messenger continues to look very much the same as before, the only noticeable change of note seems to be the addition of a basic green camera icon next to a contacts name. Windows Live Mail also doesn't appear to have very much changed if at all, let's move on…
Windows Live Messenger - Windows Essentials 2012 update shows Camera Icon in Status
There is Life beyond Live!
Expecting this to only be a rebranding exercise, it comes as a little surprise to see that some applications pick up some changes.
Photo Gallery gets a few nice updates, as well as an updated SkyDrive icon it also gains the ability to upload your videos up to Vimeo. As Photo Gallery also supports browsing videos in your collection this is a nice touch, saves it from having to live only in the Movie Maker. Photo Gallery also now has the ability to do an 'Auto Collage,' combining selected photos into a crazy patchwork hipster art student style image, wild stuff! Actually this is neat and with images that are tonally similar or with a series of similar shots the results can be interesting enough.
Choose Some Photos to Auto Collage
Auto Collage Results - Crazy times with Lemons and Limes
Movie Maker picks up some neat additions including image stabilisation, and it can now integrate with background music services to help liven up your movies. You can now delve deeper into audio editing with some handy new tricks for emphasising video, music or narration for your projects. Text overlaid onto video also sees a minor but important ability to be outlined. Surely that will elicit a sigh of relief to those who struggled with text placement and text colour choice in the past. Best of all, the new kid on the block H.264 is now the standard video type for projects.
Video stabilisation controls Movie Maker
Final Thoughts
Essentials 2012 is rather confusing in its message. It appears on the surface to be a rebranding exercise but deeper in, the Live name still existing in abundance. If this suite of apps were to bring Essentials in line with Windows in the 2012 timeframe then the package misses its goal. On the whole the package lacks any real design pointers to Windows 8. Generally these apps continue with all the same graphical assets as before, much more in keeping with its pseudo Windows XP/Vista/Windows 7 style UI themes. It remains an odd mix of styles that keep it out of step with every OS that it's existed on or will be run on. The latest version of Office shows what could have been done with the UI to bring it in line with Windows 8.
These applications have traditionally been at the forefront of helping showcase a new version of Windows. In many cases these applications may be the only productivity applications some users will ever own. With the arrival of Windows 8 we shall not only see duality of functionality between 'apps' and applications, we'll also be darting back and forth between WinRT apps and the traditional desktop in order to get the meaty stuff done.
The message in relation to Windows 8 story is mixed: in an ideal world, apps already present in WinRT would have all the deep functionality embedded to negate installing Essentials 2012 and avoid the classic/WinRT flip flopping that can become visually distressing at times. This looks increasingly unlikely. Perhaps the touch UI challenge and re-working is too complex and too time consuming to bother?
Essentials 2012 picks up some surprising new features, and perhaps feature development hadn't come to a standstill; there could be more updates coming. There will remain many Windows 7 machines, so future updates would be nice to keep the older OS up to speed. Alternatively, this could be the last hurrah for these desktop-orientated applications as the team moves to bring all those apps to Windows 8 new touch-friendly UI. I'm personally a long time Essentials user. I certainly hope if they do keep the applications in development for the desktop they bring the UI in line with Windows 8, ditch those ads in Messenger, and make the IM client much more like their beautiful Lync application. If Microsoft draws the line here, fingers are crossed for beautifully designed WinRT replacements of the whole suite.
Whilst many of you may not even be Windows users we'd still very much like to hear your thoughts on Windows Essentials. Was this what you'd expect from a 2012 release? What do you think of the Windows 8 apps that fill some of this functionality? Do you think MS will draw the line with these apps and go all out to get WinRT replacements or just carry on throwing Windows 8 users back into the desktop to get stuff done? We value your thoughts…always…
Download either the Full Installer or Web Install.
Source: Windows Team Blog
Get the Windows Central Newsletter
All the latest news, reviews, and guides for Windows and Xbox diehards.