Windows RT will get updated around the time of Windows 10 release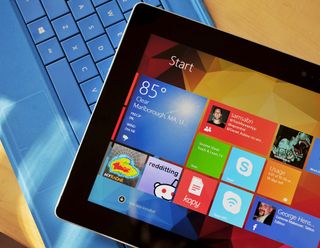 Microsoft will be rolling out a highly-anticipated update to hardware running Windows RT around the time of the company launching Windows 10. According to an FAQ the company published a few weeks prior, those rocking Windows RT will receive an update on or around July 29 that will add some Windows 10 features.
From the Microsoft FAQ:
While no exact date was specified in the FAQ (we somehow glanced over this detail), it's superb news for those on Windows RT, knowing they will be receiving an update in due course. As for what features will be included, we still have no idea. What would you like to see added?
Windows 10 Questions and Answers you need to know before upgrading
Windows Central Newsletter
Get the best of Windows Central in your inbox, every day!
Rich Edmonds was formerly a Senior Editor of PC hardware at Windows Central, covering everything related to PC components and NAS. He's been involved in technology for more than a decade and knows a thing or two about the magic inside a PC chassis. You can follow him on Twitter at @RichEdmonds.
The only thing that Windows Rt would need, would be the ability to run Windows 10 Universal Apps!

Universal apps + Edge + Cortana. But I'm afraid they'd screw up the tablet mode. I'd rather wait and watch. Hopefully, I can defer the update.

Yes, these three would be enough to keep me happy for a while. Still think my Surface 2 is a nice piece of hardware.

Since Edge and Cortana are both apps, hopefully have the one means the other two will be there too!

I'm afraid Windows RT has been running on very low specs, so I doubt the upgrade lets users play games like Project Spark or Disney Infinity 2.0 which are some of the best games from the Windows store. Windows RT could be good if it ran on better spec devices (running Snapdragon 810 or Nvidia K1 to run these games).

All games available through the Windows Store are designed to run well on all the platforms they support. The Snapdragon 800 is a really great chip, and the Lumia 2520 ran very well, and all games played great. It is the same chipset that's in the Lumia 930 and Lumia 1520. Factually, there's x86 processors that have come out since these devices that do not run as well.

Project Spark has never run on ARM processors. And it's already in Windows 8.1, so what does it have to do with Windows 10?

Thanks for the notice, I thought Project Spark could run on Windows RT too if RT ran on devices with GPU powerful enough to run the game, but I was wrong, thanks for confirming this game is just available for x64 and x86 architectures.

Exactly, if one of the "features" is Windows 10 tablet mode I'm not interested, I'll keep 8.1 thank you.

Was just about to say this, that's the only thing I would really want!

Agreed! The Surface RT just needs Universal Apps to keep it from becoming outdated. I want the ability to install apps on the microSD card like in Windows Phone 8.1.

Absolutely. Then it wouldn't be a complete dead-end.

They can run universal apps now.........

The universal apps they run today are different from the UAP platform thats on windows 10.

Probably the only feature that it won't get is being able to run Universal Apps. Like you can't run Universal apps on WP8.1, you won't be able to do anything Universal on W8 or 8.1 RT.

Cortana would be nice to.

Considering that desktop apps can also be made into universal apps for Windows 10 I'd say that's pretty unlikely. Else Microsoft would just put Windows 10 on it, right?

I still don't quite understand why they aren't putting Windows 10 on it. I mean, if Windows 10 is going to support ARM processors anyway, how much harder could it have been to not alienate millions of dedicated consumers?

Most probably, people are confused with Windows RT as tablet only vs Full window 10. Meaning, RT supposed to have no Desktop capability

My bet, is that if they were to put W10 on it, the desktop utilities that it currently supports (Office 2013), would not be compatible. Who knows what their reasoning is for this...........good thing i sold my OG Surface RT and got a Surface Pro 3.

That was my thought too: Office was a big sell for Suface RT and Surface 2, and removing the desktop would break Office RT. But, with the touch-enabled Office coming to Windows 10 Mobile, surely that's not a problem anymore, right?

The touch apps are nothing compared to the RT desktop Office apps.

window 10 mobile phone run new full office. RT should be able to.

It would be possible to put a Windows 10 desktop in Windows RT, same as RT has a desktop now, but the problem would be Universal Apps, Edge, Cortana etc. Glad I upgraded my Surface 2 to Surface 3

This is why Win10 for Mobiles could be good upgrade

Agreed. They should be able to run Windows 10 Mobile, I would think.

probably because they dont want to support the crappy chipset that nvidia gave them for the surface 2.

Universal Desktop apps are more of an installation wrapper with extensions to access .net code from win32. So that feature is oversold, not useful and as you say incompatible with RT. Running the rest of the UAP is possible and likely. Cortana less so. I expect new Store and app support with Edge but nothing else.

What makes sense is taking mobile windows 10 and putting it onto the old ARM surfaces. Might not be perfect, but it would keep everything current. Will lose multi apps on the screen support though, that is until they decide to bring this functionality to big phones.

That's a good point: I would not be willing to give up the ability to run multiple, snapped apps on my Surface. This feature really needs to come to Windows 10 Mobile anyway, especially as screen sizes continue to balloon. I want to multitask on my Lumia and my Surface.

I totally agree with you because all serious developers will make make Microsoft Universal type apps for Windows 10 products becuse they will work virtualy the same on a Windows 10 Desktop, Laptop, Tablet or a Windows 10 smart phones because they use the same code. RT tablets that can run Universal apps will be a reborn device because every new unveral app is a new app for them. Hmm is any body still selling Rt Tablets?

I'm sure both of those people will be very happy.

I see what you did there.

Yeah, me and the other guy... :-(

That would be me. Looking forward to it!

We're a very tight focus group.

2010 wants it's joke back ;) Anyway, it's quit a positive remark this time. XTC not working anymore?

2010? Would that be two years before Windows RT was released? I didn't realize I was so prescient.

And that update becomes magically Windows 8.1 and then to Windows 10 Yay....!!!!!!

Well it better be less than 278mb because after all the other RT updates that's all the space that is left on my 2520.

Less then 300mb??? How? I have still more then 10GB free on my Surface 2, i have all my media on my SD dough but try using disk cleanup if u didn't try that and also a speed/memory saver is if u open run and type in the command and delete everything in.that folder ;-) Posted via the Windows Central App for Android with my Note 4.

Oh good, so it's not just me. I keep running into the same problem on my Surface RT with 32GB. The updates keep piling up and stealing away all of the limited hard drive space. Soon I have nothing but a few hundred MB left in space, so I do a full reset on the whole thing and start over, then over the next week or so it continuously ads in all the updates I had just removed with the full reset, and we're down to zero available storage space again. We don't have any apps installed besides the pre-installed ones and we have not a single file on the hard drive (no documents, no pictures, no music files, no videos, etc). but we always end up with no more free hard drive space. It's vexing.

Your devices are probably caching files then...? Even built in apps have a storage for anything you address from the web. Maybe go through and clear data from the most used apps and see what it leaves you with.

It actually not caused by updates (you can clear that up), but most likely by internet explorer cache in protected mode. Those are cached in home directory and can't be deleted easily. My dir was always going up to 10GB and more, growing. One solution is to disable "Enhanced protected mode" and then clear temporary internet files or move that directory to sdcard and hard-link it to original location. I have no more problems with disappearing disk space on my Lumia 2520 after I figured this out. See this for more details: http://answers.microsoft.com/en-us/ie/forum/ie10-windows_8/ie-10-temp-in...

I had this issue as well. Sean Ong made a video that had a fix for this about a year ago. Helped me a lot. https://www.youtube.com/watch?v=LnS470nSrv8

Are you using the MS News app by any chance? It eats HD space like candy! Just uninstall/reinstall every month, and never see disk usage above 500Mb or so. On my S2 it gobbled up 10Gb!!!! of disk space before I even noticed it has no way to clear the image cache. %-( rob

Xbox remote play is all I want. Just use it for internet, Netflix and office

This! It's literally the only thing I want

That's likely not possible due to streaming codecs that are missing even in some x86/64 devices that need installation (and it's an .exe)

Xbox Streaming feature will be a welcome feature. Only thing I want

I doubt that is possible on RT devices since they have 802.11n (4G Wi-Fi) For game streaming in Xperia Z3 phones a new standard of 802.11ac which is 5th Gen Wi-Fi makes it possible. But perhaps I am wrong and streaming is still possible on 802.11n but I'm not sure about lag.

Streaming Works just fine on my hp Stream 7 and Asus laptop. Both with 802.11n

I hope for the ability to run universal apps and maybe the new settings app

Nice, not to Be forgotten.

Thats disappointing there will be no 10, but I suppose something is better than nothing.

How about an app that makes it a continuum terminal.

You already have an HDMI port. You have any Bluetooth keyboard you want as well as a bluetooth mouse. You're already there for all intents and purposes...

I'm actually pretty happy with Windows 8.1 RT on my surface, but would love all the new apps from Windows 10. Outlook Mail and Calendar and the new Music apps for example.

Just give RT Windows 10 Mobile! I don't care if I lose the desktop on my Surface 2.

I'd like to keep the desktop :) Posted via the Windows Central App for Android with my Note 4.

It would be nice to give people who don't care about Desktop, or value the other things 10 mobile has to offer more than Desktop, the option though.

I can't think of a reason to keep the desktop on Windows RT. What reason's am I missing? I mean, if they gave us Windows 10 Mobile (like they will on smaller tablets), you would get all of the office apps. The only thing you would actually lose is IE. I'm not sure having IE is worth giving up the option for universal apps:/

Well there are a lot of features that just are not in Tablet mode, a proper file explorer is just one of the reasons, that's why i would like to keep the desktop Posted via the Windows Central App for Android with my Note 4.

Can I ask why? Surface 2 supports external monitor of 2560x1440 at 60hz or 2 external monitors with 720p 60hz with miniDisplayPort so you can use your Surface as a productivity device with full Office. Windows 10 Mobile doesn't support miniDisplay Port, only Miracast and Miracast is much slower than a cable connection with miniDisplayPort.

You would loose much more than desktop, as Windows Mobile is just a heavily dumbed down Windows compared to full Windows. You would loose unrestricted file system access, running services (like printer and file services), multi-monitor, multi-user, USB host, Scripting Services and Power Shell, driver support like HID, Printer or Game Controller etc... Keep in mind Windows Mobile is barely more than Windows Phone, while Windows RT is a full featured Windows.

windows 10 mobile does not support the chipset on the surface 2 that is why.

It will need to "seems faster" and hopefully support a number of Win 10 features. I still don't understand how it is they can get W10 "everywhere" except WinRT devices - surely as they are ARM-based just give users an option to clean install W10 Mobile when it goes final...

What we need is the new Edge browser and hopefully access to some apps in the Windows 10 Store. At a minimum Edge though.

I have this feeling that we will in fact get Edge, and that may very well be the primary feature. I however doubt that we on RT will get access to the Univesal App Windows 10 Store. The feeling I have, based up little more than a haphazard guess, is that if we could get access to the Windows 10 Store and it's universal apps, we would have gotten the full Windows 10 Mobile. No RT is a dead end, and I do not believe that this update will resolve that essential truth.

Not sure if I should be excited. I guess something is better than nothing. Leaving us loyal users out of 10 is still painful.

Well when you bought an rt tablet you already decided to buy a non full windows version device. So why would you now expect to get a full version of windows?

That's a completely irrelavant arguement. Most people on here with an RT device have asked for Windows 10 mobile, you know, like they're putting on devices with a weaker processor and ram set. Or also that they're putting on devices with the same resolution, but smaller screen size? I would love to have MS answer that one question honestly: Why not just give people the option to move to Windows 10 mobile on any Windows 8.1 RT device? I honestly have 0 need for the desktop on an RT device, and I haven't heard any arguement for one yet.

You may have zero need but you are not everyone else. I use desktop every day for office, file explorer, document editing, web browsing, web based tools and services. I doubt I'm alone with that and sure others use it for very similar reasons. And buying a pro isn't an option for some. My surface 2 has served me very well for a medium use office tool and the desktop is very much a part of that.

Reminds me of Windows Phone 7.8, can't wait to sell my Surface 2 for a Surface Pro 3! Posted via the Windows Central App for Android with my Note 4.

just give us the name of her finally

I have a Surface 2 4G and Surface Pro 3 and would not sell either. They both have their advantages, love both :-)

If the power is not needed, consider the Surface 3. I believe there's still a tradein program going on.

Don't know if that program is available in Belgium but in my opinion the Surface 3 is just not worth its money, i'd rather buy the Pro just to have power when i need it, and thats a + as i will become a student again in September, i hope it runs AutoCad fine :) Posted via the Windows Central App for Android with my Note 4.

Unfortunately Surface 3 is barely an upgrade from Surface 2 from performance point. I was hoping for an upgrade like Tegra K1 or Exynos (i bet Samsung would have loved to license Exynos). By the way i own an Surface Pro 3 and a Surface 2 as well.

Haven't used my Surface 2 since...

... all my fingers fell off.

... I developed that severe allergy to touch screens.

... the one-armed man stole it from me.

...I dropped peanut butter on it and my dog ate it.

It would be nice to have the option to convert a Windows RT device into Windows 10 mobile, especially if it could support the Mobile Continuum desktop mode. That would be a straightforward way to keep it running recent software without supporting another version of Windows.

Why not just update them to windows 10 mobile

Basically the 7+ inch version of windows 10 mobile - calling features?

Why wouldn't they just tell us what that update will include? Unless they doin't know yet, but I doubt that's true dso close to WIndows 10's release. What I'm hoping for: Modern version of the Edge browser New Microsoft apps (Outlook Mail and Calendar, Store, Music, Video...) Performance improvements

I really hope this is a significant update, with a Surface 2, Surface, and a 2520 in the house..

Hallelujah! Microsoft,please give us Universal apps, Cortana, Edge, Office suite replacement for the stock office for Surface users, tablet mode and start menu, I'm a proud owner of Surface 2!!

I hope the change brings about Windows 10 like behavior and user interface.

I'm still holding out hope someone will figure out a way to hack Windows 10 Mobile onto the Surface 2.

I think there is still hope that Microsoft will do this. Look what they did with the Xbox One backward compatibility with the Xbox 360. They said it couldn't be done and then they did it. Maybe they don't know yet if they can get Windows 10 Mobile working RT devices. There must be a technical issue why they can't and/or, they just don't want to commit the man power to make it happen. Let's hope the coming update is more than just a look and feel change and provides real functionality. Otherwise, it will probably be best just to stay on RT 8.1. Maybe they will surprise us and pull it off.

I'm guessing it will add the compatibility for new store apps, but i doubt it will be more than that.

The ability to work faster is all I care about

So it is not dead after all

How about you they just roll out a refund? Another product that Microsoft said they are all in with, and we are getting bone tossed to us.

If only! After Zune, WP 7/7.8 and now Windows RT I'm getting tired of getting onboard dead end products by MS.

It's unlikely that Microsoft will screw anyone again (sure I said this with WP 7x) Just to be sure, I won't buy another MSFT tablet. To be honest there's such choice in the market that I won't need to!

Any official news on Windows 10 mobile? Pretty sad that even RT gets update prior the phones.

Nothing like a bit of specificity for a dead product....

I like my rt the way it is. A fun tablet. An integrated metro Settings and metro File Manager would be nice. But I won't be needing Start Menu or windowed metro apps. I wish Charm would stay too.

I'm not surprised with this. It's obvious that MS would not let RT users without some treat. Specially to give more breath to it's Surface 2 users who would really hate MS if not getting nothing related to W10. I bet it will be something really nice even if is not a complete W10 version. Lets see.

They could just give it a slightly different Windows 10 Mobile with Continuum when connected to external display. I think that would keep RT devices to be useful within the Windows 10 timeline. Since it doesn't run Win32 and other desktop class apps to begin with, just have a modified Windows 10 Mobile with option to run Universal apps on window would make sense.

No. That would be a downgrade. And Win10 Mobile won't be ready for several months. I like that my Surface has a desktop, on which I can use explorer, regedit, cleanmgr, dfrgui, notepad, mstsc and many other usefull system components. I didn't buy a touch cover with keyboard and touchpad and also an arc touch mouse to let my ARM laptop be downgraded into a phucking phablet. Also, while even shitty 8'' tablets support toggling tablet mode, there's no reasonable explanation why the signature windows device wouldn't receive that feature. Many people will be furious if RT doesn't get the new Windows 10 "continuum" UI.

All these suggestions are nice, but honestly I would be happy with just a faster more functional browser. Even on my old Nokia Lumia 635, IE and now Edge are faster and more functional than IE on my Surface RT.

They should offer a trade in program. 50% off a Surface 3.

They *had* a program like that in May. Sure, not 50%, but they had a trade-in program. I decided $100 want enough of a discount on the Surface 3 while surrendering my original Surface RT. My Surface is destined for use as a dedicated kitchen use device (recipes, notes, shopping list, email, Skype, and Insteon home control station). If Microsoft could just bring Cortana to these RT devices, that would be fantastic.

@Jessicator, how are you able to get your screen to stay on long enough to use in the kitchen? Mine keeps turning off and I have to re-input in my password all the time. Very annoying. These days mine has become a dedicated TV accessory, to look up info on IMDB and Wikipedia as I'm watching old movies, or to check e-mail or play Bejeweled during boring parts.

You can control the display time out point when using battery or charging, its in the settings.

you can also set it so it can be awakened without entering a password.

Windows 7.8 again. ::groan::

Hey Microsoft! Over Here!! I volunteer to be an Windows 10 RT Insider!! Pick me! Pick me!

Since there hasn't been an insider preview program for surface rt to test the changes I'm guessing it won't be Windows 10 universal support. It will probably be a switch over to the new store and any other changes to make that work. I have surface rt2 and would love support for Windows 10 universal, but that seems highly unlikely to me.

Yip just needs the universal apps. Will be like any other tablet then. No more crying about rt.

they should make it upgradable to WIN10mobile

RT should be able to run anything in the new store that is not a desktop app. Basically any app that can run on ARM. They will likely update the navigation esthetics to accommodate the new interface language like they did with windows phone 7.8.

I'm wondering, what makes RT can't upgrade to 10? At least 10 mobile? Is it the hardware? driver? I still remember my Lumia 710. Stuck on 7.8. I still don't know the very reason why it can't upgrade.

My guess is that Microsoft wanted to put all of their resources behind the future of Windows, and making RT full Windows 10 would have spread their dev/test resources too thin delaying Windows 10. I can't think of any technical reason they couldn't support Windows 10 if they chose to. I suspect over time we will see more and more Windows 10 like features creep into Surface RT. Second major reason and this may be the most important reason is anything that is Windows 10 AND has a desktop can run Win32 programs and support for RT would change that. I do think it would be nice if they eventually made it possible to upgrade to Windows Mobile 10, lose the desktop, and I'm sure many would opt for this choice.

What it really needs is the ability to install apps on the micro sd card.

I'm happy to receive an update for my RT, still rocking the original and it runs better than some tablets that came after it.

expect something like WP 7.8.
which was mostly a sad joke.

"security updates and bug fixes"

That's wonderful news!
I hoping for compatibility with the new version of Universal Apps & a new store app.
Cortana would be cool too ... That's all I can think of for now

Great. I haven't had my Malicious Software Removal Tool updated in a while. /sarcasm

I don't think they mean a software package. I think they mean that they will release more information on what they intend ('an update').

I have a Tesco Connect 7 inch tablet. It says its running windows rt but also on the desktop it says its ready for update to Windows 10....so what's that mean, I'm I getting Win10 or not??

seeing as i have the original surface rt 32gb I would like the update to make Windows it self take up less space on the SSD seeing as i have about 5GB left (apps and music dont take up that much space)

Here's hoping this will fix the Surface 2 (RT)'s broken touchscreen. So fed up with Microsoft for still not issuing a patch of some kind.

I hope it gets ability for win10 apps, ability to install apps in sd card, including maps!

I would think they would eventually push out the same core OS that will be runing on windows phone. Maybe some features removed if the cpu just wont be fast enought, like cortana. But who knows, I could be totally wrong too.

As the rumor was that they skipped "Windows 9" because some programs may think it's 95/98, I'd be willing to bet RT gets Windows 9. It makes some sense, as RT users are used to not being able to install all programs, and a 95/98 program wouldn't work on RT anyways, so no compatibility issues really.

I still don't understand how WP devices can get Windows 10 but RT devices can't. This just doesn't make any sense to me.

I have a Lumia 2520. It's a great tablet. I'm a writer and I use it for work. It already has Office and Onedrive integrates just fine with my Windows 10 TP computers and my Windows 10 Phone TP. I don't play games so, for me, that's not a factor. The only thing missing is Cortana.