Windows Store listing for upcoming universal OneDrive app for Windows 10 spotted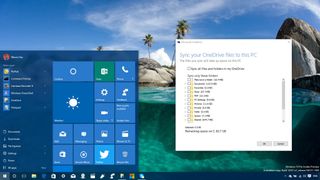 Microsoft's plans to release a universal Windows 10 version of its OneDrive cloud storage app seem to be moving along. A listing that shows such an app has been spotted in the Windows Store.
Don't get too excited, though — the listing shows the publishers as "Internal Beta Account". That likely means Microsoft is testing the OneDrive Windows 10 app among its employees but its not ready to be released to the general public. As a result, most people won't be able to download it, and even those folks that do have the rights to use it will most certainly encounter bugs. It's likely we will have to wait a while before the OneDrive app is fit for public use.
See the listing for the internal OneDrive Windows 10 app in Windows Store (opens in new tab)
Via: WalkingCat (Twitter)
Cool, I hope it has as many features as the browser version.

Hope it will be stable and won't freeze and crash after uploading files.

I'd say, simply implement it in file manager, like win10 actually has

OneDrive files should be accessible from the File Explorer app of Windows 10 Mobile.

They should first fix the stability issues with file explorer. It crashes at times, mostly when renaming or changing the file format. Posted from Windows Central for Windows 10

File Explorer on W10M needs a whole lot more than just that. Like viewing hidden files, or merging folders when copying to a location that already has the folder, or viewing network shares, or a million other things (that get amplified greatly when trying to use it with Continuum.

So easy like that. Don't want anything more or different

Yup, and the file explorer app should become universal. If it was universal and heavily integrated with OneDrive, we could effectively have placeholders back. I realize that it would be a major undertaking to replace Explorer in Windows. But start small and build it up. They could do a lot of new things with a universal version that aren't possible today (get rid of drive letters, integrate with share contracts, Continuum, Cortana, better integration with cloud services, etc)

the drive letters are there in the phone explorer too. you cant get rid of those

No no, I realize it is pretty ambitious, but they could still, for instance, introduce a way to interact with drives without drive letters and also keep drive letters at the same time. Just to say that a new app would give them new opportunities for UI design and the introduction of new features without angering those who still use and would probably kling on to the old one forever...

My onedrive become useless as i am not able to upload or download any files in it.i'm using build 107.if someone tell me any solution ?

pc or mobile? if pc put this command in you run box. %localappdata%\Microsoft\OneDrive\onedrive.exe /reset then this %localappdata%\Microsoft\OneDrive\onedrive.exe put in your microsoft account in and you should be ok.

Tomorrow is that day..February 29..update wp 10 official releasing date..

Keep dreaming. Daylight dreams.

If no any news about updates' official release I will go to insider build..my mobile is 1520.. What about right now Microsoft w10 preview built in 1520..?

W10M is very stable now! Using my L520!

How about they add a "close all" button in multi tasking menu for windows 10 mobile. Geez. They are increasing the number of apps but we have to swipe down or x off one by one....

You don't have to actually, it wastes energy and time

Closing app wastes battery? Huh? I do see a marked improvement in battery life when I close unused apps on my 950. Posted from Windows Central for Windows 10

It's because when you close an app, next time it needs to be reloaded from the phone memory, while otherwise it would be kept suspended in RAM for a longer period of time.

Tried to explain this many times but people can't change their bad habits

How much battery does it save? Are we talking significant or negligible?

Guess it's a pet peeve... I wish we would at least have the option to

It's not that people think it saves energy, at least for me. I just hate seeing a crowded recent apps menu. On my Android I have a button that clears it all. If it didn't actually stop them running in the background, that would be fine. I just hate having so many apps, so I can't find the ones I actually want. It's nice to clean it out every once in a while Posted via the Windows Central App for Android

Exactly! This is me too. Slight ocd lol

Checked my wife's iPhone at the weekend and she had a riciculous number of apps in the app switcher - Apple also seem to have replaced their app switcher one worse than last time I used it, the way the carousel of apps are "layered" on top of each other is horrible. Not sure if iOS works similar to Windows Phone/W10Mobile where the apps aren't actually running, or more like Android where the apps can actually continue to run in the background

That would be a nice but I prefer it to be optional one, having a "Close All" button can lead to accidental closing of all apps even the user didn't wish to, losing all sessions to those apps. Having a dialog box for confirmation would be at least a requirement.

Good news awaiting since January 2016.
March is on the way, what to expect?

Why MS built new OneDrive UWP app as it is already available on Windows 10?? via Windows Central app for Windows 10

Because that one's not universal Posted via the Windows Central App for Android

Do you mean "Isn't available on devices other than Phone" or do you mean "Not build using the UWP Platform" as they are two different things....If it's the first one then it seems weird they are making another app, if the second then I wonder how the OneDrive app is built, since it's not a system app

The currently we have isn't Universal App (or maybe not yet designed for tablets), and we need one especially for tablets. Not really as much as for the desktop but if they manage to make the feature on-par on OneDrive Web App (hopefully...) then it's still useful from any form factor without a need to use the browser. Since there is no sign of new progress in OneDrive integration on File Explorer yet, this is good for now. Still it would be great for a redesigned File Explorer with tightly integrated OneDrive with all of its features (also an API for other cloud services as well), it doesn't have to be a Universal app File Explorer (I don't trust them yet on making a replacement), we just need new front-end that have cohesive MDL aesthetics with truely touch-friendly and new features with it.

Isn't the current app already universal? It supports continuum, so its a UWP.

Continuum support and UWP are two distinct things.

An app needs to be UWP to support Continuum so Pallas is actually right. Keep in mind a UWP app does not need to be offered across devices either.

Correct - It's a common mistake people make on the WC comments section confusing the term "UWP".

Perhaps - but for some reason they chose to not release it for the desktop, only for Mobile. Could be that it wasn't entirely ready for bigger screens. Or perhaps the integration with the file system wasn't entirely where it should be. Remember that on the desktop you have the desktop version of OneDrive to contend with as well. Those two need to be able to coexist. Btw. I hope that support for OneDrive for Business is included as well as support for Sharepoint and even Outlook Groups.

Could be, since it's redundant to the OneDrive integration (though also needs some work too) on File Explorer which already serve similar purpose. Still we need at least the app for those who use tablets since File Explorer is still not really touch-friendly as we wish it to be, not at the moment. OneDrive app would be suited for that but the app needs to be really a truely alternative to the web version with all of the features and still deeply integrated to File Explorer as well (that is still updatable to Windows Store). But I'm still kinda find the app redudant to the File Explorer regardless but eh, we still don't have touch-friendly File Explorer and there is still no sign of it so app is better solution for now.

I am thinking they should work on making the universal app the default in the distant future, making the old file explorer integration obsolete at some point... By making it more powerfull, it also becomes more powerful when running on Windows Mobile - in Continuum. I actually think that Continuum is the long and short play here and the real reason why they want to expand the functionality of it and bring it to larger screens.

Don't care, file explorer works fine.

Yes, for the synchronized folders. For the rest it's a pain that we have to use a website.

If they just brought online only files back to file explorer, there would be no use for an app

The way I see them do that is by making file explorer universal as well.

Well the File Explorer app we already use in W10M, indeed we need it to have an integration and also hopefully gain more features. It would be also nice to have API for other cloud services to be integrated on File Explorer app. For now though, I don't wish them to make File Explorer app replacing the current one we have in Windows 10 desktop. The current File Explorer simply just needs to redesign the front-end aspects of it to be more touch-friendly and update the aesthetics to be more cohesive to new Windows 10 Design Language. There is no need for to make it as a Universal App together with its limitations.

Sure, I get what you are saying, but I am seeing the other way around, in the sense that I want them to remove the limitations of the UAP, so that it would be possible to make a great UAP based file explorer. I mean look at Android. It has some pretty powerful file management apps. Windows (and Windows Mobile) should have that too. So to me it would be more aspirational in terms of trying to push the platform to become richer and take on Android as well as iOS. I would like to see all Microsofts own apps become Universal, as it would help improve the premise and promise of the platform, and that includes File Explorer. Sure, it is not "needed" as such at this point. And sure, it wouldn't be powerful enough to replace the legacy one to begin with, but honestly it shouldn't be too hard to get there with at least 80% percent of its most important functionality. Also, the UAP is about more than being touch friendly. There is: Cortana integration, availability across all devices (including Xbox and Hololens :o), integration with cloud services, support for share contracts, notifications, Continuum and even better power and memory management. Not to mention: better font management and fidelity on high res screens as well as the ability to get updates through the store. I'm not saying they couldn't add some of these things to the old File Explorer (or Cortana directly, such as file search which is already there), I just want them to put some more resources into the UAP, as I think I have stated enough now :).

"Cloud first, mobile first" strategy means to release this essential cloud app and the mobile OS months too late.

Hahahhhhh.
Somehow depicts Cruel Reality.

Irony is DropBox released their UWP app much earlier than Microsoft's own OneDrive service

I don't see the need for one. The current one integrated with File Explorer is fine with me.

See also: don't need a Facebook/banking/etc. app, I can just use the browser. Posted via the Windows Central App for Android

Been waiting for this! I use onedrive a lot with browser! Usually upload project files as backup!

Hopefully this will be the new file explorer we've been waiting for.

Will this bring back smart files?

Hopefully they will!! I don't know why they have to remove it in the first place instead of fixing the issue alone.

So, with a universal app would we be able to save and retrieve files directly to OneDrive without having to sync such as with say a surface 3? I can't easily do that now because it requires those files to be synced, and it doesn't have enough memory for all of them. Posted from Windows Central for Windows 10

I believe that's the idea.

They should get Rudy Huyn to make it. He can make a better app than any MS employee.

I hope it's almost as good as the iOS version !

"Windows Phone 10", ARM and X64. No X86 (IA32). It's for mobile only (no, you will not see Windows 10 mobile running on x86 ia32 mode (that's not a suprise after all, IA32 exposes two few registers).

I noticed this listing only show as mobile at this point - Who said the OneDrive app on the phone isn't already a UWP app that just hasn't been released to other device families? If the current app on phones isn't a UWP app, and it isn't a system app - Then what is it?

This should have been ready with the release of windows 10!! Friggen MS!

Are they doing away with that stupid active sync and going back to placeholders? If not, then its useless to me.
Windows Central Newsletter
Get the best of Windows Central in in your inbox, every day!
Thank you for signing up to Windows Central. You will receive a verification email shortly.
There was a problem. Please refresh the page and try again.