WishAppList aims to show developers that Windows 10 users want their apps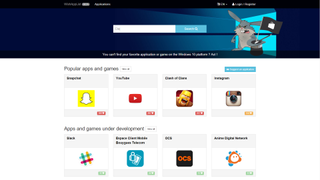 While we wait for more apps to make their way to Windows 10, a new site has been made that allows you to go and vote for apps that you want to see arrive on the platform. That's right, if you are looking for another way to let developers know there is an interest in having their apps on Microsoft's latest operating system, you can now do so with ease. WishAppList is a new free service that allows you to cast a vote for applications that you want to arrive, as well as leave a comment.
In order to vote, you will need to create an account, which is free to do. Once your account is created, you can begin voting for apps, as well as submitting any apps that you may be interested in that don't already appear on the site. Whether or not this site will convince developers to bring their apps to the platform is unknown, but this is a great way for the overall desire for the app to be quantified for a developer to easily see. If there are apps that you want on Windows 10, be sure to head to WishAppList and cast your vote now.
Update: Perhaps this is of little surprise, but since our article went live their website has had a sudden influx of traffic. As a result, it looks to have temporarily been knocked offline. Check back later, we suppose.
Thanks for the tip, Dilan!
Jared started off writing about mobile phones back when BlackBerry ruled the market, and Windows Mobile was kinda cool. Now, with a family, mortgage and other responsibilities he has no choice but to look for the best deals, and he's here to share them with you.
No use.. These developers didn't release their apps when Microsoft urged them, what will this service do?

Isn't it worth a shot at least though? Discord are open to the idea of porting their app to Windows if the demand is there for example.

Until Microsoft can produce an OS that gives developers the API's and features they need to develop those apps fully e.g. GATT server for FitBit then no, its not worth it.

The whole API argument is just a get out of jail free card really. It rarely effects any app to the point of "sorry but we cant do anything until X API is available." Sure it can get in the way of straight forward porting code to Win10, however, there is nearly always a pretty easy work around. The FitBit example would be an exception not a rule. In the end it still comes down to companies either not interested in the low market share or they just have a problem with Microsoft and block any development efforts at all. Think YouTube for example, there is no API issue stopping them from releasing an app and yet they continue to actively refuse to develop for Win 10.

Obviously it wont apply to every app but can W10M do things like launch a specific app from a URL, or allow a new default browser or email client? There are probably other scenarios where devs are hamstrung by the immaturity of W10M, thats the point.

Yes yes, more yes. WIndows has had "intents" for ages (how do you think windows feedback sharing works, how do you think the windows store website opens the windows store app). Also, changing defaults is down right easy.

You are grasping at straws. Mobile OSes don't allow those things by design for security reasons. Android is the exception, but Android also suffers from a lot of security issues as a result of those kind of decisions. Very few users or developers have any real need for either of those things anyway.

1) https://msdn.microsoft.com/en-us/library/windows/apps/windows.system.launcher.aspx 2) Funny, when Microsoft did allow this you had people screaming that it was a security vulnerability, that it allowed one app to take over other . Now you have people (actually one - you) screaming that it is an API vulnerability. Why would I want one app to take over my system? You simply go into settings and let me choose, not the app. I want to use a different mail or web browser, then I unpin Edge and Mail from my home screen, and pin the new apps. And are you saying that on iOS I can install Outlook and now it is the default mail app (hint, it doesn't work that way in iOS). Name real-world APIs that devs need. Your examples are not APIs that keep developers from porting to Win10. How does setting the default mail app keep people from using Clash Of Clans? How does launching another app (even though you can, you not knowing the API doesn't mean it can't be done) keep devs from an official SnapChat app on Win10?

Okay, but most apps don't require API's that aren't already available in Windows 10 Mobile, so that excuse only works for very few apps.

There's tons of APIs to accomplish anything so you are using one case of a developer that doesn't want to use other solutions (understadable!) but you are not saying much. They (we) have tools to make almost everything that can be made on other platforms so that's not the issue here...

Completely agree with API features and all around os functionality and Microsoft features or apps particularly missing that's the first reason people aren't developing app for windows phone they come out as crap with minimalist ui just trying to ink out the basic functionality c# is trash on windows phone and it doesn't play nice with anything that's why android get full fledge apps and iOS fleshes out apps as best as they can windows development for apps is not only staggered by this but it's bad that Microsoft would limit themselves like this when they even create the cream de le crop of APIs for Xbox them selves anyway if Microsoft won't believe how they even going to finish creating the most universal Eco system anyway maybe google or apple with do with an update or two :( and it'll be over just not possible for Microsoft to grasp making a good operation system with features coming soon TM peace :(

MS open sources .Net core, to promote cross-platform development, and then doesn't support those same core interfaces for their own OS, app-local file access for example (this doesn't prevent W10 development, but adds a pointless complication). That said, W10 APIs are pretty extensive, so most things are possible.

C# is really good. You have no idea..

Periods are not just for women. I will ask you just like I asked someone else. Name one API that is keeping people from developing on Win10. Give a real world example, not some made-up example. Name a single API that is missing that is keeping Clash Of Clans off of Win10. Just one. I will wait.

Exactly..like Live Lockscreen Beta APIs were never released to the public..

So live lockscreen, which was an app not a OS feature, a beta tool that was never released in production form, an app that has not been released on Win10, because there were no APIs for live lockscreen have been released that is keeping Supercell from releasing Clash Of Clans on Win10? Please, try harder. If these are the only examples that you people can find to try to generate controversy and fear, then I think that the Win10 API is in very good shape.

Fitbit can't even develop smart alarm after 3 years of requesting that feature...

Ignoring the needs of 300 million users, with at least 30 million savvy pc gamers who actively buy software and games... That's kinda dumb! I still think Microsoft should buy snapchat and clash of clans

Then what happens when clash of clans and snapchat aren't relevant anymore. And some other hit game or social app phenomenon comes around, Microsoft should buy them too??

How do you know Microsoft "urged"them? And who is them...they might have contacted a few like google and Facebook, but I doubt they urged the likes of Honeywell or siriusxm, etc... Furthermore, what is urged, did they send an email, maybe a phone call, or did they send a developer to them to start writing code? I doubt very little happened, it's all a matter of quantity and desire...if companies want to market and sell to win10 users, they will have to figure that out themselves. This site may just help, or urge, a few more...

Rewarding the developers monetarily was one of Microsoft's way to "urge" developers

How much money was offered and how many was this offered to? I have hard rumors of this, but I have never heard any facts of such. I have Microsoft contacts that had not heard of any actual amounts offered.

Microsoft was giving some financial aid to companies who wrote apps for WP. Of course they were criticized for it, and then when they stopped they were criticized for not doing it. Much like how Microsoft was giving some incentives for game devs to write for Xbox, they were criticized for that. When it was found out Sony was doing the same, then it became the best business strategy around - but still bad that Microsoft was doing it.

I don't think this service will have an effect on getting more apps. It might even look a bit ridiculous when popular apps on other platforms get a low number of votes because of the low number of windows phone users.

Well I will still be one of the votes on here. You are only fulfilling your own prophecy if you aren't contributing.

I need all the apps on WP platform..

Whilst I totally appreciate that someone has gone to the trouble of setting that site up, I went through the first 10 pages, I was only interested in voting for 1 app - Firefox, and even then I'm not that bothered. Seems W10M has the majority of what I need already. :)

That is a funny thing, I use my phone for a lot of different things, and I can only think of one or two apps that I really want, but that is only for things I don't yet own, if those companies make an app, then I will buy their products...one such being Honeywell WIFI thermostats for my home. I have all the apps I need for radar and weather, sports and stock markets, I only use banks and stock sites that have WP apps, so I am good there, and I have access to all the controls for my home automation including pool and security cameras. Security cameras are the greatest reason to have a WP, Live tiles update about ever 15 minutes with an image from them so I don't have to go into the app to see if anything has changed unless I want to...genius

Hell yeah, just what we need

Those top 3 would be a huge boost. If we just had the official Facebook, Twitter (updated), CoC, Instagram, and Snapchat. Maybe YouTube too.

Instagram, fb and twitter are Official... If updated... That's another story, but they are Official.

Is that def the official fb app?? I don't even use it anymore its that bad. Have mobile site pinned to start screen.

Official, but has listed Microsoft as dev

Facebook hired Microsoft to build the app.

Lol, even the Android FB app sucks, so yeah, no surprise there.

I don't count Instagram Beta as an app.

When we talk about all the "great" apps on Android and iOS we always seem to think they all work 100% smooth and trouble free. That's is just no where near the case. There are bugs in all apps on all platforms. Sure, some of our apps haven't been updated for a long time but that doesn't mean that an updated version would be better...
Also, what is this obsession with 1. dev apps? Do you really want to have commercials when watching YouTube? myTube and TubeCast are WAY better than the official crap on Android and iOS...

I am using a Nexus 6P now, and I hate the ads on Youtube. The old days of having a Lumia 1520 with myTube and no ads were great. Unfortunately there isn't much else I miss about Windows Phone.

Yeah, but nobody forces you to use YouTube. It's a free website, offering free content, in exchange for watching an ad. It's like complaining about the ads on TV; sure, they're annoying, but that's how programming is paid for.


The login and signup page, while reachable, is not functional.

Fix this then tell everyone!

Now, you are hoping aren't you! ;)

Hey now Double, I posted after the influx of traffic bugged up their registration process up. The article then was updated.

If the site admins can make this a known site, this is actually not a bad idea!
Maybe the site can be known if they also include android and ios and have wishlists for apps that dont exist yet. This way wp will still get exposure and known developers would get exposure to wp..
If done right this could actually be win win :)

Hangouts will be my number 1.

Ges and now its a forced application on Android lollipop just to use sms. U cant have any general text msg app then.

Who ****** needs official u tube app?

Lol right mytube is the absolute best YouTube app out there. This is not an opinion, this is a fact lol.

People who want to switch to the platform for the first time Posted via the Windows Central App for Android

Should study about Windows store first knowing that mytube and tubecast are better apps of u tube. They had streaming and download feature months or maybe 1 yr b4 official app. And benefit is there are no ads at all. U can pay and also donate for developers effort which is better than paying for You tube Red just for no ads and few basic features what these universal apps have for free or for a small fee.

You don't get it, do you..

The flip side of the story is that in 2013 Microsoft released a full-featured YouTube app that people liked. It would have gained traction except for one small detail: later in the year Google intentionally blocked the app from using the YouTube API. Comparing Microsoft's app to others available on Android, iOS, and Windows Phone, there is the signficant appearance of Google singling out Microsoft's app, because those apps apparently do/did not have the same level of required conformance to the API applied to them.

exactly myTube Is So much better

YouTube for android now has a feature called save for offline.... So it really kills all the hustle to download a certain video if you can just cache for offline watching.... Posted via the Windows Central App for Android

Mytube and tubecast had months b4 official app had download button. Its true that they have made official app look **** in front of their apps with great UI and UX.

But we have Instagram already:P It is just major rubbish. Also someone add starbucks, ryanair, hsbc and wizzair to that list

Don't think we need a separate site to do this. It's not going to get enough attention from windows users as well you have to know about it. It should be a feature in the Store... can't find an app? Here's option to contact them for one :D

It got enough traffic off the wc article to knock the website offline.. That's a fair amount of immediate attention in my opinion.. I think it's a cool idea and I'll be doing some voting, cant lose anything but a little time and possibly everything to gain.

Why did WC bother putting an update to this news. Not many have read it ;)

Comments =/ reads/page views :P.

Why the desire for all these social apps? Why not get your mates together, go down the pub, have a few drinks and talk b*****ks there. Far more rewarding than hundreds of so called 'friends'.

But it might rain outside! And what if my BFF is going to another place but I'm with my 2. BFF at a different place? No, I'm staying put so I can give 0.00001% to 100% of my friends. Makes a lot more sense than giving 100% to just or two mates at the pub... With great ales and pilsners... Nuts... Ladies... Live music...

You do realize these social apps are great for advertising right? They are also excellent methods of getting the word out to all of your aquaintences about things, or keeping in touch with friends and relatives that are not local. Or did you just wanna be dick and act like every one who uses social media has no real friends?

The developers probably know about how much demand there is for their app on WP. Its a matter of the cost and effort to make it happen. There might be some who are suprised at how many users they are missing, I guess....

Have I mentioned banking apps yet today?

I love this idea! When it comes back up, i'll gladly vote on some things. I wish that many people will update their apps, including Spotify, Kindle, many others.

Spotify and and Kindle definitely need to update their apps. Those two are terrible.

Not needed. Mastermind has solid strategy. First PC users just need to start getting their stuff from new crappy shop and somehow mobile touch based apps will follow.

Porting is easy to do, but why are there so many lazy devs to do that? Is it just because of market share? Developers, if you think that Windows 10 market share is low, then you're wrong. In fact, Windows 10 (on all device types) allows you to develop one app across all types of devices out there, so you don't need to do some hell recoding again to do the same on other device platforms.

Who lied to you? Posted via the Windows Central App for Android

Why waste resources when not many people will use your app? It's not being lazy, it's called being realistic.

Best is to vote every app. If everyone will do this, their will be huge vote gains for every app. So all apps will become available :)

Nice in theory, but they would quickly spot that. Plus even if everyone on WP voted there wouldn't be enough of a market for some app developers to invest in creating it for WP

Developers need to broaden their thinking with the Windows platform; Phones+Tablets+Laptop/Desktops+ Xbox using one universal app is some huge market. Maybe they will see at some point what Microsoft is providing access to rather than listening to loud voices of the phones being a small market which is only one segment yet missing out on tapping the much much larger market as a whole.

i thought i am enough smart ;) lol

Microsoft just needs to finish and release the porting tools. If it was a days work to port an app they would all be done, bar a few whose developers have actual platform biases. That or enable Android apps to work on WP, which shouldn't be too hard.

These are both much more difficult than you would think.

It's really not. A company with the infrastructure and resources could do it easily.

No.1 app needed: Windows Central

Snapchat first in windows phone we need it please

Only, 16 y/o that still fappin about Selenas Gomes feet needs this silly app.

Given that Snapchat purposely refuses to build an Windows app, I really don't think they are going to bother visiting WishAppList to watch the numbers climb. Snapchat. Doesn't. Care. If y'all want Snapchat, you are better off rallying the masses for a concentrated electronic protest directly at Snapchat itself.

It's pretty dumb, honestly. Of course people who use Windows Phone are going to go and rabidly vote for every app. That means very little to whether those people will actually use those apps and services. Moreover, the problem with developing for WP isn't that developers don't realize that the people on WP want their apps. It's that even if by some miracle 100% of the WP users wanted an app, it's still not enough to invest the time and effort,which both cost money, to do so. And keep in mind that it's not just a matter of developing an app. It's providing support for that app over a long term period. Development is a business: if the income doesn't outweigh the cost, there's no reason to do it. The only way that gets changed is by Microsoft making it require as little effort (money) as possible to support WP. Islandwood is a step in the right direction, but still requires a ton of developer work. Astoria and Westminster are closer to the ideal... where there's as little work as possible to modify an Android app or a web site to package it into a Windows app. Either way, a web poll will change nothing.

Jhoff80, you hit the nail on the head. It just isn't cost effective for most companies to develop and maintain apps for Windows.

Not cost effective to have one app for phone, tablet, Lap/Desktop. I beg to differ.

That's only if you buy into the idea that every app has use on every platform. Many developers see their service as mobile-only in the first place. If Snapchat thought it was worthwhile to have a desktop presence, they'd make their service available on the web. Or, other developers already DO have a web presence, and they feel like that is good enough for PC/tablet. My bank, for example, has a website, and there's little reason on their end to justify an app. I love the concept of the UWP, but it's not going to change the game for Windows 10 Mobile apps.

They all like us to have the app because of the data they can use. GPS location even with the app running in the background, access to the address book, easy sharing etc... On a regular website you are much more limited

We already have YouTube(mytube!) and the rest of the apps if they are half baked should just stay off the platform u less Rudy makes them

Tubecast, perfect tube, Rudys apps, venetasofts apps are amazing. Third party twitter and reddit apps too are of good quality then official ones.

Our company wanted to setup similar site/database and contacted WinBeta and Windows Central for gaining users support however despite multiple attempts there was no response therefore internally it was shelved for now however happy to see that someone else finally did this, just shame that terms and conditions is not English. Will be voting and passing info onto other Windows users.

I need final fantasy games , LOL XD

How is the message relayed to the devs? I see that they have contact links for most of the apps on the voting pages, but how do they know their apps are in demand based on the numbers from this service? Are they sending them the stats?

The site is a bit confusing. It makes it look like Windows doesn't have all these apps, when a lot of them do exist already. The colour codes are not enough, they need to make it clear what exists already, what's being updated, what's in development, and what's not there yet.

I suggested Game of War. Really the only game I want on Windows Phone or desktop.

Microsoft should make edge stream banking apps very well. So that we don't have to wait for banks to update apps. Banks have to update app every week maybe, for security reasons. But steaming apps from browser would be the best. If banks are interested in making banking apps universal then fine.

FYI, it was created by an admin of French Microsoft news site MonWindowsPhone. Kudos to him!

Well, edge web browser can't handle this site, and there fore I can't vote:-/

Most developers make apps for devices that have a lot of customers who already own them or buying them in large numbers. There are 180 million Computers of various types in the World that use Windows 10 and more are coming trough sales and the Windows OS upgrade path.. All these Windows 10 Computers have an Apps store. Many developers will put Apps in that store. What Microsoft has to do is get developers to make the kind of Universal Apps that a Windows 10 mobile smart phones can access and use. this is the thing microsft has to do to keep Windows smart phones a valuable smart phone to People because they will have better supply of Apps. this should be Microsoft main mission in 2016 because Windows 10 tablets and Windows 10 mobile smart phones need good apps to get customers to buy them

Btw what about uc browser it haven't got any update since months, m using win 8.1 is there any updates on win 10?

Would be cool to see Snapchat app on Windows 10 PC and Phone

Sorry I know im off topic but I need a new surface pro 2 charger and cant find a decent priced one anywhere. Any help please?

This site has really picked up some usage since I read this article and went there. It is fun watching the vote tally for each app going up...in some cases they are increasing every second. Every time I refresh the page they are that much higher!

Come on community! Let's do this!

Can we get xcom enemy within voted. I'd love to have this game on mobile.

We are a strong community lets do this

WishAppList... Okay, I like the idea, but: Shouldn't there be an app of this website which exists to make companies create apps???

They considered it but found it wasn't cost effective to make an app for a platform with so few users.

Forcing registration to enable voting is a non-starter. It would generate more votes without this.

The only appp I want more than others is Strava. Currently I use Run the Map to track my runs and cycling rides. When I finish I simply share the data to Strava. I have Strava on my older iPhone which I'm using like an iPod. I've sent tweets and messages to Strava in the past suggesting that they consider bringing the app to Windows. Another app that is not on Windows phones is the offical Major League Soccer app. It is on the PC (W10) but not on mobile (W8.1). Perhaps a universal app will arrive soon if it's not on W10m already. I haven't checked. I always send messages to companies that don't have an app on Windows to please consider it like: F1 Racing, World Rally Championship, Racer Magazine, the Los Angeles Angels, Sacramento Kings, Real Salt Lake and many, many others. -Cheers

Strava is one of the first apps I voted for, along with Starbucks and an update for Kindle. ​I suggested an app for my bank. They have one for both iPhone and Android, but not WP. I don't really have any hope that this will change anything, unless this site really blows up, but it's at least another outlet for my frustration, in addition to the calls, emails, etc. that I've already sent to these companies / developers.

All this did for me is reaffirm that I have every app I need, and the app gap is just an overblown reason to complain about w10. Great site to educate people that there is an alternative.. My 950xl does so much more than the iphone

This is great! I was actually thinking of doing something slightly similar in the WC forums yesterday.
I'll use this site for now & if I don't feel it suits what I wanted to do then I'll look at making a thread :) though I appreciate the site is in beta so I'll give it time.

I gave like 8 App suggestions Like: Microsoft Selfie, Microsoft News Pro, Grindr, Hornet, & few more. And Voted over 125+ apps. I hope it gets us some hope for apps like Instagram, Piterest, Youtube, SnapChat, Messenger, Twitter, Quora, Grindr, Hornet, etc.

Imagine Snapchat of PC as UWP.

Definitely a good idea. To get this website successful and create the effect they are looking for, they will need to provide us regular status updates, publish regular updates on official twitter pages of the editors etc...

First shot at YouTube, but email address to Google is a non-response one. Too bad.

Thank you so much for doing this!!!!

Can we stop doing these things please. They are not building apps for WM10. WM10 is dying and its an angonizing painful one.

Wish they had their app for wp to make it easy for us to quickly vote for apps we want.

this isnt the first site to do this. its kind of depressing actually

I hope we all join in not just on voting on this site, but also on NOT using any products and services from companies that don't support Windows. If you don't vote with your wallet, companies will continue to ignore you. Remember, YOU are the customer. They need to target YOU, not the other way around. No Windows app? Well no sale!

Vote to help who will move to iOS!
Windows Central Newsletter
Get the best of Windows Central in in your inbox, every day!
Thank you for signing up to Windows Central. You will receive a verification email shortly.
There was a problem. Please refresh the page and try again.